A quick-and-easy weeknight recipe for Instant Pot Indian Chicken Tikka Masala you can make in your pressure cooker, with tender chicken chunks in a creamy spiced tomato sauce. Serve with buttered rice or warm naan.
For more easy-to-make Indian dishes, try my Indian Butter Chicken, this Oven-Baked Tandoori Chicken, or this Grilled Tandoori Chicken.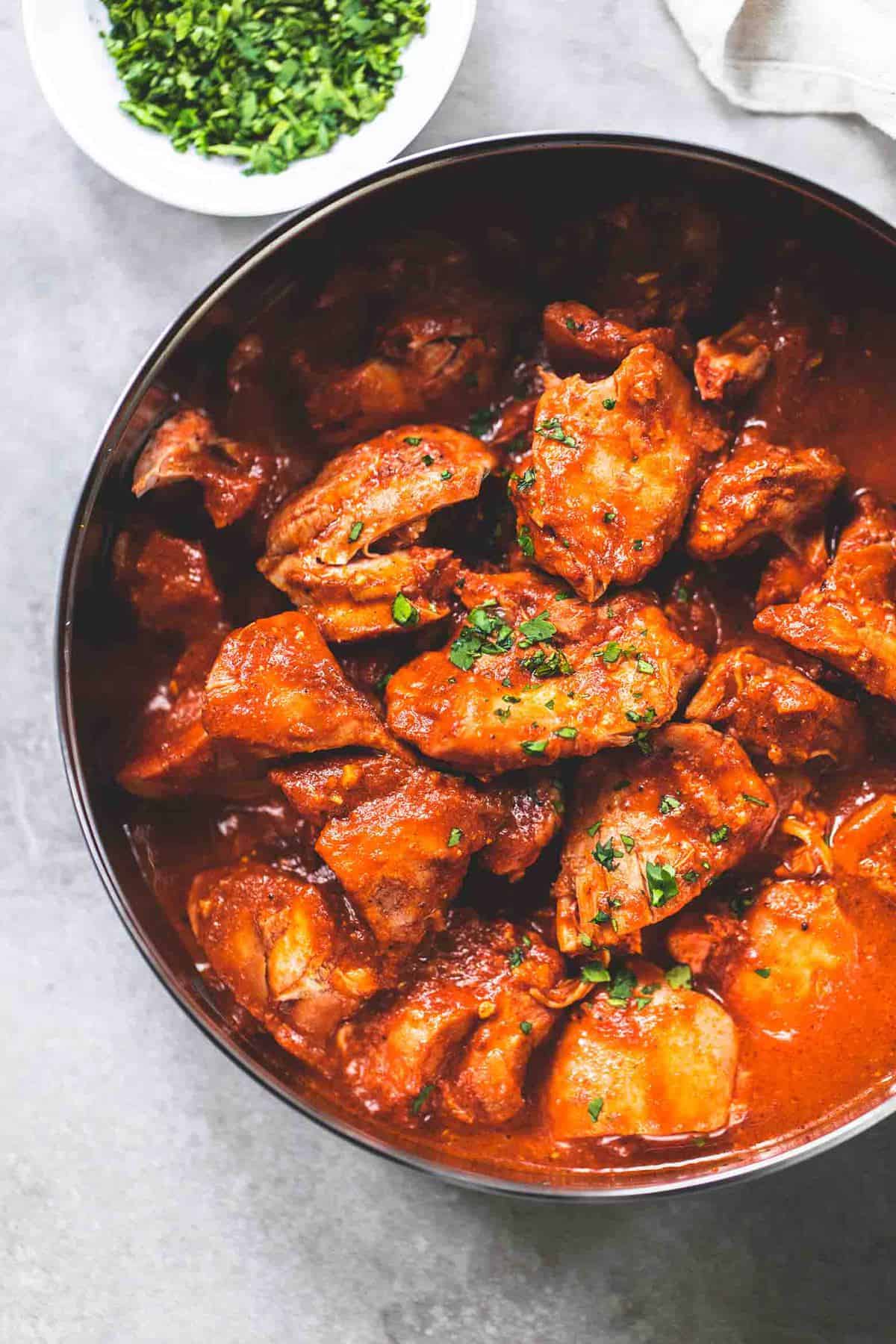 Like most ethnic foods in my life, I had to have a little convincing to try Indian food. And after that, it was all downhill from there (or uphill, I suppose, depending on whether or not you are a glass half-full or half-empty kind of person). For me, it was downhill in that I had to find and eat Indian food all the time, everywhere (and empty my wallet in the process) and uphill because I was trying new foods and expanding my palate, and in trying this one new thing it forced me to try other new things, and that, my friends is how you grow to like new foods and eventually start your own food blog and find yourself constantly creating and cooking and baking. Or maybe that's just me? 
Chicken Tikka Masala is hands-down my most favorite Indian takeout dish ever. It's so rich and buttery and aromatic and flavorful and maybe-if-no-one-is-watching-I'll-lick-the-plate-good, I had to figure out how to make it get in my face even quicker by using my Instant Pot, one of my most favorite kitchen appliances ever. 
Turns out, you don't have to tweak the dish too much from the original to get it to work in the Instant Pot. It's all about timing, and I've got that part worked out for you.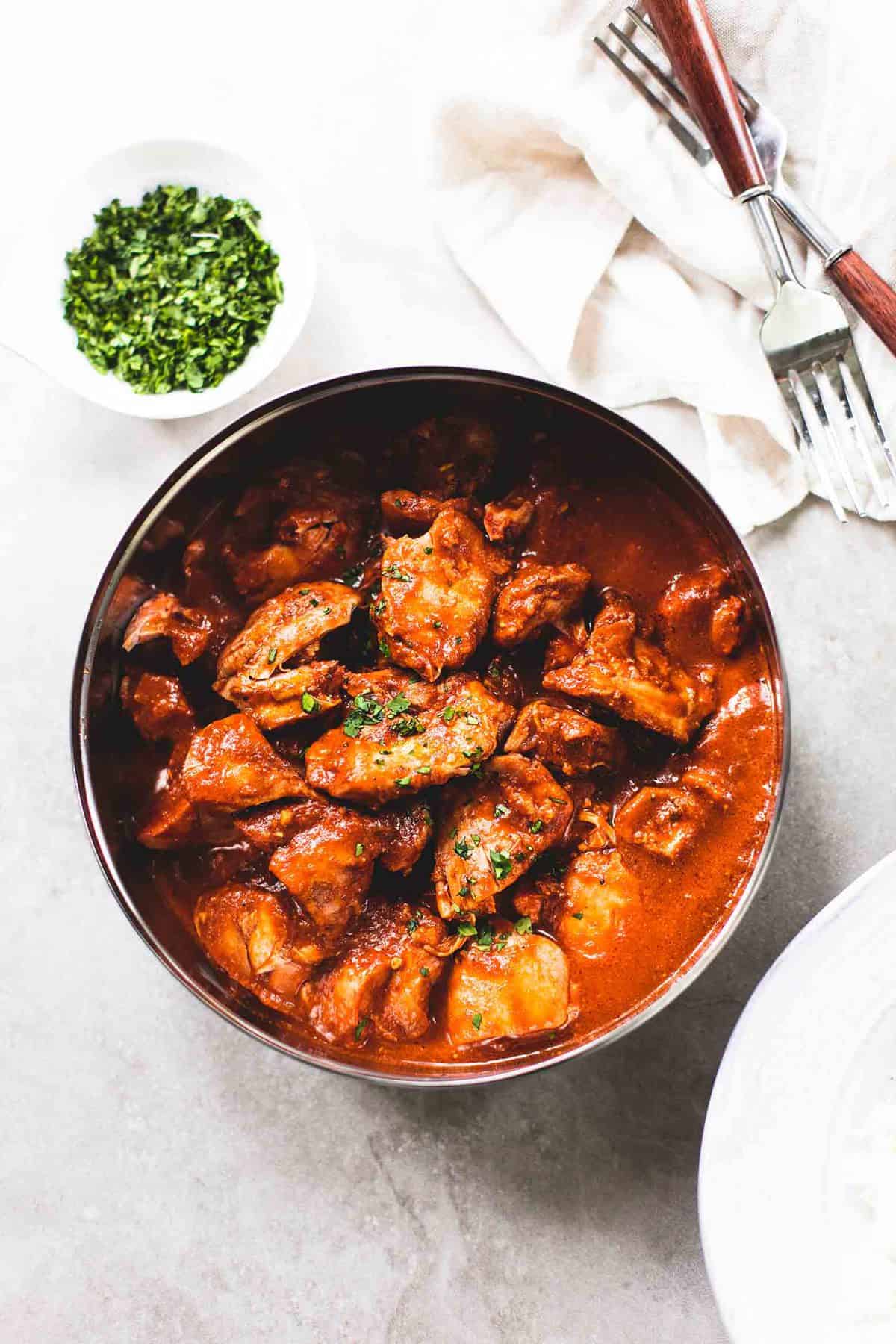 WHAT IS CHICKEN TIKKA MASALA? 
Chicken Tikka Masala is diced pieces of chicken cooked in spiced curry sauce. Typically it's done in a tandoor oven, pot, or deep-walled skillet, but for this version, I used an Instant Pot. 
There is no "one" version of this dish — versions will vary depending on the cook or geographical region. The sauce consists of curry spices, tomatoes, cream, and, of course, chicken. 
Even though there are some arguments over whether or not the dish was first created in India or the United Kingdom, it is, at the very least, one of the most popular dishes in the U.K. I know it's one of the most popular dishes in my household, so I get where they're coming from. 
This is not to be confused with Chicken Marsala, which is an Italian dish that contains a lot of mushrooms, wine, onions, vinegar, and other more savory ingredients.  
WHAT IS THE DIFFERENCE BETWEEN BUTTER CHICKEN AND CHICKEN TIKKA MASALA?
Chicken Tikka Masala usually starts with marinated chicken (though I skipped that part for this Instant Pot recipe) that's cooked in a tandoor oven (or on your stovetop) until cooked through. Then, the chicken is cooked in a curry sauce with tomatoes, onions, and some kind of cream (or yogurt). Turmeric and paprika will turn the sauce bright orange and probably stain your clothes or tablecloth or something for sure. 
Butter chicken is another popular Indian dish but is simply bone-in chicken cooked in tomato and butter forever until the meat falls off the bone. It has a similar color but Chicken Tikka Masala is really savory and complex and butter chicken is more straightforward and simply buttery tasting.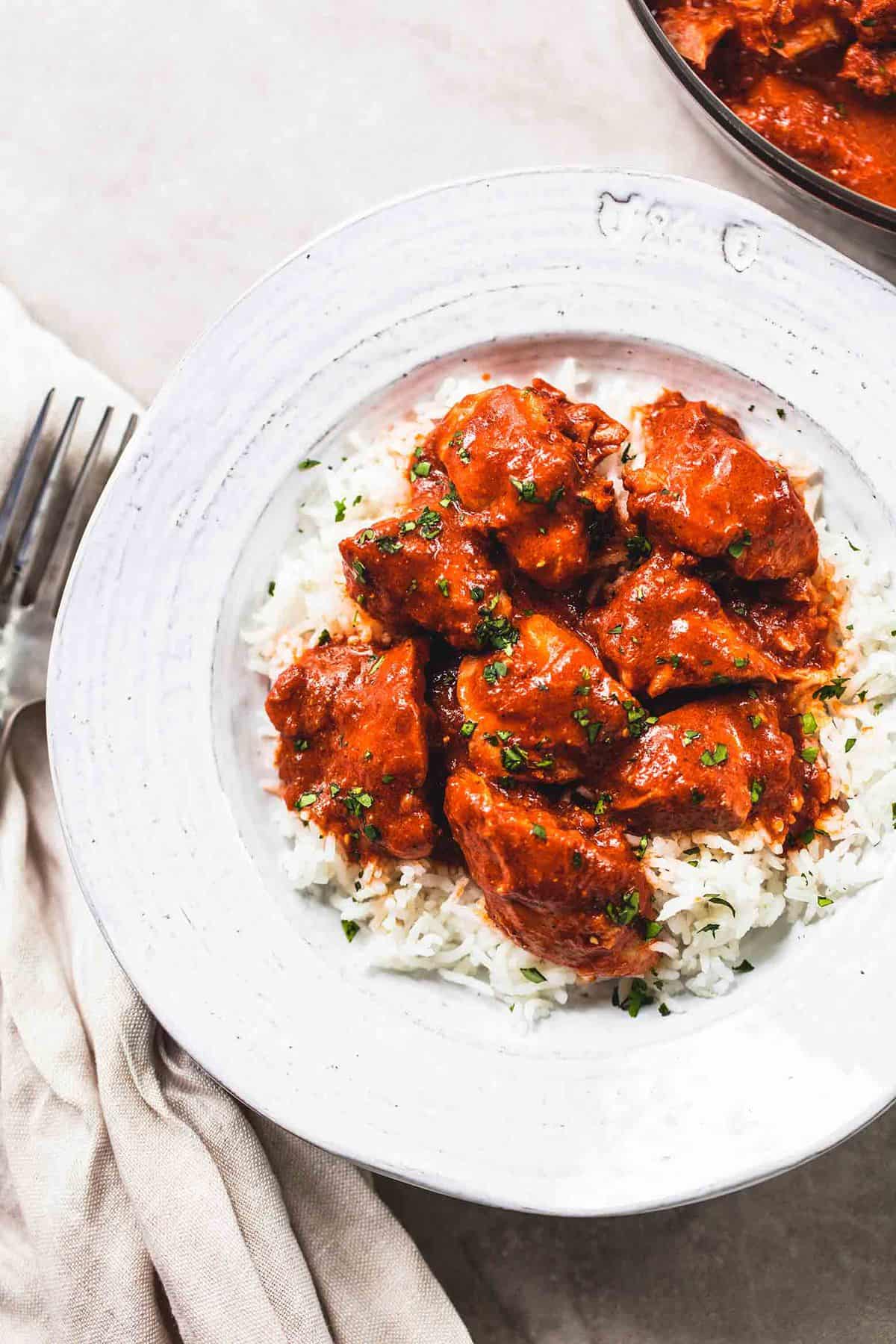 DOES CHICKEN TIKKA MASALA HAVE NUTS?
There are no nuts in this recipe and when I order takeout, there are generally no nuts in that dish from my favorite Indian restaurant either. However, I have been served Tikka Masala before that did have nuts and it wouldn't be totally strange if yours did too. Cashews and almonds are a common nut found in a lot of Indian dishes. 
If you don't like nuts or are allergic, it's best to ask the restaurant ahead of time for an ingredients list and to request yours without nuts, if possible
WAYS TO SERVE CHICKEN TIKKA MASALA
I always serve this dish over rice, but there are lots of other ways you can serve it too!
White rice is great, but you could also use brown rice, jasmine, basmati, or instant rice. Yum! 

Naan is so freaking delicious when paired with this dish. I serve it on the side of the rice/tikka dish and it's a great bread for scooping up all those tasty chicken bites. 

If you are watching your carb intake, try serving this dish over zucchini noodles or cauliflower rice. Less guilt, all the taste. 

This would also taste great over wide egg noodles, spaghetti, or any pasta you have on hand. 

I've been known to serve Tikka Masala with a

side salad

,

roasted veggies

, or a non-traditional salad like this

Tomato Cucumber Salad

or a pre-packaged cabbage or broccoli slaw mixture. 

Grilled veggie kebabs are another great way to add veggies to this dish and they also fit quite nicely in naan, if you're thinking what I'm thinking (was it sandwiches? Cuz I was thinking of sandwiches). 
No matter how you have it, it's one of the best Indian dishes out there!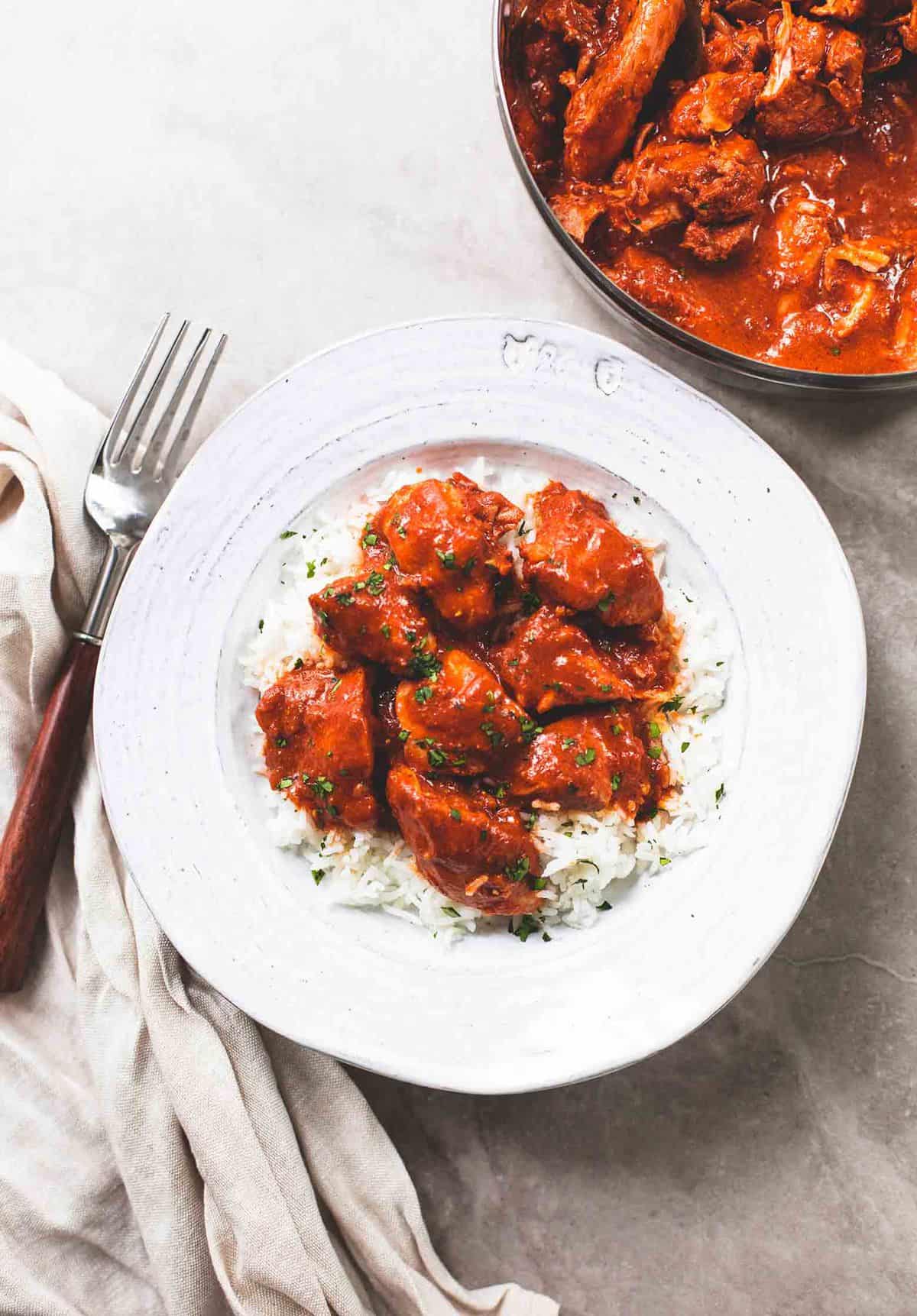 What people are saying about this Instant Pot Chicken Tikka Masala
"This turned out so good! I was worried I might not like it because it might be too sweet and not savory enough but I love it. The flavor is Buttery and delicious and I can't wait to eat the leftovers for the next few nights. Thank you for a delicious and easy recipe!" – Jenna
"Made this for dinner tonight and all I can say is WOW. So much flavor and so easy to make!" – Danielle
"This was delicious! Easy enough to make while I finished getting ready for a class, and such a delicious dinner, even much later that night." – Carrie
Instant Pot Chicken Tikka Masala
A quick and easy weeknight recipe for Indian Chicken Tikka Masala you can make in your Instant Pot, with tender chicken chunks in a creamy spiced tomato sauce. Serve with buttered rice or warm naan.
Ingredients
2

tablespoons

butter

1

onion

-

thinly sliced

1

tablespoon

freshly grated ginger

-

or 1/2 teaspoon ground ginger

1

tablespoon

minced garlic

2

tablespoons

garam masala

1

teaspoon

ground cumin

¼-½

teaspoon

cayenne pepper

-

to taste

1

teaspoon

salt

-

or to taste

2 ½

pounds

boneless skinless chicken thighs or breasts

-

cut into 2-inch pieces

1

15-ounce can tomato sauce

½

cup

heavy cream

2

tablespoons

chopped fresh cilantro
Instructions
Set an electric pressure cooker to the sauté function. Add the butter and onions and cook until softened. Stir in the ginger, garlic, garam masala, cumin, cayenne and ½ teaspoon salt. Cook about 30 seconds, until fragrant.

Add the chicken, tomato sauce, 1/2 teaspoon salt and ¼ cup cream to the pot and stir to combine.

Cover and set to pressure cook at high pressure for 8 minutes. Release the pressure manually.

 Scoop the chicken out of the pot with a slotted spoon (cover to keep warm). Add the remaining ¼ cup cream to the sauce in the pot. Press the sauté or reduce button. Let the sauce simmer until slightly reduced and thickened, 8 – 10 minutes.

Add the chicken back to the pot. Add the cilantro and stir to combine.

 Serve in bowls over rice or with naan flatbread on the side.
Notes
Serve with a side of rice, mango chutney, and garlic naan. 
Nutrition
Calories:
460
kcal
,
Carbohydrates:
3
g
,
Protein:
56
g
,
Fat:
23
g
,
Saturated Fat:
10
g
,
Trans Fat:
1
g
,
Cholesterol:
311
mg
,
Sodium:
855
mg
,
Potassium:
745
mg
,
Fiber:
1
g
,
Sugar:
1
g
,
Vitamin A:
525
IU
,
Vitamin C:
1
mg
,
Calcium:
62
mg
,
Iron:
3
mg