Flavorful and juicy, restaurant-quality oven baked tandoori chicken! Serve with naan and basmati rice for a tasty meal your family will crave!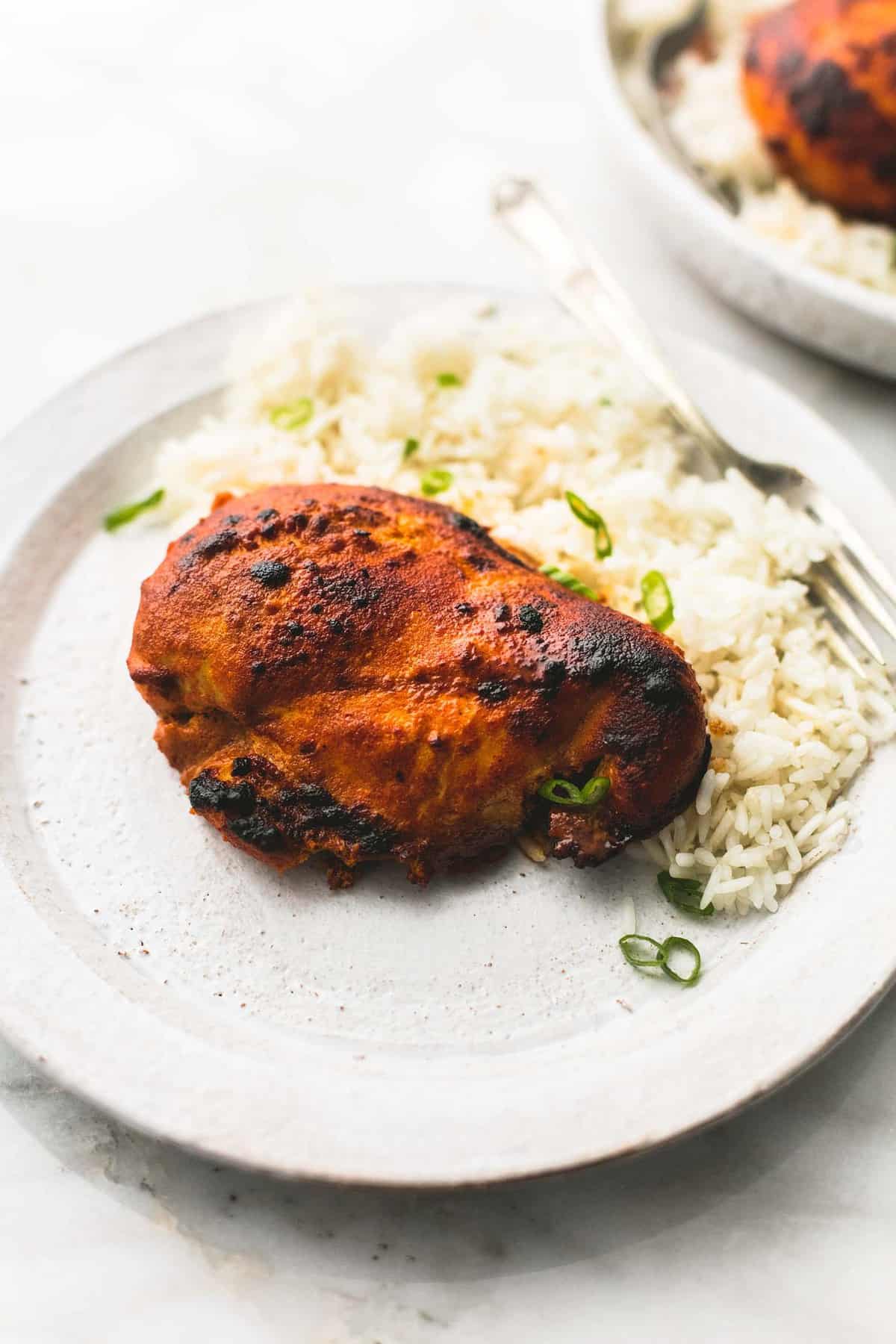 This is one of my favorite meals in the world. Indian flavors have my heart and this tandoori chicken is at the top of my list of most-loved foods. If you haven't tried tandoori chicken you might wonder if it is spicy, savory, sweet… it's just delicious. Straight up, super duper delicious. Definitely on the savory side and bursting with flavor, but will not burn your mouth.
Traditionally tandoori chicken is made in a tandoori oven, but most of us don't have a tandoori oven handy. The good news is that you can get restaurant-quality tandoori chicken at home with your regular ol' oven. It's a cinch.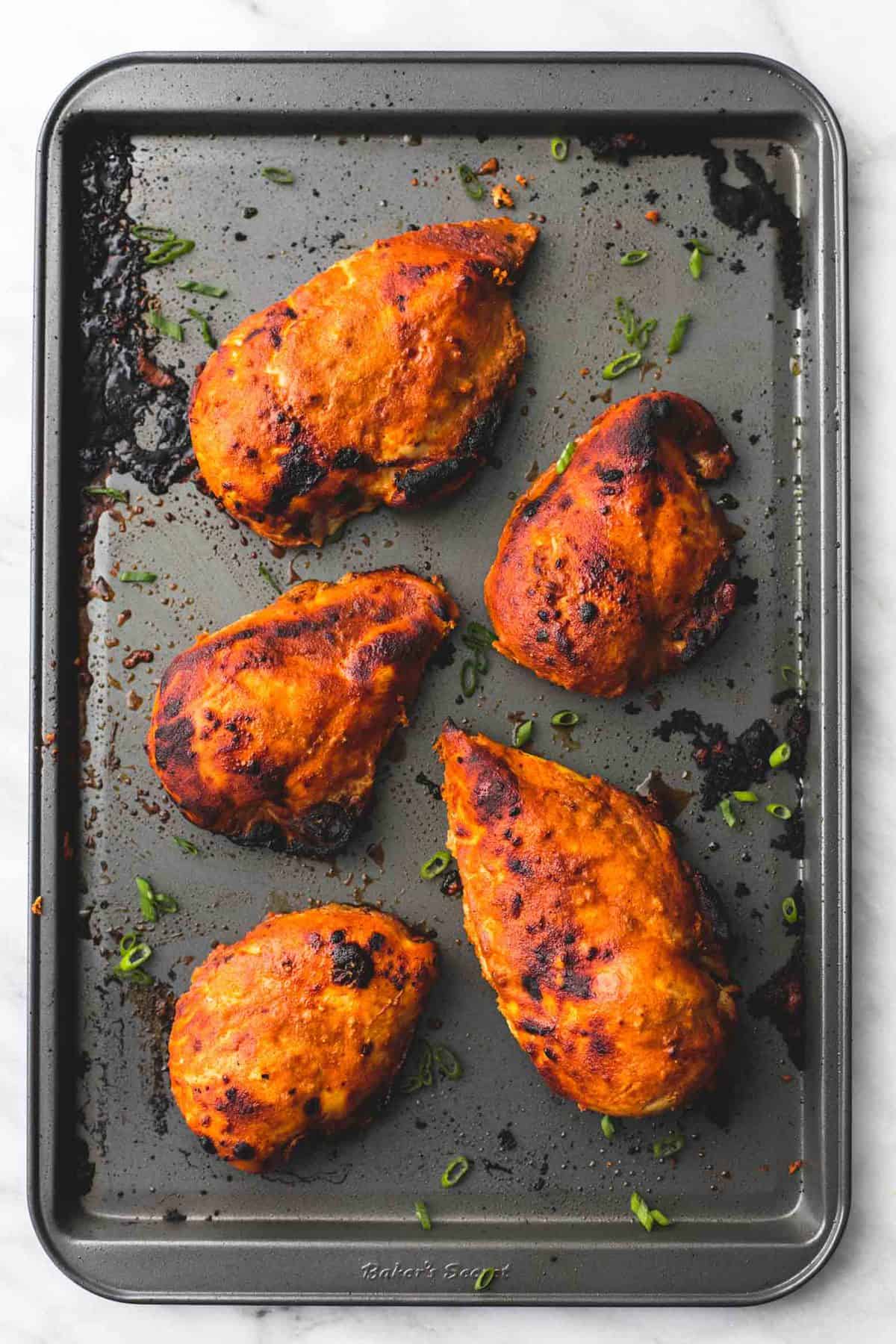 This is a simple, three-step process. First, you'll whip up a marinade using plain yogurt, fresh-squeezed lemon juice, and a handful of spices. Toss your chicken in the marinade and let it chill for 12-24 hours. This is a great make-ahead dish! I like to marinate my chicken overnight for dinner the next evening.
After marinating, bake the chicken at 425 degrees for anywhere from 35-50 minutes, depending on the thickness of your chicken, until cooked through. Then, and this is key, switch your oven to broil for another 3-5 minutes or so. Just long enough to start to char the edges of the chicken slightly.
And that's it! Serve it over basmati white rice and garnish with some chopped green onions or cilantro. AMAZING!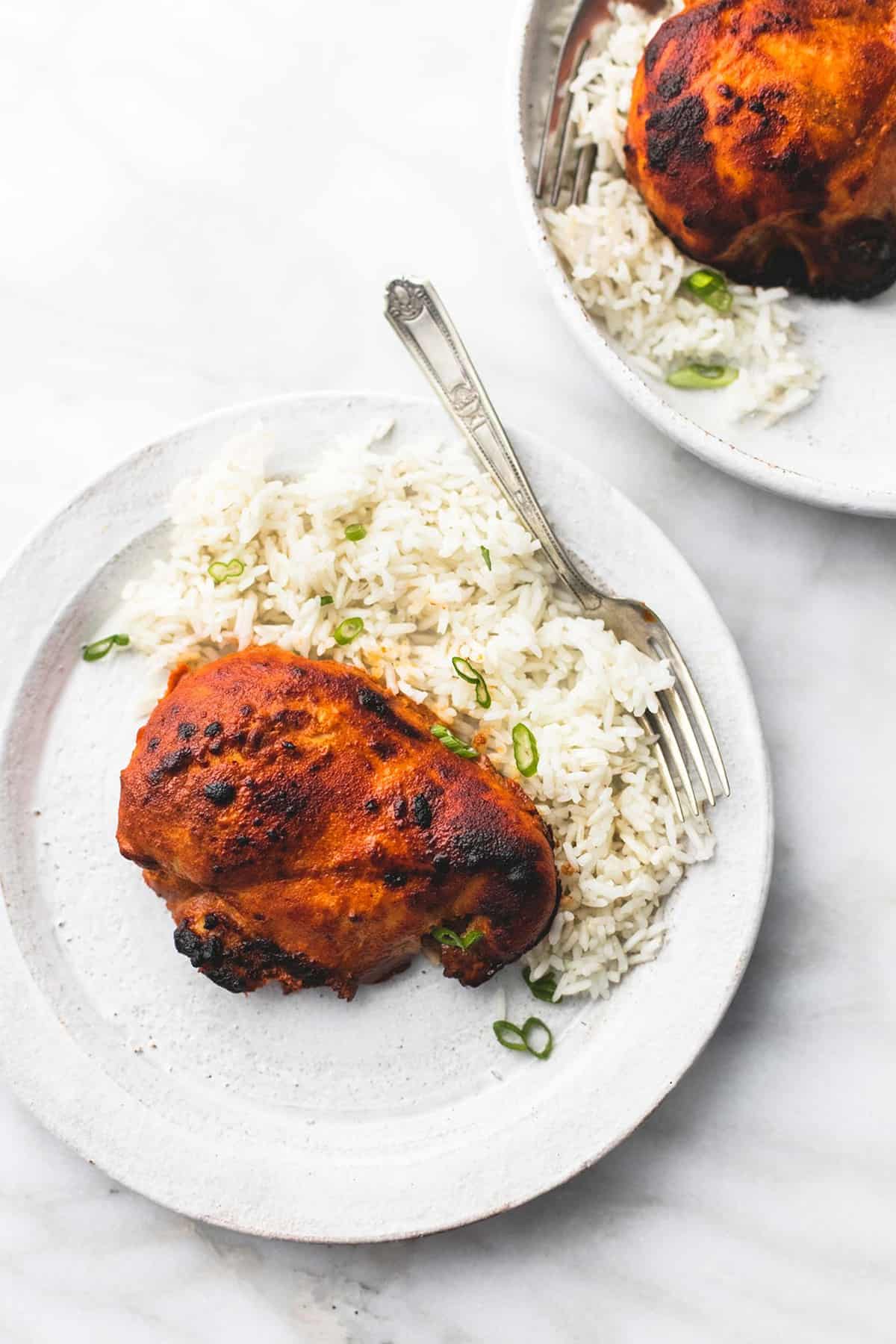 What people are saying about this Oven Baked Tandoori Chicken
"Great recipe! Tasty and simple!" – Hasan
Oven Baked Tandoori Chicken
Flavorful and juicy, restaurant-quality oven baked tandoori chicken! This easy recipe will leave you craving more!
Ingredients
4-6

boneless skinless chicken breasts

-

OR large chicken thighs

basmati rice, for serving

chopped green onion, for garnish
Marinade
½

cup

plain yogurt

1

tablespoon

lemon juice

1

tablespoon

onion powder

1

tablespoon

minced garlic

1

tablespoon

garam masala

1

tablespoon

cilantro leaves

1

tablespoon

paprika

1

tablespoon

coriander

1

teaspoon

cumin

½

teaspoon

ginger

¼

teaspoon

cayenne pepper
Instructions
Combine marinade ingredients in a large bowl and whisk until smooth and all ingredients are incorporated.

Add chicken to bowl and toss to coat well in the marinade. Cover tightly with plastic wrap and refrigerate for 12-24 hours.

Preheat oven to 425 degrees. Lightly grease a large baking sheet. Use tongs to transfer chicken to baking sheet. Spoon any remaining marinade over the chicken.

Bake for 35-45 minutes until chicken is cooked through (time will vary depending on the thickness of the chicken. May require up to about 50 minutes if your chicken is particularly thick). Once cooked through, switch oven mode to BROIL and cook another 3-5 minutes until chicken begins to blacken on the edges.

Serve immediately with basmati rice and garnish with chopped green onions.
Notes
Serve with mango chutney and Indian naan bread for a complete meal!
Nutrition
Calories:
166
kcal
,
Carbohydrates:
5
g
,
Protein:
26
g
,
Fat:
4
g
,
Saturated Fat:
1
g
,
Trans Fat:
1
g
,
Cholesterol:
76
mg
,
Sodium:
148
mg
,
Potassium:
513
mg
,
Fiber:
1
g
,
Sugar:
2
g
,
Vitamin A:
209
IU
,
Vitamin C:
7
mg
,
Calcium:
58
mg
,
Iron:
1
mg