Simple Lemon Chicken & Asparagus Foil Packs are an easy and incredibly delicious 30-minute meal you can either grill, or bake any time of the year. 
If foil packs are on your mind, you'll have to try these other delicious foil packs like Steak Fajita Foil Packs, Herb Butter Salmon and Asparagus Foil Packs, and Lemon Herb Shrimp and Broccoli Foil Packs.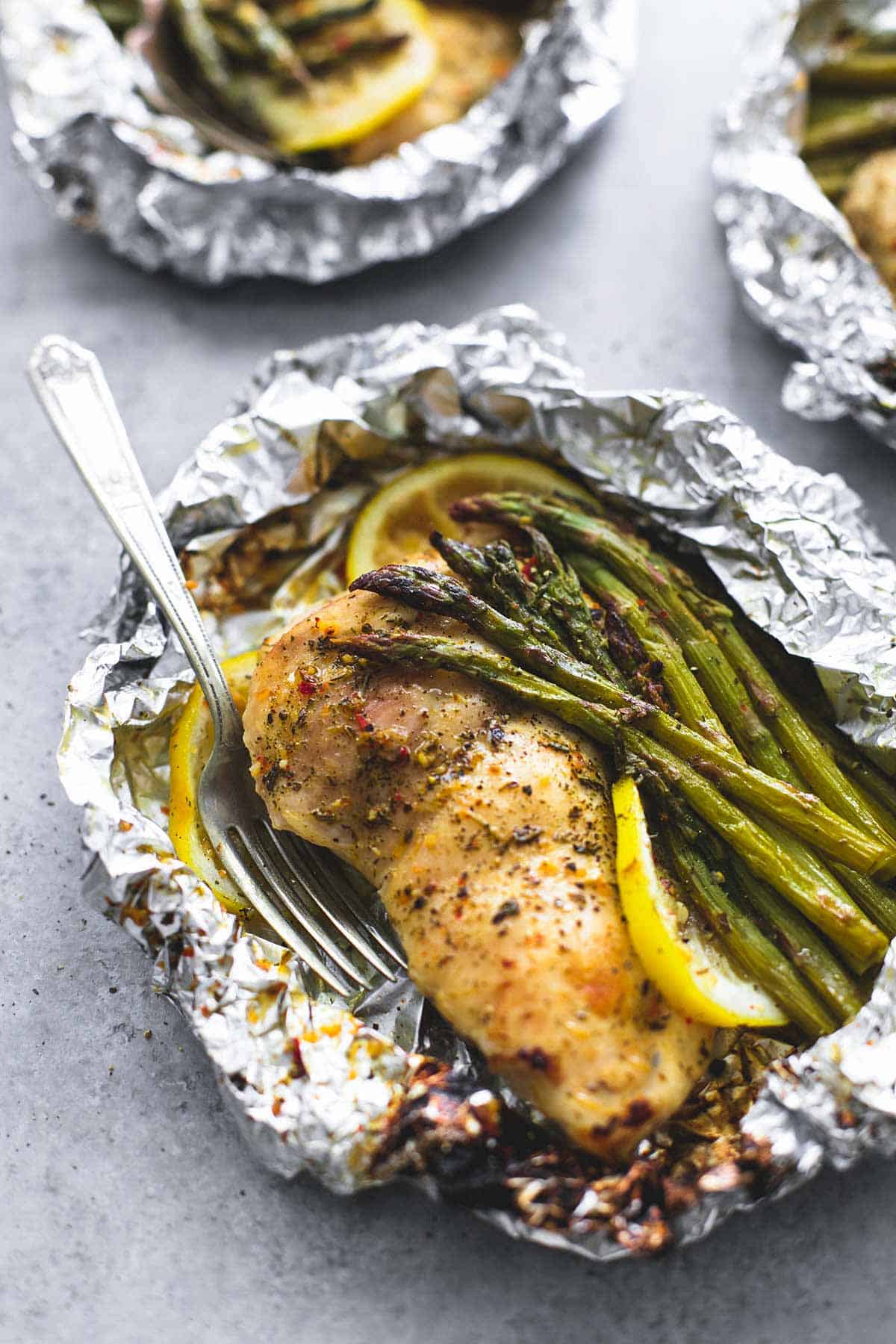 I'm feeling a little guilty for holding out on the greatness that is tin foil dinners for so long. It's August, people. AUGUST. Besides the fact that summer always slips away far too quickly, I really can't believe I didn't share any of my favorite foil pack recipes with you earlier this year. I've been making them, eating them, enjoying the simple, no-fuss deliciousness… but somehow photographing and sharing with you somehow slipped my mind.
Let's blame it on the heat.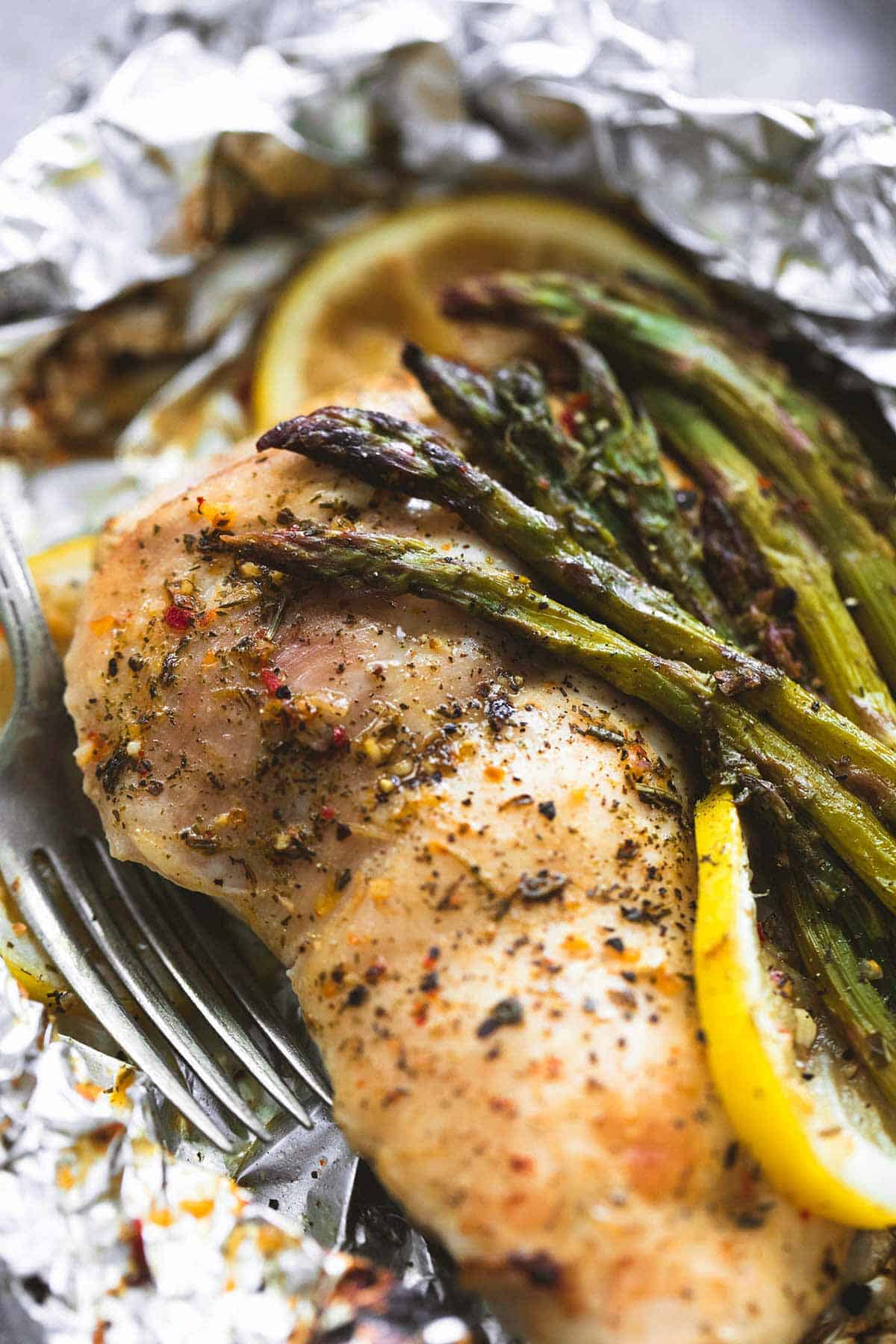 You know that  s i m p l e  no-stress dinners are kind of my jam. (obvi)  But foil packs just take the cake when it comes to easy, delicious meals. No pans to scrub, no dishes to wash, and if you are really dedicated to making your dinner-life a walk in the park you could even use plastic forks and knives so they can go straight into the garbage along with your used-up foil, absolutely no cleaning required.
Unless you are my mother in law who hand washes plasticware and saves it for another day.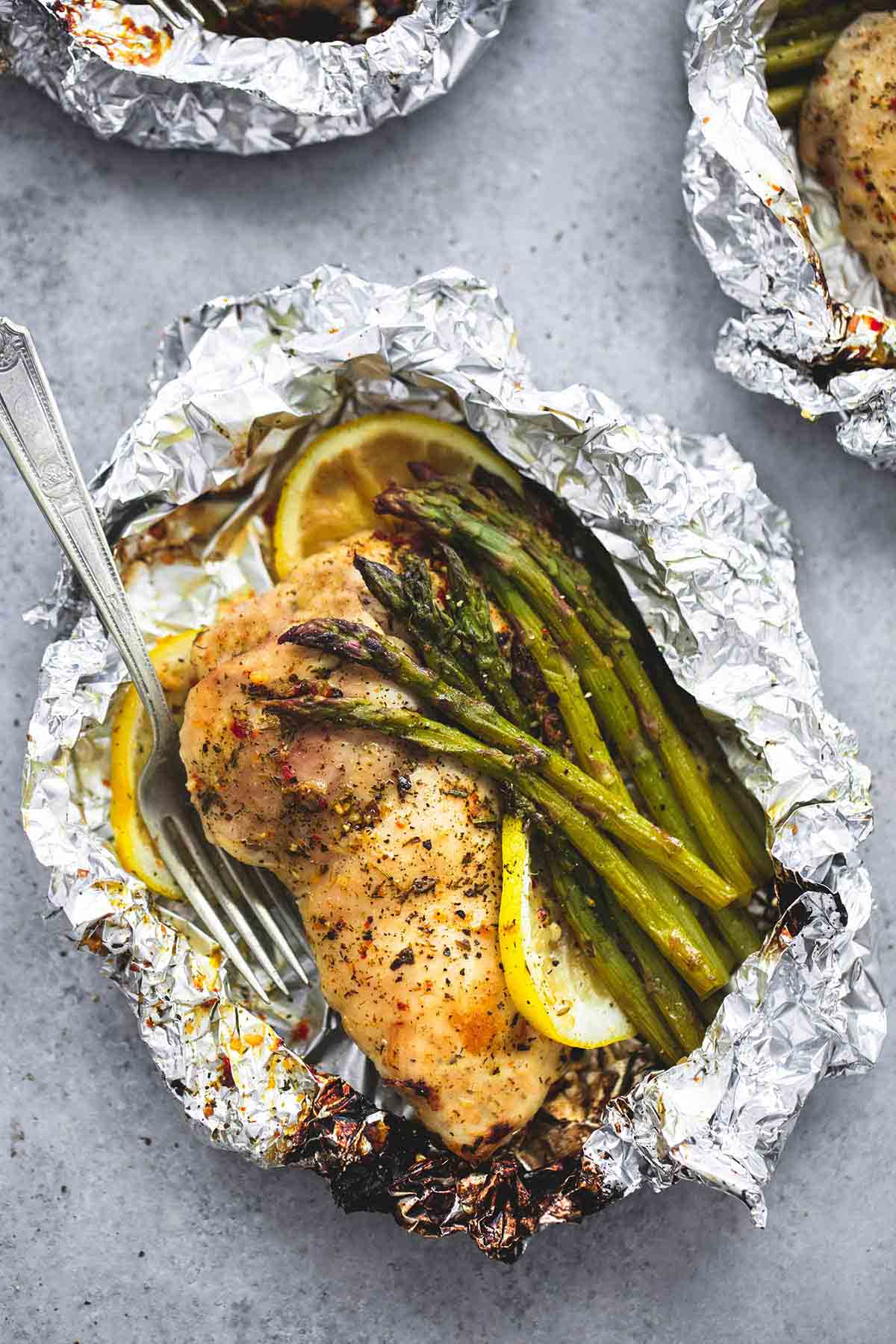 What people are saying about these Lemon Chicken & Asparagus Foil Packs
"I really enjoyed this cooking method! Chicken came out juicy and the asparagus was flavorful. Great weeknight meal/hack. Thank you!" – LC
"Incredibly juicy and delicious, in so little time!!" – Kat
"Thank you for this delicious and very easy dinner meal! I added yellow rice as a side and it cooked exactly as stated. I used Purdue chicken breasts that come individually wrapped /5 to a bag. All about the same size and no pounding necessary! They are ready to go and makes this even easier and done in the 20 minutes!" – Cindy
"Yum this was a great idea for a quick dinner, and a small family of 3. Easy too! Thanks for sharing" – Fernando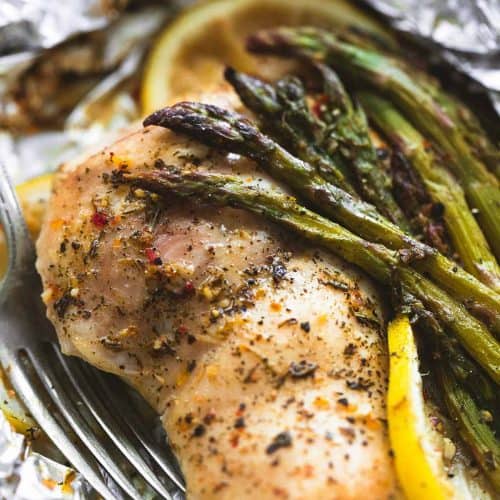 Lemon Chicken & Asparagus Foil Packs
Simple lemon chicken & asparagus foil packs are an easy and incredibly delicious 30-minute meal you can either grill, or bake any time of the year.
Ingredients
4

boneless skinless chicken breasts

-

pounded to even thickness, OR 6-8 boneless skinless chicken thighs (see note)

1

large

bundle of asparagus spears

-

(about 1 pound)

1

lemon

-

divided

1

teaspoon

minced garlic

3

tablespoons

butter

-

melted

1 ½

teaspoons

Italian seasoning

salt and pepper to taste
Instructions
Lay four 12x12 inch squares of foil out on a flat surface. Place one chicken breasts (or 1-2 thighs) in the middle of each piece of foil.

Trim the flat end of the asparagus at 1-2 inches from the end and discard. Cut the remaining spears in half and divided them between the foil packs.

Thinly slice one of the lemons and divide the slices between the foil packs, tucking the slices in, around, and between the chicken and asparagus.

Stir together butter, garlic, juice of the remaining lemon, and Italian seasoning. Brush over chicken and asparagus. Sprinkle with salt and pepper to taste.

Fold the foil over the chicken and asparagus to close off the pack, pinch the ends together so the pack stays closed.

Grill over medium-high heat for 7-9 minutes on each side OR bake at 400 for 15-20 minutes or until chicken is cooked through and asparagus is tender. Serve immediately.
Notes
Chicken thighs tend to be smaller than most chicken breasts so if you are going to use thighs, use 1-2 depending on the size of the thigh - for smaller, you'll probably want two in a single foil pack, if they are larger you could get away with using one in a foil pack. Just remember each pack is for one person so you want as much chicken as will fill that person!
Nutrition
Calories:
148
kcal
,
Carbohydrates:
4
g
,
Protein:
25
g
,
Fat:
3
g
,
Saturated Fat:
1
g
,
Trans Fat:
1
g
,
Cholesterol:
74
mg
,
Sodium:
144
mg
,
Potassium:
493
mg
,
Fiber:
1
g
,
Sugar:
1
g
,
Vitamin A:
109
IU
,
Vitamin C:
16
mg
,
Calcium:
40
mg
,
Iron:
1
mg