Juicy and savory seasoned Garlic Steak and Potato Foil Packs are the perfect baked or grilled 30 minute hearty, healthy meal!
If foil packs are on your mind, you'll have to try these other delicious foil packs like Steak Fajita Foil Packs, Herb Butter Salmon and Asparagus Foil Packs, and Lemon Herb Shrimp and Broccoli Foil Packs.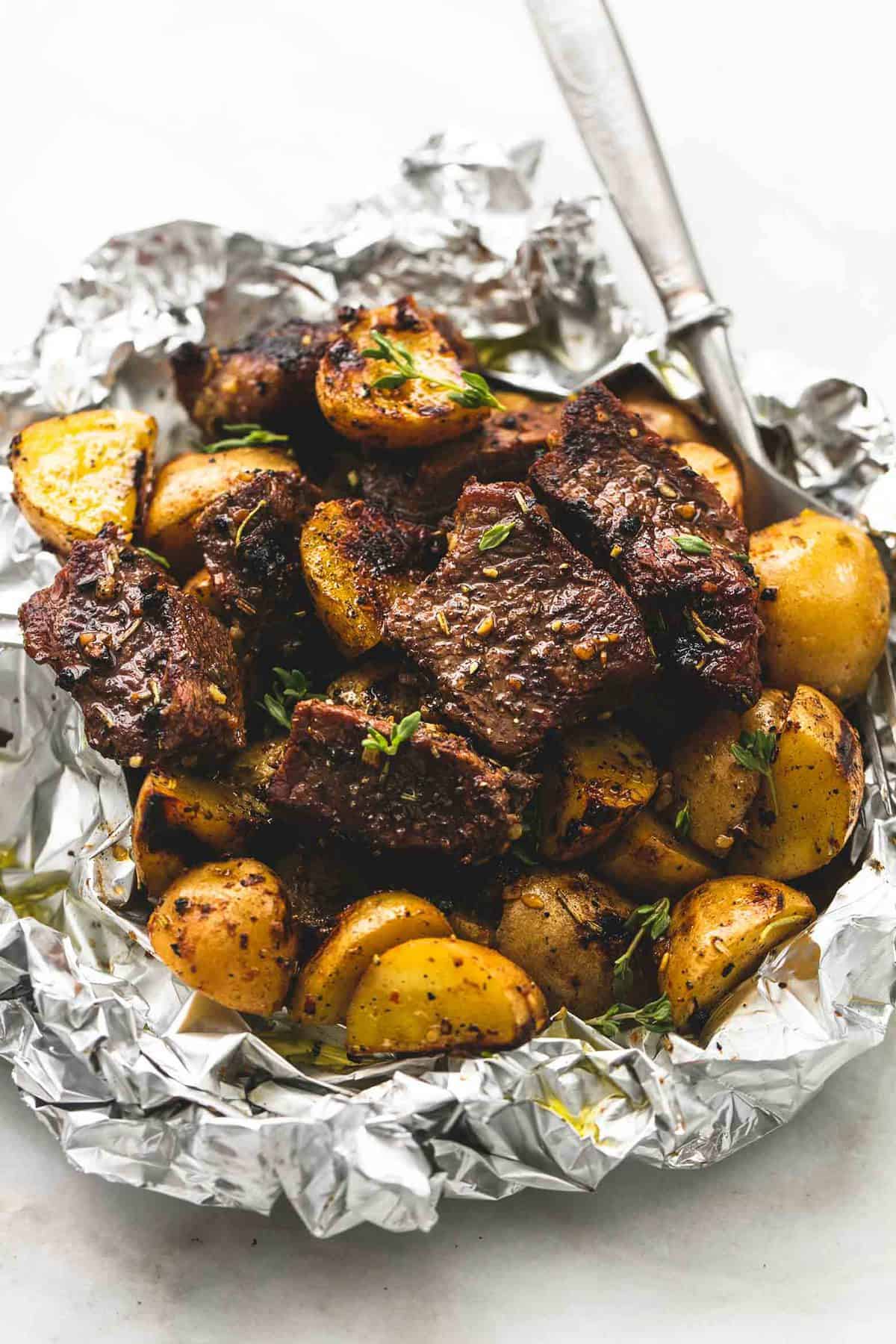 In my mind there are some foods that just go together. French fries and ketchup. Oreos and peanut butter. Chips and salsa. Diet coke and cherry syrup. And of course, we can't forget, steak and potatoes.
I've always been a fan of potatoes, as far back as I can remember. Whether mashed, split open and piled with sour cream, cheese and bacon, or deep fried and salted, I'm on board.
Steak was a different story though. For years and years I believed that I didn't like steak.
I thought it was tough and flavorless, that is until my late teenage years when I ate at a Japanese restaurant and devoured a fillet mignon in about 2.7 seconds. All it takes is one amazing steak, cooked the right way, to convince you that steak is actually pretty fantastic.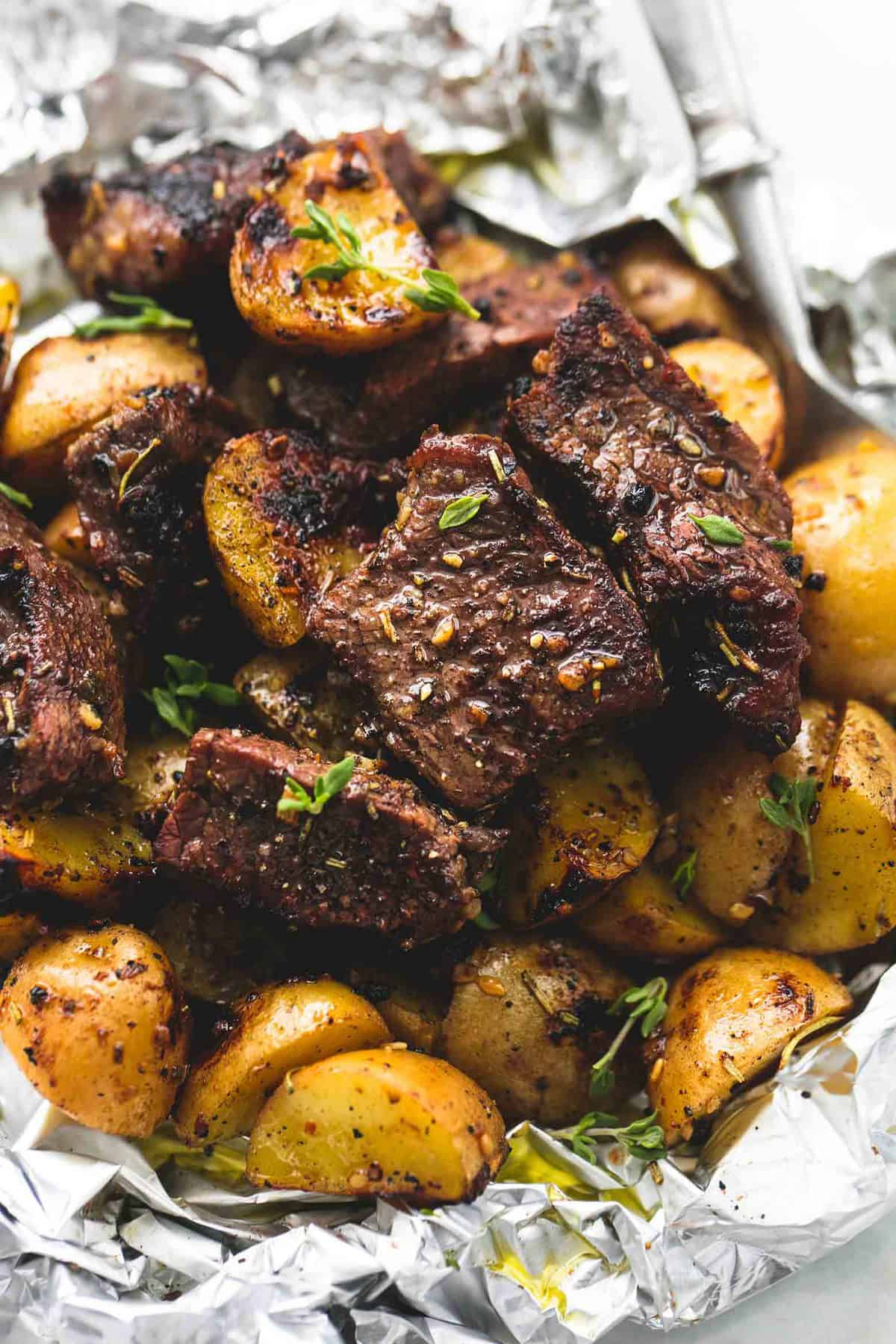 I had no idea steak could be so juicy, so tender, so melt in your mouth perfect with such incredible flavor! Now I'm hooked.
Especially when we are talking about garlic steak. I'll take garlic on pretty much anything (seriously. garlic is LIFE.) but garlic steak is just out of this world delicious.
Since I've become somewhat obsessed with foil packs this summer, I decided to try a twist on steak and potatoes with lots of garlic and seasonings. Turns out this recipe was just waiting to happen because it is perfection.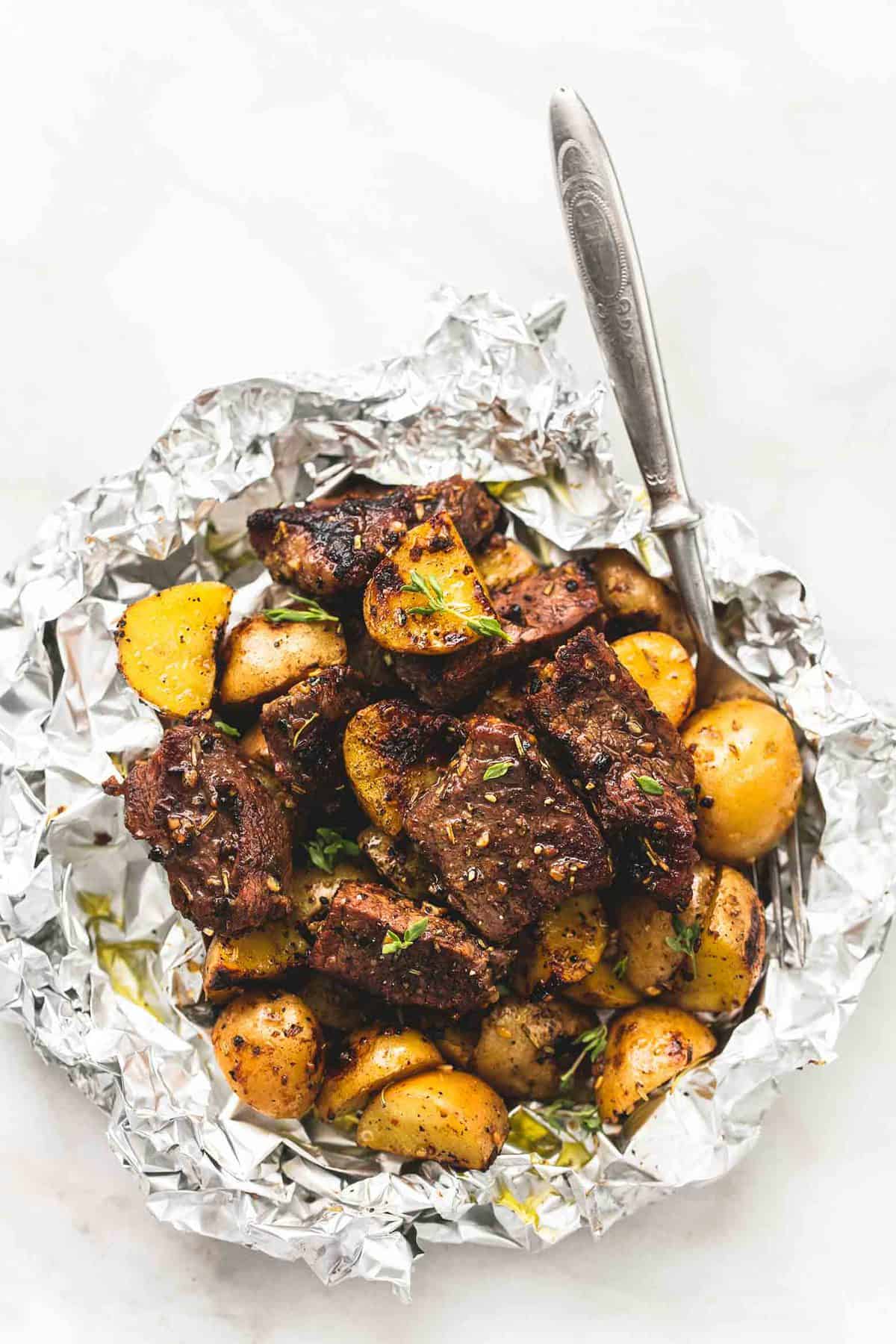 I like my steak with just a teeny tiny hint of pink right in the middle, just to the point it's about to disappear completely.
If you like it that way too, I suggest cutting the steak into larger 2-inch chunks because the potatoes need enough time to cook all the way through. If you like a heavier char and more doneness to your steak, just cut it into 1-inch pieces and it should come out just right.
Steak and potatoes are a fantastic combination and they really shine in this easy and insanely flavorful foil pack meal! Savory herbs, olive oil, and garlic bring these ingredients to life in just 30 minutes with pretty much zero cleanup.
It doesn't get any better than that!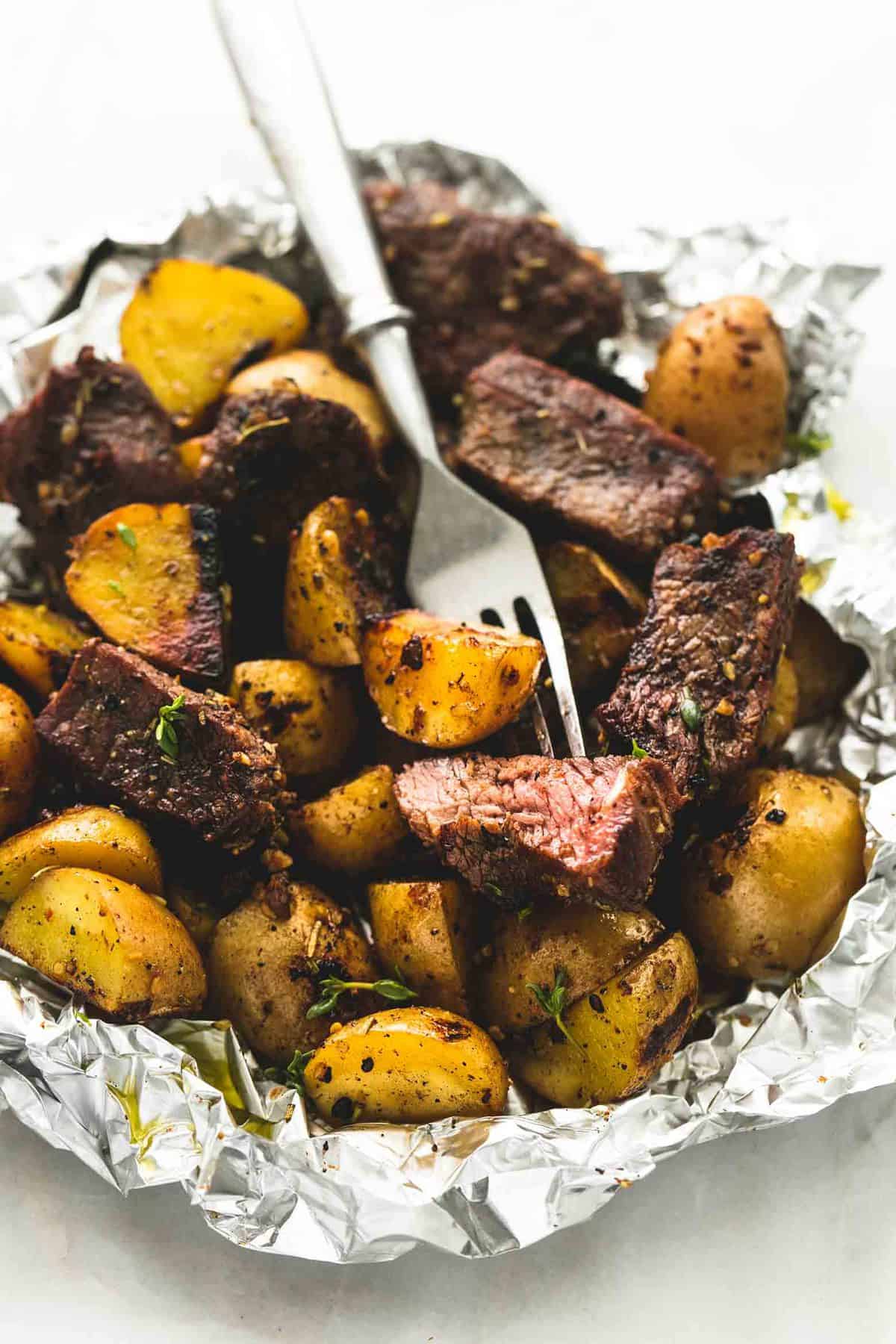 What people are saying about these Garlic Steak and Potato Foil Packs
"Whenever I mention trying new recipes, my husband cringes because we've disliked a few. But this was a HIT!! Even my daughter who's a picky eater wanted seconds!! Very yummy recipe we will be making again!!" – Brandy
"I tried this and it is fantastic!! We are having it again for supper tonight." – Heather
"Great meal, I cooked the foil package on the barbecue for 30 minutes, potatoes and meat turned out great and delicious." – Don
"This recipe is heavenly! I have tried for my boyfriend and we both love it! Thanks!" – Emilia
Garlic Steak and Potato Foil Packs
Juicy and savory seasoned garlic steak and potato foil packs are the perfect baked or grilled 30 minute hearty, healthy meal.
Ingredients
2-2 1/2

pounds

top sirloin steak, trimmed of fat and cut into 2 1/2-inch pieces

(see note)

1

pound

baby yellow potatoes

quartered (or halved if they are already less than 1 inch in size, see note)

3

tablespoons

olive oil

salt and pepper, to taste

(I use about 1 teaspoon salt and 1/4 teaspoon black pepper)

1

tablespoon

minced garlic

1

teaspoon

onion powder

1

teaspoon

dried oregano

1

teaspoon

dried parsley

1

teaspoon

dried thyme

fresh thyme or parsley for topping

(optional)
Instructions
In a large bowl combine steak, potatoes, olive oil, salt and pepper, garlic, and seasonings and toss to combine.

Divide steak and potatoes between four 12x12 inch sheets of foil, then wrap the foil tightly around the contents to form your foil packs. Grill over high heat for about 10 minutes on each side or until steak and potatoes are cooked through OR bake at 425 degrees for about 20-25 minutes until cooked through to desired doneness (see note).

Garnish with fresh thyme or parsley and serve immediately.



Notes
Be sure to cut your steak into pieces that are at least 2x2 inches, and potatoes into pieces smaller than one inch. This ensures even cooking.
*For medium doneness on the steak, boil the potatoes first for five minutes before adding to the bowl and proceeding with the rest of the recipe. This will help them to cook faster once in the foil pack.
**If you prefer a char on your steak, you can open up the packets at the end and cook for a couple minutes directly on the grill, or for baking you can switch oven to broil for a few minutes (with packets opened).