Easy one pan Spanish chicken and rice is made with simple seasoning that come together with zesty, bold flavors in this one pot, 30 minute meal. 
Try these other easy one pot recipes like One Pan Garlic Herb Chicken and Asparagus, One Pan Mediterranean Chicken with Roasted Red Pepper Sauce, and Cajun Shrimp and Rice Skillet.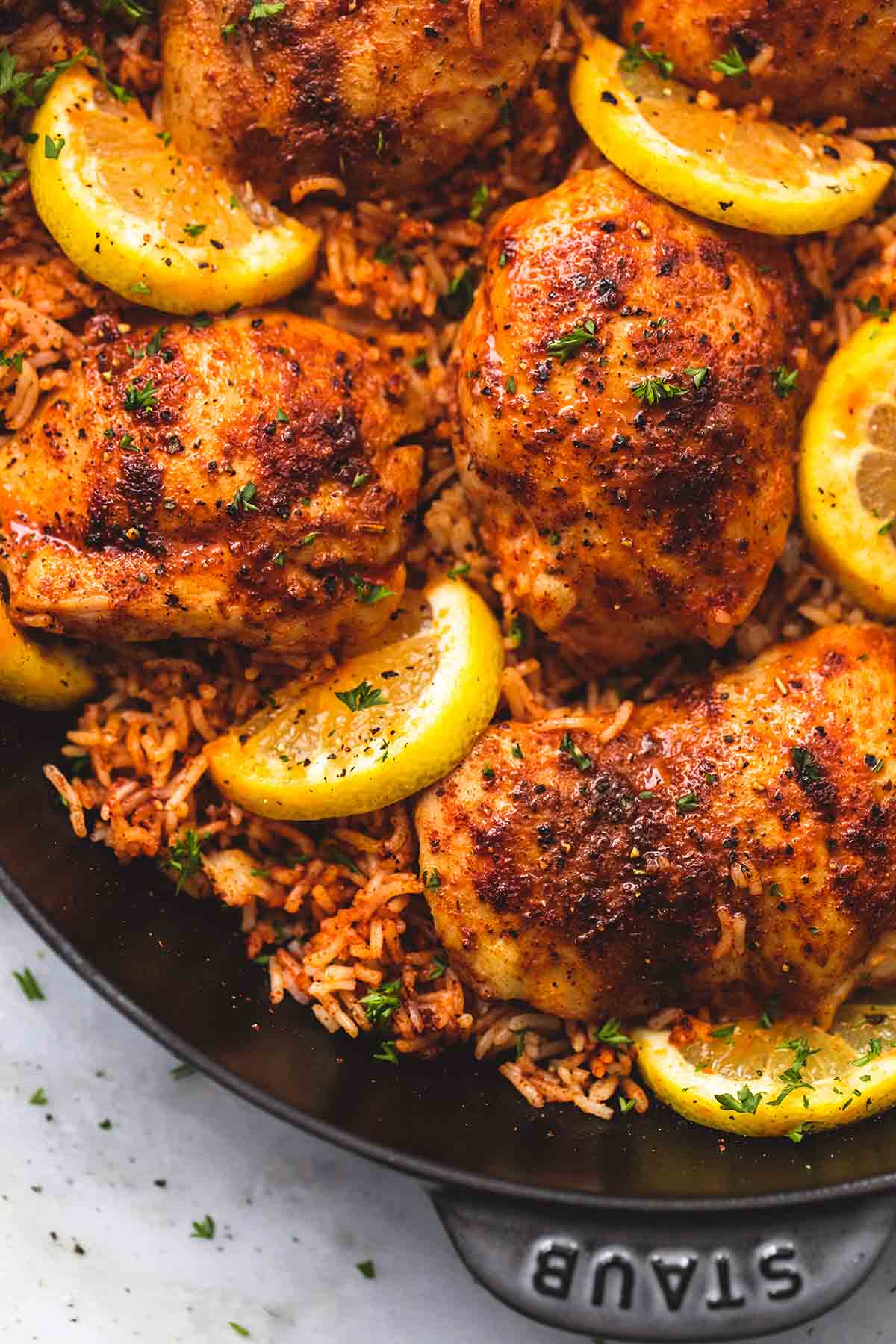 I'm thinking a little bit outside of the box this week and so far I'm loving the out-of-the-box dishes that are happening. I love chicken and rice together and a couple of days ago I was just craving a good ol' one pan/one pot chicken and rice, only I really wanted to step up the flavor profile.
I've been making my ultra-popular one pot lemon herb chicken and rice for a couple of years now and love how easy it is to make with just a few ingredients I almost always have on hand. This week, I took that same one pan chicken and rice idea and put a fun, delicious new twist on it with some big, bold, Spanish seasonings and you guys…. this might even be better than that lemon herb chicken dish. So if you've tried that and love it, you are going to go crazy for this Spanish chicken and rice version.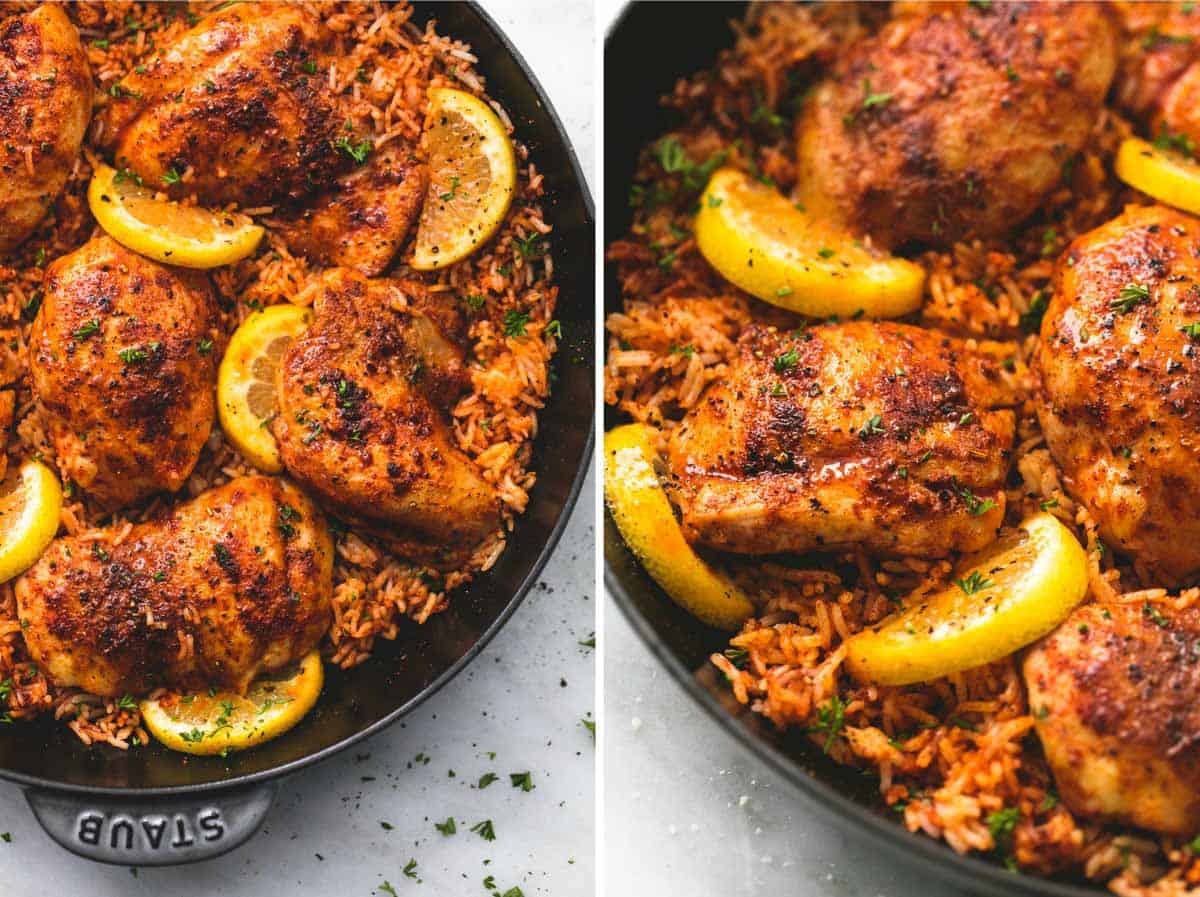 There is one ingredient you mayyyy not recognize and it's coriander. If you haven't cooked with coriander, it's kind of similar to cumin. I use it occassionally and really love the depth it gives to the flavor of dishes. It's easy to find in the spice section of any grocery store, but if you have everything but the coriander and don't want to make a special trip to the store just for one ingredient, you can actually use an equal amount of cumin as a pretty great substitute! If you try this dish, I would love to hear what you think of the flavors so don't be shy and make sure to leave a comment or send me an email or message!!
What people are saying about this One Pan Spanish Chicken and Rice
"OMG. This was heaven in a skillet. After an exhausting day, I printed out this recipe and gave it to my husband and ordered him to make it. I think he spiced it up with some hot chili powder. But the rice! Strongly recommend the thighs for more flavor." – Lisa 

"Made this for dinner and husband and daughter begged to have it on a regular basis!! We all loved it, and I especially loved how simple it was to make and it's only one pot! Thank you Tiffany for the awesome recipe!!" – Mona

"I am beyond thrilled with this recipe! To make something so good in thirty minutes after a long night at work…from the bottom of my heart and sore sore feet thank you!!!" – Alison

"Great recipe. the flavors were great and the meat was juicy (i was worried it wouldn't be). The spice was just the right amount. It seemed like a ton of spice so I was worried it would be too hot for me, but it wasn't at all." – Sarah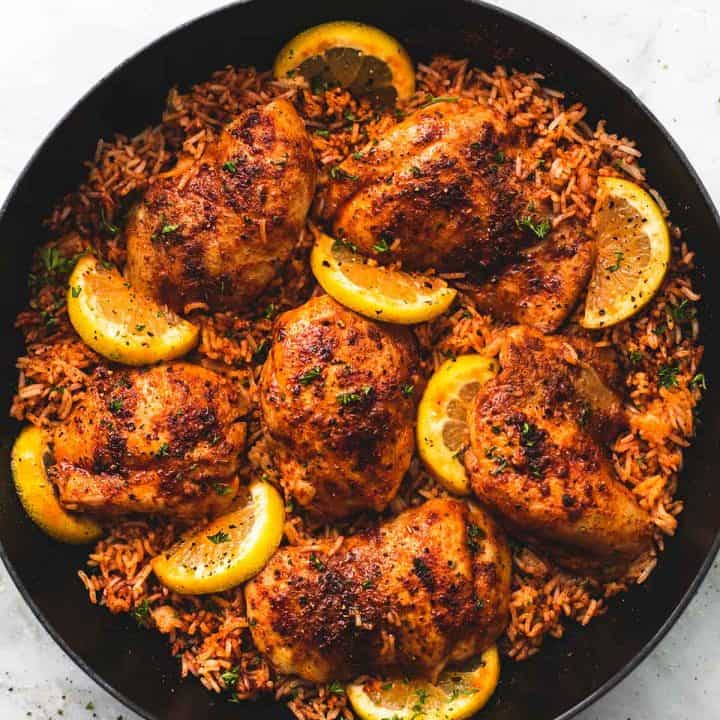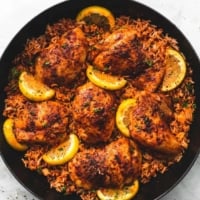 One Pan Spanish Chicken and Rice
Easy one pan Spanish chicken and rice is made with simple seasoning that come together with zesty, bold flavors in this one pot, 30 minute meal.
Ingredients
4

boneless skinless chicken breasts

-

OR 6 chicken thighs

3

tablespoons

vegetable or canola oil

1

cup

uncooked white rice

2 ¼

cups

low sodium chicken broth

1

lemon

chopped cilantro or parsley

-

for garnish
Spanish seasoning mix
2

teaspoons

smoked paprika

1

teaspoon

garlic powder

1

teaspoon

salt

1

teaspoons

ground cumin

1

teaspoon

chili powder

1

teaspoon

coriander

-

(see note)

¼

teaspoon

Italian seasoning
Instructions
In a small bowl whisk together all ingredients for the Spanish seasoning mix. Divide in half and set aside. Cut the lemon in half, then thinly slice one half - for garnish - and reserve the other half for juicing later in the recipe.

Place chicken in a medium bowl. Drizzle with 2 tablespoons oil, then toss to coat well. Use half of the prepared seasoning mix to rub on both sides of each piece of chicken.

Drizzle a large skillet with remaining 1 tablespoon of oil and bring to medium heat. Cook chicken for 2-3 minutes on each side until browned. Transfer to a plate. (It won't be cooked through at this point)

Add rice, chicken broth, juice from 1/2 of the lemon, and remaining seasoning mix and stir to combine. Return chicken to the pan on top of the rice. Cover and cook for 20-25 minutes until liquid is absorbed, rice is tender, and chicken is cooked through.

Garnish with lemon slices and freshly chopped cilantro or parsley and serve immediately.
Notes
*Coriander is found in the spice section of any typical grocery store. In a pinch, cumin can be used as a substitute. 
Nutrition
Calories:
426
kcal
,
Carbohydrates:
43
g
,
Protein:
31
g
,
Fat:
15
g
,
Saturated Fat:
10
g
,
Trans Fat:
1
g
,
Cholesterol:
72
mg
,
Sodium:
765
mg
,
Potassium:
675
mg
,
Fiber:
2
g
,
Sugar:
1
g
,
Vitamin A:
691
IU
,
Vitamin C:
16
mg
,
Calcium:
42
mg
,
Iron:
2
mg