Santa Monica Street Tacos – Flavorfully seasoned steak, cooked to perfection and then wrapped in a white corn tortilla!!!
Have you had street tacos? Street tacos are the best, most authentic (in my opinion) tacos you can get anywhere. They're sold on little street carts and they are my absolute favorite. I grew up getting them pretty often with my family and I'm telling you, I could put away three, four, five of those tacos on any given day. I crave them regularly. As in, all the time.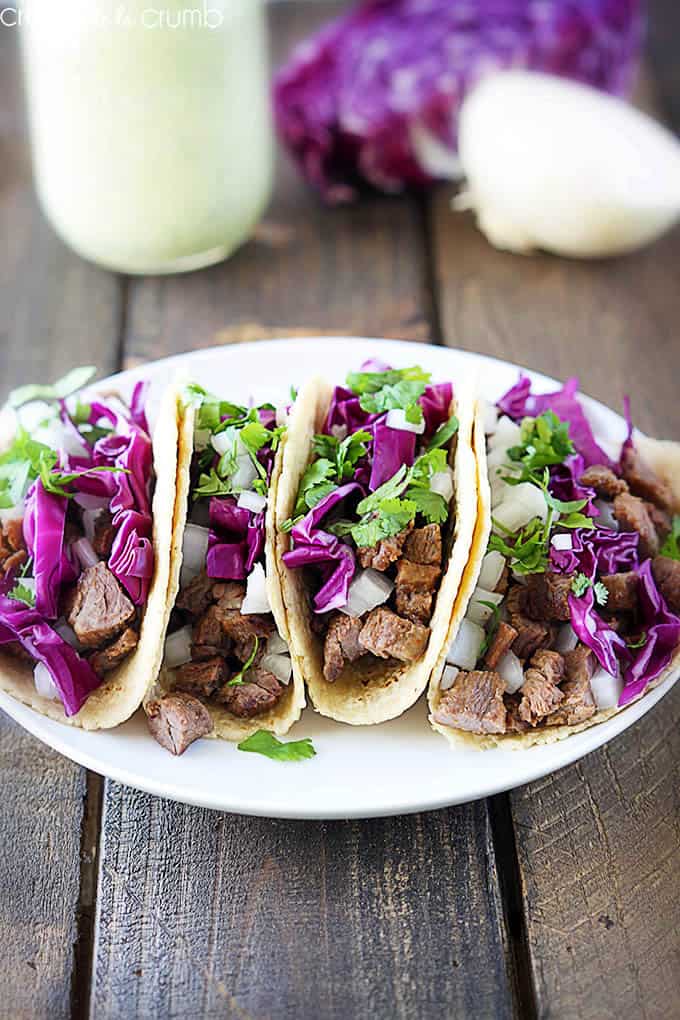 By some sad miracle my husband had never tried street tacos before we were married. Whaaaaaattttt????
Don't worry, I remedied that. Last year when we took a cruise to the Caribbean we had the best street tacos. Okay, I probably say that about every new taco stand I get a taco from but, when you're craving a good street taco, the next one you eat is always the best one. I made my husband try one and he loved it. Of course.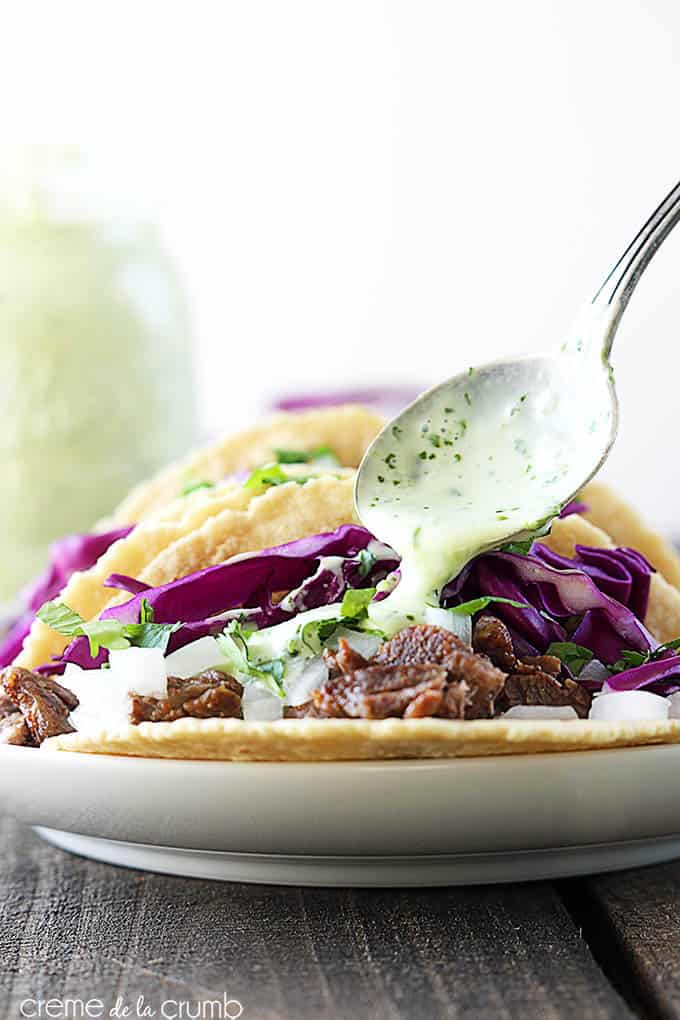 So there's a reason I didn't call these just "street tacos". They're Santa Monica Street Tacos, right? Well they were inspired by some tacos I had when visiting my brother in Santa Monica, California. After a big day of beach sitting and Hollywood street roaming, we had a hankering for some real good street tacos. The thing about So-Cal is, there's a taco stand on just about every other street corner. Sometimes two. We found a stand that looked especially promising (okay we were desperate, it was the first one we came to), and bought ourselves four or five tacos (they're so cheap!). They came with a lime-y cilantro-y sweet and tangy dressing that I've craved ever since. The steak was minced just so, and it was topped with fresh red cabbage and diced white onions.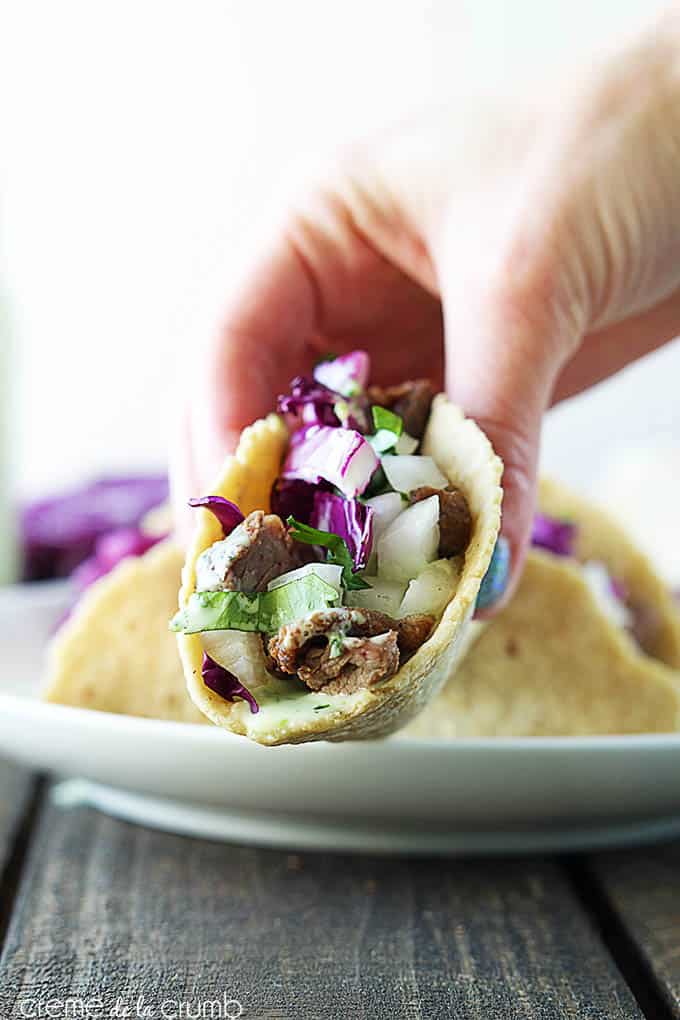 You can make tacos a hundred million different ways but I really like these ones. They taste so…. fresh. I don't know what it is about these but they are just so light and healthy and refreshingly tasty, I can't get enough of them! The best part (can there be a best part??) is that they're so dang easy. Seriously, done in less than thirty minutes and you don't have to heat up your oven. Love it. Make these for game day, make these for date night, make them for Tuesday Taco Night, just make them.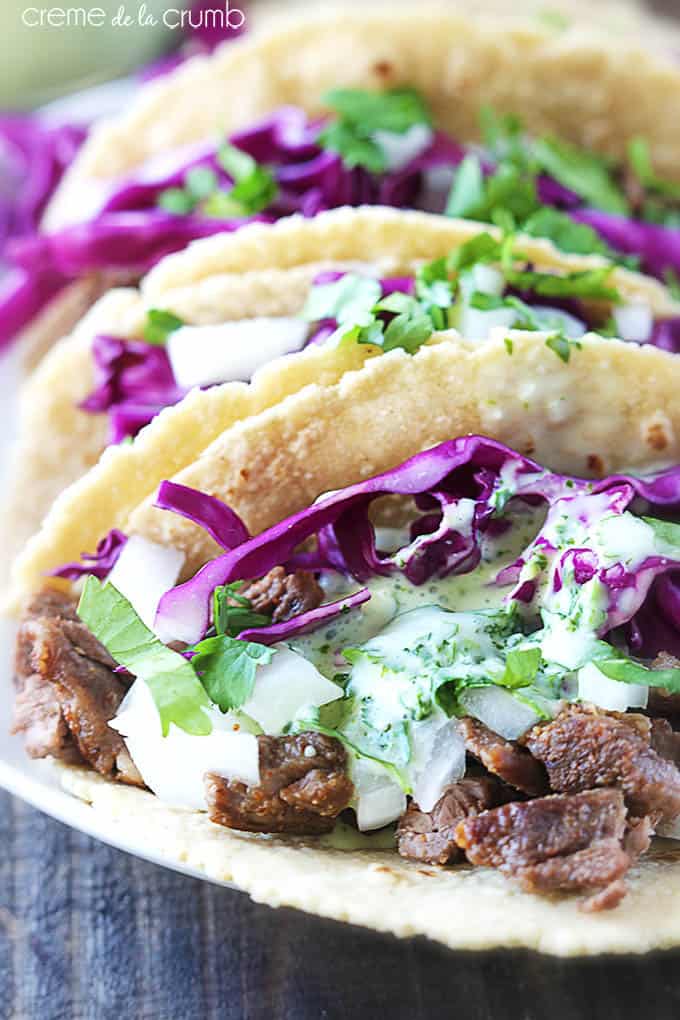 If you like these Santa Monica Street Tacos, you'll love my Southwest Loaded Potato Skins, Baked Crab Wontons, Green Chile Queso Blanco, and Baked Onion Rings.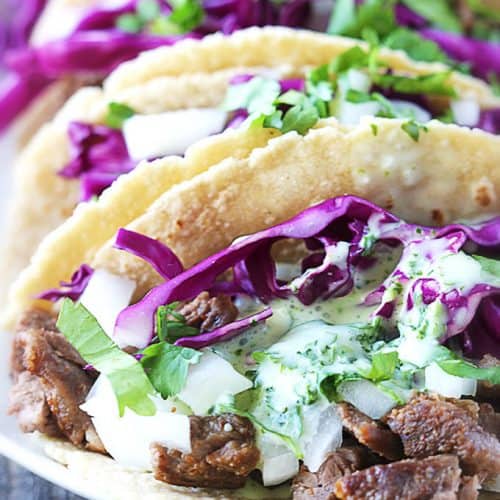 Santa Monica Street Tacos
Flavorfully seasoned steak, cooked to perfect and wrapped in a white corn tortilla, then topped with cabbage, fresh onions, and a cilantro lime vinaigrette!
Ingredients
6

6-inch

white corn tortillas

(you can sub yellow corn if you can't find white corn)

1

pound

skirt steak,

trimmed of fat and sliced into thin strips

1/2

teaspoon

salt

1/4

teaspoon

cayenne pepper

1/2

teaspoon

garlic powder

1/2

teaspoon

minced garlic

1

teaspoon

oil

1

cup

diced onion

1/2

cup

cilantro leaves,

roughly chopped

2

cups

thinly sliced red cabbage
Cilantro Lime Vinaigrette
3/4

cup

cilantro leaves

juice of 2 limes

1/3

cup

oil

4

teaspoons

minced garlic

1/4

cup

white vinegar

4

teaspoons

sugar

1/4

cup

milk

1/2

cup

sour cream
Instructions
Heat oil over medium heat. Season sliced steak with salt, cayenne pepper, and garlic powder. Add steak to pan and sauté until cooked through (about 8-10 minutes). Add garlic and sauté 1-2 minutes longer until garlic is fragrant. Remove from heat and dice steak.

Whisk together all ingredients for vinaigrette. Add mixture to a blender and pulse 1-2 minutes until smooth. Add 1/4-1/3 cup steak to each tortilla (hot tip: if you microwave them for 30-45 seconds they'll be easier to handle and super delicious!) top steak with cabbage, onions, and chopped cilantro. Drizzle with vinaigrette and serve immediately.
Notes
Easily swap out the steak for chicken or shrimp!
This recipe can be doubled easily. 
Nutrition
Calories:
738
kcal
|
Carbohydrates:
42
g
|
Protein:
39
g
|
Fat:
47
g
|
Saturated Fat:
11
g
|
Trans Fat:
1
g
|
Cholesterol:
117
mg
|
Sodium:
573
mg
|
Potassium:
904
mg
|
Fiber:
6
g
|
Sugar:
13
g
|
Vitamin A:
1468
IU
|
Vitamin C:
41
mg
|
Calcium:
170
mg
|
Iron:
4
mg