Super easy Slow Cooker Broccoli Beef! The sweet/savory/garlicky sauce is AMAZING, not to mention so much better tasting and healthier than takeout.
If you love Slow Cooker Broccoli Beef, you've gotta try my NEW INSTANT POT BROCCOLI BEEF, as well as my popular Shredded Chicken Tacos, Slow Cooker Beef Stroganoff, and Instant Pot Beef Bourguignon.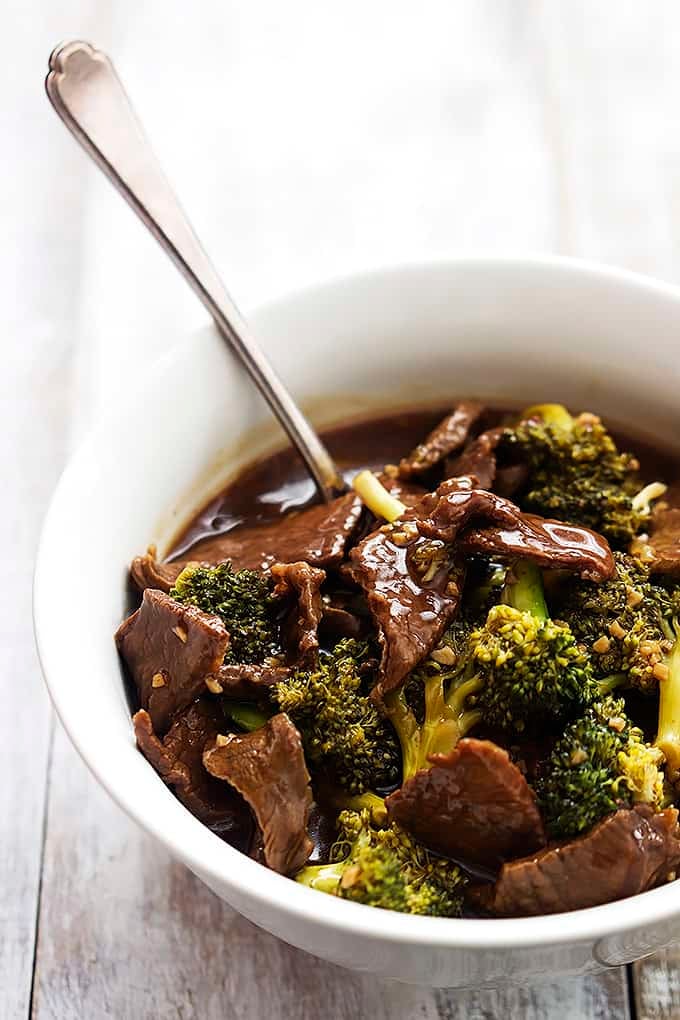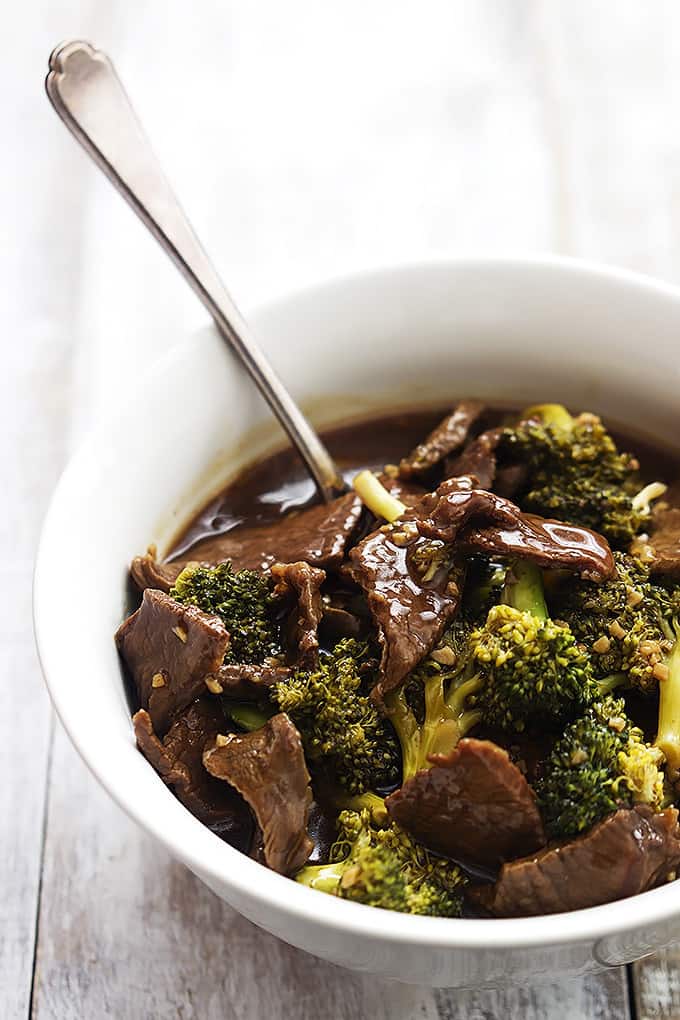 Say hello to my new favorite thing ever: This absolutely, hands down, best-ever, all-time favorite Slow Cooker Broccoli Beef recipe.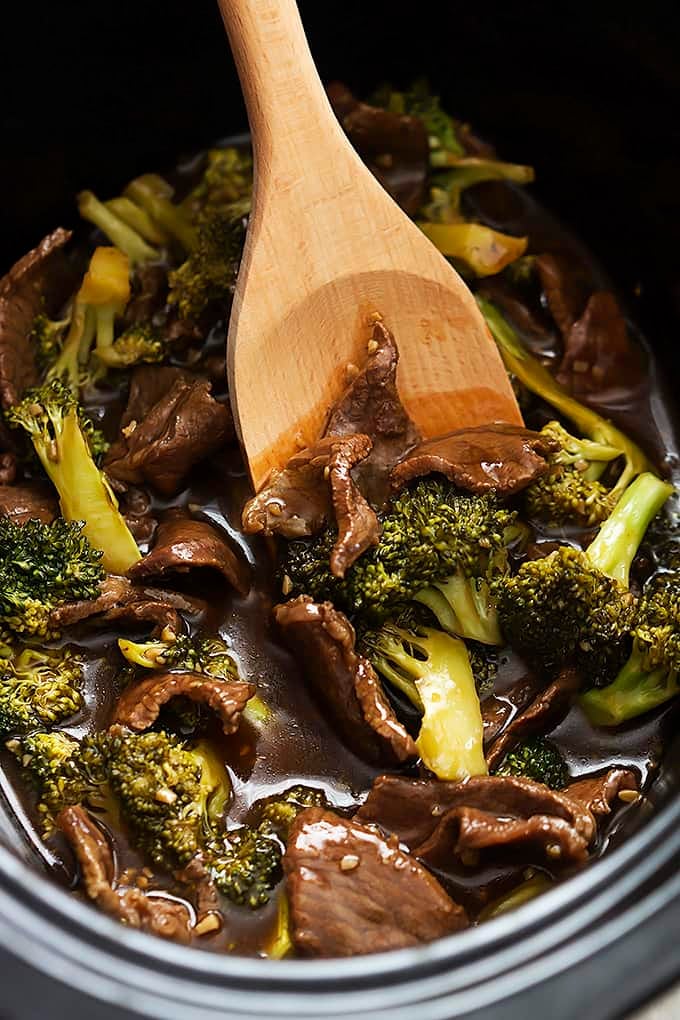 And that statement includes every broccoli beef recipe I've ever tasted — all of which were ordered from a restaurant establishment. This is my way of telling you that this broccoli beef is quite literally better than takeout. I know bloggers say that a lot. But today, it just has to be said. One taste and you'll agree with me.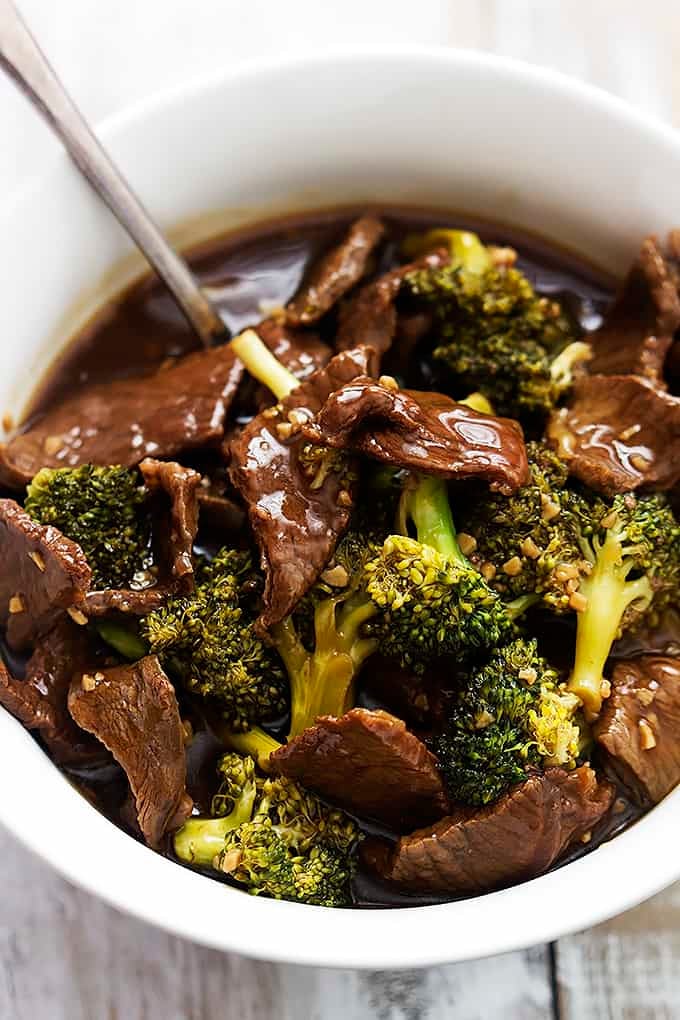 This past November we visited my grandparents in California and promised them that they were welcome at our house for dinner the next time they were in town. Well, this past weekend they were in town and they took us up on this offer.
I'm happy to report, this broccoli beef did not fail me. My grandparents (and Pops!) went on and on and onnnnnn about how much they loved it. Can I get a woot! woot! for impressing the husband, father, grandmum and grandpop in one fell swoop?
So easy, incredibly tasty, healthy, and company-worthy… just do yourself a big fat favor and skip the takeout in favor of home cooked next time you're craving this Asian classic.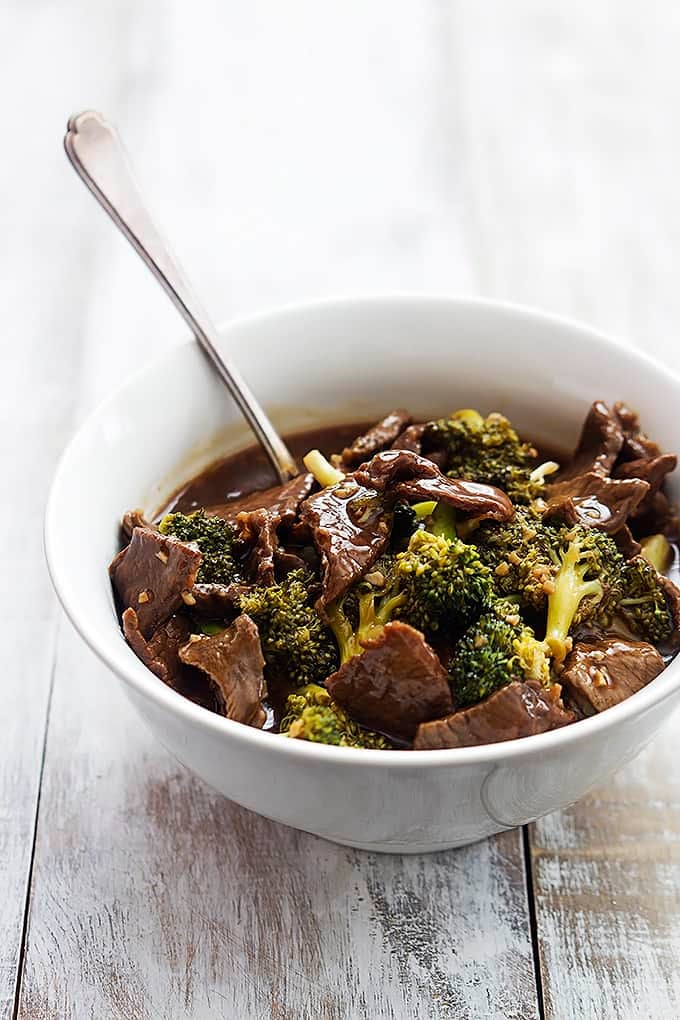 WHAT INGREDIENTS ARE IN SLOW COOKER BROCCOLI BEEF?
Flank steak

Beef broth

Low sodium soy sauce

Brown sugar

Sesame oil

Minced garlic

Red chili flakes (optional)

Broccoli florets

Cornstarch

Cold water
HOW DO YOU MAKE SLOW COOKER BROCCOLI BEEF?
Not only is this delicious, it's super easy to throw together in the slow cooker, go on about your day, and come back a few hours later to dig in.
After I've chopped, cut, and measured all the ingredients, I bring them all over to the slow cooker to put in and forget about it for a good 4-5 hours.
First, grease the inside of the slow cooker, then add the steak, broth, soy sauce, brown sugar, oil, garlic and chili flakes if you are using it. Add the lid and cook on high for 2-3 hours or low for 4-5 hours.
Make a slurry from cornstarch and water right before you're ready to serve this beef recipe. Then, add the slurry to the slow cooker and stir it into the sauce. Put the lid back on and let the sauce cook up and thicken for another 20-25 minutes.
Now for the broccoli. While you're waiting for the sauce to thicken, microwave your florets (or steam on the stovetop) and add the broccoli to the beef right before serving, mixing in well to coat the broccoli in the delicious sauce.

Time to serve this delicious dish, sit back and watch the smiles form on everyone's faces as they enjoy this better-than-takeout Slow Cooker Broccoli Beef.


TIPS & TRICKS FOR MAKING SLOW COOKER BROCCOLI BEEF
While this broccoli beef dish is great the way it is, there are plenty of ways to tweak it to your tastes:
Add 1-2 teaspoons of red pepper flakes to the beef and sauce before setting the cooking time.
For even more heat, top with Sriracha after plating the dish.
Use a combination of broccoli and cauliflower for your vegetables. Or, add in more Asian veggies like snow peas, water chestnuts, or thick-cut carrots.
For a super fast shortcut to cooking the vegetables, use frozen broccoli that cooks right in the bag. Follow the directions on the bag for best results.
Purchase already-cut flank steak at your grocery store or ask the butcher. You might find it labeled "fajita steak" or something to that effect. You can just add that right into the slow cooker, no cutting required!

If you are cutting your own flank steak, be sure to cut across the grain. This ensures the muscle fibers are cut as short as possible, thus making the meat as tender (i.e. not chewy) as possible.

If you have trouble cutting your steak, you can freeze it first for up to an hour to make it easier to slice into.

I like to garnish this with sliced green onions or cilantro. This gives the dish a little more bite at the end.
WHAT CUT OF BEEF DO CHINESE RESTAURANTS USE?
Chinese restaurants usually use a topside of beef. Something like flank steak, that's low in fat and can be sliced easily. This ensures the beef cooks up nice and tender and just makes for the best stir-fries and other Asian beef dishes like this one.

You can also use skirt steak, hanger steak, or even brisket if that's all you have/can find.

Happy eating!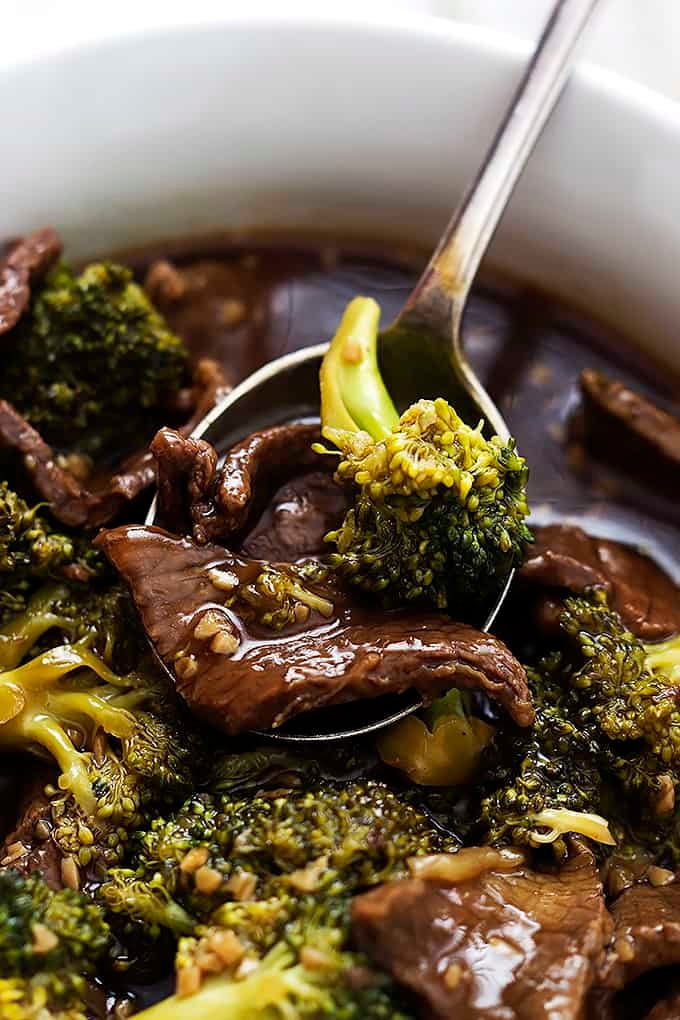 What people are saying about this Slow Cooker Broccoli Beef
"Made this last night and my friends LOVED it! Better than going to a restaurant. I doubled the sauce recipe because I also made a stir fry to go with it. I spiraled zucchini and squash into noodles, then sautéed them with leeks and snow peas. Epic meal! Thanks so much!" – Debbie
"This is amazing! I had flank steak I needed to make before it went bad and I saw this recipe on Pinterest. My boyfriend told me he wanted to cook today so my plan was to make the beef and put it in the fridge for tomorrow. After the meat was done, I went to taste it and I absolutely loved it. I was debating whether to eat and ignore his food but I figured that's be horrible on my part. So now I'm patiently waiting until tomorrow to eat this up. Not only is it yummy, but it was so easy to throw together." – Loren
"My hubby HATES Chinese/Asian food….He LOVED this recipe. He ask me to make it about once a week. We found it through PINTEREST. I use a tiny bit more garlic and sesame oil and 2 bags of broccoli. Cook on low 6-8 hours. We serve over rice AND with mini store bought spring veg rolls….YUMMY…actually this is cooking on the crockpot RIGHT NOW!" – Angie
"Tried this recipe tonight and it was AMAZING! The sauce is to die for. I used the rest of the beef broth with the corn starch as mentioned in previous comments and also used vegetable oil instead of sesame. Everything came out perfectly !" – Kelly
Slow Cooker Broccoli Beef
Super easy Slow Cooker Broccoli Beef! The sweet/savory/garlicky sauce is AMAZING, not to mention so much better tasting and healthier than takeout. 
Ingredients
1 1/2

pounds

flank steak,

thinly sliced and chopped into 2 inch pieces

1

cup

beef broth

2/3

cup

low sodium soy sauce

1/3

cup

brown sugar

1

tablespoon

sesame oil

1

tablespoon

minced garlic

1/4

teaspoon

red chili flakes

(optional)

4

cups

broccoli florets

2

tablespoons

cornstarch

4

tablespoons

cold water
Instructions
Grease the inside of a slow cooker. Add steak, beef broth, soy sauce, brown sugar, sesame oil, garlic, and chili flakes. Cover and cook on high for 2-3 hours or low 4-5 hours.

Minutes before serving, uncover the slow cooker. In a small bowl, whisk corn starch and water until dissolved. Add to slow cooker and stir. Cover and allow to cook another 20-25 minutes.

Just before serving, place broccoli in a large tupperware, fill with 1/2 inch of water, and place the lid on in an off-set manner so that the container can vent. Microwave on high for 3 minutes. Drain, stir broccoli into slow cooker, and serve.
Notes
For a bit of a spicy kick, add a full 1-2 teaspoons of crushed red pepper flakes