Juicy, tender Slow Cooker Beef Roast with seasoned vegetables is the perfect Sunday night meal for all groups — big or small. Top it off with a simple and easy-to-make gravy for one winner of a dinner! 
Looking for more slow cooker recipes like this Slow Cooker Beef Roast? You'll love Slow Cooker Creamy Beef Stroganoff and Slow Cooker Honey Beef Brisket.
This post is a collaboration with Beef. It's What's for Dinner. on behalf of the Beef Checkoff. I received compensation, but all opinions are my own.
This is it, everyone: My mother's famous Sunday dinner in a nutshell. Technically, okay, this isn't her recipe, it's mine. But this is basically what we had to eat almost every single Sunday growing up. Beef Roast with potatoes and carrots. And salad. And rolls. And Jello. My mother constantly feels the need to cook as though she is feeding an army, bless her heart.
Then again, she did have nine children…that's almost an army. Or a baseball team.
I always wonder why she chose this meal for Sundays over and over again. She could have thrown in the towel and ordered up a bunch of pizzas. She could have had some simple spaghetti or even hot dogs for that matter.
My mom is an amazing cook, yes. But, she's also a thoughtful cook. And I think one of the reasons she chose to do this roast beef in the slow cooker was because she knew how good it would be for us. No matter the ages or genders, she knew that serving us a hearty dish like Slow Cooker Roast Beef would mean that we'd be getting an excellent source of protein, not to mention 10 essential nutrients. She knew that the nutrients in beef would provide our bodies with the strength to thrive throughout all stages of life.
And, also, we'd all eat it happily with zero complaints. I mean, that's worth a ton when you're a parent, right?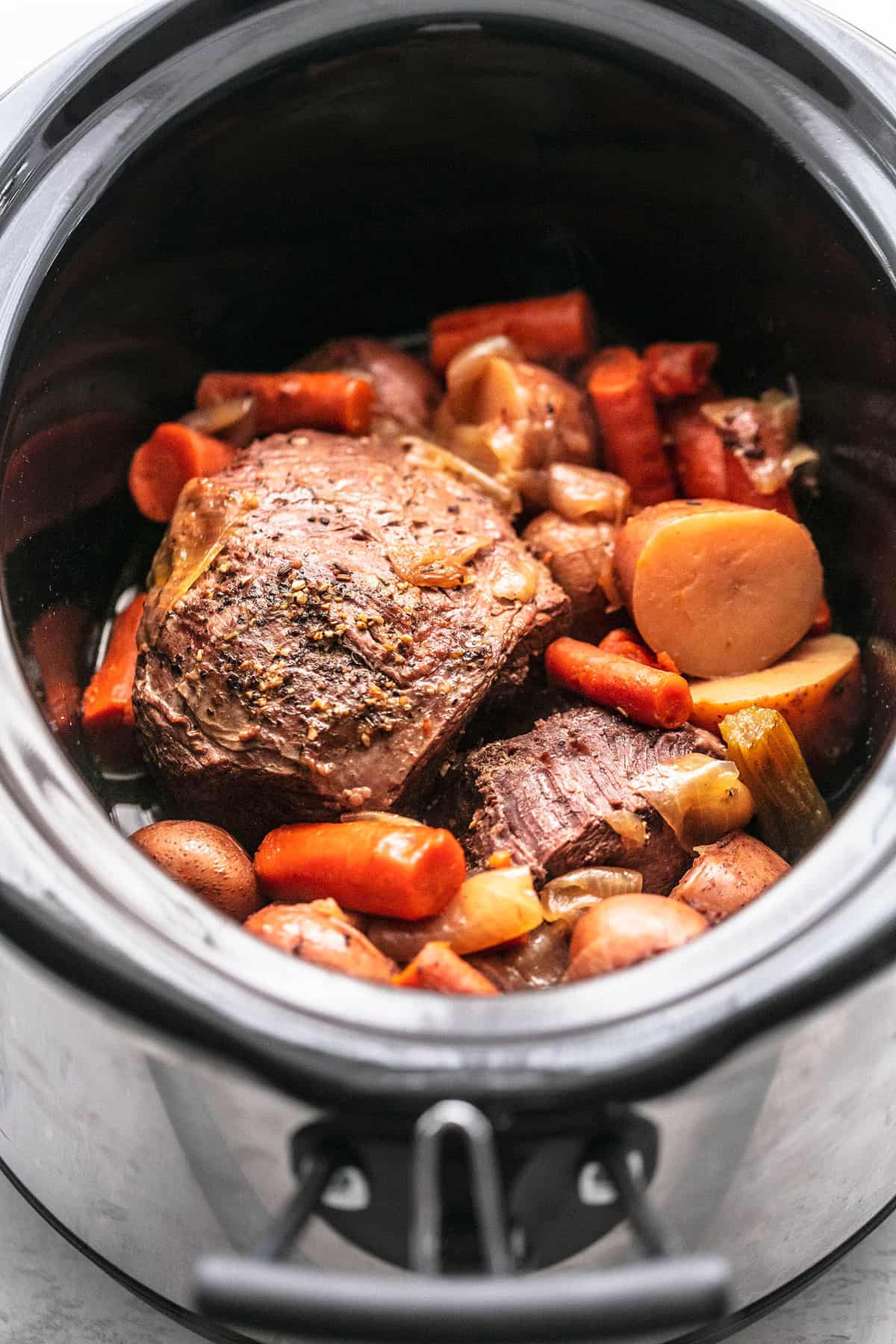 HOW DO YOU COOK BEEF ROAST IN THE SLOW COOKER? 
I love cooking roast in the slow cooker. It's incredibly simple and yields perfectly tender and juicy roast (and has never once been dried out – hallelujah!) every single time. The best part is that you can throw all of the veggies in with the roast so it's a wham-bam all-in-one dinner right there in your slow cooker.
The first thing you need to do is to mix together the steak and Italian seasonings, then rub that seasoning all over the roast. Spray your slow cooker with cooking spray or grease it in another way that you see fit. Add the spice rubbed roast, the broth, potatoes, carrots, onions, and celery to the slow cooker. Put the lid on and cook on low for 9 hours or on high for 6.
So when you're just about ready to eat is when it's gravy go time. Drain the liquid from the bottom of the slow cooker into a sauce pan. Add to that the salt, pepper, garlic powder, and onion powder and let it come to a boil.
In a small dish, whisk together cornstarch and cold water. Add that slurry to the saucepan and turn the heat down to medium-low. Let it cook, and stir occasionally until the sauce thickens. That will only take about 3-5 minutes.
To plate the dish, put the roast on a large serving platter and pull it apart with forks. Pour the gravy over the roast and add the veggies around the side.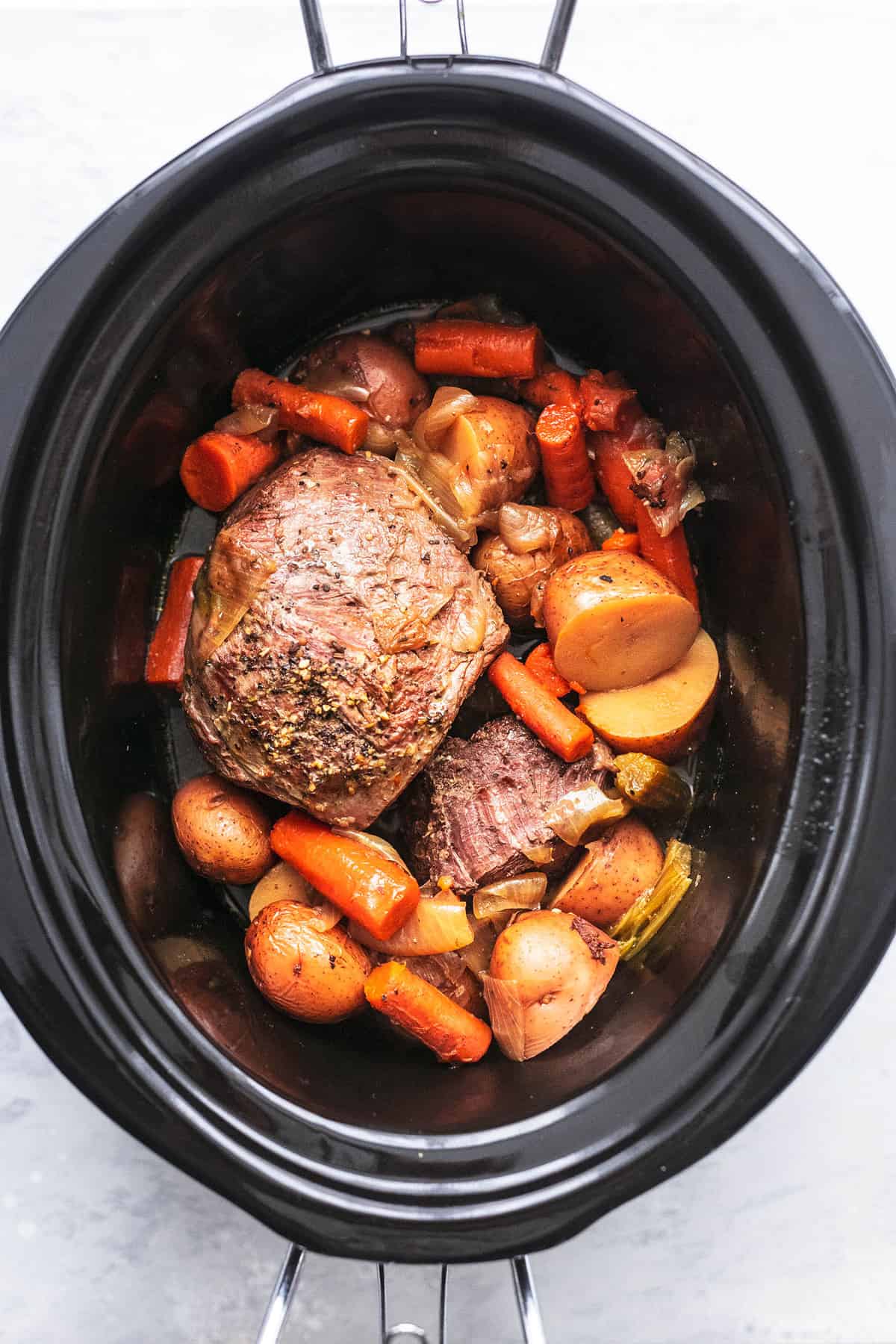 HOW DO YOU MAKE BEEF ROAST IN A PRESSURE COOKER? 
To make this dish in  a pressure cooker, you're going to still follow all the instructions in step 1. Except, when it comes time to cook the beef, set the Instant Pot to pressure cook on high for 90 minutes. Let the Instant Pot release naturally for 10 minutes, then quick-release the rest of the pressure. Remove the roast with a slotted spoon, then switch to the Soup setting and add in your cornstarch slurry.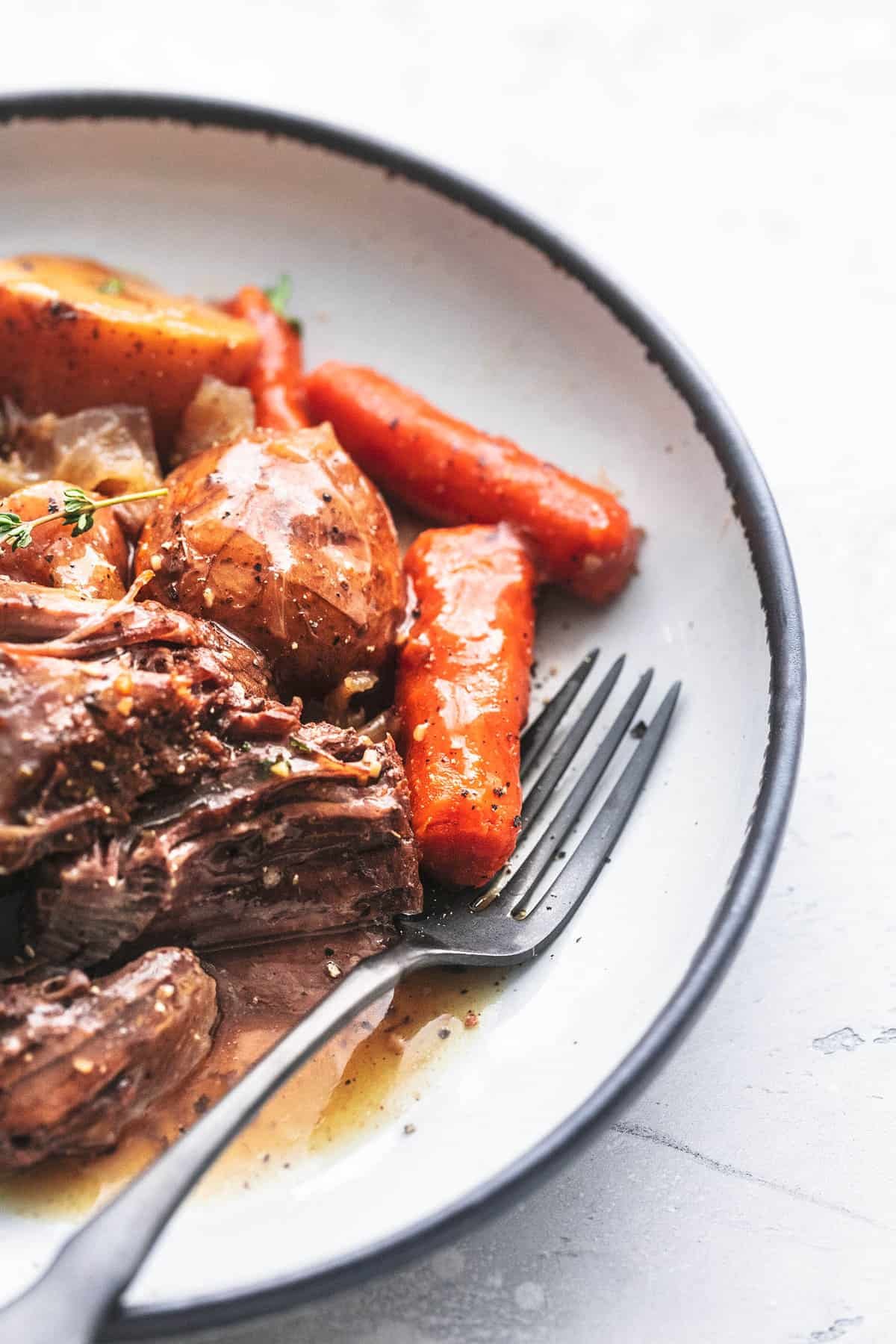 WHAT DISHES GO GOOD WITH BEEF ROAST?
Although this Slow Cooker Beef Roast is quite the nutritious meal, we also had a lot of sides with this beef dish, because, 9 kids!
WHAT ARE THE BENEFITS OF EATING BEEF?
I get asked this question a lot. Why do I like serving beef? Well, beef is a great source of protein and when you eat protein in a meal, you're less likely to overeat at the next meal or reach for a bunch of unhealthy snacks. That's because protein fills you up and helps keep you feeling fuller, longer. Protein is also great for people on-the-go. It provides you with lots of energy to keep going, whether that means running after your kids or running a 5k.
In addition to all that protein, you're also getting zinc, iron, and B-vitamins with every bite of tasty beef.
You'll find that this recipe is also easy to customize or adjust according to your group size. Although the ingredients listed for the gravy make enough for a roast to feed up to 8, you can always double the recipe if you're feeding a larger crowd.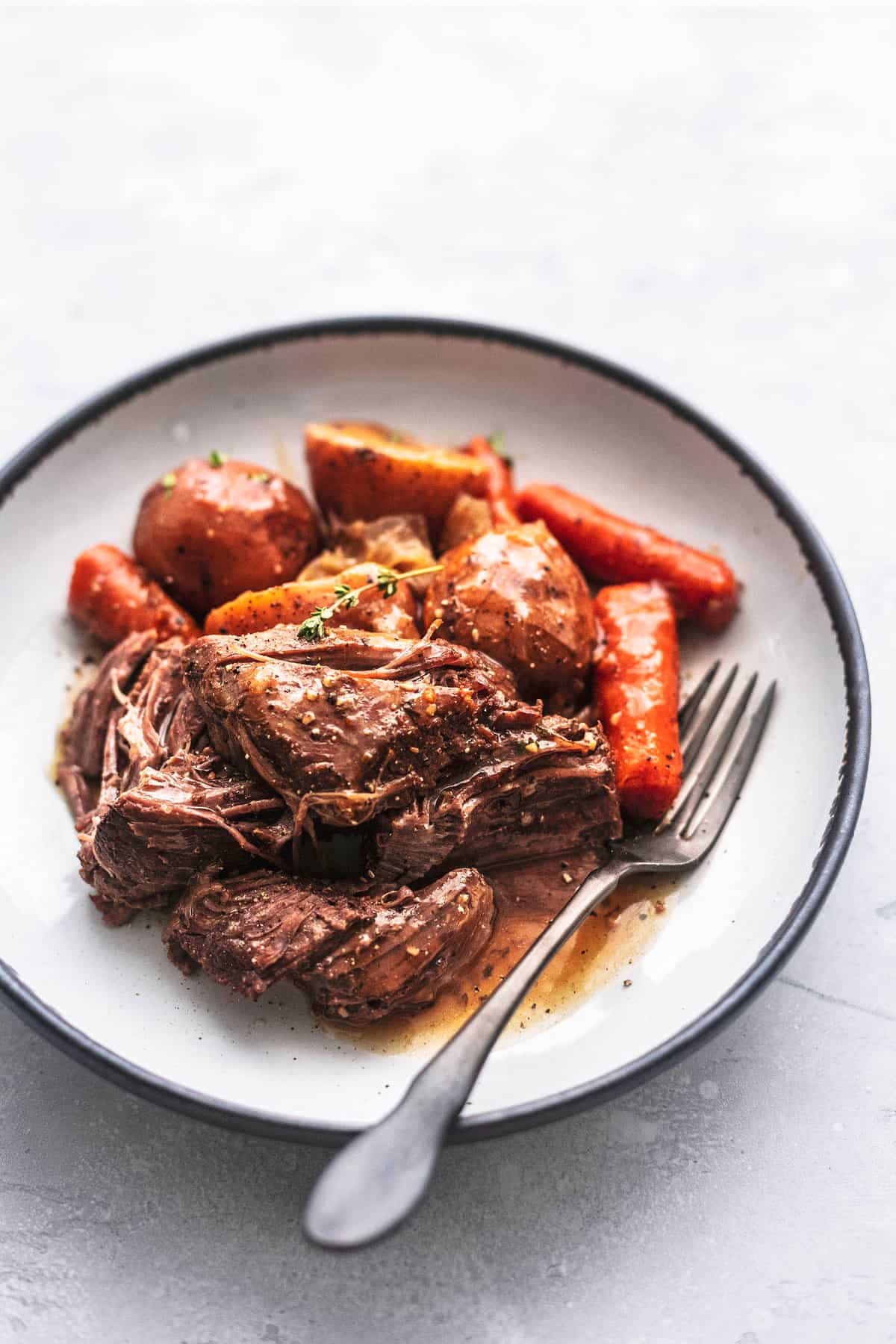 What people are saying about this Slow Cooker Beef Roast
"Hi! I just wanted to let you know that my family loves this recipe, it's a staple in our house for sure!" – Carolyn
"I made this for a very large family dinner. I was a bit nervous since I hadn't made it before, but it was an absolute hit! Everyone raved and several people asked for the recipe. I will be adding this to my favorite recipes folder." – Melissa
"I made this today and while i was concerned the veggies would be dry/blah, they turned out perfectly and it was done in 4 hours. I left it on warm for one hour more and all was great." – Nancy 
"Made this for dinner tonight and it was amazing! I hate pot roast because they are usually flavorless and dry. This was delish. Going to make it again and again." – Ashley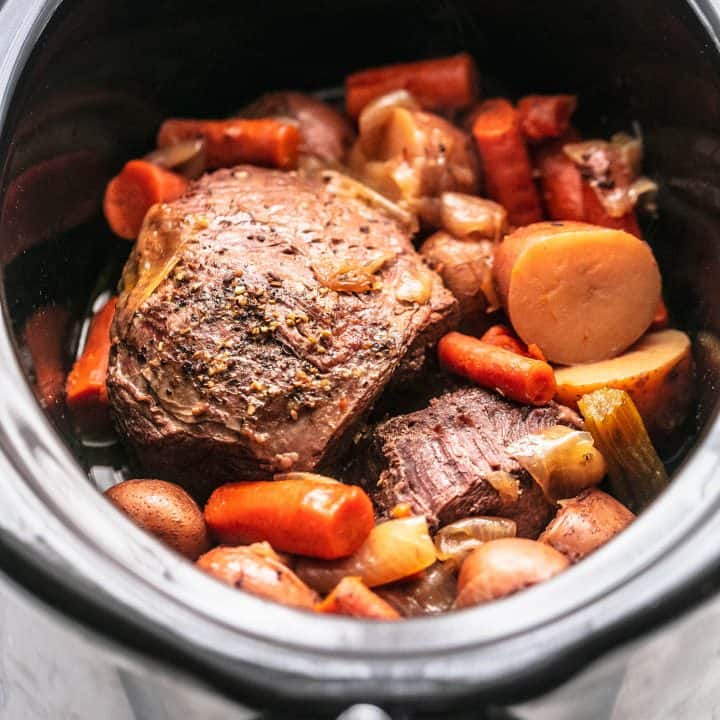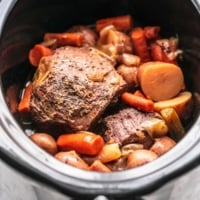 Slow Cooker Beef Roast
Juicy, tender Slow Cooker Beef Pot Roast with seasoned vegetables is the perfect Sunday night meal for all groups — big or small. Top it off with a simple and easy-to-make gravy for one winner of a dinner! 
Ingredients
3

pounds

chuck or rump roast

-

(see note)

2

tablespoons

steak seasoning

1

tablespoon

Italian seasoning

2

cups

beef broth

1

pound

baby carrots

2

pounds

potatoes

-

(I useded red), chopped into 2 inch pieces

1

large

white or yellow onion

-

cut into chunks

1

stalk

celery

-

chopped

2

teaspoons

salt

-

(or more to taste)

1

teaspoon

black pepper

-

(or to taste)

2

teaspoons

garlic powder

1

teaspoon

onion powder

3

tablespoons

cold water

3

tablespoons

corn starch
Instructions
Whisk together steak seasoning and Italian seasoning. Rub seasoning mix all over the roast. Grease a slow cooker. Add roast, beef broth, potatoes, carrots, onions, and celery. Cover and cook on low for 9 hours or on high for 6 hours.

Minutes before serving, prepare the gravy. Drain liquid from sow cooker into a medium sauce pan. Add salt, pepper, garlic powder, and onion powder. Bring to a boil.

Whisk together corn starch and cold water. Add to sauce pan and reduce heat to medium-low. Allow to thicken for 3-5 minutes.

Place roast on a large plate or serving platter. Use a fork to gently pull apart the roast. Pour gravy over roast (and veggies if desired) and serve. Enjoy!
Notes
*This method also works well with larger roasts up to 8 pounds. Simply adjust the amount of carrots and potatoes to feed however many are in your group. Follow instructions as written. For roasts over 8 pounds, double the entire recipe.
Nutrition
Calories:
378
kcal
,
Carbohydrates:
31
g
,
Protein:
42
g
,
Fat:
9
g
,
Saturated Fat:
3
g
,
Cholesterol:
105
mg
,
Sodium:
957
mg
,
Potassium:
1294
mg
,
Fiber:
5
g
,
Sugar:
5
g
,
Vitamin A:
7882
IU
,
Vitamin C:
26
mg
,
Calcium:
97
mg
,
Iron:
6
mg