Saucy Asian Slow Cooker Sweet & Sour Meatballs with red peppers and pineapple made right in your crockpot!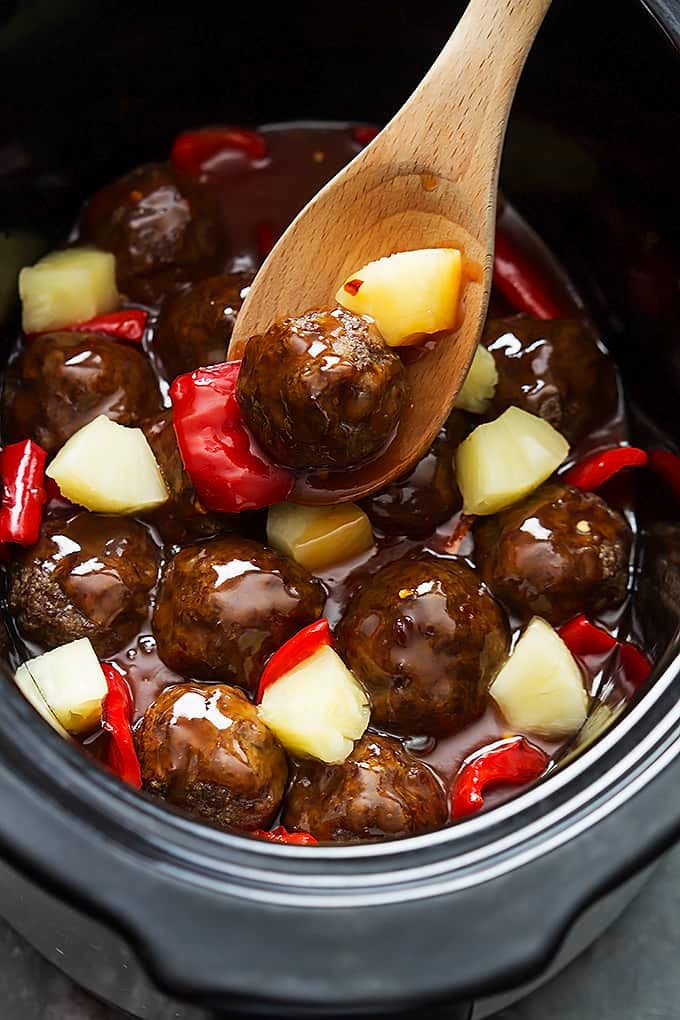 Helloooooo! Happy Sunday folks. I know you're dreading going back to the grind tomorrow, but take comfort in knowing that you've got a new totally yummy dinner on your menu and it is all of the things a weeknight dinner should be.
– easy
– healthy
– crazy delicious
– easy
oh wait I already said that…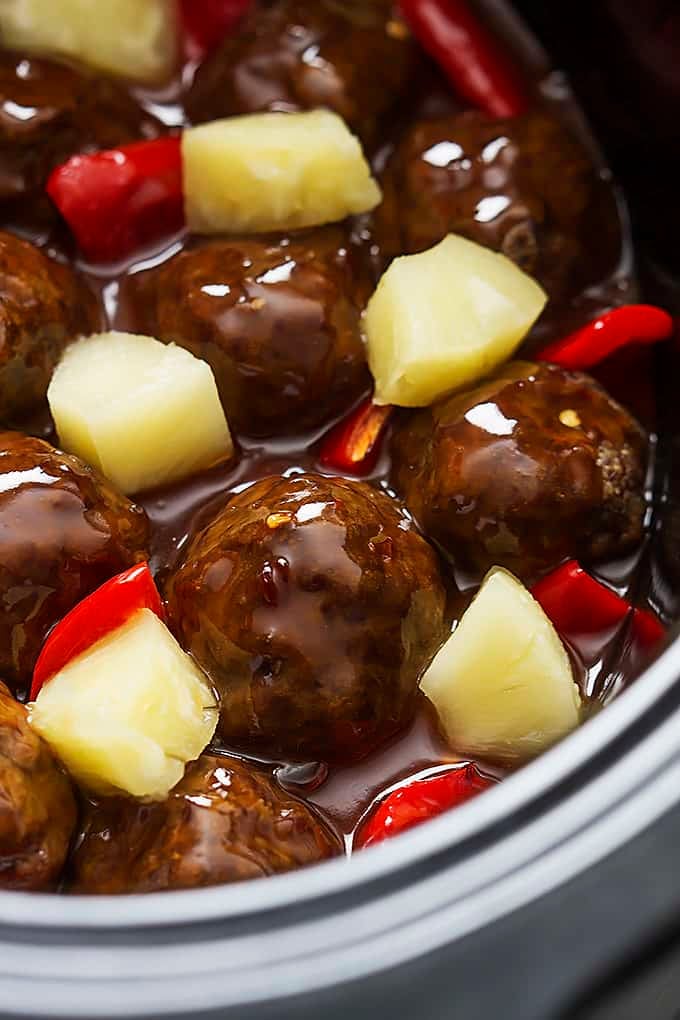 These also make a crowd-pleasing appetizer. So if you're planning a weekend get together and wondering what you can make that will not require a lot of work and will knock the socks off of your guests, slow cooker sweet and sour meatballs are your answer. In fact if you're making them for an appetizer, I'd make them a little smaller than usual and they will be little meatball "poppers" – perfect for the whole toothpick-serving method.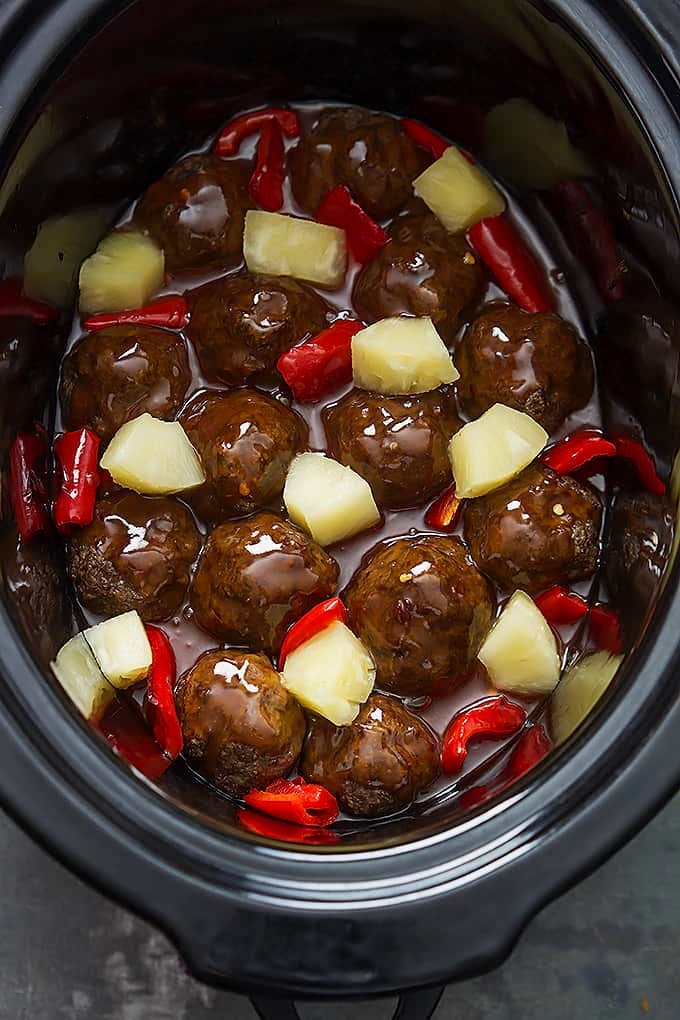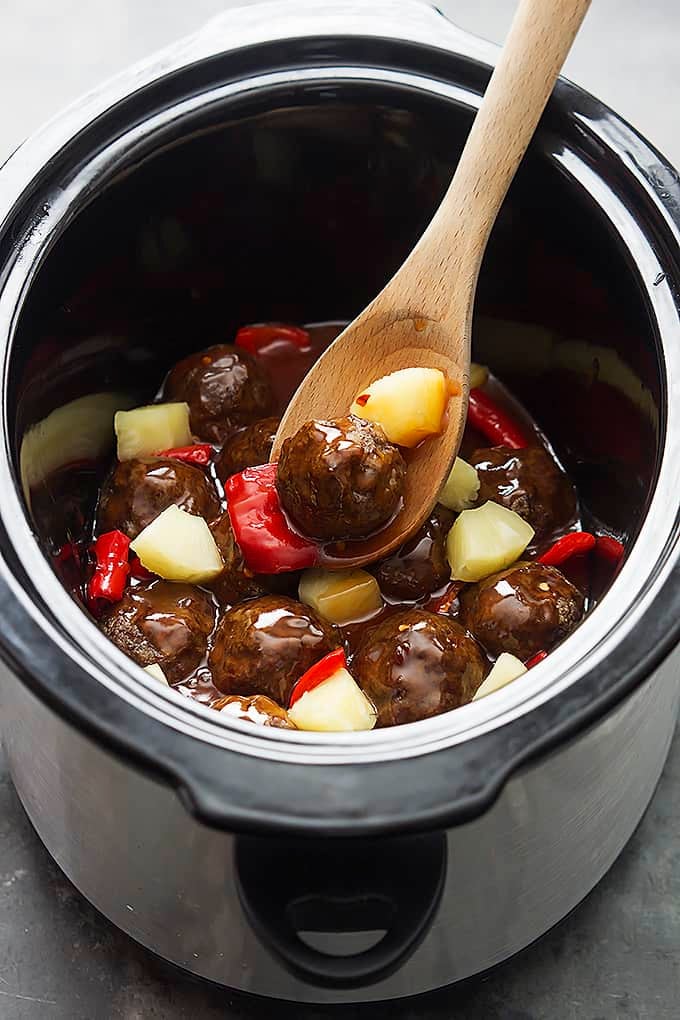 My favorite part of this whole thing (besides that it is made in the slow cooker which is basically my #1 cooking method of choice…) is the sauce for these meatballs. I created it for my healthy sweet and sour chicken recipe and I can't part with it. It's sweet – but not overly sweet – tangy, and if you add a few crushed red pepper flakes, it gives the sauce a teeny tiny kick, not real spicy, just a bit of edge.
Ahhhhhhh. So good.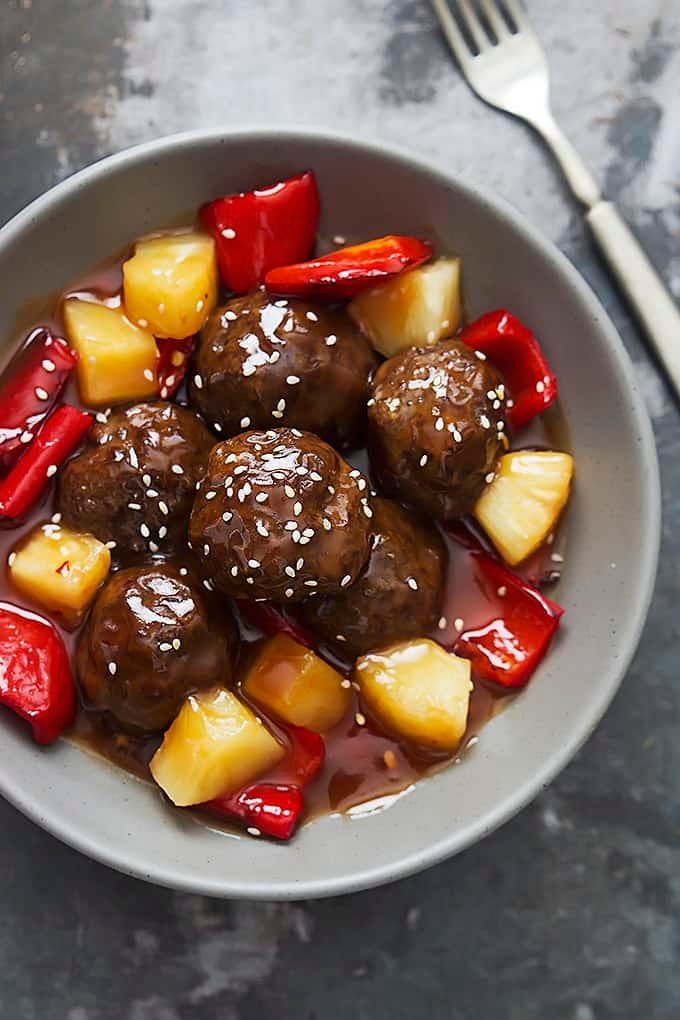 In fact I love this sauce so much I wish they would serve it in all Asian restaurants because it's 10x better than anything I've ever been served with my cream cheese wontons that's for sure. I think most takeout versions of sweet and sour are way too sweet.
This recipe: perfectly sweet. perfectly sour. gah I just love it.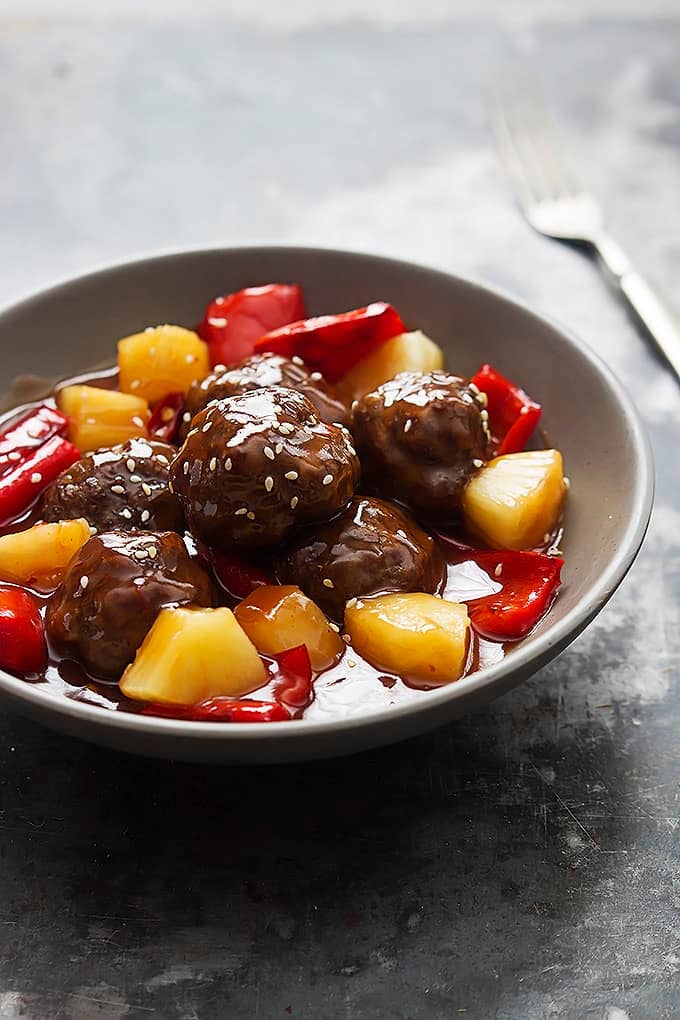 And just for all of you non-slow-cooker people (you be crazy! but I love ya) I included a special set of directions in the 'notes' section on how to bake these meatballs instead.
I know. Awesome.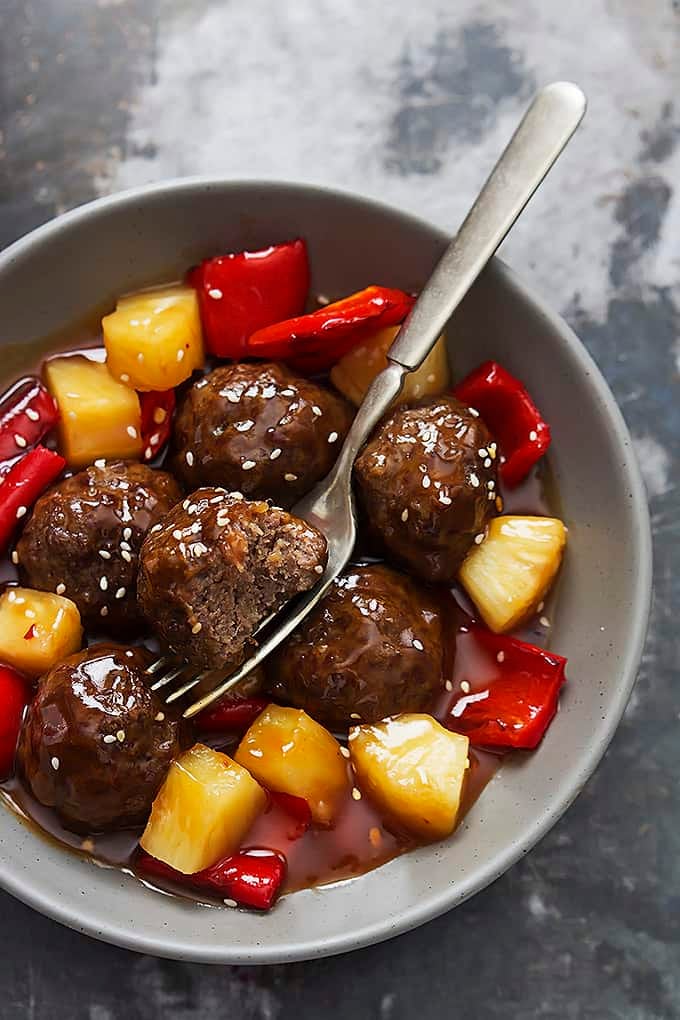 What people are saying about these Slow Cooker Sweet & Sour Meatballs
"Finally a sweet and sour sauce I enjoy
I'm not much of a sauce fan, especially s&s, but my husband loves the stuff, so it's always a bit of a challenge when have Chinese. This recipe hits all the right marks, tangy with a touch of sweetness and heat from the pepper flakes. Using frozen meatballs made this such an easy recipe to make. I will be making it a lot this summer when we are at our cottage. Thanks!" – Grace
"These are so delicious! I make them about once a week and my whole family loves them. I've even started to freeze them (without the sauce) for a fast meal later. They are very good and pretty easy to put together! Thank you for the great recipe!" – Brandy
"Just tried your sweet & sour meatballs, for a luncheon in the morning! I loved the sauce! My hubby loved the sauce! Can't wait to share tomorrow, Bravo!!!" – Myra
"Great recipe. Easy preparation an wonderful results. I've made these a couple of times and they were the hit of the party with numerous recipe requests. Try adding just a few drops of sesame oil to the sauce. I think it adds a little TO what is already a fantastic sweet and sour sauce." – Tom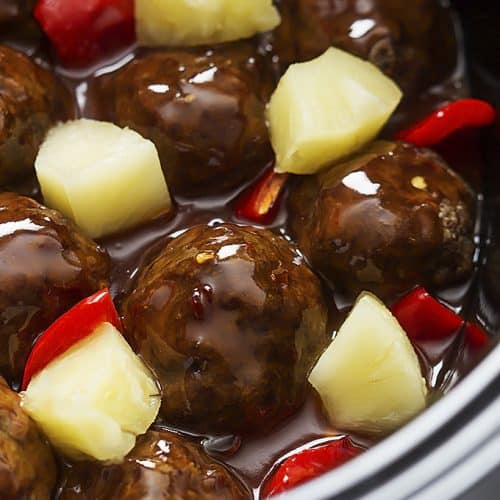 Slow Cooker Sweet & Sour Meatballs
Saucy sweet and sour meatballs with red peppers and pineapple made right in your crockpot!

Ingredients
1-2

pounds

lean ground beef

1

egg + 1 egg yolk

½

cup

bread crumbs

1

teaspoon

salt

½

teaspoon

pepper

2

teaspoons

garlic powder

2

teaspoons

onion powder

1

cup

pineapple chunks

-

drained (not crushed)

1

red pepper

-

seeded, stem removed, and chopped
Sauce
¾

cup

sugar

½

cup

apple cider vinegar

-

(may sub white vinegar)

2

tablespoons

soy sauce

1

teaspoon

garlic powder

½

teaspoon

onion powder

¼

cup

ketchup

½

teaspoon

crushed red pepper flakes

-

(optional)

1

tablespoon

cornstarch

2

tablespoons

cold water
Instructions
In a large bowl combine ground beef, egg and yolk, breadcrumbs, salt, pepper, garlic powder, and onion powder. Use your hands to mash everything together until the ingredients are well-mixed. Roll the mixture into 1.5 inch balls. Place meatballs side by side in a single layer in the bottom of a greased crockpot. Add pineapple chunks (without juice) and red peppers.

Prepare the sauce by whisking together sugar, apple cider vinegar, soy sauce, garlic powder, onion powder, ketchup, and red pepper flakes in a bowl. Pour over meatballs in the crockpot. Cover and cook on high for 1-2 hours or on low 3-4 hours.

About 30 minutes before serving, in a small bowl whisk together cold water and corn starch. Pour into crockpot and stir. Cover and allow to thicken for about 30 minutes before serving. Sprinkle with sesame seeds if desired.
Notes
Alternate oven cooking method: instead of placing meatballs in the slow cooker, place them on a greased baking sheet along with the chopped red peppers. Bake them for 15-20 minutes until cooked though and browned. Remove from oven and add to a large sauce pan with your sweet and sour sauce, the cooked red peppers, and the pineapple chunks and stir over medium heat. Add the corn starch slurry and allow to thicken for about 5 minutes before serving.
Nutrition
Calories:
552
kcal
,
Carbohydrates:
68
g
,
Protein:
27
g
,
Fat:
19
g
,
Saturated Fat:
7
g
,
Trans Fat:
1
g
,
Cholesterol:
118
mg
,
Sodium:
1420
mg
,
Potassium:
649
mg
,
Fiber:
3
g
,
Sugar:
52
g
,
Vitamin A:
1173
IU
,
Vitamin C:
44
mg
,
Calcium:
75
mg
,
Iron:
4
mg
Sauce recipe adapted from Healthy Sweet & Sour Chicken.