Baked Spicy Honey Lime Chicken Wings tossed in a sweet and sticky honey lime sauce are the perfect party appetizer!!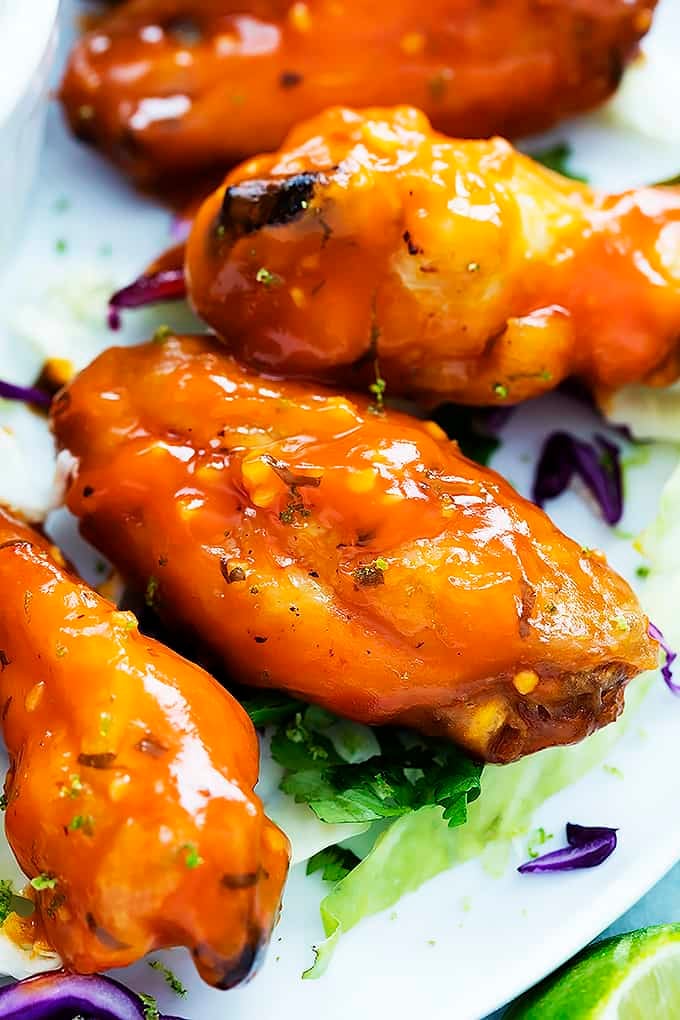 Chicken wings have been on my mind lately. Maybe it's that we're now into September and football season is officially in full swing. Maybe it's just the fact that chicken wings are crazy delicious and I haven't had them in far too long. Either way… chicken wings are happening in this house.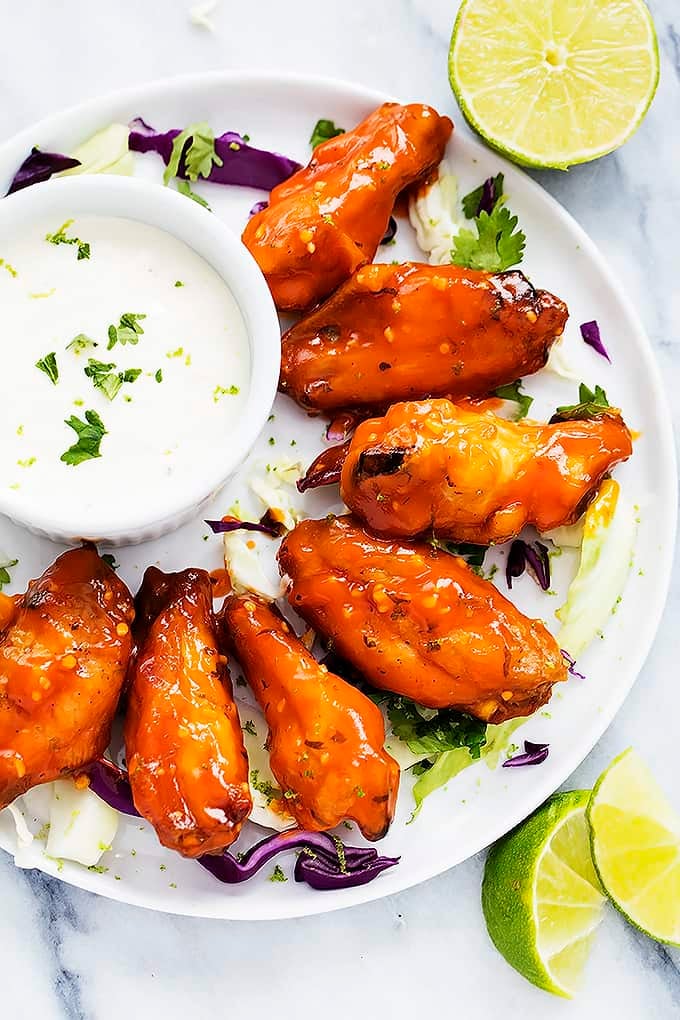 Generally I prefer boneless wings – more meat ya know?? plus I heart the breading – but I have a special place in my heart for bone-in wings too. They're just so…. chicken wingy. And by that I mean authentic. As in, the traditional style of chicken wing we think of when game day or a family par-tay rolls around.
But as a side note, you could totally make these with boneless wings and I would 100% support you in that decision.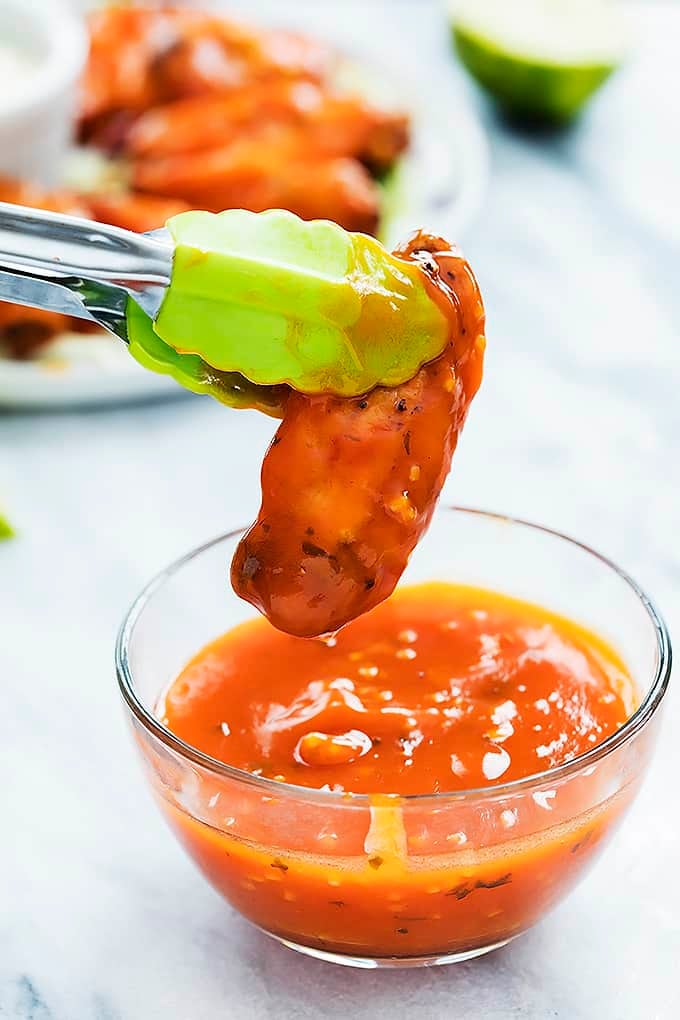 So what's the deal with these really incredible chicken wings?  These babies are baked to crispy perfection, then tossed in the most addictive honey lime sauce. It's sweet, it's spicy, it's tangy… it's everything I want in a chicken wing sauce. And sticky! Gotta have sticky fingers when you're chowing down on chicken wings, it tastes better that way.
Really, it does.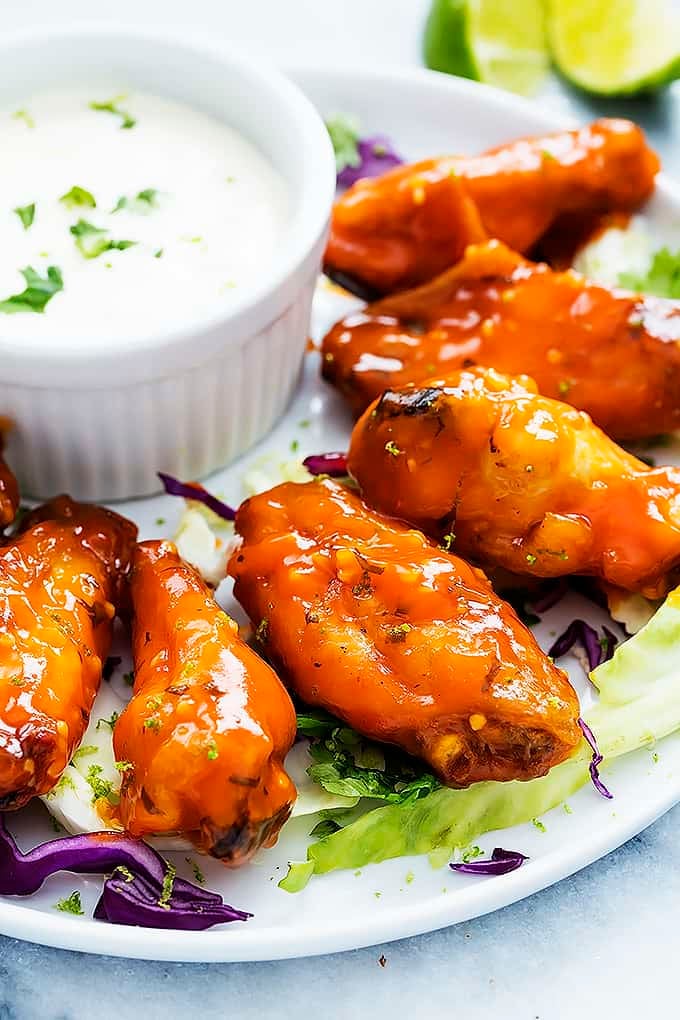 What people are saying about these Spicy Honey Lime chicken Wings
"These wings are a hit every time!!! I have made them 3 times and they always disappear. No need for a dipping sauce as they are so sticky gooey and delicious all on their own. I love that they are baked vs. deep fried. Once they are done you can see all the fat that has dripped off. Yes, they still have the skin on, but if you are going to eat wings these are healthier for ya. After I bake them I put them in a deep dish with all the sauce. I toss them several times as they cool. The sauce seems to stick to them more and more as they cool. Many people have asked me for the recipe!! This is a keeper! Thank you!" – Nancy 
"Made these last night!! Dipping them once didn't seem to give them as bold of a flavor and color than I expected, so I baked them with the sauce on at 375 for another 10 minutes or so, then I brushed on more sauce for a second coat. That seemed to do the trick and my men cleaned the tray! Made these with your cheesy ranch zucchini as a side dish 
" – Nicola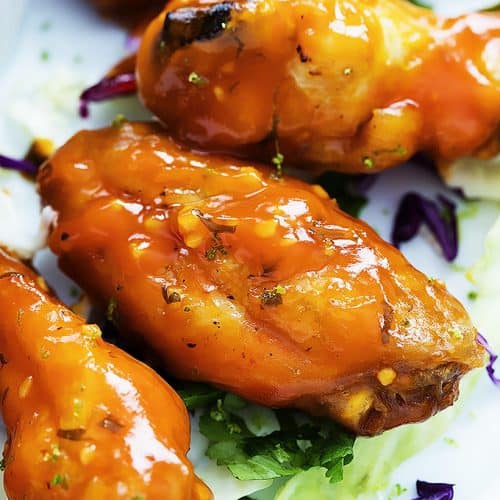 Spicy Honey Lime Chicken Wings
Baked Spicy Honey Lime Chicken Wings tossed in a sweet and spicy sticky honey lime sauce!
Ingredients
2

pounds

chicken wings

2-3

tablespoons

oil

-

(vegetable, canola, take your pick)

salt and pepper to taste
Sauce
½

cup

butter

1

cup

hot sauce

-

(I used Frank's original hot sauce)

2

tablespoons

cilantro

-

finely chopped

2

teaspoons

minced garlic

zest of 1 lime

juice of 3 limes

¼

cup

brown sugar

3

tablespoons

honey

salt and pepper to taste

2

tablespoons

cold water

1

tablespoon

corn starch
Instructions
Preheat oven to 400. Line a large baking sheet with nonstick foil. Place two wire racks (like wire cooling racks, the kind you use for cookies etc) on top of the foil.

Place chicken wings in a large bowl. Drizzle with the oil and toss to coat. Place in a single layer on the wire racks (on top of baking sheet), sprinkle with salt and pepper, and bake for 30-40 minutes, turning once half way through, til crispy and golden.

While chicken wings are baking, prepare the sauce. Combine butter, hot sauce, cilantro, garlic, lime zest and juice, brown sugar, honey, and salt and pepper to a medium sauce pan. Stir over medium heat until butter is melted. Bring to a boil, then reduce to a simmer and allow to cook for 10-15 minutes.

In a small bowl whisk together cold water and corn starch. Stir mixture into the sauce until thickened. Remove from heat.

When chicken wings are done, toss in the sauce, then serve.
Notes
Recipe will serve 6 as an appetizer and 3 as an entree. 
Nutrition
Calories:
313
kcal
,
Carbohydrates:
21
g
,
Protein:
16
g
,
Fat:
19
g
,
Saturated Fat:
4
g
,
Trans Fat:
1
g
,
Cholesterol:
65
mg
,
Sodium:
1141
mg
,
Potassium:
234
mg
,
Fiber:
1
g
,
Sugar:
19
g
,
Vitamin A:
227
IU
,
Vitamin C:
31
mg
,
Calcium:
46
mg
,
Iron:
1
mg
Sauce adapted from Food.com