These sweet and spicy Korean BBQ Chicken Wings are oven baked and oh so crispy! If you're looking for a way to kick your appetizer game up a notch, look no further!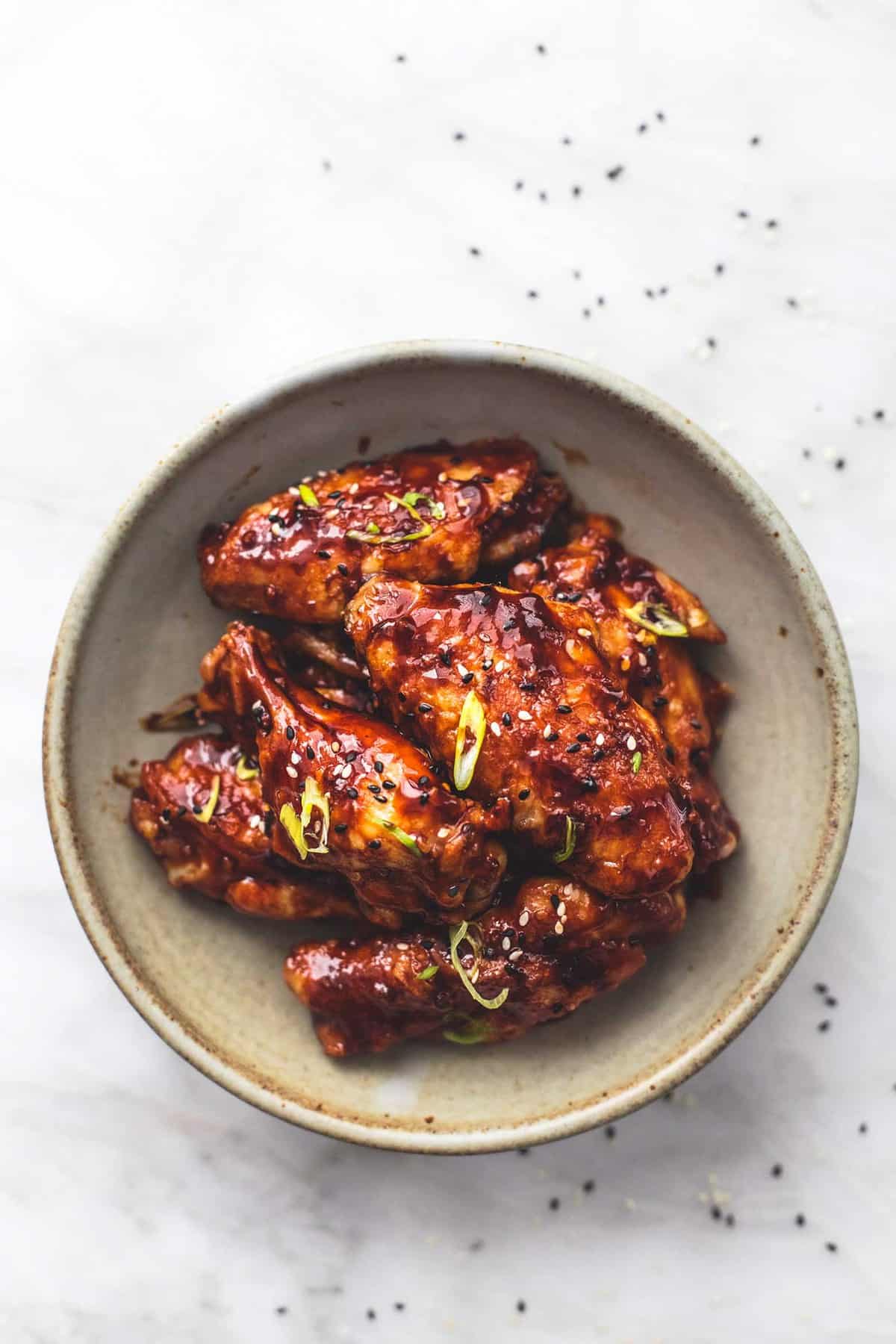 Is there anything not to love about appetizers? I will argue that there isn't. Easy to make, easy to take to parties, easy for kids and adults alike to hold onto and eat (or drink), and so delicious…if I had my way I'd eat nothing but appetizers and desserts for the rest of my life. True story.
As a finger foods kinda gal, you'd better believe I've eaten and made my fair share of chicken wings. (One specific recipe I love is my Baked Lemon Pepper Chicken Wings.) Hot, sweet, saucy, dry, I like them all. But sometimes I like to mix it up. I was inspired to try to make these Spicy Korean BBQ Chicken Wings after seeing a similar recipe for Korean BBQ fried chicken in a magazine at the pediatrician's office. (Inspiration is everywhere, I'm telling ya!) 
I tend to like to bake my chicken, and I didn't really want to deal with the mess of fried chicken wings and I personally think they taste better baked anyway. And it turns out, I was so right, and now I'm going to make all the Korean BBQ everything forever.
What is the Difference Between a Chicken Wing and a Buffalo Wing?
Chicken wings are, well, the wings of a chicken. They can be cooked any which way and coated in any number of sauces.
Buffalo wings are chicken wings too, but they are a specific recipe that originated in Buffalo, New York. They are straight-up fried naked, no breading, no nothing, and then coated in a sauce that's buttery and spicy and very messy.
Other restaurants have opted the Buffalo wing as their own in restaurants across the United States since, of course. But they are all a riff off the original Buffalo wing created in that specific town.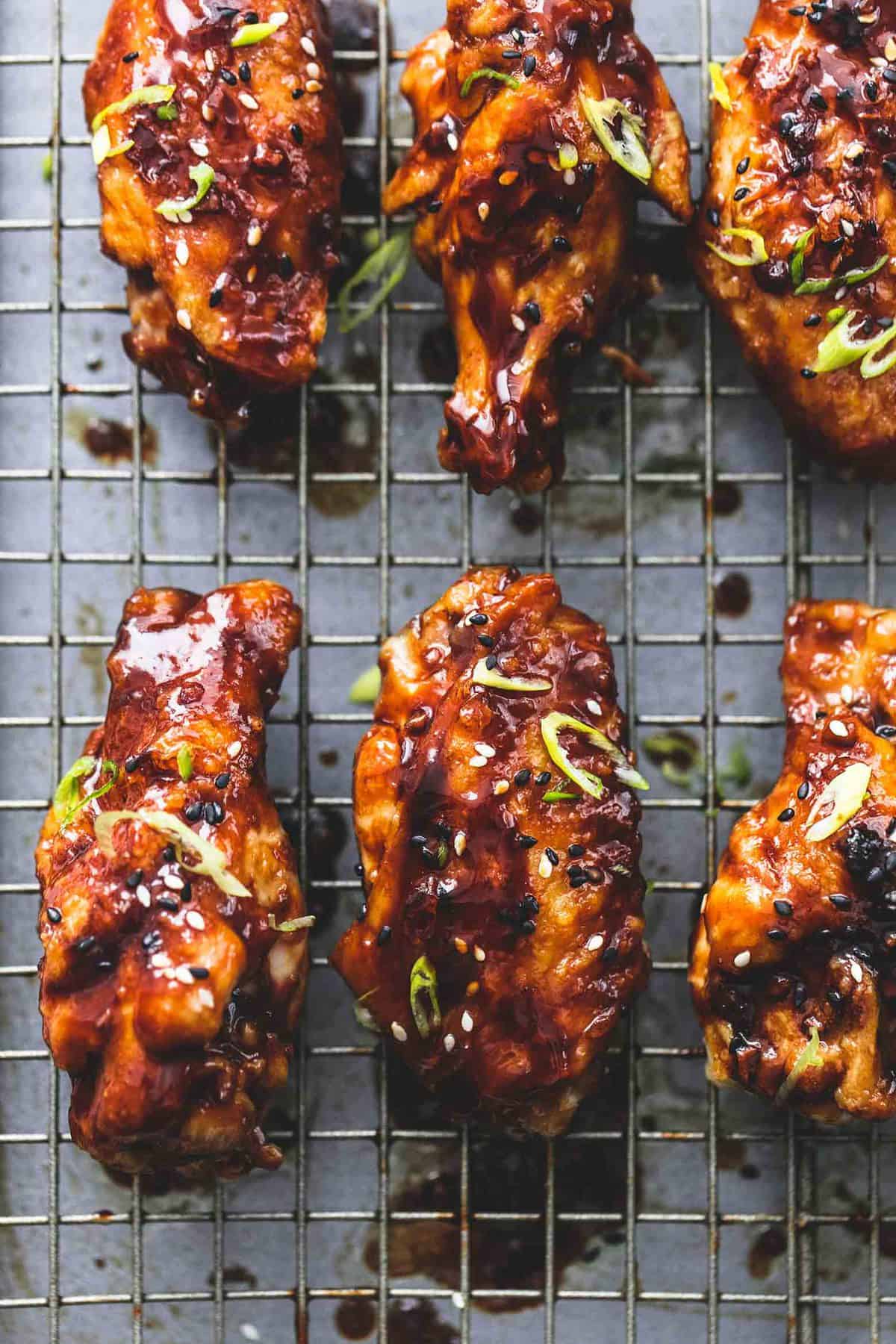 What is Korean BBQ?
Korean BBQ refers to a Korean cooking method that typically involves grilling meat over a grill, which can be outside, centrally located at the restaurant (and visible to customers), or sometimes even table-side.
As most ethnic cuisines go, Korean BBQ has become kind of a cover-all term for more the flavors of the actual barbecue (that sweet and savory flavor that comes from combining ingredients such as sugar, sesame oil, sugar, vinegar, Asian hot sauce, and garlic) rather than the actual cooking method of barbecuing. Although, it would be perfectly a-okay to grill these wings as well!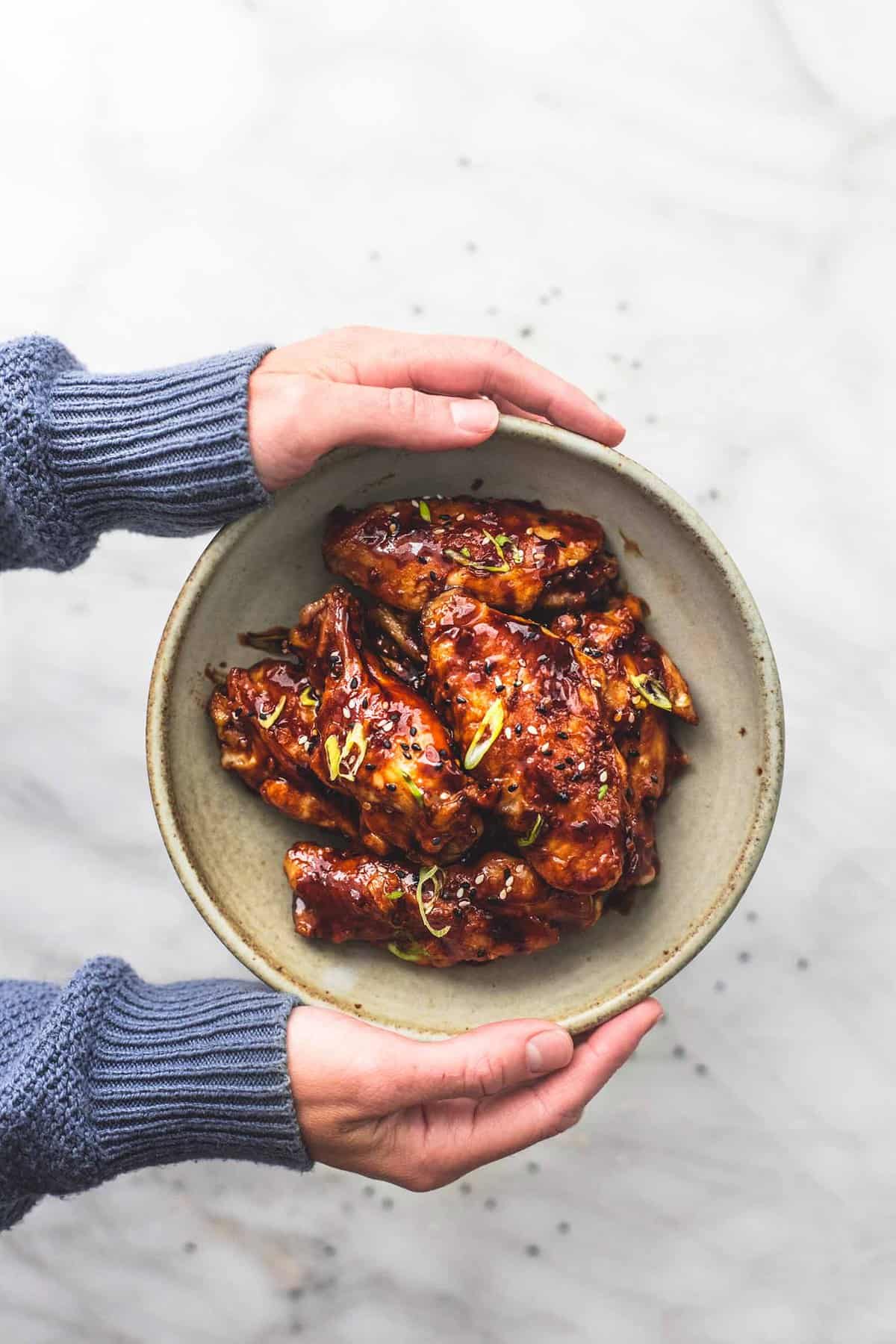 What Do You Eat with Korean BBQ?
If you want to stay on-theme, you can serve your Korean BBQ wings with other Korean-type dishes and/or condiments. Whenever I go to a Korean restaurant, I am usually served a variety of condiments in little bowls for eating before the food or as additional toppings to the dishes we ordered. Kimchi, pickled veggies, Gochujang (a red chili paste), spicy cucumber salad, seasoned soybean sprouts, braised potatoes, and pretty much any Asian ingredient or small dish you like can be paired with these wings.
I also like to make bigger sides to accompany these spicy chicken wings and round out my meal like: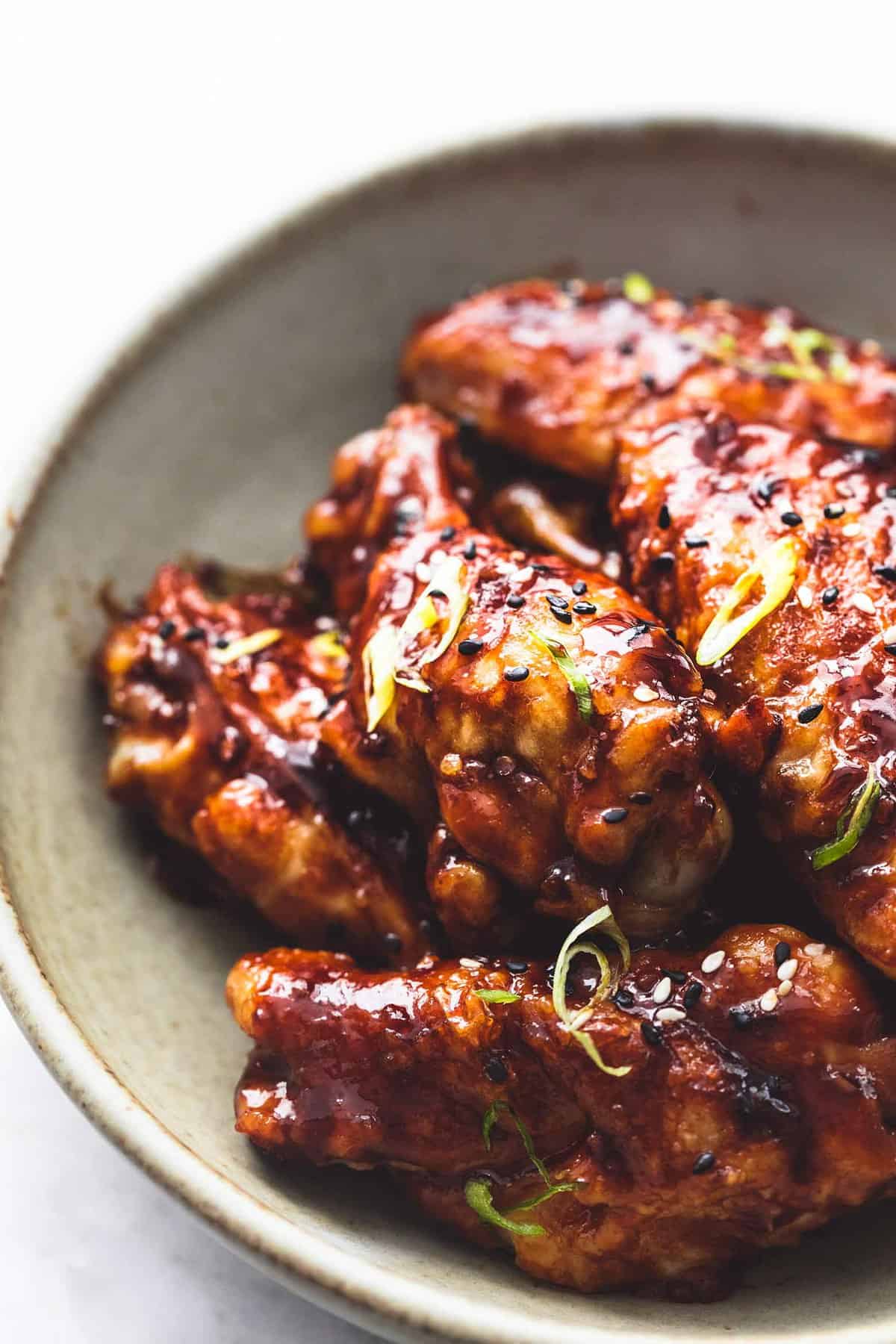 If you love finger foods as much as I do, then you should also try these recipes for Easy Lemon Garlic Butter Shrimp, Cream Cheese Chicken Taquitos, Baked Potato Wedges, Korean Fried Chicken and these Cheddar Jalapeno Pretzel Bites.
If you like this recipe, you're going to love my go-to Best Baked Chicken Thighs recipe!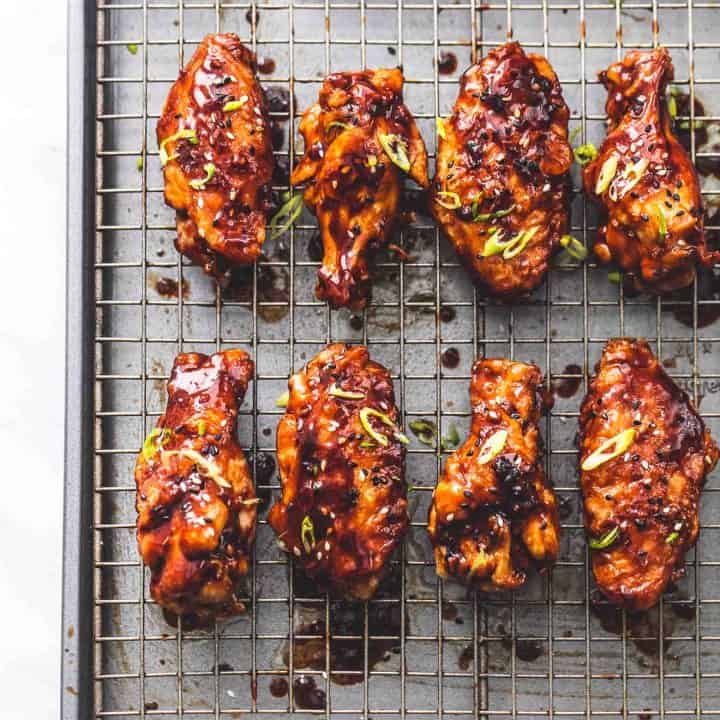 Spicy Korean BBQ Chicken Wings
These Spicy Korean BBQ Chicken Wings will change the way you think about chicken wings forever. Savory, spicy, sweet, and sooooo scrumptious, if you're looking for a way to kick your appetizer game up a notch, look no further! 
Ingredients
1 ½

pounds

bone-in chicken wings

-

I used wings and drumsticks

1

tablespoon

olive oil

¼

cup

flour

½

teaspoon

salt

¼

teaspoon

cracked black pepper
korean bbq sauce
6

tablespoons

low sodium soy sauce

-

or THICK soy sauce if your grocery store carries it

3

tablespoons

brown sugar

2

tablespoons

rice vinegar

1

tablespoon

sriracha

-

or 1 teaspoon crushed red pepper flakes

1

tablespoon

toasted sesame oil

2

teaspoons

minced garlic

1

tablespoon

cold water + 1 teaspoon corn starch

chopped green onions and sesame seeds

-

optional garnish
Instructions
Preheat oven to 400 degrees. Line a baking sheet with foil and place a cooling rack on top of the foil.

Stir together flour, salt, and black pepper. Pat wings dry with paper towels. Brush with oil, then toss in the flour mixture and arrange in a single layer (not touching) on the cooling rack.

Bake for 15 minutes, then broil for 2-3 minutes until crispy. WATCH CLOSELY so they don't burn.

While chicken wings are baking, prepare the sauce by combing soy sauce, brown sugar, rice vinegar, sriracha, sesame oil, and garlic in a medium sauce pan. Bring to a boil, stir together cold water and corn starch until dissolved, then whisk corn starch slurry into the boiling sauce. Once thickened, remove from heat.

Toss wings in the sauce and garnish with chopped green onions and sesame seeds if desired before serving.
Notes
This recipe as written makes 1.5 pounds chicken wings – for me this was about 16 wings. At 2-4 wings each, this would serve 4-6 people as an appetizer. 
Nutrition
Calories:
230
kcal
,
Carbohydrates:
12
g
,
Protein:
13
g
,
Fat:
15
g
,
Saturated Fat:
3
g
,
Trans Fat:
1
g
,
Cholesterol:
47
mg
,
Sodium:
831
mg
,
Potassium:
145
mg
,
Fiber:
1
g
,
Sugar:
6
g
,
Vitamin A:
94
IU
,
Vitamin C:
2
mg
,
Calcium:
18
mg
,
Iron:
1
mg