Fresh Strawberry Broccoli Salad with crunchy walnuts, feta cheese, red onions, and a sweet and tangy dressing! 
I've been going bonkers for strawberries lately. And raspberries. And watermelon. And pineapple. And PEARS.
I think I'm just going bonkers for fresh fruit actually.
And cheeeeeeese. The most natural (and easiest) way to eat fruit and cheese is in a salad, and I've been eating hoards of salad lately. Yesterday I made a salad for lunch that was bigger than my face.
Well, the bowl was bigger than my face. And I filled it with yummy salad things. So… yeah.
Broccoli salad in particular was sounding good to me this week but I couldn't ignore my cravings for fresh fruit so I threw them in the same bowl and came up with this creamy sweet n' tangy strawberry broccoli salad. But then I added cheese. (duh) And walnuts. And red onions.
Voila! Instant masterpiece.
And isn't she purrrdy??? All of that red and green and purple and white…..
siiiiigh.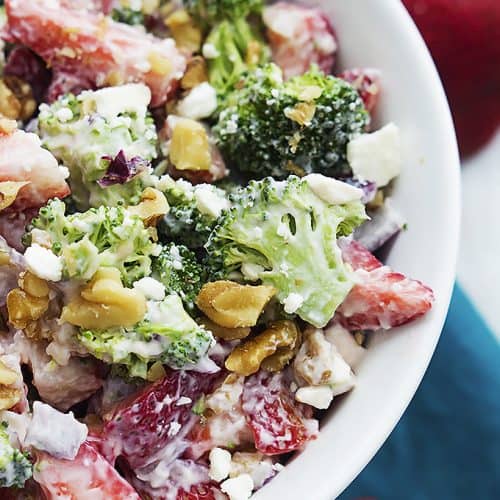 Strawberry Broccoli Salad
Fresh strawberry and broccoli salad with crunchy walnuts, feta cheese, red onions, and a sweet and tangy dressing!
Ingredients
1

head

broccoli, stems removed and chopped

(about 2-3 cups of florets)

2-3

cups

strawberries,

hulled and quartered

1/3

cup

crumbled feta cheese

1/2

red onion,

diced

1/2

cup

Diamond of California Walnuts,

roughly chopped

1/3

cup

greek yogurt

1/3

cup

mayo

3-4

tablespoons

white sugar

1

teaspoon

salt,

or to taste
Instructions
Combine broccoli, strawberries, feta, onions, and walnuts in a large bowl.

In a medium bowl whisk together the greek yogurt, mayo, sugar, and salt. Add to the large broccoli bowl and stir to combine. Cover and chill until ready to serve.
I've partnered up with my pals over at Diamond of California to bring you this awwwwwesome salad recipe. Thanks for supporting me in working with the brands I love to keep this here blog going!