It doesn't get any tastier (or easier) than these sweet, buttery honey lime salmon fillets cooked perfectly flaky and tender and topped with sweet and tangy mango salsa with red peppers, onions, and cilantro. Ready in 20 minutes!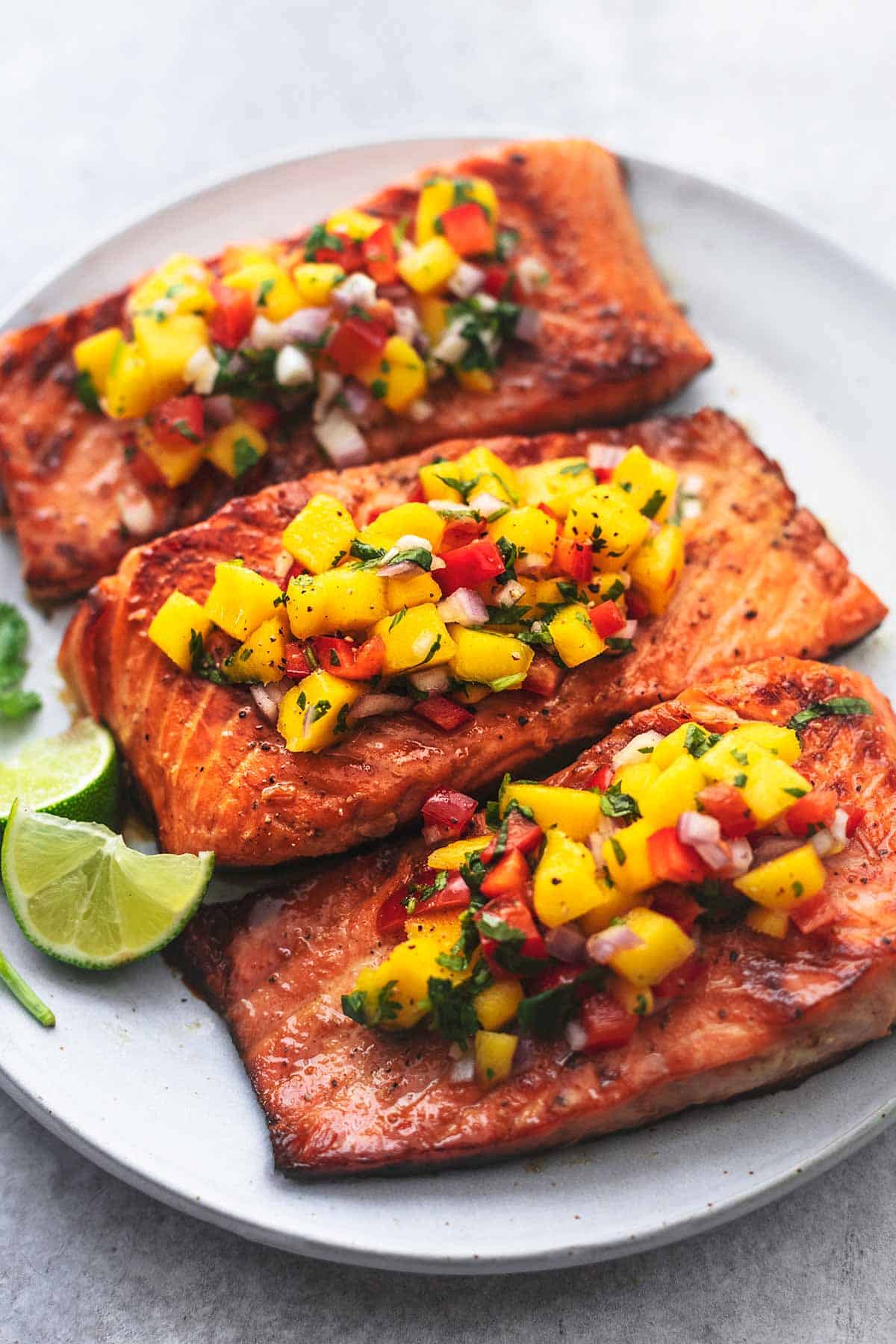 For more tender, tasty salmon recipes, head on over to my posts for Cajun Honey Butter Grilled Salmon, Salmon New Orleans, and Honey Balsamic Bruschetta Salmon.
Salmon and I go way back. In fact, I can't think of a time when I didn't enjoy salmon, which I think is weird, especially for a notoriously picky kid. But salmon was just one of those things I gladly ate — strike that — gobbled up.
I love it so much that I put it in our meal rotation at least 2-3 times a month, if not more! And for good reason: it's easy to find at any grocery, it's always in season, and it's always delicious, especially when smothered in a sweet, fruity salsa like this new honey salmon recipe!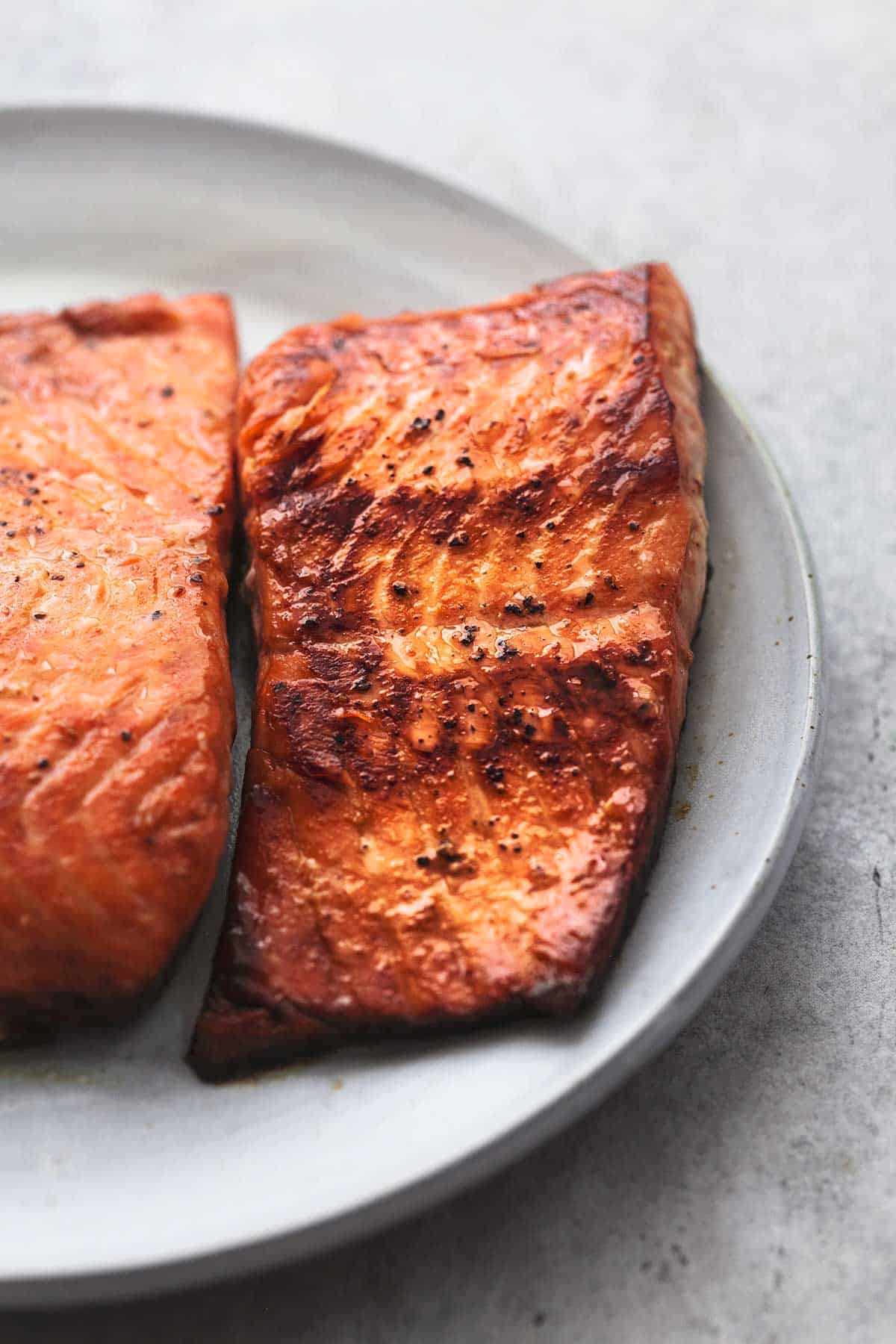 Why this Recipe Works
There are so many reasons this recipe is perfect. Here are just a few to help convince you.
Great for picky eaters — It's been my experience that even my pickiest guests (and kids) love this salmon, even if they swear they are not fans of seafood.
Customizable — While I love this mango salsa, any kind of fruit salsa will work. Substitute pineapple, papaya, peaches…you get the idea!
Fast — Salmon takes almost no time to cook (about 10 minutes) and can be grilled just as quickly!
Minimal ingredients — There are only four ingredient needed to make this honey salmon (and I'm counting salt and pepper).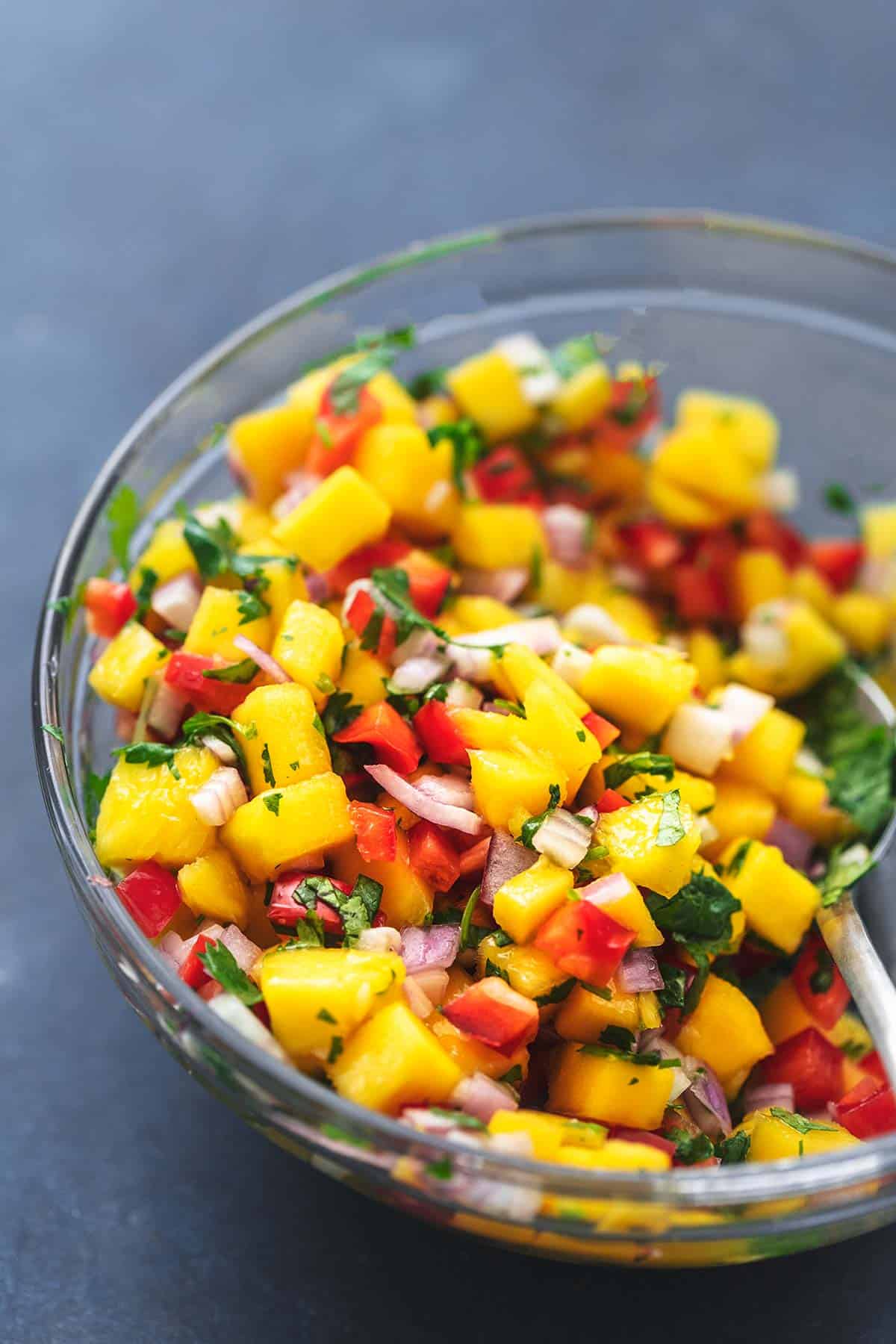 Here's How You Make It
Preparing the salsa
Combine together in a bowl the mangos, bell peppers, onions, and cilantro.
Add to the mango mixture the lime juice and salt. Stir, taste, and set aside once it's to your liking.
Preparing the salmon
Rub the fillets all over with olive oil. Season with salt and pepper on both sides.
Melt the butter in a large skillet over medium-high heat.
Add the honey to the butter once it's melted, and stir.
Add the salmon fillets to the honey butter in a single layer, taking care not to let them touch, if possible. Cook on the first side for 4-5 minutes.
Flip them carefully and cook for another 5-8 minutes on the second side. They are done when they are opaque throughout and the salmon has a nice, crispy layer of caramelization on the outside.
Plate the honey salmon and top each piece with the mango salsa. Devour!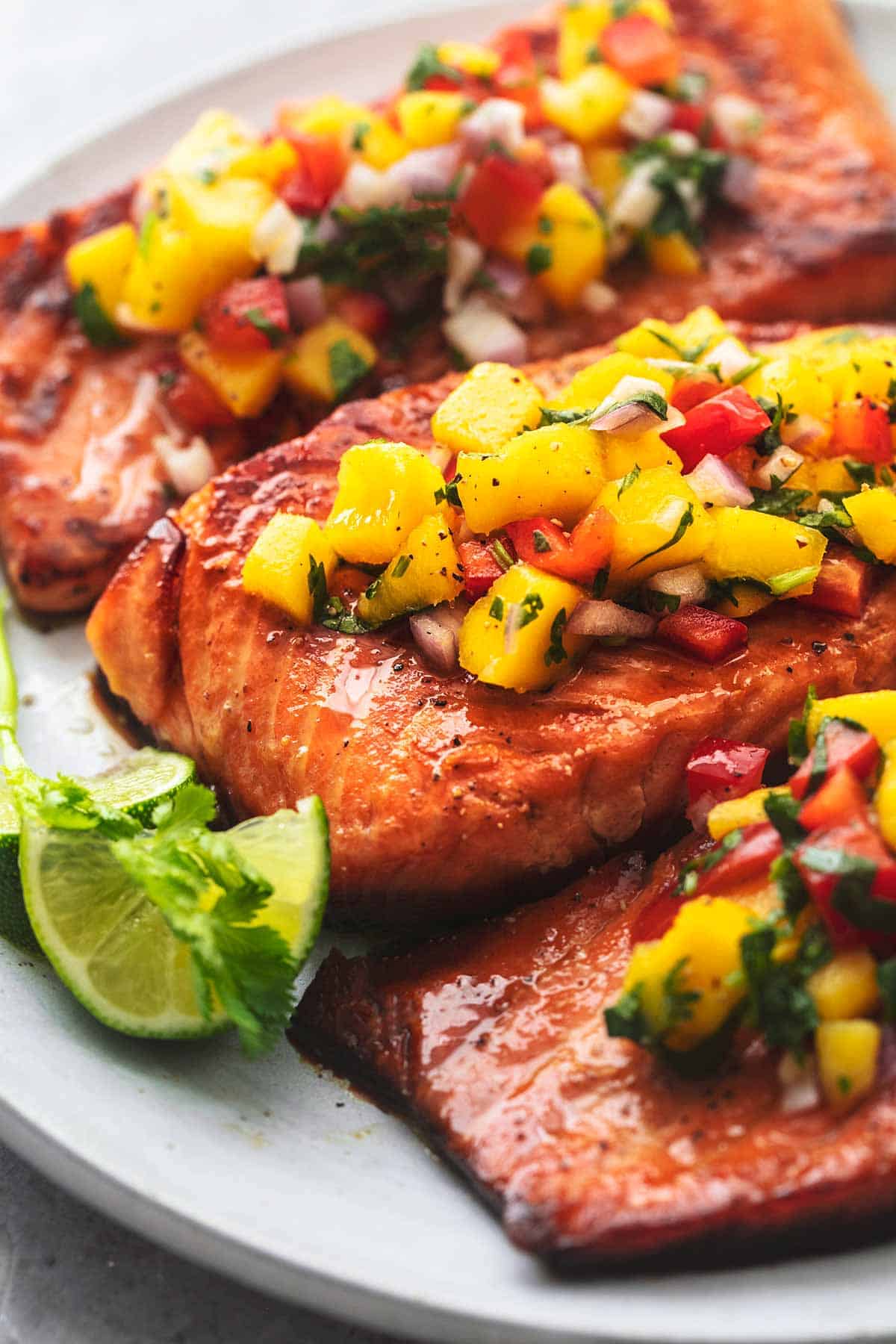 Best Substitutes for Honey
No honey? No problem. These are the best substitutes for honey when making this honey salmon recipe.
Maple syrup

Agave nectar

Coconut syrup

Brown sugar

Corn syrup

Molasses

Brown rice syrup
Is it Safe to Eat Salmon Every Day?
Salmon contains loads of heart-healthy Omega-3 fatty acids. It's also low in calories and saturated fat and high in protein. And, while you might want to eat salmon every day, let's not over do it. Even too much good fat can be too much of a good thing. The American Heart Association recommends only eating salmon twice a week to achieve the best benefits.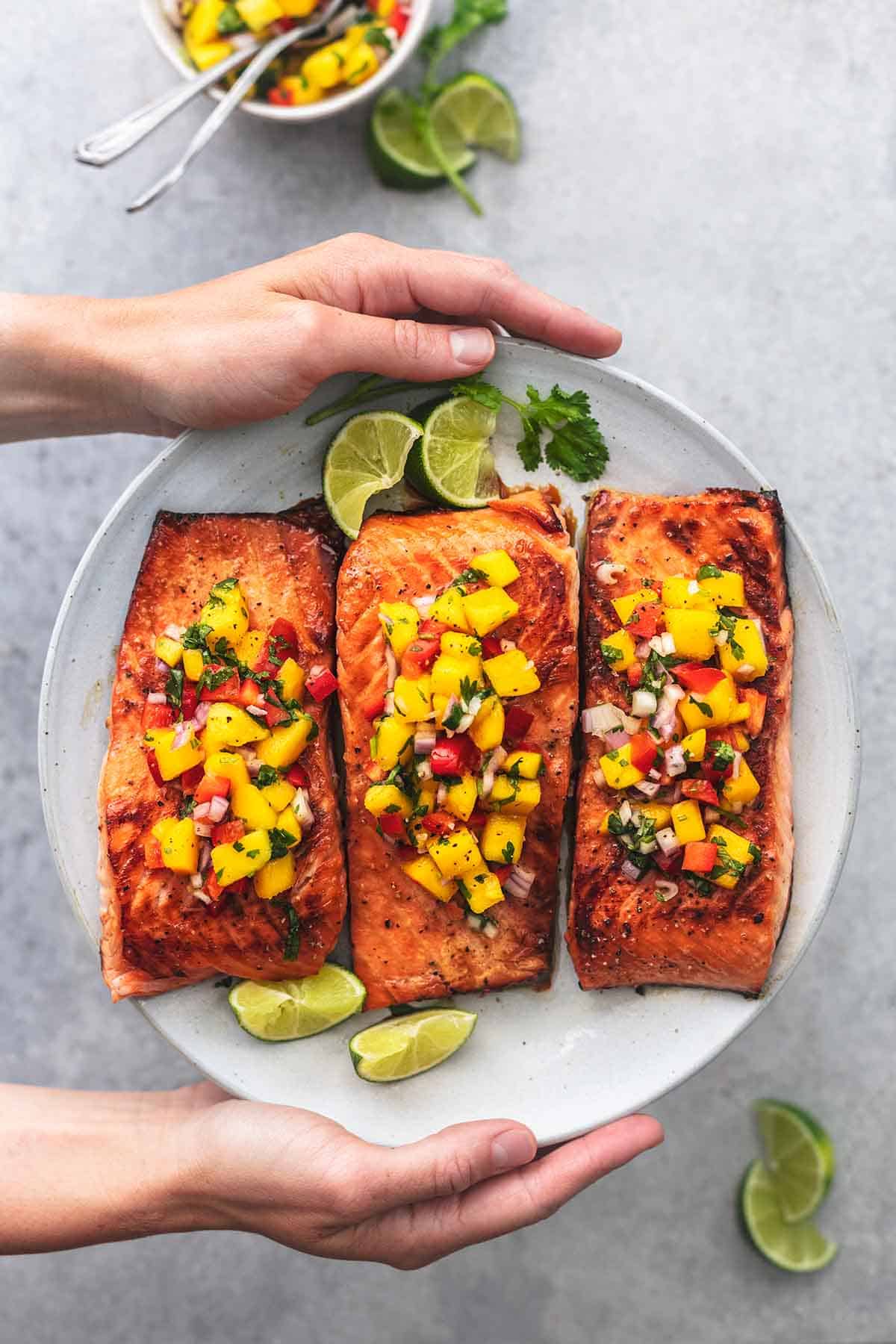 Should You Eat Salmon Skin?
I feel like this is more of a question of do you want to eat salmon skin. The answer for me is a fast "no." But, that doesn't mean you can't eat the skin. It's perfectly safe to eat and there are some nutrients in the skin as well.
But, you should (as with everything) pay attention to where you purchase the salmon. Is it from a reputable source? Does it look fresh and healthy? Is the skin a nice grey color or is it browning a bit? Ultimately it's up to you whether you are team skin or not. (Side note: I hope I never write that phrase again, ever.)
Expert Tips
If you are cooking with the salmon skin on, start cooking skin-side down. It provides a layer of protection against the pan and can help keep it from sticking. Once it's cooked all the way through on both sides, the skin is easy to remove if you don't want to eat it.
When flipping the salmon, I use a fish spatula or large spatula for turning. This ensures the salmon fillets remain together when you flip them. Using tongs or a fork will almost guarantee the fish will fall apart at some point during flipping/plating.
If you're not sure if your salmon is cooked all the way through, insert a meat thermometer into the thickest part of the thickest piece. If it reads 145 degrees, it's good to go!
Want to cook the salmon in the oven? Preheat to 425 degrees. Place the seasoned fillets on a roasting pan, skin-side down. A good rule is to roast the salmon for 4-6 minutes for every half-inch of thickness. So for a 1-inch-thick piece of salmon, the roasting time would be about 8-12 minutes. There's no need to flip the salmon when roasting in the oven.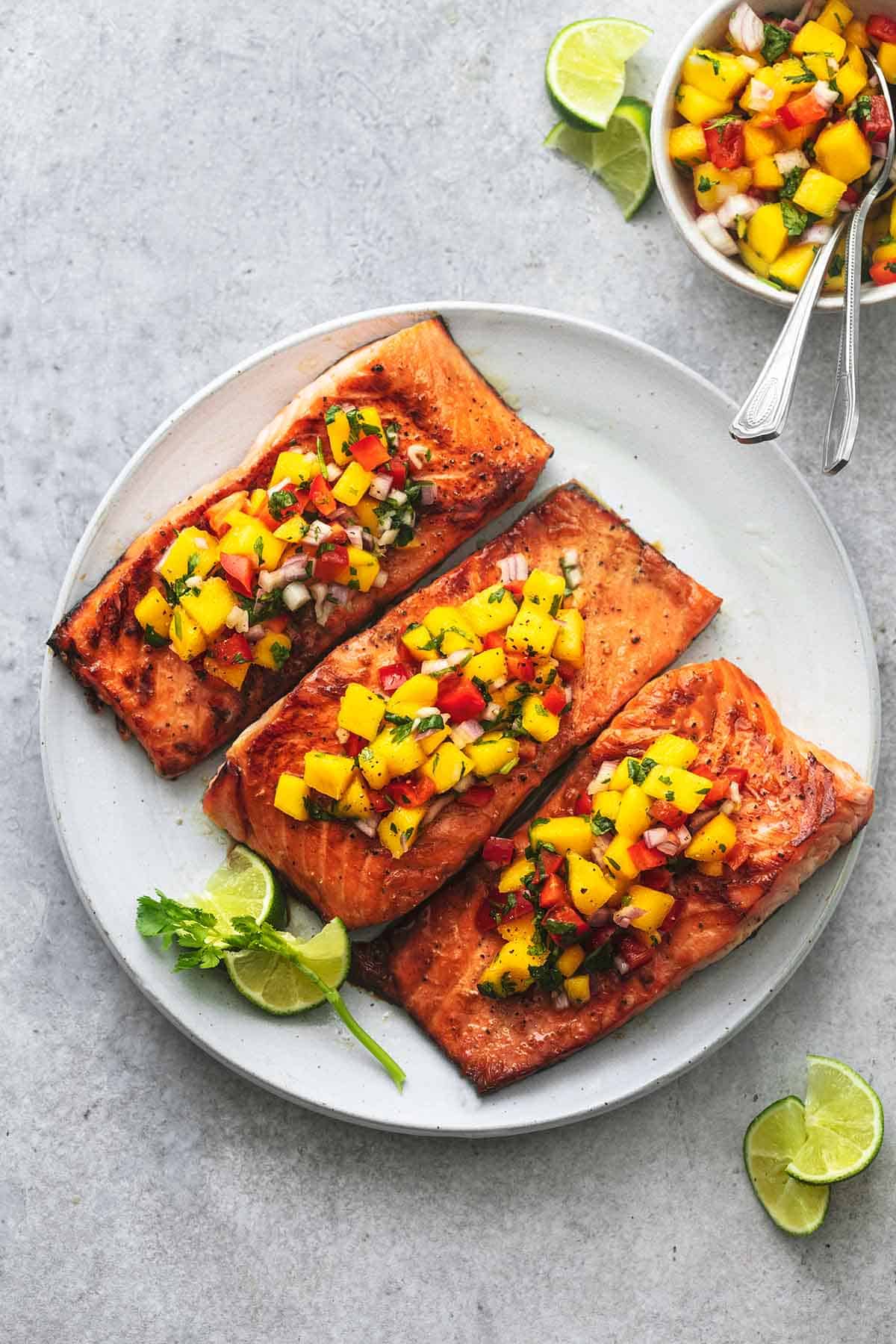 Most Popular Salmon Recipes
Did you make this recipe? Please give it a rating below!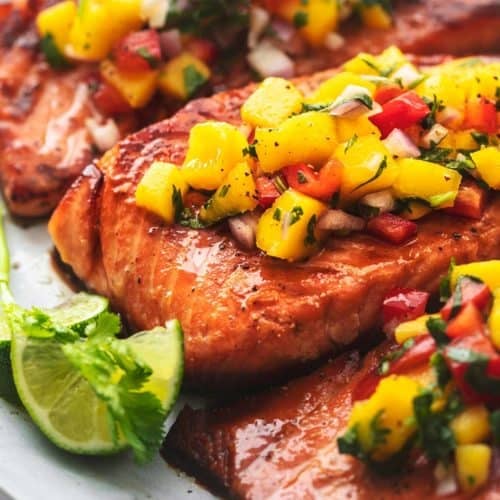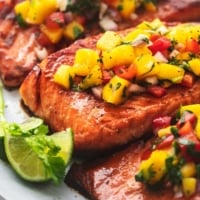 Honey Lime Salmon with Mango Salsa
It doesn't get any tastier (or easier) than these sweet, buttery honey lime salmon fillets cooked perfectly flaky and tender and topped with sweet and tangy mango salsa with red peppers, onions, and cilantro. 
Ingredients
4

6-ounce

salmon fillets

2

teaspoons

olive oil

salt and pepper

2

tablespoons

butter

2

tablespoons

honey
mango salsa
2

large

mangoes

-

diced

1

red bell pepper

-

diced

½

red onion

-

diced

handful of cilantro

-

finely chopped

juice of 1 lime

¼

teaspoon

salt

-

or to taste
Instructions
prepare the salsa
Combine mangoes, bell peppers, onions, and cilantro.

Add lime juice and salt and give it a good stir. Taste, add salt to taste. Set aside.
prepare the salmon
Rub salmon all over with olive oil. Season generously with salt and pepper.

Melt butter in a large skillet over medium heat.

Once butter is just melted, stir in honey.

Arrange salmon fillets in the pan in a single layer and not touching if you can help it. Cook for 4-5 minutes.

Carefully flip salmon over and cook another 5-8 minutes until opaque throughout and salmon is caramelized on the outside.

Top salmon with mango salsa and serve. Enjoy!
Notes
Spice it up: add 1-2 diced jalapenos (stems and seeds removed) to the salsa for an added kick!
Nutrition
Calories:
132
kcal
,
Carbohydrates:
28
g
,
Protein:
2
g
,
Fat:
3
g
,
Saturated Fat:
1
g
,
Cholesterol:
1
mg
,
Sodium:
157
mg
,
Potassium:
267
mg
,
Fiber:
3
g
,
Sugar:
25
g
,
Vitamin A:
2051
IU
,
Vitamin C:
77
mg
,
Calcium:
23
mg
,
Iron:
1
mg