Fresh and healthy wraps stuffed with juicy strawberries, chicken, crumbled bacon, feta cheese, and drizzled with poppyseed dressing.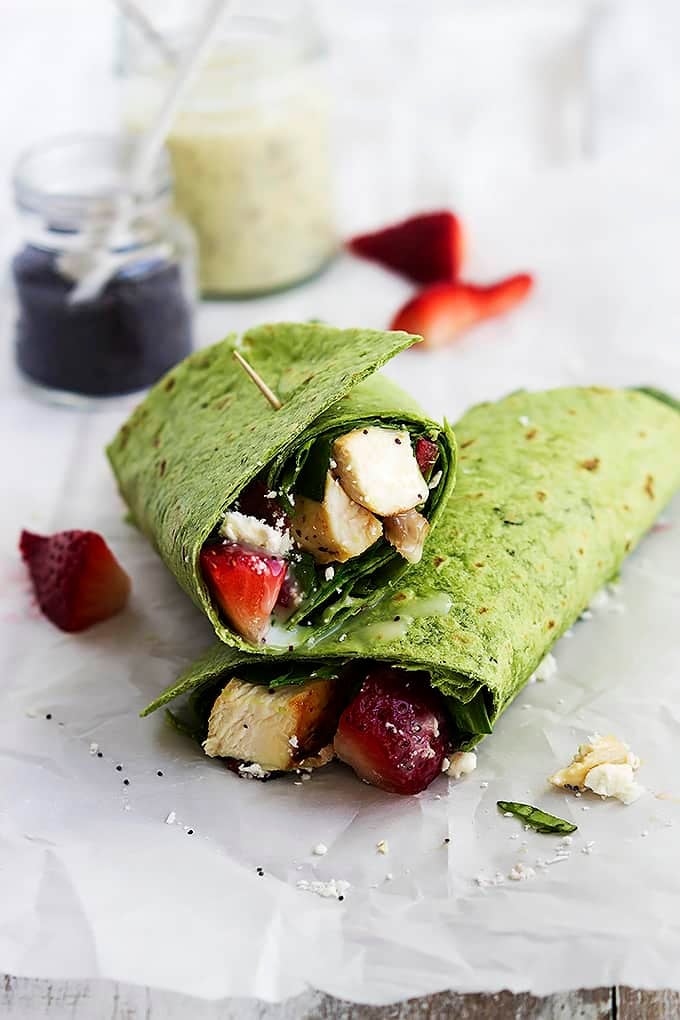 Do you mind if I share an old college fav with you today? It's not reinventing the wheel or anything but the truth of the matter is that sometimes the meals you eat in your poor college days are some of the best you'll ever have.
I mean, you would not believe all of the ways you can spruce up a bowl of ramen noodles. (Add lemon juice and a bit of cayenne pepper. do it.)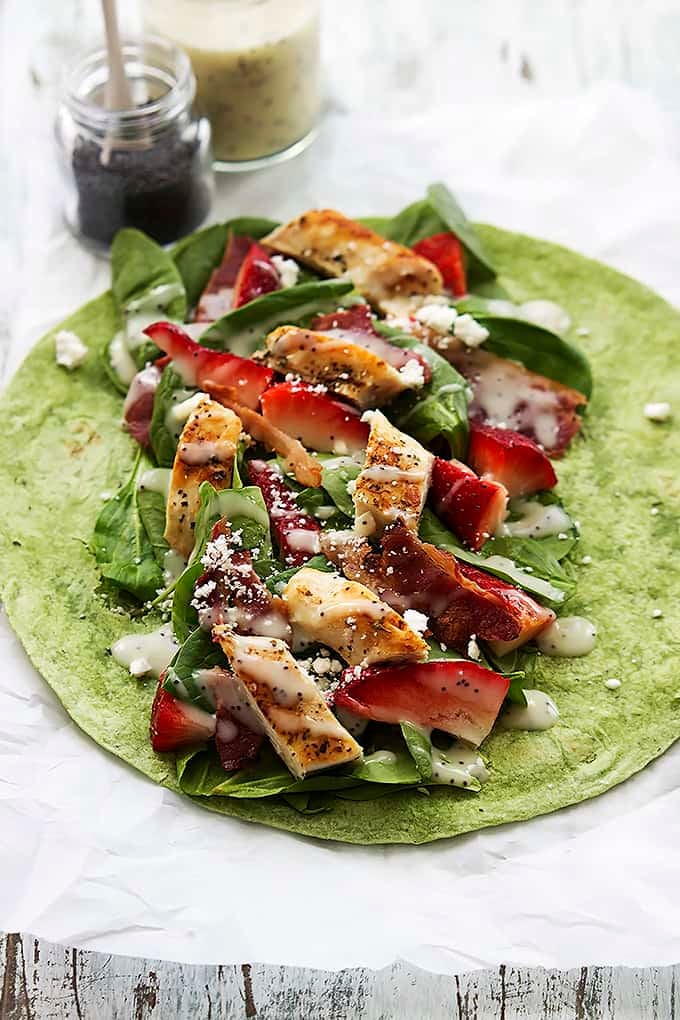 This strawberry wrap thing comes from two separate but very similar meals I ate again, and again, and again…… and again x 1000. The main building on campus had a "cafeteria" – in quotes because it was fancier than that lunch lady version you're imagining right now – and one of my favorite things to order was from a salad and wrap place. They had a wrap called Strawberry Fields. So addicting. And the wraps? HUGE. No really, like HUUUUUUGE. And for a starving student, a ginormous meal for 7 bucks is a dream come true – – – > hello leftovers. Two meals for one? Yes please.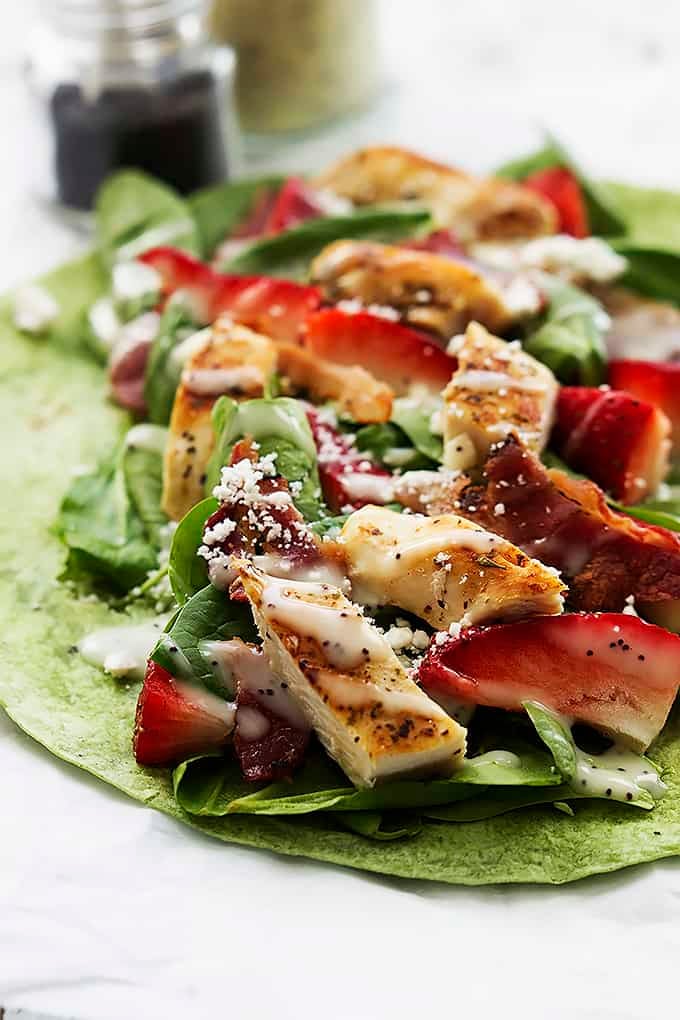 That's the first meal this wrap is based on. When I wasn't spending as much time in that area of campus, I would run home for dinner and make myself pretty much the exact same thing at home. Strawberries + chicken + feta + spinach + whatever dressing I had in the fridge. I usually skipped the bacon because, well, starving student ya know. (Yet ice cream never failed to make an appearance in my freezer. priorities.)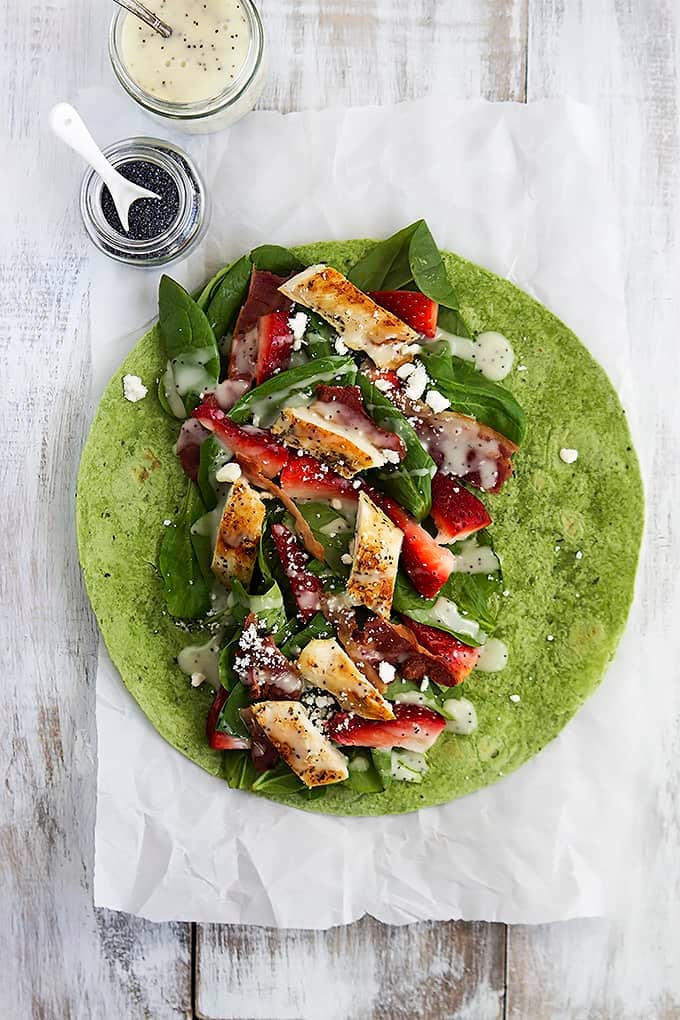 But if you're not a starving student and have more mature priorities… get yourself some bacon and make these. So fast, so healthy, so dang delicious. Kids like them, picky husbands like them, and just about everybody else with fully functioning taste buds.
Strawberry chicken bacon and spinach wraps? After all we've been through…. I love you. I really do.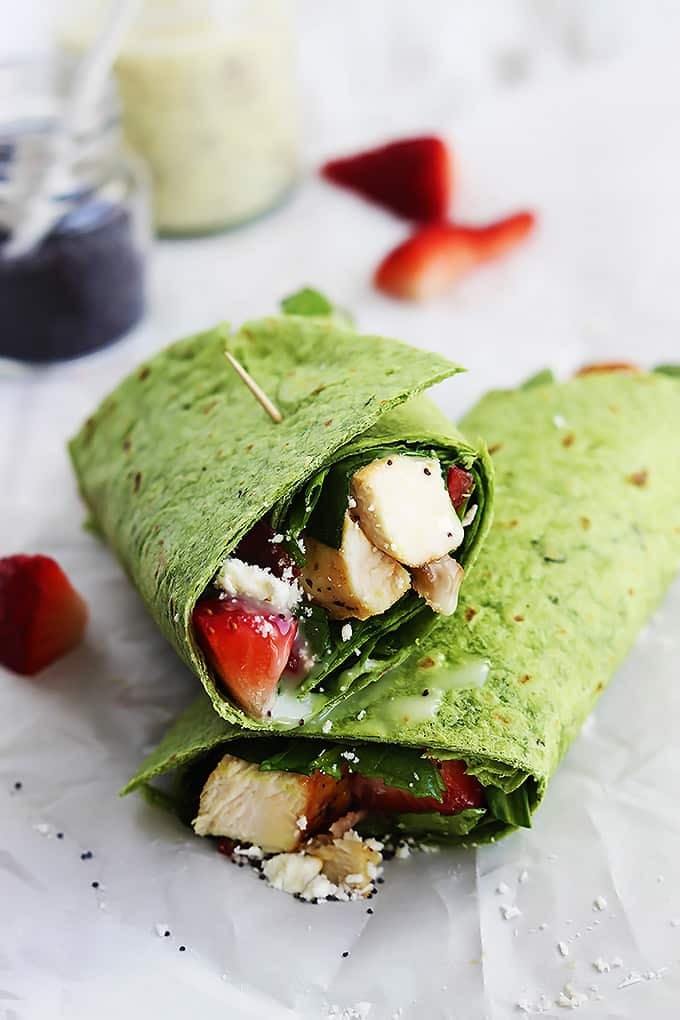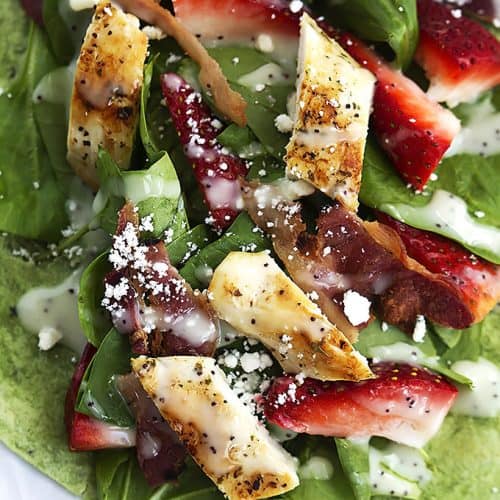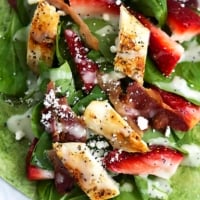 Strawberry Chicken Bacon & Spinach Wraps with Poppyseed Dressing
Fresh and healthy wraps stuffed with juicy strawberries, chicken, crumbled bacon, feta cheese, and drizzled with poppyseed dressing.
Ingredients
4

large

tortilla wraps

-

(I used spinach herb, use any flavor you prefer)

2

boneless skinless chicken breasts

-

pounded to ½ inch thickness

1

teaspoon

seasoning salt

1

tablespoon

oil

3

cups

packed baby spinach leaves

1

cup

sliced strawberries

4

slices

bacon

-

cooked and crumbled

¼

cup

crumbled feta cheese

poppyseed dressing

-

(store-bought or recipe below)
Dressing
⅔

cup

mayo

-

(see notes)

½

cup

Half & Half

-

(I used fat free), see note

6

tablespoons

sugar

8

teaspoons

apple cider vinegar

1

tablespoon

oil

4

teaspoons

poppy seeds
Instructions
If using poppyseed dressing recipe as listed: Blend all salad ingredients together (except for poppy seeds) until smooth. Stir in poppy seeds. Cover and chill until ready to use.

Rub seasoning salt on chicken breasts. Drizzle a pan or skillet with the 1 tablespoon oil. Add chicken breasts and cook over medium heat 3-4 minutes on each side until cooked through. Remove from heat, chop into pieces and set aside.

Distribute spinach leaves between each of the 4 tortilla wraps. Top with chicken, strawberries, crumbled bacon, feta, and drizzle with poppyseed dressing.

Roll each wrap up tightly, stick a toothpick in the middle to secure the wrap (optional) and serve.
Notes
Milk:

any percentage of milk will work- the higher the fat content, the creamier your dressing will be. 
Mayo: you can swap out some or all of the mayo for Greek yogurt for a healthier dressing. 
Nutrition
Calories:
617
kcal
,
Carbohydrates:
40
g
,
Protein:
20
g
,
Fat:
42
g
,
Saturated Fat:
7
g
,
Trans Fat:
1
g
,
Cholesterol:
61
mg
,
Sodium:
1236
mg
,
Potassium:
513
mg
,
Fiber:
2
g
,
Sugar:
24
g
,
Vitamin A:
2205
IU
,
Vitamin C:
28
mg
,
Calcium:
144
mg
,
Iron:
2
mg