Super Soft Cinnamon Rolls with Brown Sugar Frosting are everything good about fall baking. Buttery, sweet brown sugar frosting atop soft, fluffy, cinnamon-and-sugar-stuffed rolls; great for breakfast, brunch, holiday gatherings, and more.
When you need to get your breakfast roll fix on, I've got your back. Try my Apple Pie Cinnamon Rolls, Pumpkin Cinnamon Rolls, or my Red Velvet Cinnamon Rolls With Brown Butter Cream Cheese Frosting.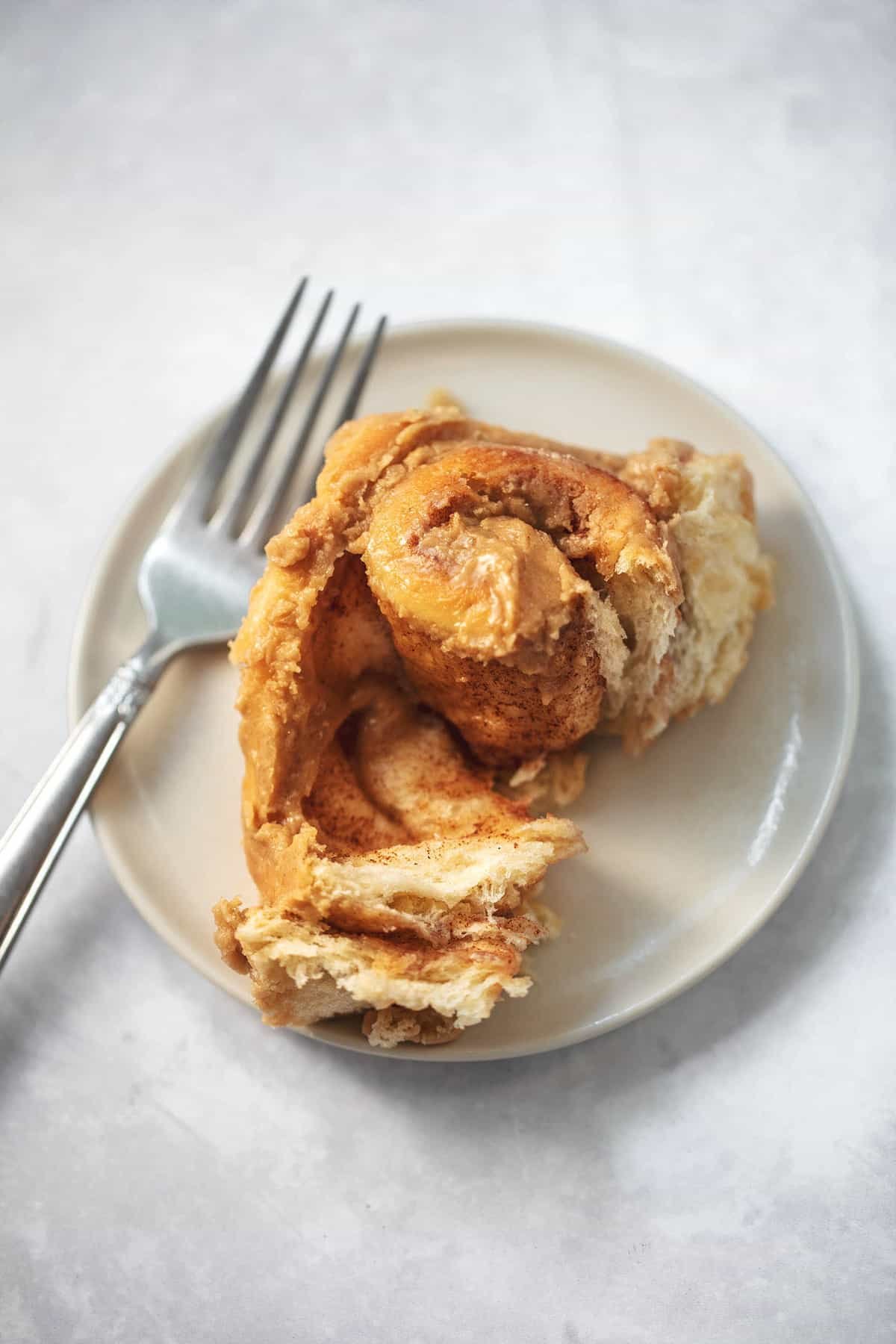 This post is sponsored by Fleischmann's® Yeast. All opinions are my own.
If there's one thing I can't get enough of, it's cinnamon rolls. And the easier the better, like my Easy Homemade Cinnamon Rolls. Pumpkin, red velvet, cinnamon toast, French toast, or eggnog; made in a slow cooker, overnight, or stuffed in apples; or in crepe, muffin, or dipper form, I cannot stop. I will not stop.
Really, there's no reason to. Just writing about cinnamon rolls conjures up about five more ways to make them. (But I'll save those for later.) Despite their specific shape and multi-layered taste, they aren't that hard to make. My secret ingredient is Fleischmann's RapidRise Yeast, because while I'm not going to stop making these rolls any time soon, I do like to speed up the process whenever possible and Fleischmann's yeast certainly helps with that. In fact, it's the only yeast I use when making breads, rolls, and even pizza crusts.
So if you were on the fence about making cinnamon rolls for the upcoming holidays (or any time, really), let this be the recipe to get you over to the other side. They will not disappoint even the pickiest guests or family members. No time for baking before breakfast? They make a great dessert too!
WHAT EXACTLY IS YEAST?
That's a great question. We use so many ingredients without questioning, isn't it fun to learn a little something once in a while?
Yeast is of utmost importance when making breads and doughs. It's what makes the bread rise, after all. Yeast is a living organism. (Though saying that makes me feel a bit bad about it living in my pantry in a dark envelope.) When added to your flour, and given some warm water, it will eat the starches in the flour, developing the gluten and producing carbon dioxide. The C02 makes the gluten proteins expand in the flour and makes it expand and rise. Fascinating, right? Yeast also gives breads that yummy, well, "yeasty" flavor.
Without yeast in these rolls, you'd have a flat, cardboardy, hard mess of dough and sugar and cinnamon. I'd probably still eat it in all truthfulness because, well, sugar and cinnamon, but I wouldn't enjoy it even half as much.
HOW DO YOU KNOW WHEN CINNAMON ROLLS ARE DONE?
If, after the 25-30 minutes I suggest for baking, you're still not sure if these Super Soft Cinnamon Rolls are done, you can test them. Take them out of the oven first. Use a fork or a butter knife to gently lift up a roll in the center. If the dough is still looking a bit raw, but it back down in its spot and into the oven for another 5-10 minutes.
When they are done, they should all look golden brown on the top and centers all baked through. Nothing's more disappointing than biting into a cinnamon roll and finding the center isn't done. It's not like cookies or brownies where you'd probably power through and still enjoy it. Raw bread dough isn't so delicious when it's not cooked thoroughly.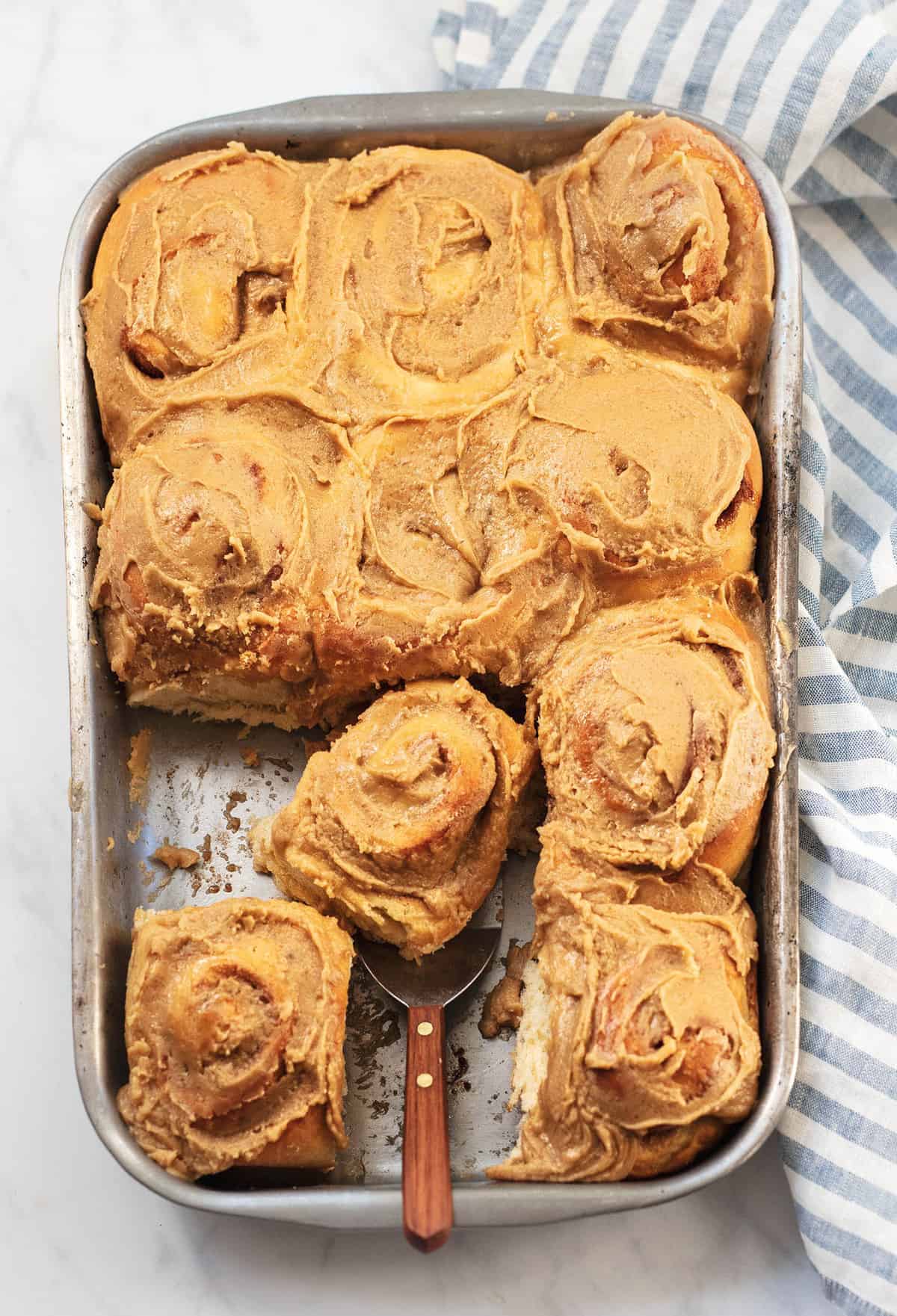 WHAT KIND OF ICING IS GOOD ON CINNAMON ROLLS?
If you'd like other options for your cinnamon rolls, icing-wise, you've come to the right place. Use the recipe here for Brown Sugar Frosting or try any of these other delicious icings.
If you haven't added these Super Soft Cinnamon Rolls with Brown Sugar Frosting to your holiday baking list yet, what are you waiting for? They're so delicious and easy to make thanks to Fleischmann's RapidRise Yeast. Make them once and I promise you'll be back for more!
Super Soft Cinnamon Rolls with Brown Sugar Frosting
Quick-and-easy cinnamon rolls are so chock full of gooey cinnamon goodness you'll never question what to make for breakfast again. These homemade cinnamon rolls only take about an hour to make — which makes them easier to have again and again!
Servings:
12
cinnamon rolls
Ingredients
4 ½-5

cups

all-purpose flour

⅓

cup

sugar

2

packets

Fleischmann's® RapidRise Yeast

1

teaspoon

salt

1 ½

cups

water

6

tablespoons

butter

1

egg
Filling
⅓

cup

sugar

¼

cup

brown sugar

2

teaspoons

ground cinnamon

3

tablespoons

butter

-

very soft
Brown Sugar Frosting
½

cup

butter

1

cup

lightly packed brown sugar

¼-⅓

cup

heavy cream

-

(or milk)

2-3

cups

powdered sugar
Instructions
Combine 2 cups flour, sugar, yeast, and salt in a large mixer bowl and stir until blended. Place water and butter in a microwave-safe bowl. Microwave on HIGH in 15 second increments until very warm but not too hot to touch. (Butter won't be completely melted) Add to flour mixture, then mix in the egg.

Mix the dough 2 minutes at medium speed, scraping down the bowl as needed. Add 1 cup flour, mix 2 minutes at high speed, then stir in just enough remaining flour so that the dough will form into a ball.

Knead on lightly floured surface until smooth and elastic, about 6-8 minutes. Cover with a towel and let rest for 10 minutes.

To make the filling, stir together sugar, brown sugar, and cinnamon, set aside.

Roll the dough into a 15×10-inch rectangle. Spread the softened butter over the dough, leaving a 1/2-inch gap from the edges. Sprinkle cinnamon and sugar mixture over buttered dough.

Beginning at the long end of the rectangle, tightly roll the dough into a log, pinching the seams to seal. Cut into 12 equal pieces, place pieces cut side down in a greased 9×13 inch pan. Cover with a towel and place in a warm place to rise for 1 hour.

Heat oven to 350 degrees. Bake uncovered for 25-30 minutes until golden brown. Allow to cool 15 minutes before frosting.

To make the frosting, melt butter in a medium sauce pan and boil for 2 minutes. Stir in brown sugar, reduce heat to medium-low and boil for 2 minutes. Stir in milk, remove from heat and pour into a large bowl. Add milk and powdered sugar, whipping with an electric mixer medium-high speed, until light and fluffy. Spread on cinnamon rolls.
Notes
Pro Tip: Double the filling portion if you love a really ooey gooey cinnamon roll!
Nutrition
Calories:
424
kcal
,
Carbohydrates:
91
g
,
Protein:
6
g
,
Fat:
4
g
,
Saturated Fat:
1
g
,
Trans Fat:
1
g
,
Cholesterol:
16
mg
,
Sodium:
262
mg
,
Potassium:
120
mg
,
Fiber:
1
g
,
Sugar:
54
g
,
Vitamin A:
183
IU
,
Vitamin C:
1
mg
,
Calcium:
60
mg
,
Iron:
2
mg