Easiest, tastiest, juiciest turkey burger recipe with bold Tex-Mex seasonings, spicy pepper jack cheese, and creamy guacamole. These simple grilled turkey burgers will become your go-to burger recipe for cookouts and quick weeknight dinners!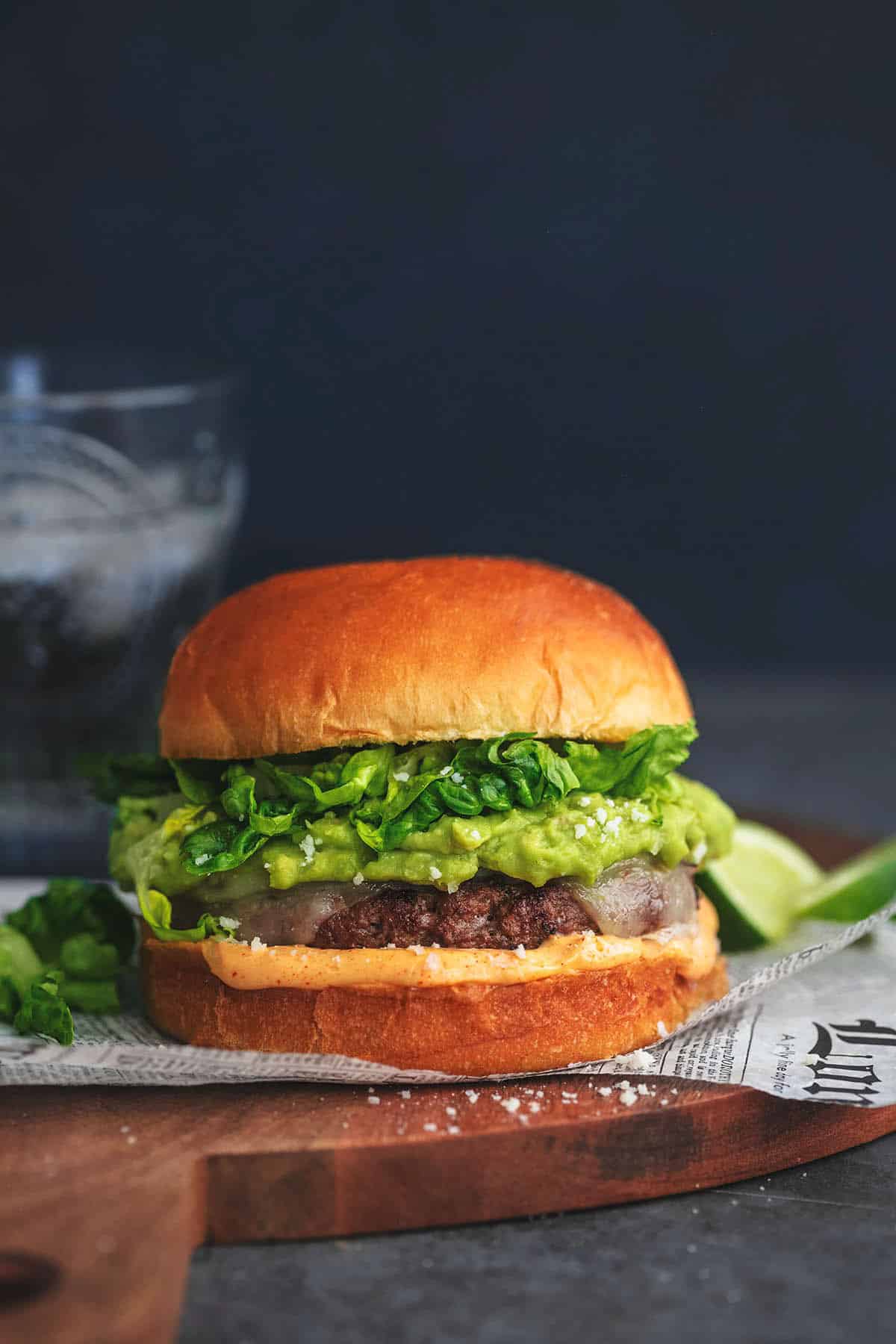 For more burger recipes with pizazz, check out my posts for California Club Burger, Red Robin Bonzai Copycat Burger, and Black Bean Teriyaki Burgers.
I'm an equal-opportunity burger lover. Give me a round patty (beef, turkey, or vegetarian) on the grill with some spices and I'm a happy camper. Nothing saddens me more than when I see a plain hunk of meat on the grill with no added flavor at all! That's a totally wasted opportunity to get creative with a nearly limitless variety of flavors.
I was inspired to make this super-flavorful turkey burger recipe because I've most, if not all, of the turkey burgers I've tried have left me feeling unsatisfied. They weren't juicy enough, flavorful enough, something was missing. So I created a turkey burger recipe to put the rest to shame. Trust me, even the biggest skeptics in your house will be devouring this "south of the border" turkey burger, no questions asked.
Why This Recipe Works
In a nutshell, this is what makes this turkey burger recipe really special.
Flavor — The combination of spices: garlic powder, salt, cumin, coriander, and chili powder makes for one tasty burger, bite after delicious bite!
Easy to make — You'll be able to season, form, and cook the patties, plus make guacamole and seasoned mayo all in less than 30 minutes!
Guacamole — Get your fill of heart-healthy fats (with a squeeze of lime) with every dollop of this yummy avocado spread!
Great for leftovers — Double this recipe, and keep leftover cooked patties in the fridge for up to 3 days, or in the freezer for up to 3 months!
Customizable — Swap or leave out a spice all together, add or subtract to the guacamole, change condiments and cheeses, add pickles — there's no limit to how you build your perfect burger.
Here's How You Make It
Preparing the seasonings and condiments
First make the guacamole by stirring together peeled, seeded, and mashed avocados with lime juice and salt. Set aside for use when the burgers are cooked.
Stir together the spices for the Tex-Mex seasoning and divide it in half.
Make the mayo dressing by stirring together mayo (or substitute sour cream) with half of the Tex-Mex spices. Set that aside as well.
Cooking the burgers
Make the burgers by combining the ground turkey with the rest of the turkey burger seasoning. Mix it all together by hand, and then split the mixture into 4 equal-sized patties.
Grill the turkey burger(s) on the grill for about 6 minutes per side over medium heat. They should be browned and cooked all the way through on all sides before taking off the grill.
Add a slice of pepper jack to each burger, close the grill lid and let the cheese melt on top of the cooked turkey burgers for about 1-2 minutes.
Assembling the turkey burgers
Slather the mayo sauce on the bottom of the buns.
Place a burger on top of the mayo.
Add guacamole to the top of the burger.
Now add shredded lettuce, and any other condiments you desire.
Cap it off with the top of the bun and dig in!



Is a Turkey Burger Healthier Than a Hamburger
Are turkey burgers actually healthier than beef burgers? That's a great question, and it all depends on what kind of beef and turkey you're eating.
You see, there is a lot of fat in the dark meat of turkey, but hardly any in the white meat. So you'll have to check your turkey mixture when you purchase it. It'll say something like 90/10 or 85/15 (or less) which is the percentage of lean muscle to fat.
If you are watching your saturated fat content, then you should check the package of either beef or turkey before purchasing to see how lean it is. I tend to stick to leaner packages of ground turkey for less unhealthy fats, then add avocado to get that healthy fat in my diet.
Expert Tips

I'll let you in on the secrets to making the perfect grilled turkey burger.
Letting the turkey completely thaw

in the fridge before mixing with the Tex-Mex seasoning will make the mixing much easier and keep your fingers from freezing and hurting while you mix.

Not sure

how big to make the turkey patties

? Eyeball the buns you've purchased, and make them roughly the same width. If you are using turkey burger patties that are already formed and ready to go, just rub the turkey burger seasoning in on the top and bottom of the patties.

My favorite cheese on these burgers is

pepper-jack

, but you could also use cheddar, havarti, provolone, or colby jack.

Want to

save some time

? You can season and form the patties and make the Tex-Mex sauce up to 24 hours ahead of time. Keep them covered and in the fridge until you're ready to grill them.
How to Keep Guacamole From Turning Brown
There are two simple tricks to keeping your guacamole a nice, bright, fresh, green and avoid that unappetizing browning.
Use lots of fresh-squeezed lime juice. The acid in the lime juice helps to prevent oxidation, which is what is happening when you see fresh, sliced produce (like bananas or apples) or in this case guacamole, turn brown.
Prepare the guacamole in a glass bowl, then use a spoon or small spatula to smooth out the top of the guacamole as much as possible (try to get rid of any air pockets!). Then cover with plastic wrap and make sure that the plastic wrap is touching the entire surface of the guacamole. That's right – normally you'd want to keep the plastic wrap away from the food so it is not touching, but in this case we want the plastic wrap to be touching all of that top surface layer to prevent any air from coming in contact with the guacamole.
When ready to serve, remove the plastic wrap and scrape off any little brown bits that might have showed up – but most of your guacamole should be fresh and bright green!
Serve it With
Did you make this recipe? Please give it a rating!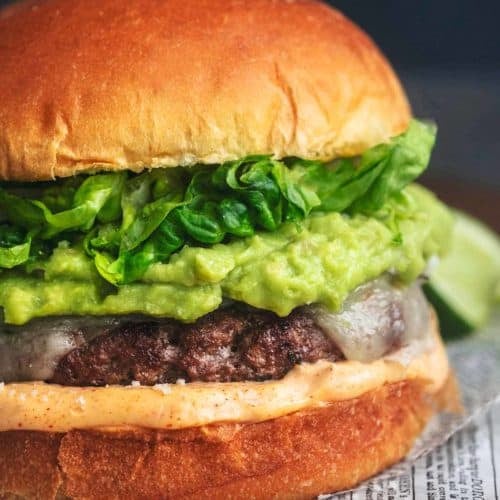 Tex-Mex Turkey Burger Recipe
Say "goodbye" to plain old burgers and make these delicious, mouth-watering Tex-Mex turkey burgers. Every bit as delicious as your typical burger with a mildly spicy blend of seasonings, avocado, and pepperjack cheese. 
Ingredients
1

pound

lean ground turkey

2

avocados

-

mashed

juice of ½ lime

4

pepperjack cheese slices

½

cup

light mayo

-

or sour cream

1

cup

shredded lettuce

4

hamburger buns
Tex Mex Seasoning
1

teaspoon

garlic powder

1

teaspoon

salt

1

teaspoon

cumin

1

teaspoon

coriander

1

teaspoon

chili powder
Instructions
Prepare the guacamole by stirring together mashed avocado and lime juice, and adding salt to taste. Set aside.

Stir together the spices for the Tex-Mex Seasoning. Divide in half.

Stir together mayo (or sour cream) and half of Tex-Mex Seasoning. Set aside.

In a large bowl combine ground turkey and remaining half of the Tex-Mex Seasoning. Mix well by hand, then form into 4 equal-sized patties.

Grill burger patties for about 6 minutes on each side over medium heat til browned and cooked through.

Top each patty with a slice of cheese, cover the grill and allow the cheese to get melty (about 1-2 minutes).

Assemble turkey burgers by slathering mayo sauce on the bottom bun, then top with the turkey burger patty, followed by a big dollop of guacamole, some shredded lettuce, and the top of the bun. Serve and enjoy!
Notes
Turkey burger patties: you will want to make your hamburger patties about the same width as your hamburger buns. If using pre-formed patties, simply rub the Tex-Mex Seasoning into both sides of the patty rather than mixing it into the ground turkey.  Cheese swaps: provolone or colbyjack cheese also go great with this burger! Make ahead: the burger patties and Tex-Mex sauce can be made up to 24 hours ahead of time and chilled. (The guacamole should be made immediately before serving.)
Nutrition
Calories:
486
kcal
,
Carbohydrates:
34
g
,
Protein:
34
g
,
Fat:
25
g
,
Saturated Fat:
4
g
,
Cholesterol:
68
mg
,
Sodium:
1087
mg
,
Potassium:
930
mg
,
Fiber:
8
g
,
Sugar:
5
g
,
Vitamin A:
433
IU
,
Vitamin C:
11
mg
,
Calcium:
105
mg
,
Iron:
3
mg