The only thing better than a juicy harvest apple is a baked apple filled with rich cheesecake!  Top it off with caramel sauce, graham cracker crumbs, and pecans for the ultimate no-fuss Autumn dessert! 
Let's play a game. It's called, How Many Delicious Things Can You Stuff Inside a Baked Apple? Ever since I made those apple crisp stuffed baked apples I've been dreaming up more ways to get my baked apple fix. I believe between the apple crisp and these cheesecake stuffed apples, I have truly entered apple harvest heaven and can die a happy girl.
I hate when my husband is out of town because a) I miss him, obviously,  b) I am left to squish all of my own spiders and I don't do clean up duty which means there are a lot of shoes in random places around the house, and c) I am stuck in an empty house with no one to keep me company besides all of this dang food I'm cooking up! What's a girl to do when she's staring down a bunch of gorgeous baked apples stuffed with cheesecake, all of which have no real agenda?
Devour them. That's what a girl is to do.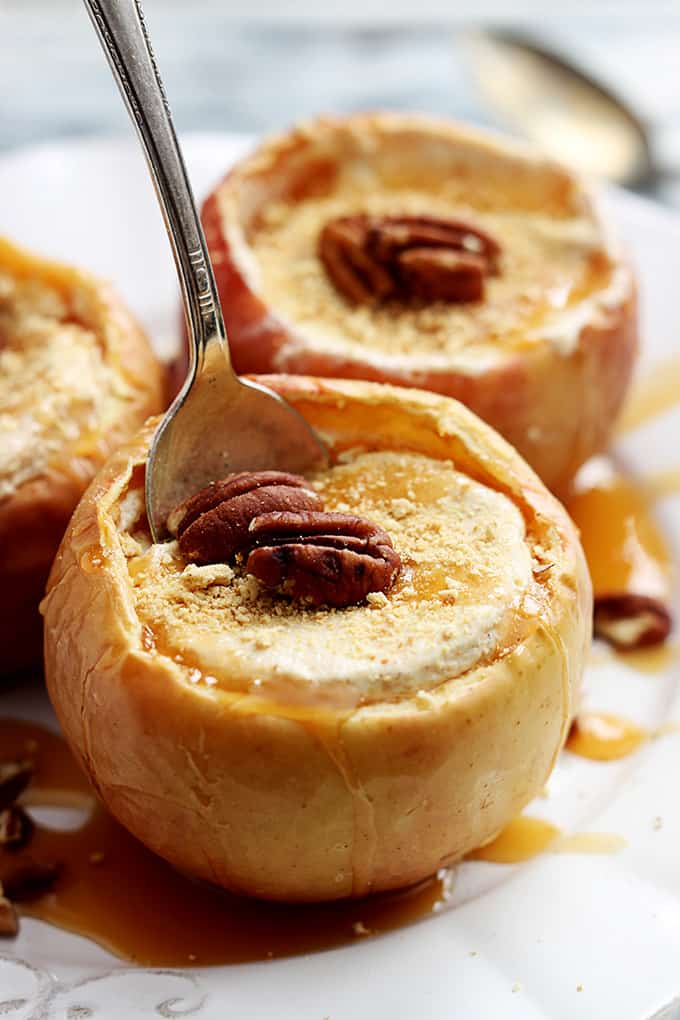 These apples are delicious warm, at room temperature, or chilled. Whatever your preference, you really can't go wrong. They only require 6 ingredients (seriously. just six) but if you've got time to round up three more (you do, you do!) then you should really go all out with the toppings. If you want to make some homemade caramel sauce, feel free, but if you're just not in the mood for it (I don't blame ya, I have those days) opt for caramel ice cream topping, it works perfectly. And I know the recipe says that the graham cracker crumbs are optional but, they're not. They kind of bring the whole cheesecake thing together and you will not regret sprinkling some of that crumbly goodness right on top.
These have to be my new favorite fall dessert. I'm always and forever a fan of pumpkin (in case you haven't noticed the 9 million pumpkin recipes on this blog) but sometimes you've gotta mix things up and these stuffed baked apples are the perfect way to do it. I mean, they're filled with CHEESECAKE. How can you go wrong with a crisp Autumn apple stuffed with cheesecake?? Exactly. You can't. And the fact that these babies are extremely easy just makes them that more amazing. This recipe will feed six normal-ish people, or three very hungry people, or one of me, but you can double the whole thing and feed a crowd with these too!
 These are yummy too!