Juicy, flavorful Italian style meatballs stuffed with melty mozzarella cheese – perfect for dipping in your favorite marinara or alfredo sauce! 
If you're not following me on Instagram, you might not know that I've been in Sacramento for the past couple of days learning all of the ins and outs of Diamond of California and how their amazing walnuts go from the tree to my kitchen. My husband will tell you that I'm a bit of a workaholic, and there may be something to that claim. Lately though, I've realized life is flying by way to fast so I've been trying (key word: trying) to take little breaks, celebrate tiny personal victories, and savor the moment a little more.
When I arrived in Sacramento, I had a few hours to waste before I was scheduled to be anywhere. I hadn't had lunch and a girl's gotta eat, so naturally I beelined for the nearest Mexican cuisine I could find. It is California after all, they know their Mexican. But this story isn't actually about the amazing chicken burrito bowl topped with 4 kinds of salsa I ate and nearly cried over. This story is about a girl and her gelato.
After my spi-cay lunch and a good walk around the city I was craving something sweet like it was nobody's business and found a fancy-pants Italian place right on Capitol Mall called Il Fornaio. Inside this classy restaurant (with a floor-to-ceiling wall devoted to every kind of wine you can imagine) there was a teeny tiny bakery in the corner. As I stood in line, I glanced over the menu and saw mostly sandwiches but I spotted a ginormous chocolate chip cookie in the display case and decided that would definitely satisfy my sweet tooth. But then the lady in front of my walked away with a towering cup of ice cream! What?! That was not on the menu, trust me, I would have noticed. So I asked gal at the counter if they had any gelato. Indeed they did and the flavor of the day was…. Cookies n' Cream.
It was fate.
I really really really love cookies n' cream ice cream. And gelato?? Well that's the cream of the crop as far as ice cream goes. Those Italians, they know what they're doin'. So there I sat in the middle of downtown sacramento with a double scoop of gelato AND a ginormous king-sized soft-baked chocolate chip cookie. And this is where savoring the moment comes in to play. If I had just stayed at the hotel and worked on my computer all afternoon (and I did consider it, heavily) I wouldn't have found that Italian restaurant with the teeny tiny bakery with the ginormous chocolate chip cookies and the most amazing gelato known to mankind.
If being less of a workaholic means more ice cream in my life, I'm on board. I mean, why didn't you lead with that. I would have quit my job years ago.
Now on a less sweet, more savory, but equally delicious Italian note, let's talk about the meatballs you will every taste, which also happen to be filled with ooey gooey melty mozzarella cheese and are made in a slow cooker. Yes, these are a crockpot wonder my friends. But! If you are short on time or don't have a slow cooker or whatever, these can also be baked so you have no excuse not to be making, eating, and singing praises for these meatballs. The meatballs alone are wonderfully tasty and seasoned perfectly, but anything filled with cheese is better right?? As a side not, they also freeze very well if you want to make them ahead and bake or slow cook them at a later time!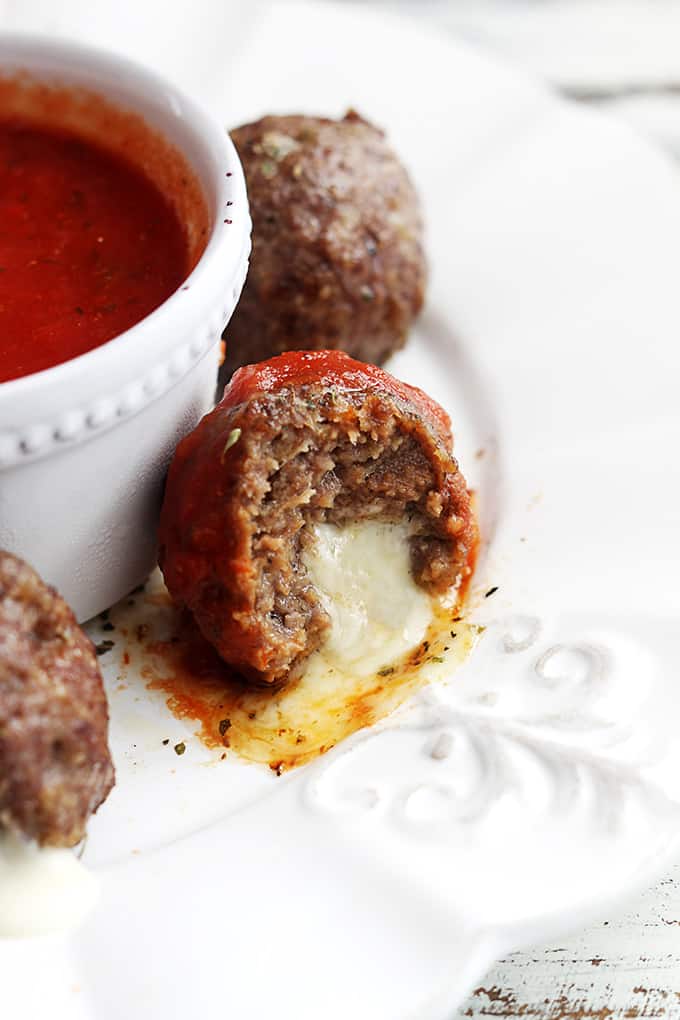 Check out my other favorite slow cooker appetizer recipes!