Sweet and saucy aloha chicken sandwiches with crispy baked breaded chicken, warm pineapple salsa, and the most amazing 2-ingredient sauce you'll ever taste!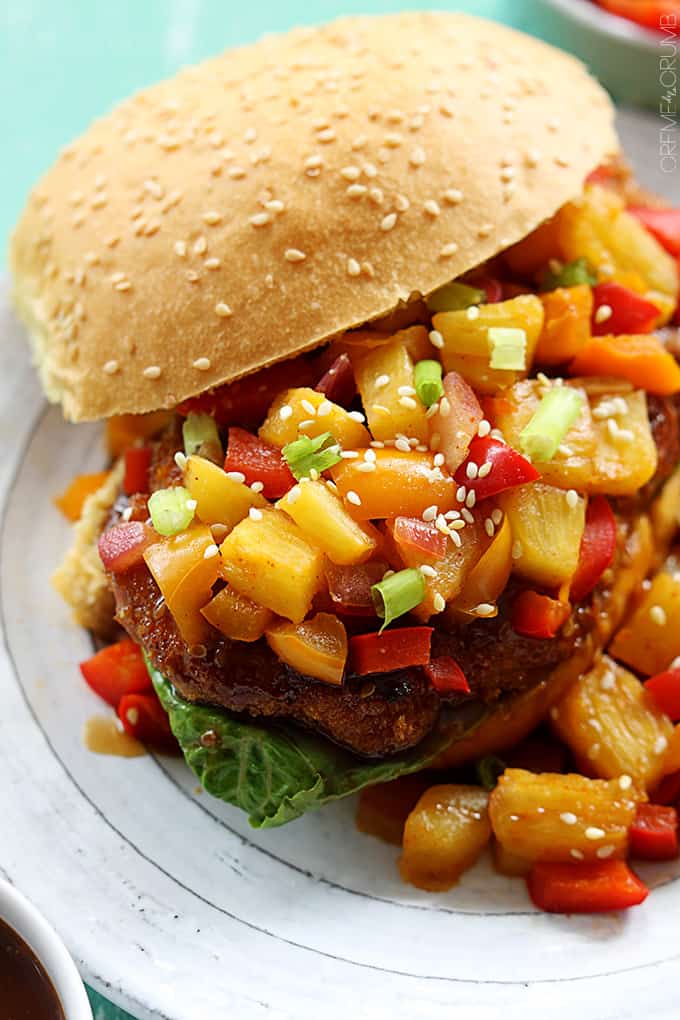 This sandwich? It's really good. Really really good. I plan to eat it all day every day for the rest of my life.
For one thing the sauce is insanely yum to the maximum yummness. And it's only two ingredients so can I get a woot woot for recipes that are practically not recipes because they are so easy?? (Woot! Woot!) Thanks for your cooperation and support there. It's just that two-ingredient sauces this fantastic don't come along every day and when they do you just gotta seize the moment to woot woot, it does the over-worked saturday morning mind some good.
And while we're still on the subject I'm just gonna give you a little piece of golden advice and let you know that you should, scratch that, MUST make extra of that nummy sauce so that you can smother it all over the top of your sandwich, lick the spoon, and the bowl, and each and every one of your ten sticky fingers. Like, triple the sauce at least.
The only thing that is better than that sauce, is that sauce with some warm pineapple salsa. Oh yeah, we're talking a mind-blowing combination of flavors here. A little sweet, a little salty, a little spicy, a little tangy – it's basically the Jeep Wrangler of flavor combos. On my bucket list is "Own a white, black, or olive green Jeep Wrangler and look HOTT driving it". I plan to go off-roading immediately followed by a trip to Target so that all the hip mamas can see my muddy tires. Is that weird? Yeahhhh maybe a little. What can I say, I fantasize about jeeps and shoe shopping. Almost as much as I fantasize about this aloha chicken sandwich.
And good news, there is no frying involved in this sandwich but you still get that crispy chicken thing as if you had taken the time to fry it. A little panko, cooking spray, and a 400 degree oven will do the trick.
And is this sandwich not the epitome of summer? Makes me wanna catch a plane bound for some exotic island prontissimo. I've already got the cardboard and sharpie out . . .
"FIJI OR BUST"
(written in chicken scratch cause that's basically how great my handwriting is. don't judge)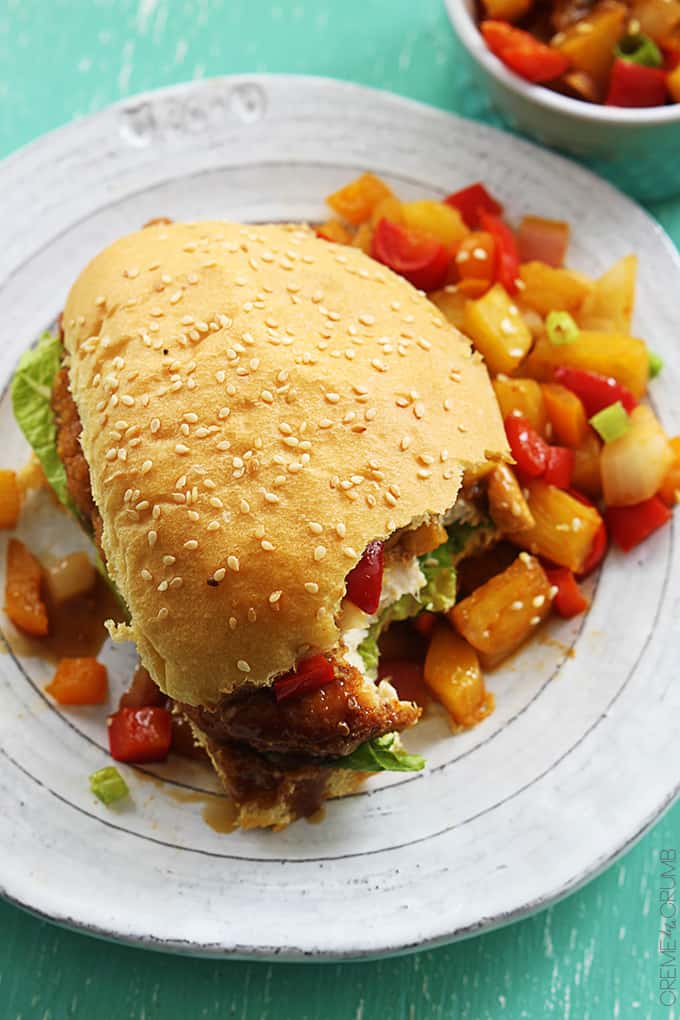 Aloha Chicken Sandwiches
Sweet and saucy aloha chicken sandwiches with crispy baked breaded chicken, warm pineapple salsa, and the most amazing 2-ingredient sauce you'll ever taste!
Ingredients
2

boneless skinless chicken breasts,

thinly sliced butterfly style to yield 4 thin chicken breasts

1/4

cup

flour

1

teaspoon

salt

1

teaspoon

garlic powder

1

teaspoon

chili powder

1

cup

panko bread crumbs

2

eggs

1

tablespoon

water

1

cup

Kraft lite Asian toasted sesame dressing

1/3

cup

thick teriyaki sauce

(I used Kikkoman gourmet teriyaki quick + easy marinade sauce)

4

burger buns or other sandwich rolls
Salsa
1

cup

diced pineapple

1/2

red bell pepper,

diced

1/2

orange bell pepper,

diced

1/2

teaspoon

salt

1

tablespoon

teriyaki sauce

1/4

teaspoon

chili powder

1/4

white or red onion,

diced
Instructions
Preheat oven to 400 and grease a baking sheet with cooking spray. In a small bowl whisk together flour, garlic powder, chili powder, salt, and panko crumbs. Whisked together eggs and water in another bowl.

Dip chicken breasts in egg mixture, then toss in crumb mixture to coat. Place on baking sheet and spray heavily with cooking spray. Bake about 15 minutes until cooked through and crispy.

While chicken is cooking, make the salsa. Combine all ingredients in a medium pan and sauté over medium heat 3-5 minutes until tender and heated through.

Whisk together teriyaki sauce and Kraft dressing. When chicken is finished cooking, toss in the sauce. Place on buns, top with chicken, then salsa. Drizzle with extra teriyaki sauce if desired.
Recipe adapted from Lovely Little Snippets.