Baked Salsa Verde Chicken is a delicious, quick, savory dish that takes only 5 ingredients to make! The minimal ingredients plus the verde salsa and cheesy goodness makes this hard to beat, any night of the week!
If you love 5-ingredient dishes, then please check out my recipes for the Best Easy 5 Ingredient Chicken Marinades, this 5 Ingredient Chicken Verde Tortilla Pie, and this 5 Ingredient Sweet Paprika Chicken.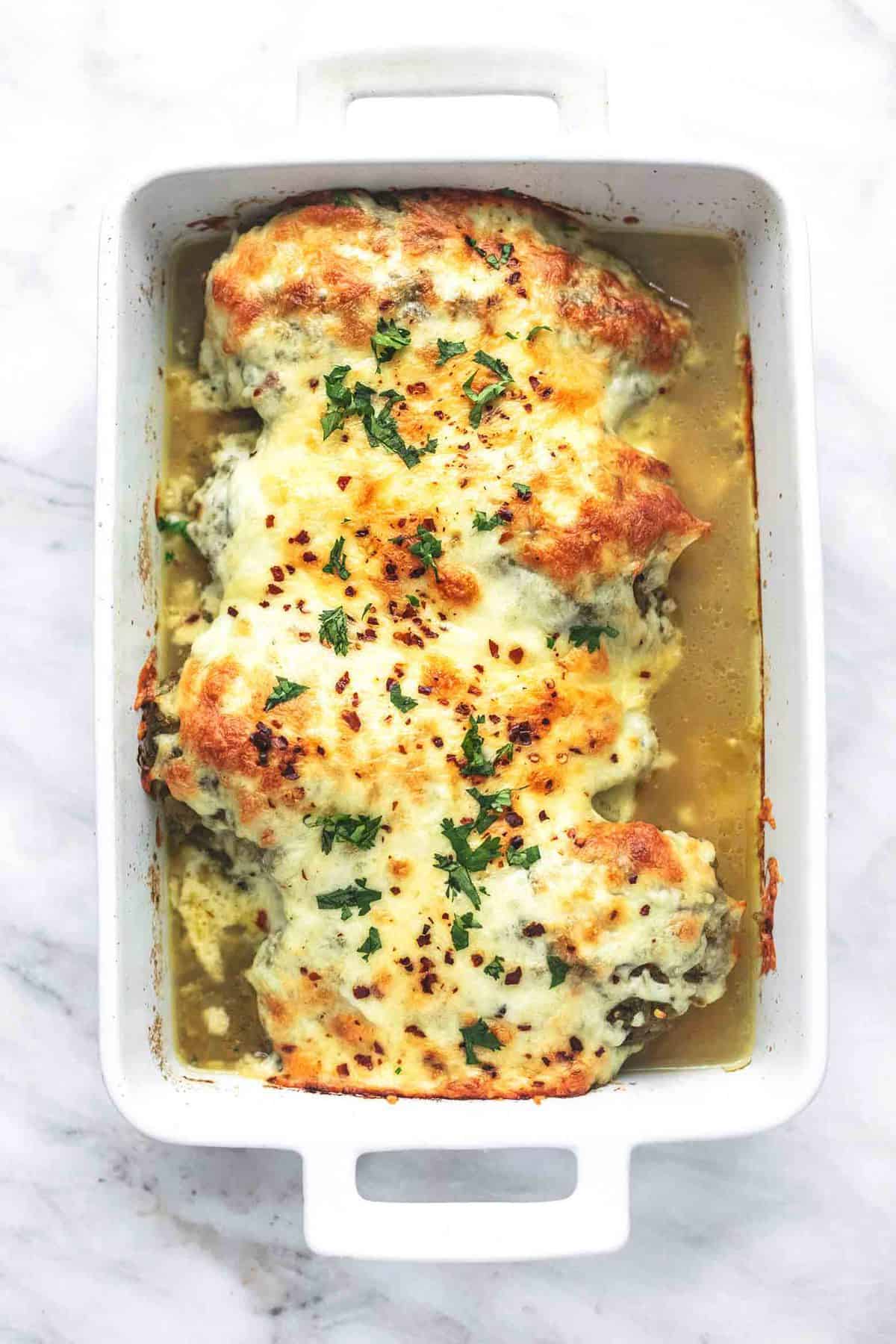 When I set out to make 5 ingredient recipes, I try to create ones that are not only delicious, but that can be made with ingredients you probably already have on hand. Because what good are few ingredients if those are hard to come by? Then what was once a seemingly easy task becomes a chore.
For this easy, kick-butt chicken dish, I added jarred salsa verde (though you can feel free to make your own), cheese, and salsa and that's about it. Well, also cilantro for a quick garnish, but even that's optional.
How to make this dish
To make this dish, the first thing I did was to preheat the oven to 375 degrees. Then, I gathered up all my ingredients and greased up my favorite baking dish and set it aside.

I pounded the chicken to an even, 1-inch thickness to ensure even cooking. Then I salted and peppered all that chicken. Don't go too crazy here, but feel free to make it count. (More than one turn of the salt grinder is what I'm saying.)

The pounded, seasoned chicken breasts then goes into the baking dish in a single layer. I poured the salsa verde right onto the chicken, right from the jar. Get the chicken nice and covered with the salsa, as any plain pieces of chicken will get too dry in the oven.

Finally, I added shredded cheese all on top of the chicken and salsa and popped that into the oven for 20 minutes. If your chicken needs longer, that's no problem. Use a meat thermometer if you need to — when it reads 165, you're golden.

I pull the chicken out and top it with cilantro and other garnishes if you like.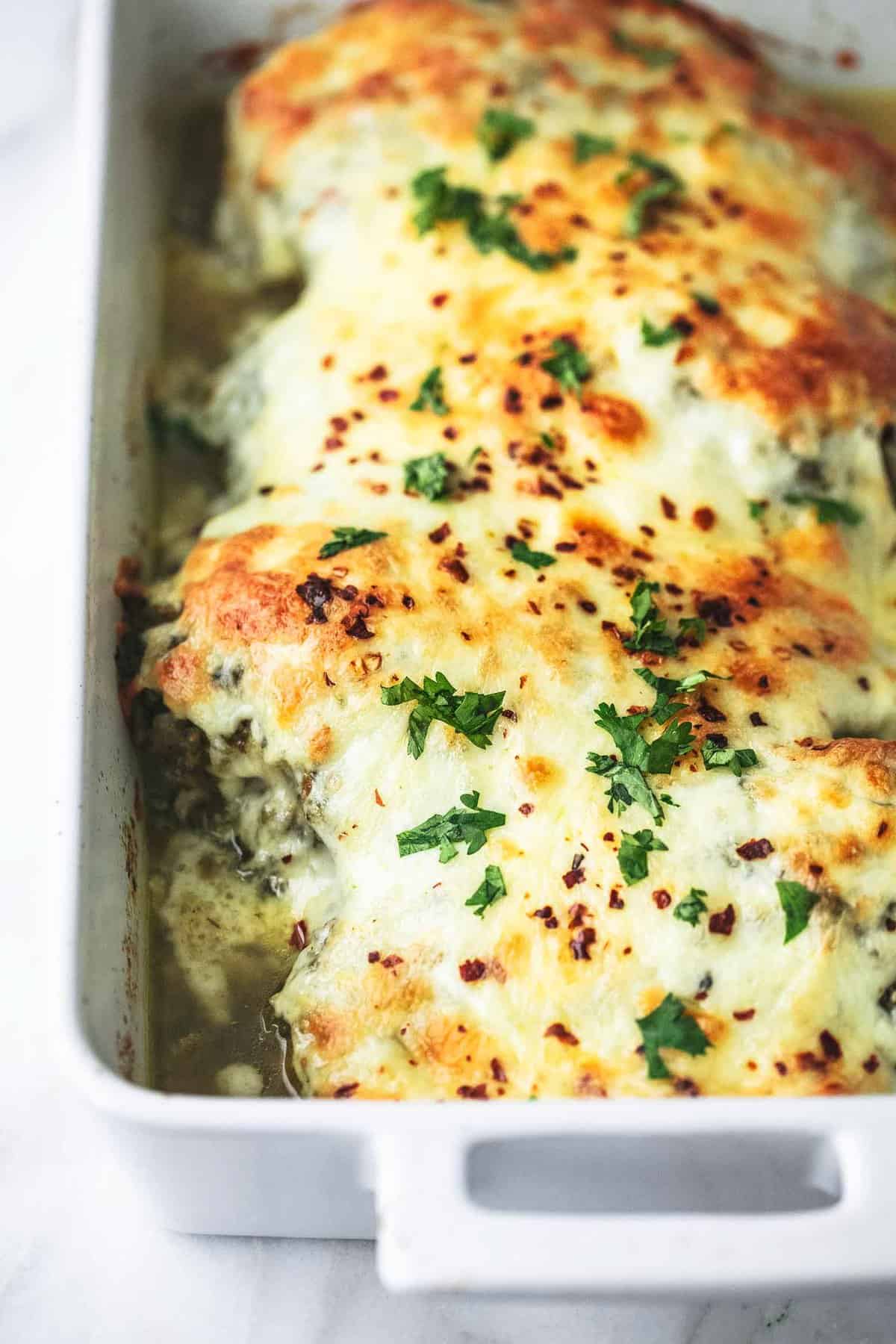 What is salsa verde?

Salsa verde is a salsa that's typically made with tomatillos, which are a variety of green tomatoes. There are also typically some other green ingredients in the green salsa as well, such as jalapenos, cilantro, and lime juice. There is also usually some garlic and cumin in there too. You can find salsa verde all over Mexico, and of course, all over your grocer's international aisle.

How to make this in the slow cooker
Making salsa verde chicken in the slow cooker is about as easy as it is baking it, except that you have to let it slow cook, so it's going to take longer. The other difference is that this chicken will shred versus being able to cut it up into nice pieces after being baked.

Slow cooker salsa verde chicken is great for instant tacos and burritos, enchiladas, on top of a salad, or anywhere you feel as though you need some shredded, spiced chicken in your life.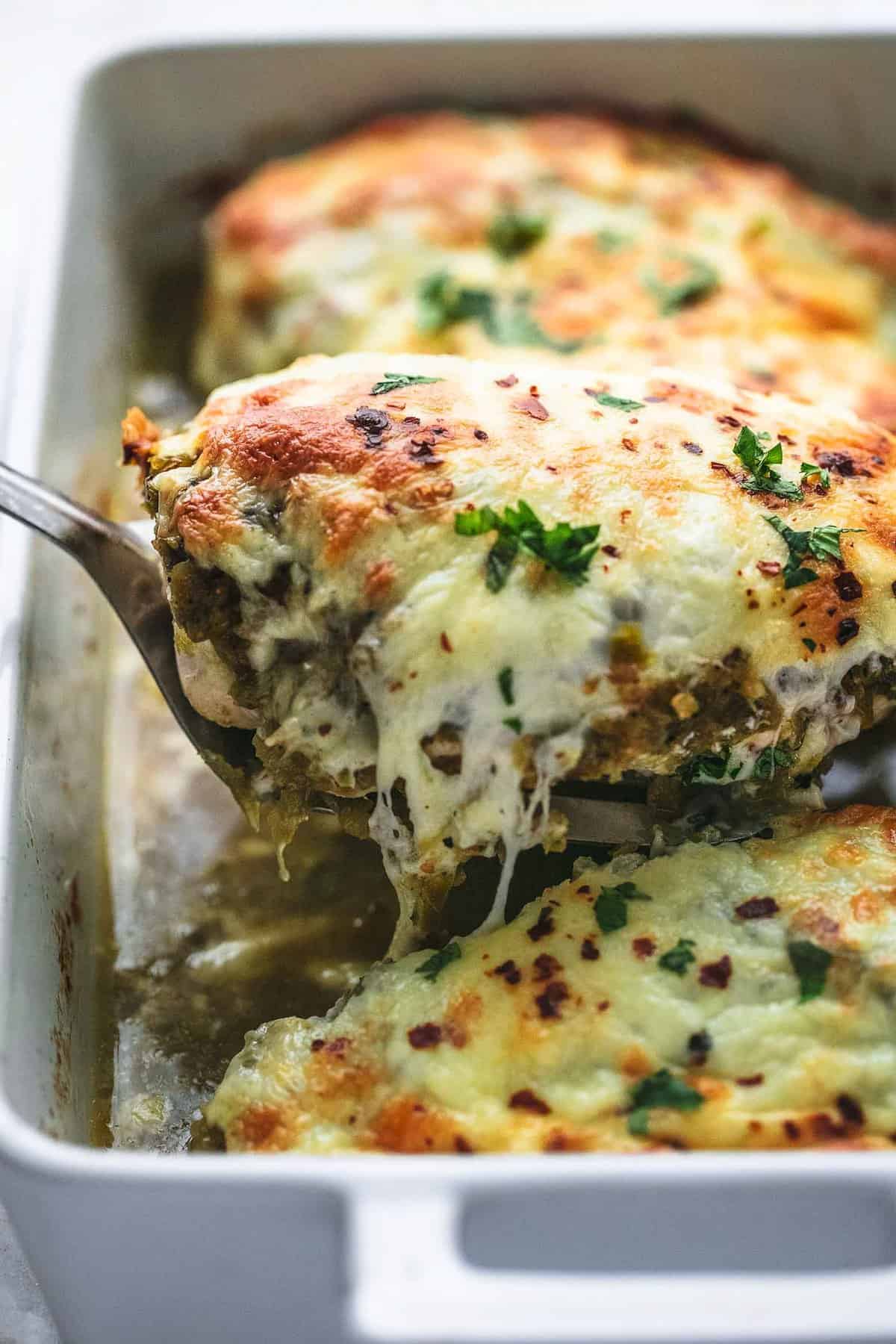 Serving suggestions
I like to serve this chicken in whole pieces with a nice green salad (Portillos Chopped Salad for example) or a Mexican rice dish on the side.

I also like to cut this chicken up into bite-size pieces and add it to a corn or flour tortillas and top with cilantro, hot sauce, black olives, black beans, sour cream, pickled onions — basically any and all the taco toppings. (For a taco recipe, try my Instant Pot Shredded Chicken Tacos.)

If you'd like to make an entree-size salad, create your salad first using whatever greens you have and maybe some other ingredients that would complement the flavors of the chicken. Corn, black beans, pickled jalapenos or onions, diced bell peppers, diced red onions, sliced avocado, and cherry tomatoes are all great choices. Slice a chicken breast and lay it on top of your salad. Drizzle with more salsa or your favorite dressing. (I like to mix salsa with a little bit of ranch dressing for my own southwestern dressing.)

Add diced chicken to a baked potato topped with more salsa, cheese, and sour cream.

Slice the chicken and use it to top a halved baked sweet potato for a nutritious, delicious meal.

For a low-carb option, try serving this chicken (and, yes, of course, more salsa) inside a halved spaghetti squash. Yum!

This chicken would also mix in nicely with leftover cilantro rice or plain pasta. Use your imagination to dress it up however makes sense to you and your tastebuds.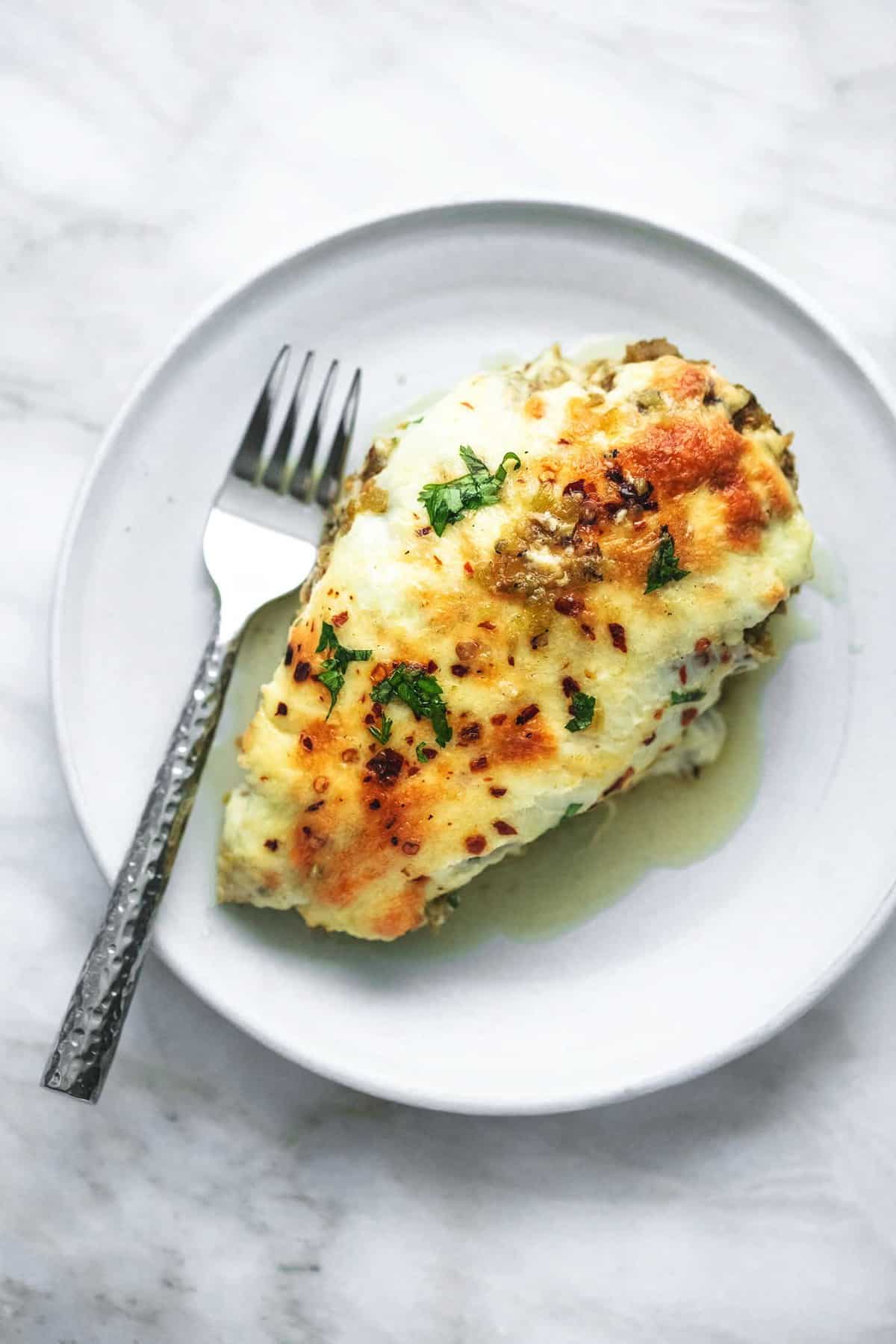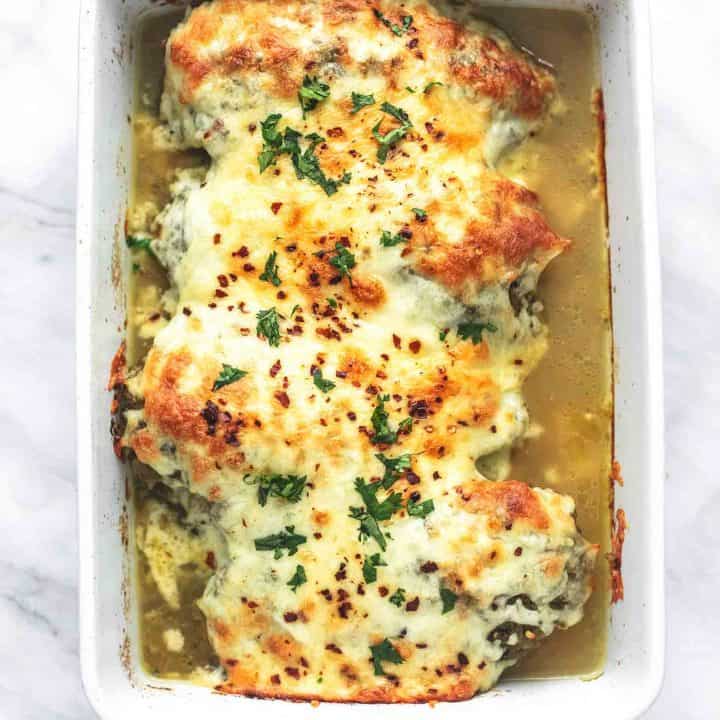 Baked Salsa Verde Chicken
Baked Salsa Verde Chicken is a delicious, quick, savory dish that takes only 5 ingredients to make! The minimal ingredients plus the verde salsa and cheesy goodness makes this hard to beat, any night of the week!  
Ingredients
4

boneless skinless chicken breasts

salt and pepper to taste

16

ounces

salsa verde

8

ounces

pepperjack cheese

fresh cilantro

-

chopped
Instructions
Preheat oven to 375 degrees and grease a baking dish.

Pound chicken to even 1-inch thickness and season generously with salt and pepper.

Arrange chicken in a single layer in the baking dish.

Pour salsa verde over chicken, making sure to cover all of the chicken completely.

Top with shredded cheese.

Bake for 20 minutes or until chicken is cooked through.

Garnish with cilantro and serve.
Notes
Cheese: monterey jack, or other Mexican blend shredded cheese works great. 
Nutrition
Calories:
394
kcal
,
Carbohydrates:
7
g
,
Protein:
38
g
,
Fat:
22
g
,
Saturated Fat:
11
g
,
Trans Fat:
1
g
,
Cholesterol:
123
mg
,
Sodium:
1250
mg
,
Potassium:
694
mg
,
Sugar:
7
g
,
Vitamin A:
1179
IU
,
Vitamin C:
6
mg
,
Calcium:
429
mg
,
Iron:
1
mg