Tomatillo Ranch Chicken – This juicy chicken is flavorful and delicious after being marinated, cooked, and smothered in creamy tomatillo ranch dressing!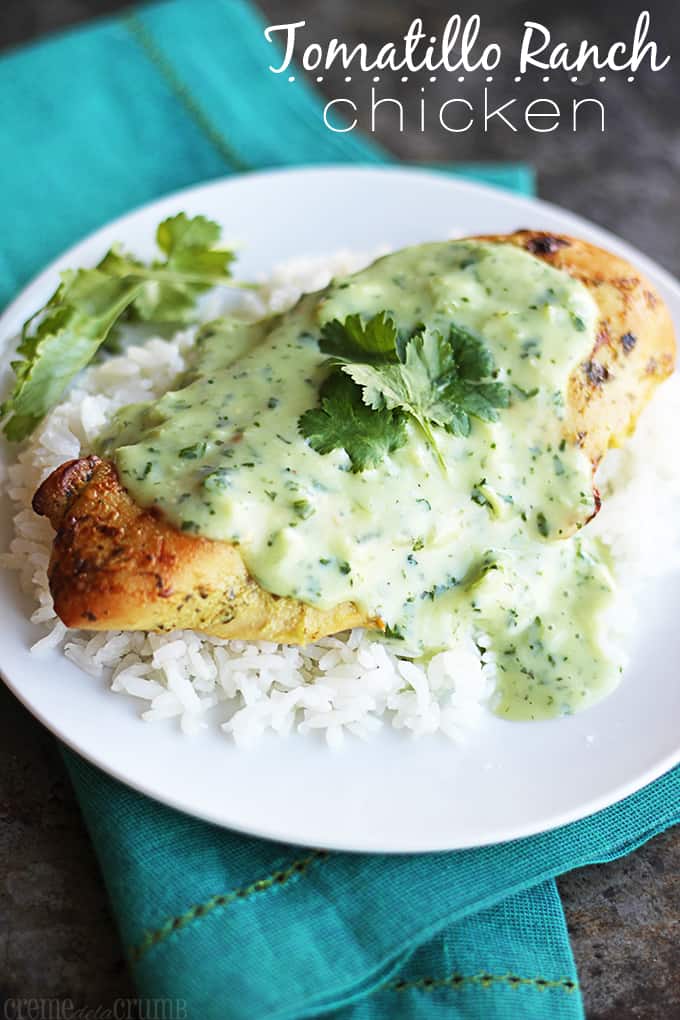 Music is a big thing for me. For my husband though, the radio is more of a "background noise" thing. I love country, and he'll throw on the pop station when he gets in the car. This could have been a big deal breaker in the beginning, but I was willing to let it go because of one very important thing we have in common: our deep adoration for Mexican food. I loooooove Mexican food. LOVE it passionately. When I was a kid, I ate so many burritos my mother would say "you're going to turn into a burrito!" and oh how I'd wished she were right.
Of course, I'm in the mood for Mexican food every meal of every day ever, but my husband made a really interesting point this week. He mentioned that after Thanksgiving he always has to have a spicy Mexican meal. Although I'd never be opposed to it, I asked him why. He said that something about the "bland" Thanksgiving flavors makes him crave something with a  real good kick afterwards. I thought about it for a minute, and then realized I totally agree! Now, I personally wouldn't say Thanksgiving flavors are "bland" but I get what he's trying to say.
I fixed up this super easy Tomatillo Ranch Chicken and it really hit the spot! The creamy ranch with big tomatillo and cilantro flavors were perfect. The chicken was juicy and flavorful after marinating it in the dressing, cooking it in the dressing, and loading plenty of extra on top. We loved the creamy dressing and my husband mentioned afterwards that he'd like to use the leftovers on a salad. This yummy chicken dish is easy to throw together and perfect for a simple and delicious weeknight meal!
What people are saying about this Tomatillo Ranch Chicken
"It's me again. I just wanted to say that this recipe was a HUGE HIT!! Will be a regular on our menu. Hubby LOVED it. Thank you so much for sharing this simple yet delicious dish. I will be trying out your chicken recipes as well." – Christine
"Just made this tonight – sooooo good! My husband gave it a 10/10 and he's picky. Definitely a "make again" recipe. Great way to use up tomatillos from our garden without making salsa verde. Thanks!!!" – Gretchen
"I just wanted to tell you how much my family loved this recipe. It will surely be a regular in our house! We paired it with a black bean and avocado salad – delish! Thank you for sharing!" – Chrystal 
"Tiffany, this was absolutely delicious. My husband and I too are big fans of Mexican food and especially cilantro. This was fantastic. My husband said he could just eat the sauce over Jasmine rice and it would still be great. Thank you for sharing! I will try many more of your recipes!!" – Danielle 
If you like this Tomatillo Ranch Chicken, you'll love my French Onion Chicken Sliders, Chicken Taco Rice Skillet, Jamaican Jerk Chicken Tacos, Baked Chicken Fries, White Chicken Lasagna Roll Ups, Slow Cooker Adobo Chicken, and Raspberry Mango Chicken Salad, Aloha Chicken Sandwiches, and Grilled Malibu Chicken.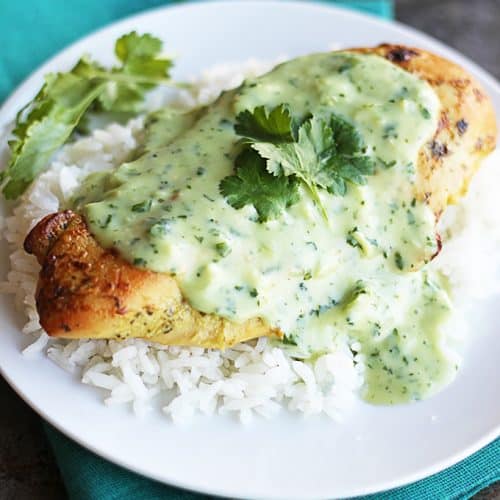 Tomatillo Ranch Chicken
This juicy chicken is flavorful and delicious after being marinated, cooked, and smothered in creamy tomatillo ranch dressing!
Ingredients
1

cup

mayo

½

cup

buttermilk

1

package

buttermilk ranch dressing mix

2 ½

teaspoons

minced garlic

1

cup

cilantro

3

tomatillos

-

husked and chopped

½

teaspoon

lime juice

4

boneless skinless chicken breasts
Instructions
Blend together mayo, buttermilk and next five ingredients. Pour 1 cup of dressing into a large ziplock back. Add chicken breasts. Seal and chill at least 30 minutes or overnight.

Preheat oven to 375. Discard marinade and place chicken breasts side by side in a shallow baking dish. Bake 20-25 minutes until chicken is cooked through. Top with additional dressing and serve with rice if desired. Enjoy!
Notes
Extra sauce can be stored in airtight container in the fridge up to three days. 
Nutrition
Calories:
544
kcal
,
Carbohydrates:
5
g
,
Protein:
26
g
,
Fat:
46
g
,
Saturated Fat:
8
g
,
Trans Fat:
1
g
,
Cholesterol:
99
mg
,
Sodium:
633
mg
,
Potassium:
567
mg
,
Fiber:
1
g
,
Sugar:
4
g
,
Vitamin A:
419
IU
,
Vitamin C:
6
mg
,
Calcium:
53
mg
,
Iron:
1
mg