The name says it all, this recipe is exactly what you are looking for if you're in the mood for Easy Healthy Baked Lemon Chicken with tangy, savory flavors. Got 30 minutes, a couple of lemons and some chicken breasts? Then this juicy – never dry – lemon chicken should be your dinner tonight!
Looking for more healthy recipes? Some of my favorites are Mango Salsa Chicken. Healthy Sheet Pan Chicken Fajitas, and Sheet Pan Chicken, Potatoes, and Green Beans.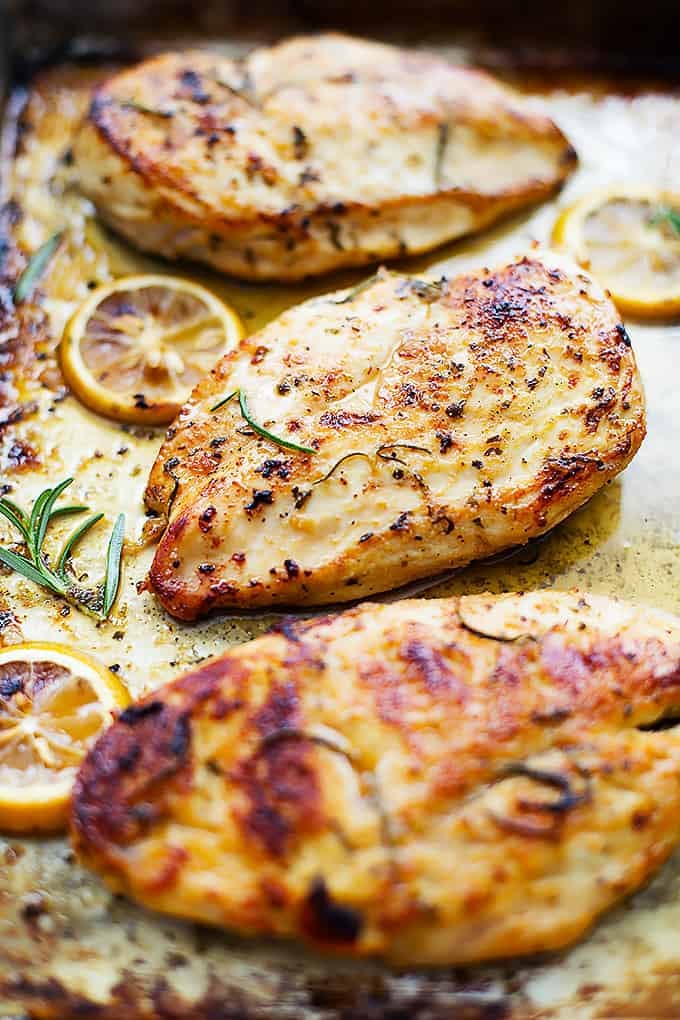 Hellooooooo friends! Did you survive the weekend? I did and then some! I spent mine in Portland—my first time in Oregon and I am happy to report that I l.o.v.e.d. it. I only wish I'd had more time to explore the city, but the good news is that this was just a preview and we are planning a family trip to the Oregon Coast this summer which is a good thing because I NEED more marionberry ice cream.
I couldn't tell you why but the entire time I was out of town I was craving lemon chicken.
I keep a running list of recipe ideas in my phone and when we were on the train going from the airport to our hotel I added lemon chicken to my menu for this week and it's been in the back of my mind ever since.
After waiting all weekend to try it out, I am thrilled that it was worth the wait because I love how this healthy baked lemon chicken turned out! It is juicy, tender, savory with a hint of sweetness, and so so easy to make. I served it with pan-roasted garlic asparagus and it was absolute heaven.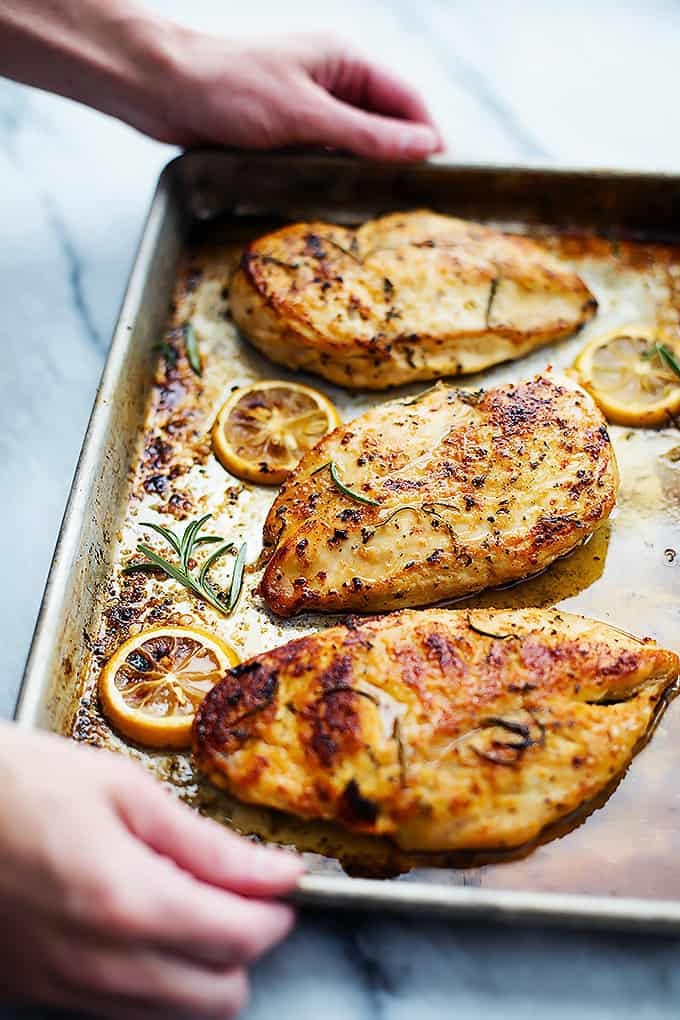 HOW DO YOU MAKE HEALTHY BAKED LEMON CHICKEN?
Are you ready to put together the easiest lemon chicken on the planet? Don't worry if you're not used to cooking, I'm here to help you along the way!
Preheat your oven and grease your cooking sheet or baking dish. (Use cooking spray for a healthier option.) Melt butter in a large skillet over medium-high and add the chicken, cooking on both sides until they are both browned. This should only take about 2-3 minutes per side. Then put the chicken on the baking sheet.
Next, whisk together in a small bowl the broth, lemon juice, honey, garlic, Italian seasonings, salt, and pepper and pour this over the chicken. Stick the pan, sauce and all, in the oven for 20-30 minutes, depending on the size of your chicken breasts. About every 5-10 minutes, open the oven door and carefully spoon the sauce over the top of the breasts to help bake in the most flavor. When it's done cooking, pull the chicken out of the oven and serve. I like to serve mine with some fresh rosemary and lemon slices.

WHAT DO YOU EAT LEMON CHICKEN WITH?
When I got home from my trip and made this dish, I served mine alongside Roasted Asparagus, and it was delicious. Other ideas for sides that go with lemon chicken include:
Rice. Whether you cook white, brown, wild, or a pre-packaged rice pilaf or other rice dish, I think rice always pairs well with chicken.

Egg noodles. I love egg noodles any which way. But cook up a package of them and add a lemon chicken breast to the top then spoon some of the pan juices over that with an extra squeeze of lemon — mmmmm!

Roasted vegetables. If you are not a fan of asparagus, how about

broccoli

,

string beans

, or

Brussels sprouts

?

Potatoes. For another delicious, starchy side option, I always go for potatoes.

Mashed

,

baked

, or

roasted

, you really can't go wrong with lemon chicken and potatoes.

Salad.

Another favorite side of mine is a

simple side salad

. Use whatever greens and veggies you have on hand to create a one-of-a-kind nutritious veggie dish to munch on in between bites of lemony chicken.

Greens. Or, you could take your heartier greens (kale, spinach, chard) and cook them up or steam them down into a warm, comforting side.
DOES LEMON JUICE DRY OUT CHICKEN?
If you only use lemon juice on your chicken, then yes, it can dry it out. That's why I like to pair the juice with other ingredients, such as the chicken broth, honey, and butter to add moisture and fat to the chicken to counteract any drying effects lemon juice might have. What your left with is all of the flavor of the lemon chicken and none of that dry, hard-to-chew taste.

CAN YOU MARINATE CHICKEN OVERNIGHT IN LEMON JUICE?
Along the same vein as using only lemon juice when baking lemon chicken, marinating chicken in only lemon juice will also dry it out.
But, if you do like your chicken super lemony, you can marinate it up to two hours in a glass or plastic bowl with a lid or in an airtight plastic bag. I would suggest that you use a lemon marinade instead of straight-up lemon juice that includes olive oil or another fat and some spices to keep the lemon juice from breaking the chicken down and drying it out.
Bottom line, you need to make this Healthy Baked Lemon Chicken today!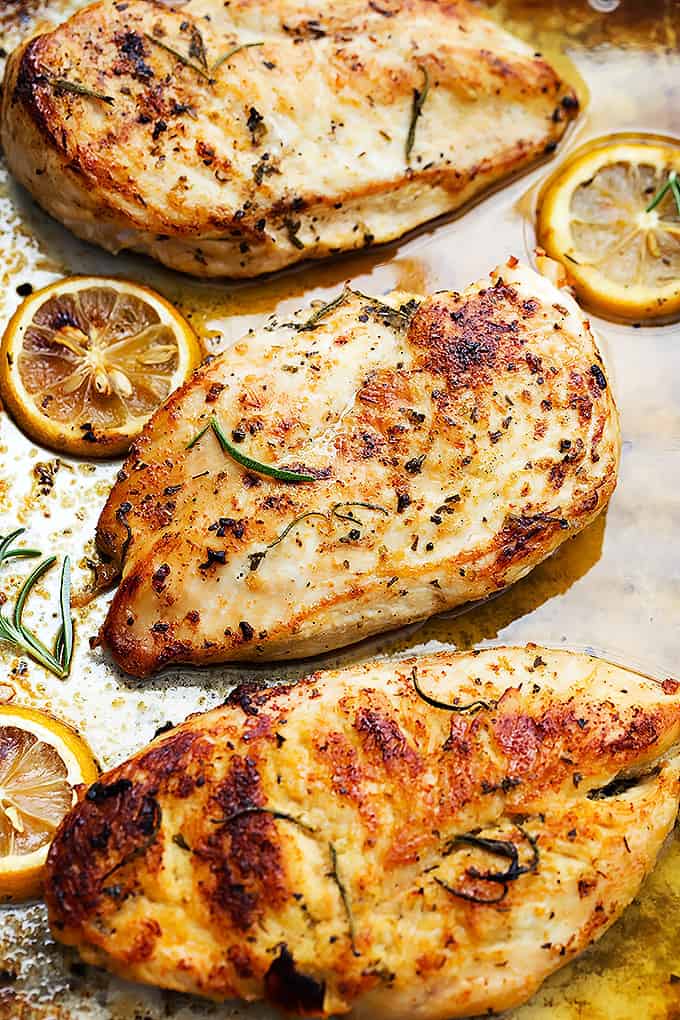 What people are saying about this recipe
"This was a great meal! Followed the recipe to the letter then broiled at the end for about 3 min for the perfect brown on the chicken. My husband and extremely picky 5yo gobbled it up and said this one was "a keeper"." – Kristin
"Made this recipe last night and loved it! Had to come back and comment on it because it was delicious & the boyfriend thought it was really good as well. So nice that it was simple ingredients, most of which I already had on hand & the cooking process was super easy. The chicken came out flavorful and was tender. Thanks for a great recipe!!" – Katie
"Thank you for this quick and healthy lemon chicken recipe. I made it tonight and my family loved it. I also roasted potatoes along with the chicken in the pan and they were very tasty and moist. I will make this again!" – Rosie
"Loved it! I made it for my boyfriend last night and he kept raving about it and even sent himself this link so he knows how to make it for himself. I made it with a side of sweet potatoes and it was the perfect amount of food." – Janie
If you love lemon and chicken (who doesn't??) then you'll go crazy for my Creamy Lemon Chicken Piccata (ready in 20 minutes!) and One Pan Creamy Lemon Chicken and Asparagus (can't beat a one pot meal ready in 30 minutes!).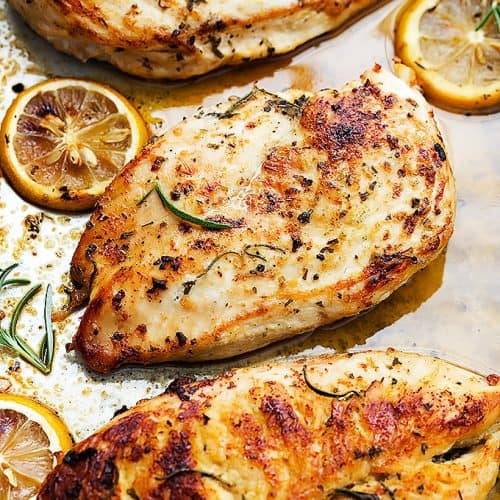 Easy Healthy Baked Lemon Chicken
Easy healthy baked lemon chicken that is loaded with yummy flavor and you can make in a hurry with just a few simple ingredients.

Ingredients
4

boneless skinless chicken breasts

3

tablespoons

butter

⅓

cup

chicken broth

4

tablespoons

fresh lemon juice

1

tablespoon

honey

2

teaspoons

minced garlic

1

teaspoon

Italian seasoning

salt and pepper to taste

-

(I used 1 teaspoon salt and ¼ teaspoon pepper)

optional: fresh rosemary and lemon slices for garnish
Instructions
Melt butter in a large skillet over medium-high heat. Add chicken and cook chicken 2-3 minutes on each side just until browned. Transfer chicken to prepared baking sheet.

In a small bowl whisk together chicken broth, lemon juice, honey, garlic, Italian seasoning, and salt and pepper.

Pour sauce over chicken. Bake 20-30 minutes (closer to 20 for smaller chicken breasts, closer to 30 for larger) until chicken is cooked through. Every 5-10 minutes spoon the sauce from the pan over the chicken.

Garnish with fresh rosemary and lemon slices if desired and serve.
Notes
For the Chicken: this recipe also works well with chicken thighs. I recommend medium size, boneless. If you are using skin-on, be sure to brown them in a skillet over medium-high heat first, 1-2 minutes on each side.
Nutrition
Calories:
156
kcal
,
Carbohydrates:
6
g
,
Protein:
25
g
,
Fat:
3
g
,
Saturated Fat:
1
g
,
Trans Fat:
1
g
,
Cholesterol:
74
mg
,
Sodium:
215
mg
,
Potassium:
464
mg
,
Fiber:
1
g
,
Sugar:
5
g
,
Vitamin A:
61
IU
,
Vitamin C:
3
mg
,
Calcium:
31
mg
,
Iron:
1
mg