Incredibly tasty Caribbean Chicken Tacos topped with a quick and easy Caribbean salsa featuring mango, pineapple, red onions, and cilantro! The flavors can't be beat and the whole meal is ready in less than 30 minutes!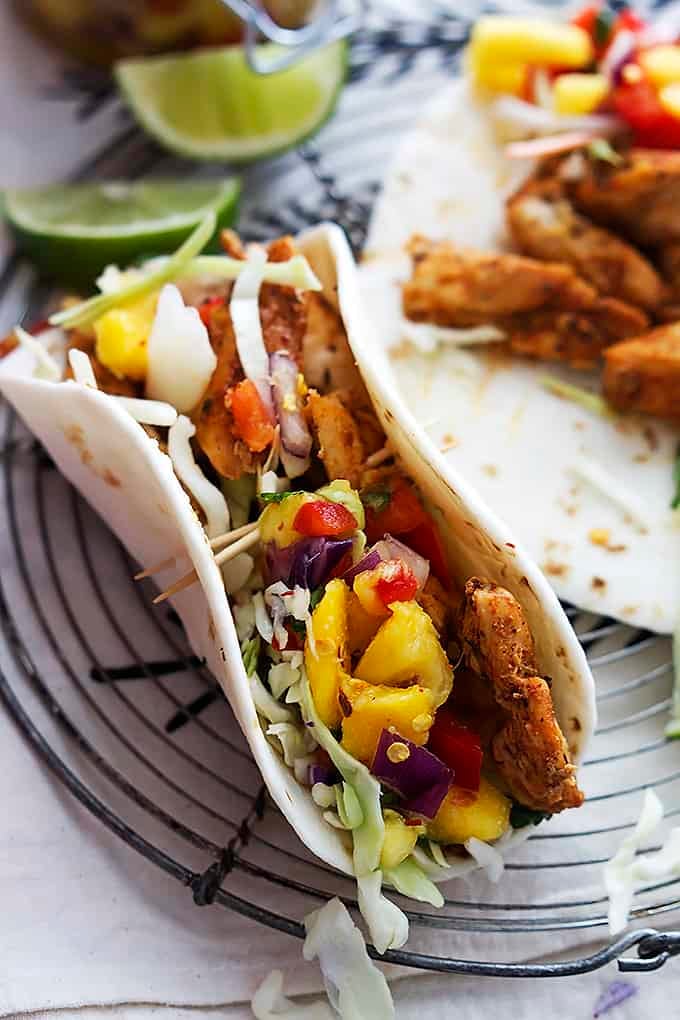 It's Taco Sunday! As of… today. Next Sunday I can't promise tacos, although if I thought you wouldn't stage a coup, I might post tacos every. single. day. because they are my favorite thing ever times one million.
Steak tacos, shrimp tacos, fish tacos, chicken tacos, pork tacos, veggie tacos….
Give me ALL the tacos.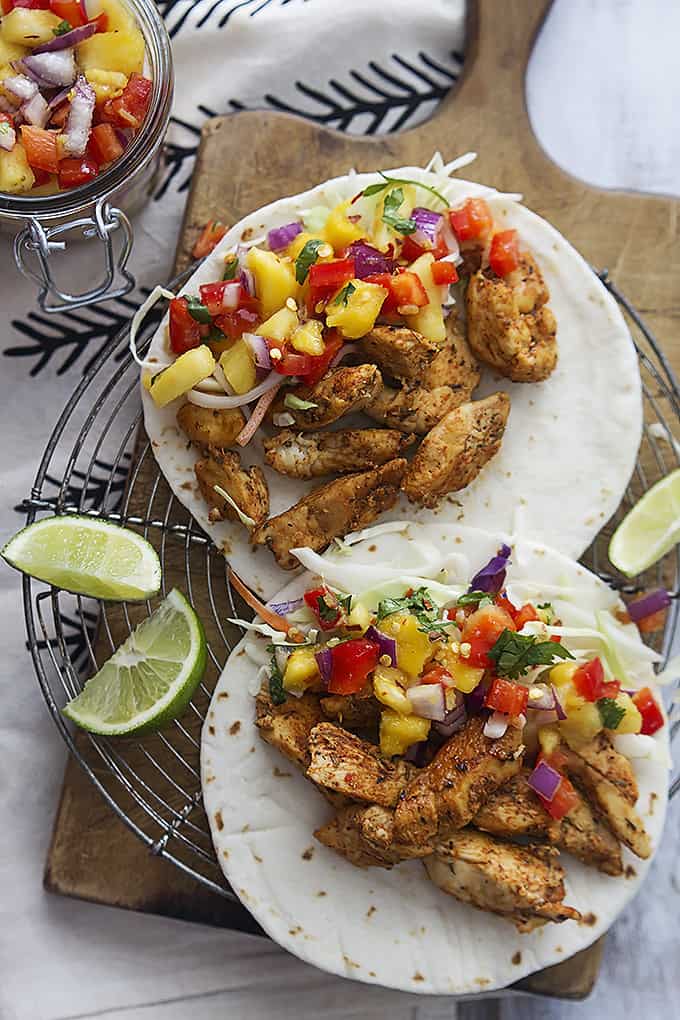 A couple of weeks ago I made a pineapple salsa to go with a dish I made (SO good and coming soon!) and loved it so much that I was craving it for dayzzz afterwards. So when I was in the mood for tacos, wait, scratch that… I'm always in the mood for tacos…. When I decided to put tacos on the menu last week (much better) I knew some kind of fruity salsa was going to happen. I grabbed a mango, some pineapple, and a red bell pepper and just let the food do it's thing.
And what beautiful thing it did you guys. Just look at all the purdy colors…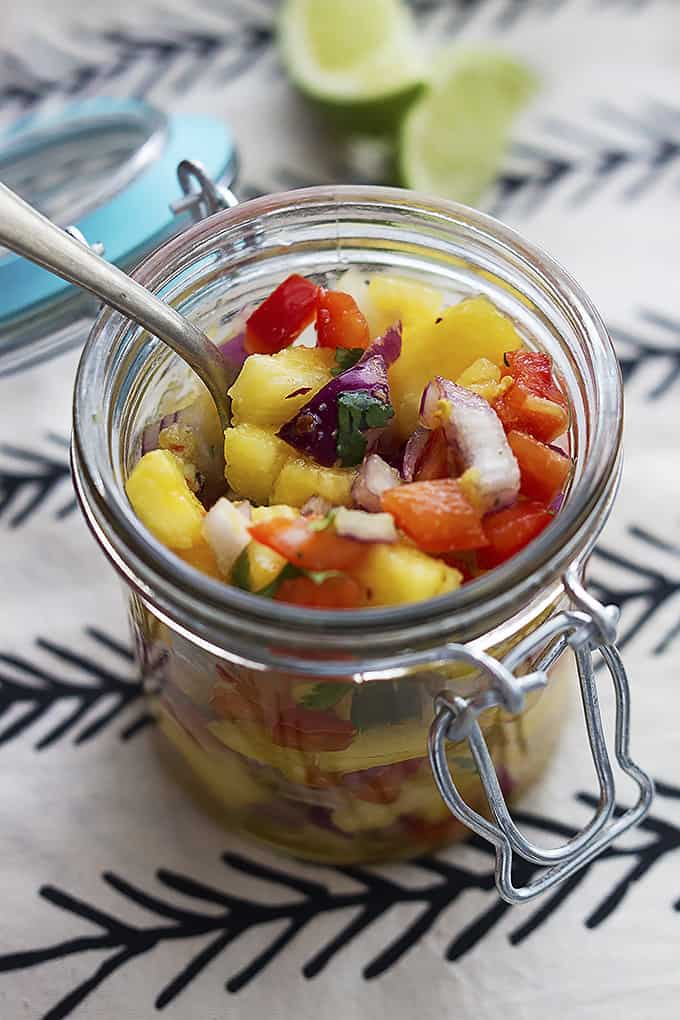 On another note: Caribbean seasoning. You may have some in your pantry already. GREAT. Use it.
If not, that's okay. Most grocery stores carry some version of Caribbean seasoning in the spice aisle but I've included my super quick and easy homemade Caribbean seasoning in the 'notes' section of the recipe today just in case you think you might want to take 2 minutes and stir up your own batch.
Literally 2 minutes. I love that.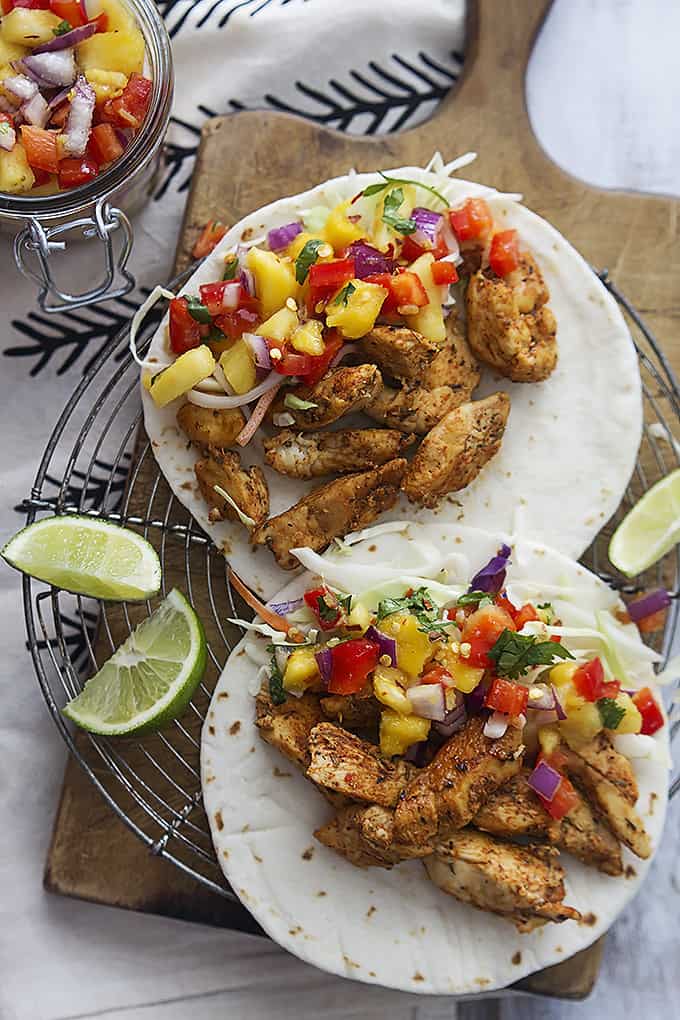 Another thing I really love? This whole meal is ready in less than 30 minutes. Let's be honest, we all think we can do way more in a day that we really can so quick, easy, totally delicious meals are what it's all about.
Plus: kid friendly, spouse friendly, chef friendly, guest friendly…
It's a winner.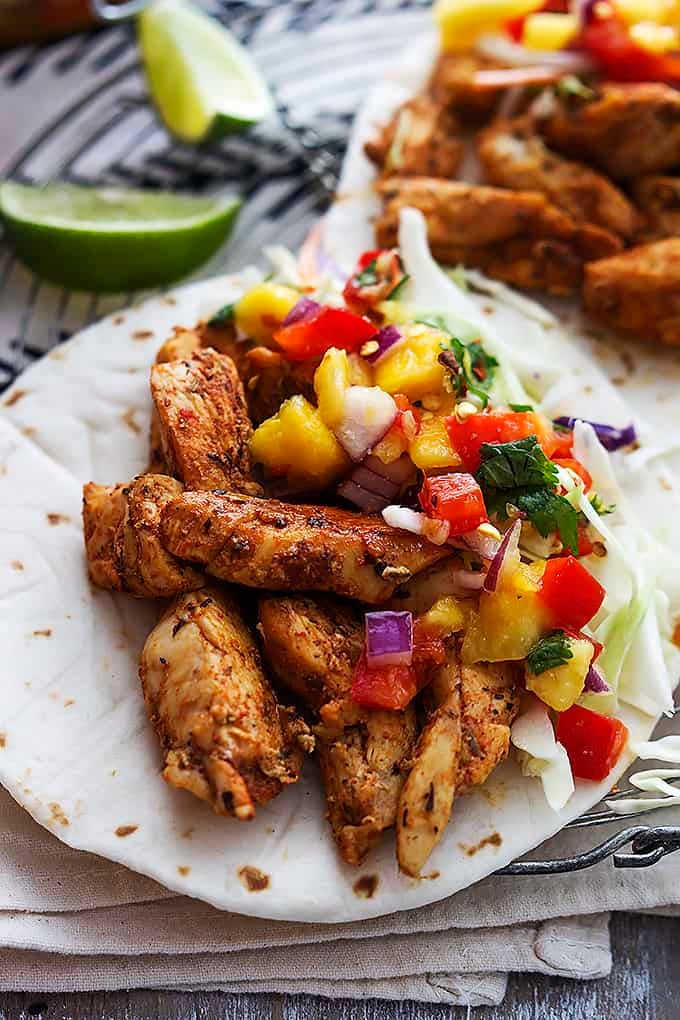 Now if you'll excuse me, I have some of the best tacos known to mankind to devour…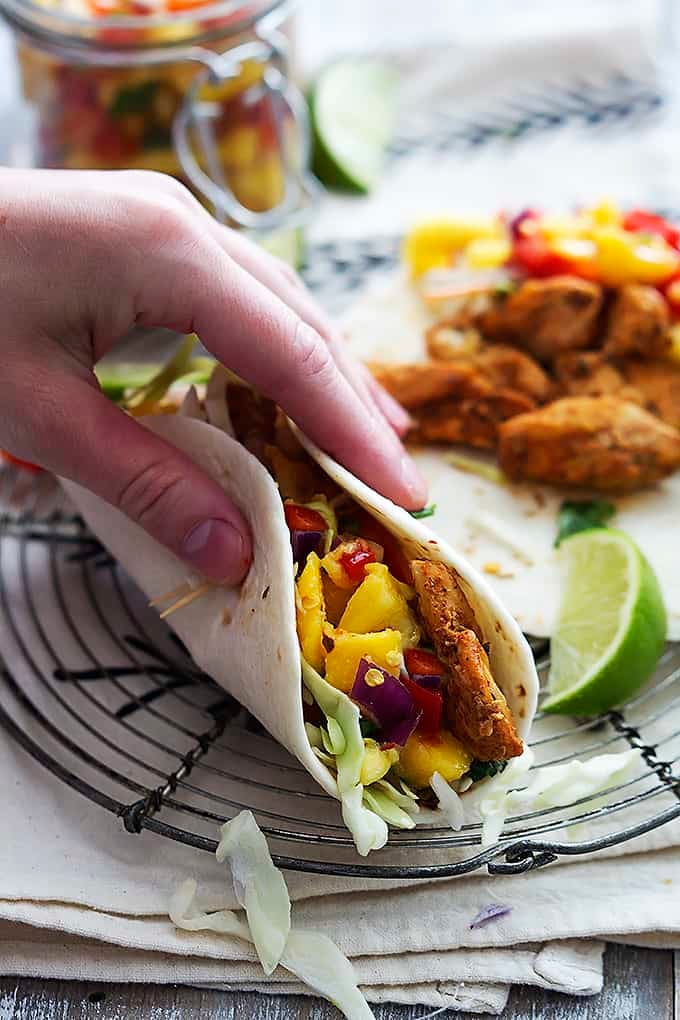 What people are saying about these Caribbean Chicken Tacos
"Wow, literally the BEST recipe I have made in a while. Thank you so much Tiffany." Anastasia
"First I will say that I love this recipe– great flavors and super easy. However, the homemade seasoning is VERY spicy. I would recommend not using the full recommended amount of cayenne pepper. We are spicy lovers and we're definitely taken back by the spice. I will be making this again with some minor adjustments
" – Ryan
"Made this last night and it was delicious! The spiciness of the chicken goes so well with the mango pineapple salsa. I served it with low-carb tortillas. You could serve this to 6 people and, with just one tortilla per person, it's about 300 calories. Great healthy meal!" – Jennifer
"I made these last night. I used the homemade seasoning and it made the tastes blend with hot (not too hot for me) and fruity. It was delicious. It took a while since it was the first time I made it, but it was so worth it." – Liz
Caribbean Chicken Tacos
Ingredients
3-4

boneless skinless chicken breasts,

pounded to 1/2 inch thickness

1 1/2

tablespoons

Caribbean seasoning

(store-bought OR see below for homemade version)

8

taco-sized

soft flour tortillas

2

cups

cole slaw

(without dressing)
Caribbean Salsa
1/2

red bell pepper,

diced

1/2

small red onion,

chopped

1

mango,

diced

1

cup

pineapple,

diced

1/4

cup

cilantro,

roughly chopped

1

tablespoon

fresh lime juice

(about 1/2 of a juicy lime)

1/2

teaspoon

salt

1/2

teaspoon

garlic powder
Instructions
Prepare the salsa by combining all ingredients in a bowl and stirring well. Cover and chill until ready to use.

Slice chicken breasts into strips (or chop into bite-sized pieces) and place in a bowl. Sprinkle chicken with half of the Caribbean seasoning, stir, then sprinkle with remaining seasoning and toss to coat.

Cook chicken in a large greased pan or skillet over medium heat for 5-8 minutes until cooked through.

To serve, fill each tortilla with cooked chicken, then top with cole slaw and Caribbean salsa. Serve immediately with fresh limes for drizzling if desired.
Notes
Homemade Caribbean seasoning
2 teaspoons paprika
2 teaspoons cayenne pepper
2 teaspoons salt
2 teaspoons black pepper
2 teaspoons Italian seasoning
1 teaspoon brown sugar
1/2 teaspoon red pepper flakes
Stir together all seasoning ingredients in a small bowl.