This sweet and ultra moist zucchini bread is bursting with cinnamon swirl flavor and so easy to make! A perfect way to use up leftover zucchinis!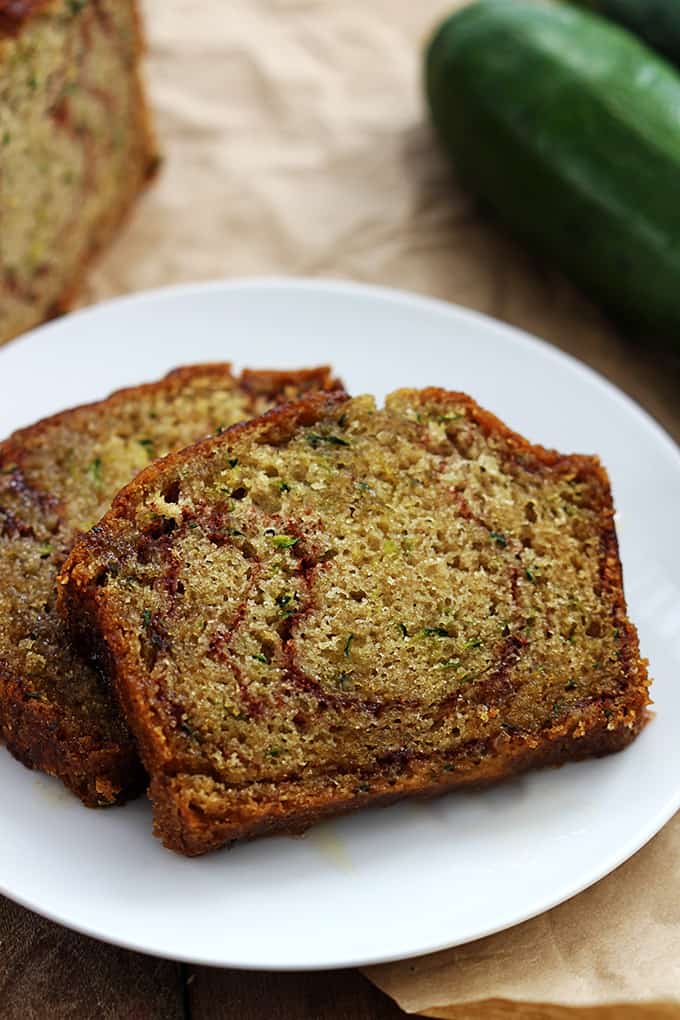 My brother is in town visiting from Arizona with his wifey and 2 kids. (They're twinzzzzz!) Twins just melt my heart. It's a boy and a girl which is just too perfect I think. They crazy super cute. Anyway, it's my brother's birthday today, the one who is visiting. He is working at my house and I'm sharing my kitchen with him. He's kind of set up shop at my kitchen table and we are attempting to get work done. (Read: no work is getting done.) And hence, this super brief post.
You probably like it cause I'm not rambling on forever and ever with fifty billion pictures 😉
So now that you know why this post is uber short, let's get to the good stuff – – – > cinnamon swirl zucchini bread. Ohhhh yeahhhh. it's sweet and soooo moist and loaded with cinnamon swirl goodness. I don't know about you but I'll take a sweet bread for breakfast any day of the week and believe you me, this bread has been breakfast every day for the past 6 days. I'm running out! (Insert pitiful sad face here)
The awesome news is that it's really easy to make and this time of year people have zucchinis coming out their ears. (Not literally, cause, ouch and ewwwwe.) If you've been growing zucchini this summer, they're just begging to be transformed into yummy zucchini bread. And if you haven't been growing zucchini, no fear, it's zucchini season so they are very inexpensive at the market and you can pick up a couple on your way home from work today. Do it.
What people are saying about this Cinnamon Swirl Zucchini Bread
"This is my Favorite ZUCCHINI bread recipe. I substitute 1/2 banana for each egg and it turns out fine. I also warm up the zucchini if it's been in the fridge, by microwaving it after grating it." – Kathleen
"I made this today and it was a hit! My first time making zucchini bread and it came out perfect with this recipe!! My husband and daughter couldn't get enough of it! Thank you for this wonderful recipe
" – Tracey
"LOVE this recipe! The first time I made it, I found it to be too mushy in the middle. On the second try, I dried the zucchini with a paper towel and did not use foil to line the pan. Just greased the pan. It came out perfectly this time around!" – Pond
Cinnamon Swirl Zucchini Bread
This sweet and ultra moist zucchini bread is bursting with cinnamon swirl flavor and so easy to make! A perfect way to use up leftover zucchinis!
Ingredients
1 ½

cups

grated zucchini

-

(about 1-2 small to medium zucchinis)

¾

cup

sugar

⅓

cup

vegetable oil

1

teaspoon

vanilla

2

eggs

1 ½

cups

flour

1

teaspoon

baking soda

½

teaspoon

cinnamon

¼

teaspoon

salt

¼

teaspoon

baking powder
Swirl
¼

cup

sugar

1

tablespoon

cinnamon
Instructions
Preheat oven to 350. Line an 8-inch bread pan with nonstick foil and spray with cooking spray. In a large bowl combine zucchini, sugar, oil, vanilla, and eggs and mix well.

Add flour, baking soda, cinnamon, salt, and baking powder to a smaller bowl and whisk to combine. Add dry ingredients to wet ingredients and mix until all ingredients are incorporated.

In a small bowl whisk together cinnamon and sugar for the swirl.

Pour 1/3 of the batter into prepared pan. Sprinkle with 1/2 of the cinnamon-sugar mixture. Add another 1/3 of the batter, then the remaining cinnamon-sugar. Top with remaining 1/3 of the batter.

Bake 35-45 minutes or until an inserted toothpick comes out clean (depending on your altitude, humidity, and the calibration of your oven you may need to increase the time so just keep an eye on it and insert a toothpick every 5 minutes after 35 minutes)
Notes
Store covered tightly at room temperature up to five days. 
Nutrition
Calories:
284
kcal
,
Carbohydrates:
45
g
,
Protein:
4
g
,
Fat:
10
g
,
Saturated Fat:
8
g
,
Trans Fat:
1
g
,
Cholesterol:
41
mg
,
Sodium:
241
mg
,
Potassium:
107
mg
,
Fiber:
1
g
,
Sugar:
26
g
,
Vitamin A:
109
IU
,
Vitamin C:
4
mg
,
Calcium:
32
mg
,
Iron:
1
mg
Recipe adapted from Betty Crocker.