Quick and easy Gnocchi in Tomato Cream Sauce is a tasty meatless meal with big, bold, creamy flavor and ready in just 30 minutes.
For more delicious Italian recipes like this creamy, dreamy dish, check out my posts for One Pot Chicken Parmesan Pasta, One Pot Creamy Chicken Pesto Pasta, and Creamy Sausage Pasta.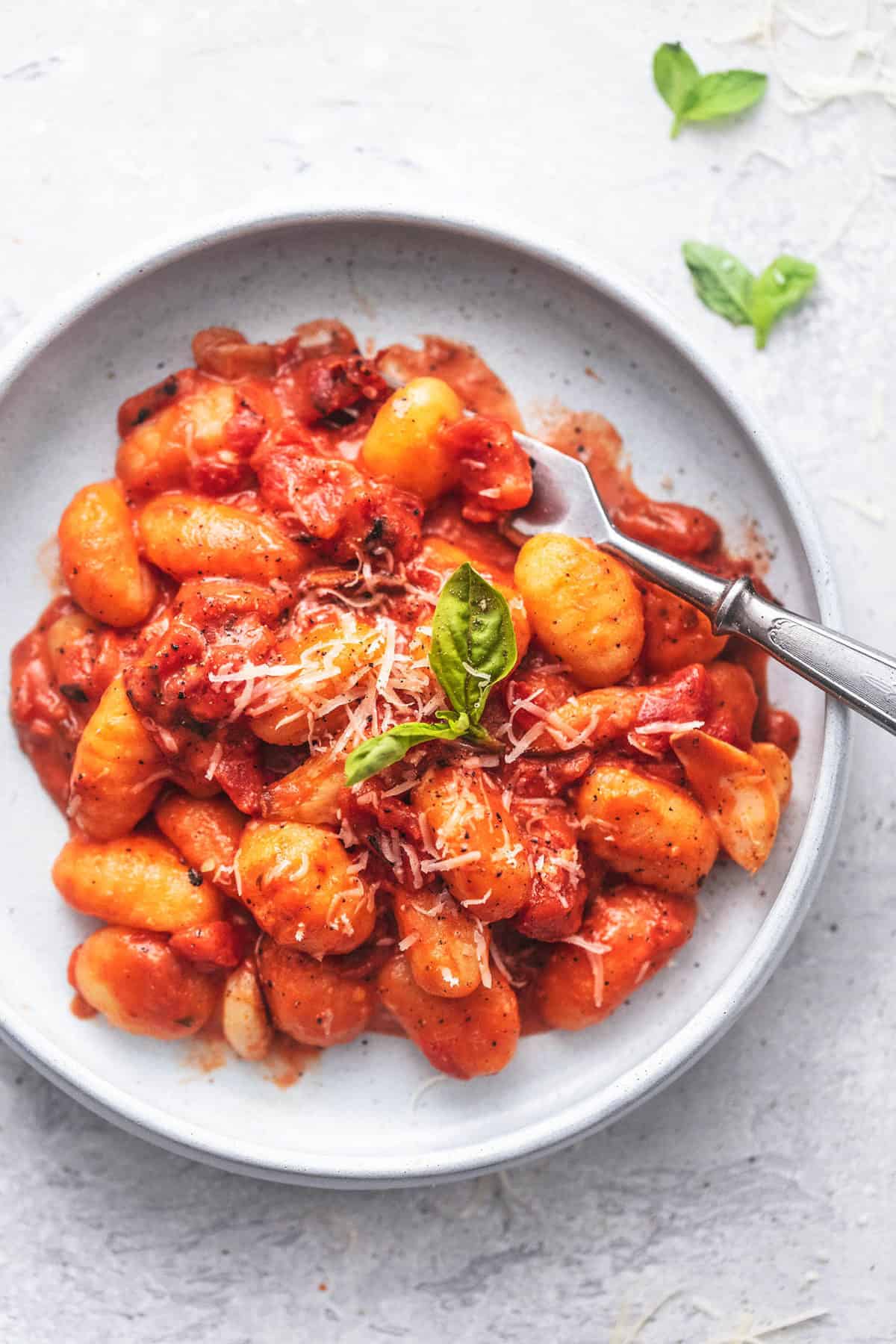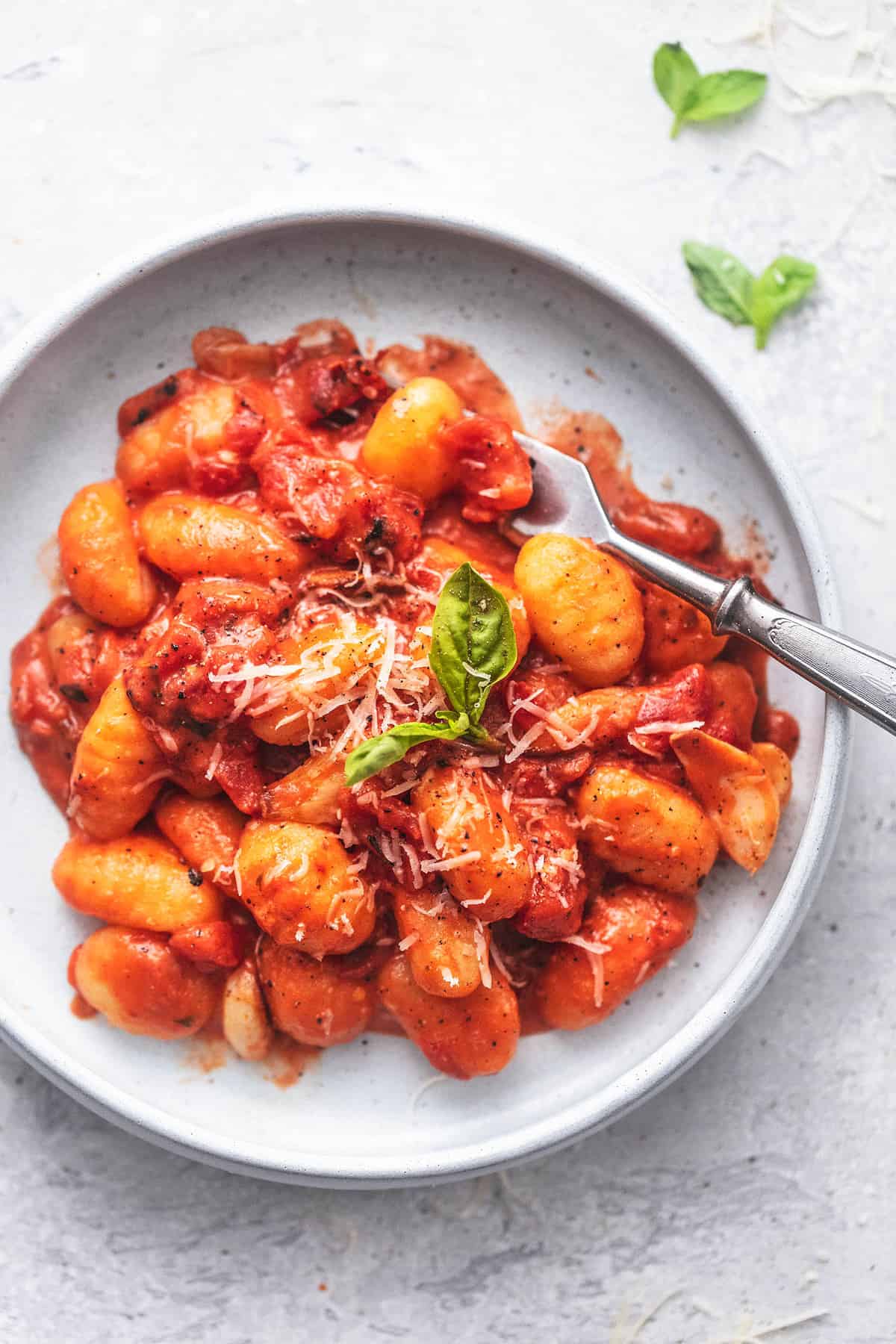 I make pasta dishes a lot, I cannot hide that fact, nor am I ever going to try to. It's one of the best meals, and you can do soooooo much with pasta, it's like the chicken of carbs. Does that make any sense to anyone but me?
As much as I love pasta dishes, there is one pasta-like ingredient that I like to swap in for actual pasta noodles once in a while. Today we're talking about pasta's delightfully plump, potatoey little cousin, gnocchi. I don't make it a ton, frankly because I forget about it. But every time I do, I remember how much I love the soft little pillows of starchy goodness.
You can use them just like pasta noodles in terms of serving them with gnocchi sauce or even in a soup, but they do have a different, softer texture, and don't take as long to cook. I think you'll find that gnocchi in easy tomato sauce is a great recipe to start with if you're wanting to dip your toe (or spoon) into a dish you've never tried before or if you've just not been able to cook it "right" in the past and want to try again.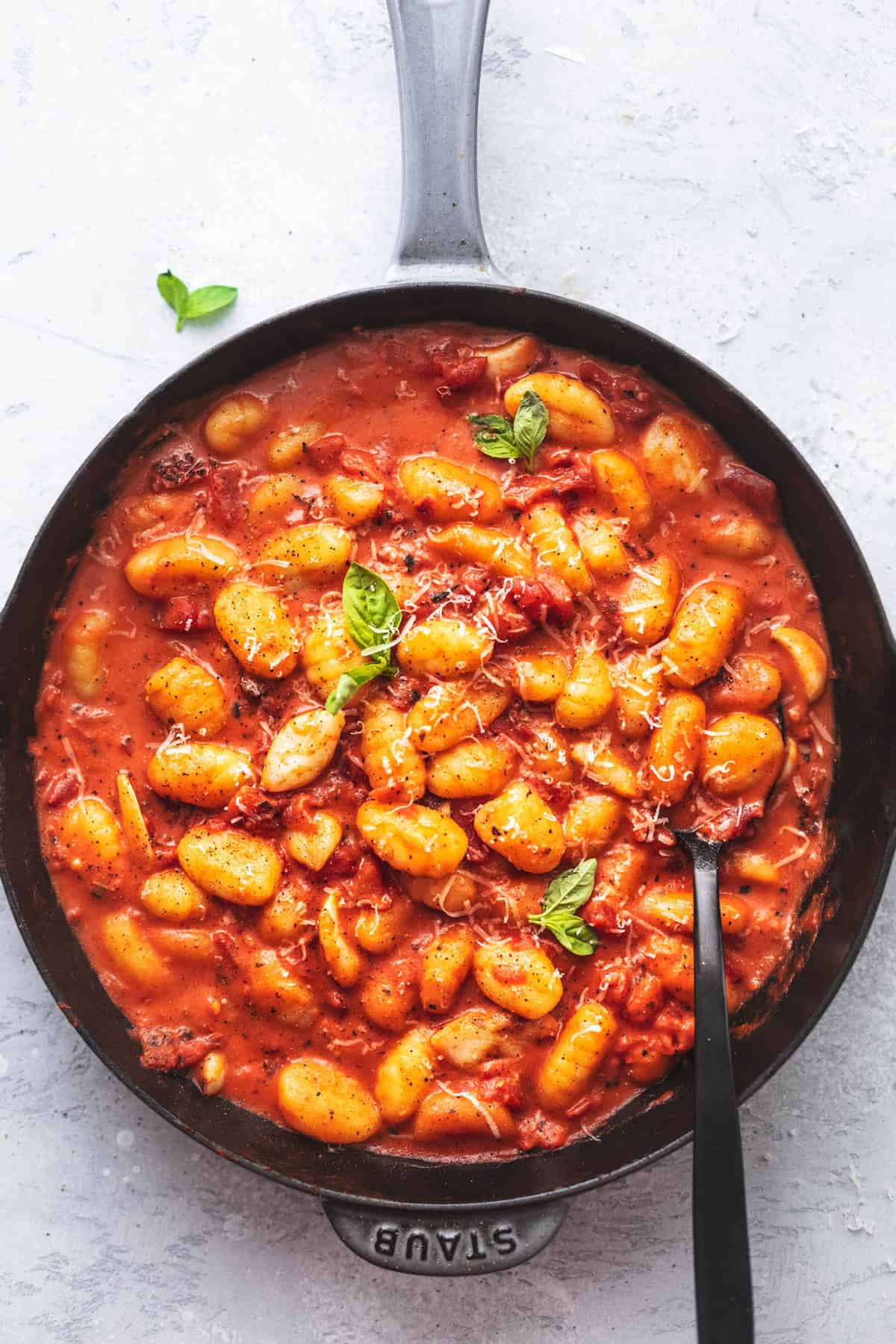 Is Gnocchi a Pasta or Potato?
Gnocchi is a type of pasta, but instead of being made with flour, eggs, and water, it's made with a dough from cooked, mashed potatoes, egg, and flour.
The term "gnocchi" means "lumps" in Italian, and, well, they do look like lumps of pasta for sure. They only take a few minutes to cook, and when they do, they have a pillowy, light, fluffy texture. I can taste the potato in them just slightly, but I'm maybe only because I know what they are made of.
Although they are not your typical pasta, they are "lumped" in together with the pastas both in the general cooking vernacular and in the grocery store. Though you can also find them in the refrigerated and frozen sections too, where you'll find those types of premade pastas (like ravioli or tortellini).
No matter which easy gnocchi you choose (fresh, dried, chilled, or frozen), I think you'll agree nothing beats a good gnocchi in sauce, and this recipe for sauce for gnocchi is the only one you'll ever need.
How Do You Make Gnocchi?
Although recipes vary, the general consensus is to peel and boil potatoes in salted water. You'll cook them for about 15 minutes, until they are tender and firm, much like you would for mashed potatoes. But you don't want to whip the potatoes, instead you'll drain them, let them cool to room temperature and then mash them with a fork or potato masher so that they are mashed but not whipped. You still want some texture and small lumps.
From there, you'll add the mashed potatoes to flour and egg in a bowl and knead it all together like you would any other pasta you're making from scratch. Once you have it all kneaded together, form it into a ball and flatten it slightly. Cut thin slices into the dough lengthwise, about one-inch apart. Take each section and shape it into a long rope (careful to not make it too thin), and cut the ropes into individual pieces, about half an inch wide.
How Is Gnocchi Supposed to Be Cooked?
Once you have your dough all made, you'll cook these little pillows in another pot of salted, boiling water for about three minutes. They'll float to the top when they are done. You can drain them all at once or pull them out as they are done with a large slotted spoon, which is what I like to do.
Once you have them made according to a specific recipe that appeals to you, follow the recipe below from step 3 onward, and don't forget that easy, healthy gnocchi sauce!
Or, simply follow the directions for cooking gnocchi on a package of pre-made gnocchi.
Can You Use Any Potatoes for Gnocchi?
In my research, I've found that most chefs and recipe creators call for using either Yukon Gold or Russet potatoes. The consensus seems to be that when you first start, you should use a (preferably older) Russet and then experiment from there. I do agree, that older, drier potatoes work the best because you're going to be boiling, kneading, cutting, and boiling again, so they need to be on the drier side to start with. Also the starch content is important, and Russets are very starchy potatoes.
New potatoes are already a more moist variety so I'd say stay away from those and start with the Russet and go from there. If you go with a moist variety, you'll have to add more flour when mixing the dough and more flour will make them dense like pasta instead of light and fluffy, which is what you want in an easy gnocchi recipe with gnocchi sauce.
What Sauce Goes with Gnocchi?
Gnocchi sauce can honestly be any sauce you enjoy with pasta or rice – but you use gnocchi instead. Here are some of my favorites:
The easy, tomato cream sauce for gnocchi in this recipe
Roasted red pepper sauce
Any jarred marinara you love
A simple butter and parmesan preparation
What Is Gnocchi Traditionally Served With?
In Italy, Gnocchi are traditionally served with a light butter sauce that contains fresh sage. However, there are some other preparations that are also common in gnocchi's country of origin:
Try a very simple preparation of olive oil with your favorite hard cheese, a little salt and pepper. Add toasted pine nuts or chopped, toasted pistachios for an extra nuttiness, crunch, and texture.
A cream sauce with mushrooms is another favorite sauce for gnocchi I just love. But I love anything with mushrooms! If you don't like mushrooms, try a cream sauce with another sauteed veggie, like zucchini or asparagus.
For you meat lovers, one yummy gnocchi sauce I like to make is to sauté some chopped bacon or pancetta with chopped, fresh sage or thyme. Toss this into the cooked gnocchi with a little pepper and parmesan. Yum!
Finally, pesto is another sauce that gnocchi is traditionally served with. I cook the gnocchi according to package directions, then add jarred or homemade pesto right to it. Give it a stir, and enjoy.
Can Gnocchi Sit in Sauce?
Okay so you have your gnocchi and you have your easy sauce for gnocchi, but can the gnocchi sit in the sauce or should the sauce be served over the gnocchi?
Well, either! I like to go ahead and sauce the gnocchi all together in the pot before serving. It allows the potato pillows to soak up all that saucy goodness and also helps keep them from sticking together. But, if you prefer to add the sauce as you serve, that's fine too!
Gnocchi can be kept, sauced, in the fridge for up to 4 days but it will begin to soften and break down a bit the longer you keep it. It's best eaten as a leftover the day after.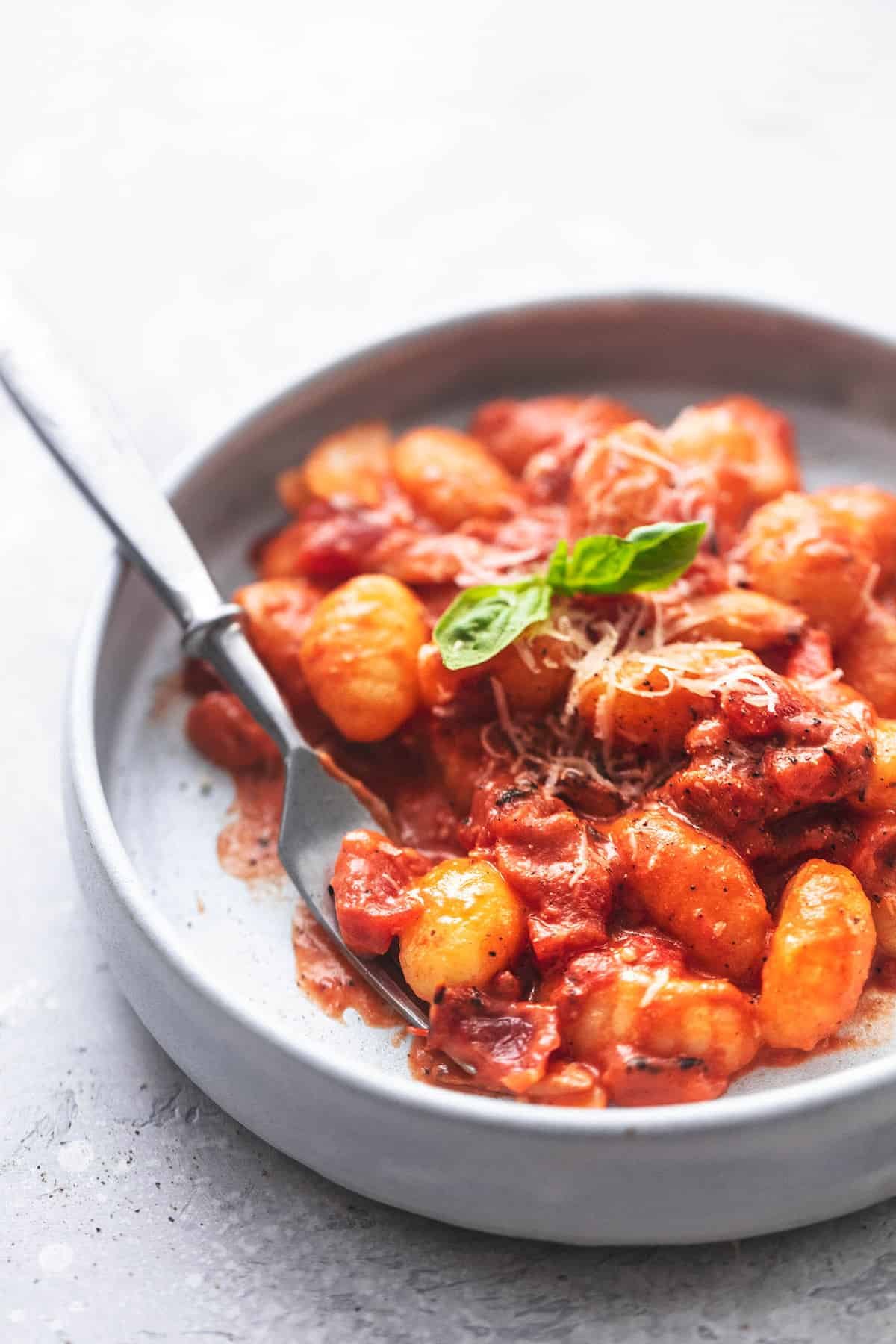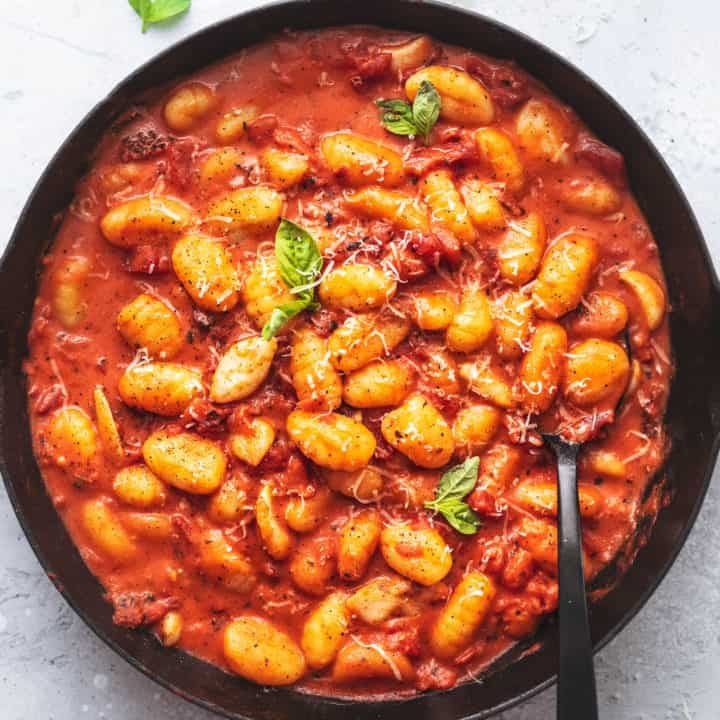 Gnocchi in Tomato Cream Sauce
Quick and easy Gnocchi in Tomato Cream Sauce is a tasty meatless meal with big, bold, creamy flavor and ready in just 30 minutes.
Ingredients
1

pound

gnocchi

2

tablespoons

butter

2

teaspoons

olive oil

3

teaspoons

minced garlic

1

15-ounce

can fire roasted crushed

-

or diced tomatoes

½

cup

tomato sauce

½

teaspoon

dried Italian herb blend

-

or Herbs de Provence

½

cup

chicken broth

-

or water

⅓

cup

heavy cream

¼-½

teaspoon

crushed red pepper flakes

½

teaspoon

salt

-

or to taste

¼

teaspoon

black pepper

-

or to taste

fresh thyme, basil, and grated parmesan for serving

-

optional
Instructions
cook the gnocchi
Fill a pot with about 3 inches of water. Bring to a boil.

Add gnocchi, boil for 2-3 minutes until gnocchi floats. Drain, then toss gnocchi with 2 teaspoons olive oil to keep it from sticking together.

Melt butter in a large skillet over medium heat. Add garlic and saute 1 minute until fragrant.

Add gnocchi and dried herbs, and saute 2-4 minutes until gnocchi begins browning on the edges.

Transfer gnocchi to a bowl and cover to keep warm.
make the sauce
Add tomatoes, tomato sauce, and broth to the skillet over medium heat and bring to a simmer.

Stir in heavy cream, crushed red pepper flakes, and salt and pepper. Simmer 4-5 minutes until sauce is reduced and creamy.

Stir in gnocchi, taste and add salt and pepper if needed. Garnish with thyme or basil and freshly grated parmesan and serve.
Notes
I added a handful of whole garlic cloves for added garlic flavor and visual presentation. 
Adding an additional 1/4 cup heavy cream will make the sauce even richer and creamier. 
Nutrition
Calories:
287
kcal
,
Carbohydrates:
44
g
,
Protein:
6
g
,
Fat:
11
g
,
Saturated Fat:
5
g
,
Cholesterol:
28
mg
,
Sodium:
961
mg
,
Potassium:
161
mg
,
Fiber:
3
g
,
Sugar:
2
g
,
Vitamin A:
475
IU
,
Vitamin C:
5
mg
,
Calcium:
55
mg
,
Iron:
5
mg