Raspberry Lemon Bars – A perfect version of your favorite classic gooey lemon bars, mixed with a delicious raspberry twist!!!
I love lemon bars, they are such a classic. They're tangy and sweet and gooey, and I loooooove me some gooey. The only downside to making lemon bars in January is that they have a tendency to make you nostalgic for backyard barbecues, trips to the lake, and fresh cut grass. Yeah, that thing called Summer.  Oh how I adore you, Summer.
I only like snow for the month of December. After that it gets dirty and makes your car filthy and I'm just plain sick of it by then.  And all of the things I really hate about winter and snow seem to get pushed to the back burner for the month of December, what with the holidays and baking and family parties and shopping and giving and caroling and all. (P.S. I hate caroling. Is there anything more awkward?? I submit that there is not.) I But as soon as all of that is over, my pure loathing for all things cold comes back with a vengeance.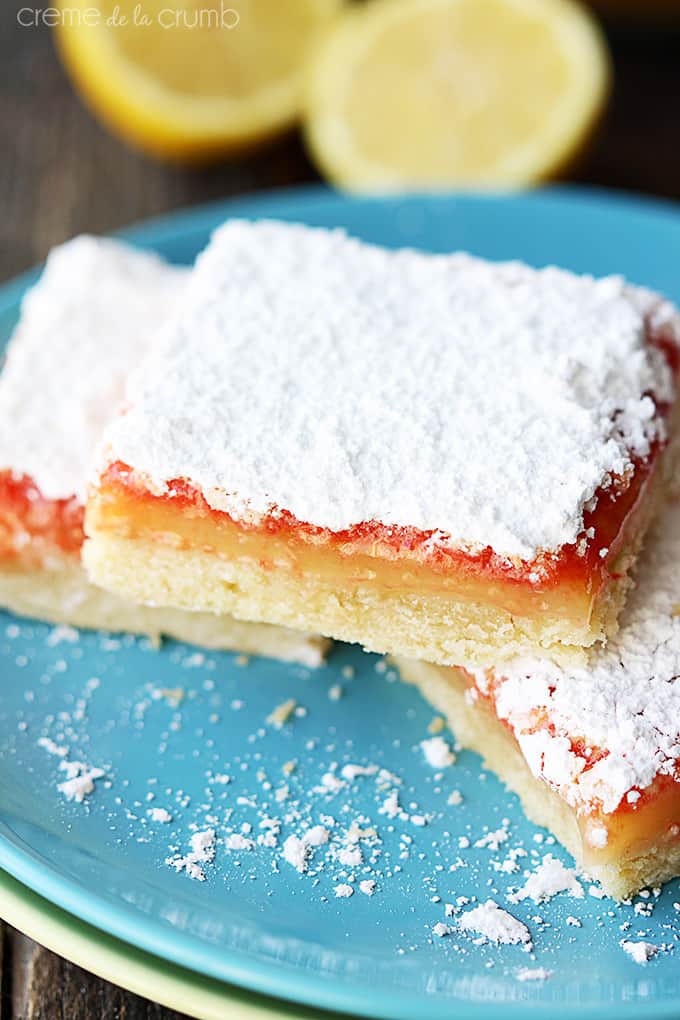 I've told you before that I actually have a cold-intolerance problem. It's true, I inherited it from my grandmother. Thanks Gram. My brother inherited it too, the lucky dog. And no one has believed us in the past, they thought we were just big cold weather wimps. But we honestly are extra sensitive to the cold and it takes us ten times longer than your average joe to warm back up to a normal temperature. This is not a joke. And this year, I FINALLY found proof. It's a condition called Chilblains. (I don't even  know how to say that.) One of the symptoms is numb, swollen, painful toes. And I get that every single year! I used to think it was spider bites. Til I got married and I got them all winter long and my husband didn't. Then I knew there had to be another explanation, and alas, there you have it. Chilblains.
This year I am rebelling against winter after December. Starting with these Raspberry Lemon Bars. Oh my gosh they are so SO good! My husband likes lemon bars but can't stand when they are too lemony, he says it's overpowering and he doesn't like it. But he loves these ones! Cause they aren't too lemony and they get even more exciting with the raspberry flavor thrown in there! These are an incredible version of your favorite classic lemon bars, with a raspberry twist!
If you like these Raspberry Lemon Bars, you'll love my Blueberry Greek Yogurt Popsicles, Raspberry Almond Cake, Strawberry Lemon Tart, Coconut Lime Pound Cake, Raspberry Coconut Smoothie, Blackberry Lime Cake, and Strawberry Cheesecake Popsicles.
Raspberry Lemon Bars
A perfect version of your favorite classic gooey lemon bars, with a raspberry twist!
Ingredients
1

cup

butter

-

softened

½

cup

sugar

2

cups

flour
Lemon Layer
4

eggs

-

at room temperature

1 ½

cups

sugar

¼

cup

flour

2

lemons

-

juiced
Raspberry Layer
⅓

cup

raspberry jam

-

(if your jam is too thick to pour, mix a few tablespoons of water with it until pourable)

1

egg

-

at room temperature

¼

cup

sugar

2

tablespoons

flour

⅓

cup

powdered sugar
Instructions
Preheat oven to 350. Line a 9x13 inch pan with non stick foil or with wax paper and spray lightly with cooking spray.

In a bowl cream together butter, sugar, and flour for the crust. Press into the bottom of prepared pan. Use a fork to poke a few shallow holes in a few places in the crust layer. Bake 15-20 minutess until it begins to brown.
Lemon Layer
Whisk eggs and sugar until bubbly and foamy (3-4 minutes). Whisk in flour. Lastly, add lemon juice and whisk til smooth. Pour on top of baked crust.
Raspberry Layer
Whisk egg and sugar until bubbly and foamy. Whisk in flour. Lastly, add raspberry jam and whisk until smooth. Drizzle raspberry mixture all over the lemon layer. (*Most of of it will sink and you will mostly just see the lemon layer. It's okay! They will separate while baking.) Bake 20 minutes. Chill until completely cooled, sprinkle with powdered sugar and cut into bars and store in airtight container. Chill until ready to serve.
Notes
Store in the fridge in an airtight container up to one week. 
Nutrition
Calories:
313
kcal
,
Carbohydrates:
67
g
,
Protein:
6
g
,
Fat:
3
g
,
Saturated Fat:
1
g
,
Trans Fat:
1
g
,
Cholesterol:
70
mg
,
Sodium:
51
mg
,
Potassium:
87
mg
,
Fiber:
1
g
,
Sugar:
46
g
,
Vitamin A:
132
IU
,
Vitamin C:
1
mg
,
Calcium:
39
mg
,
Iron:
2
mg