Looking for a delicious new way to sauce up your meals? Roasted red pepper sauce is IT. Delightful delectable with lemon, garlic, and chickpeas and so versatile, plus it is ready in just FIVE minutes, it doesn't get any easier than this!
This sauce goes well with chicken, (like my Mediterranean Chicken with Roasted Red Pepper Sauce,) beef, (for a great beef recipe try my Beef Souvlaki Kebabs with Tzatziki Sauce), seafood, veggies, potatoes, and even rice! For more fabulous sauce ideas, head on over to my popular posts for Argentinian Chimichurri Sauce, Cheesy Marinara Sauce, and Tzatziki Sauce.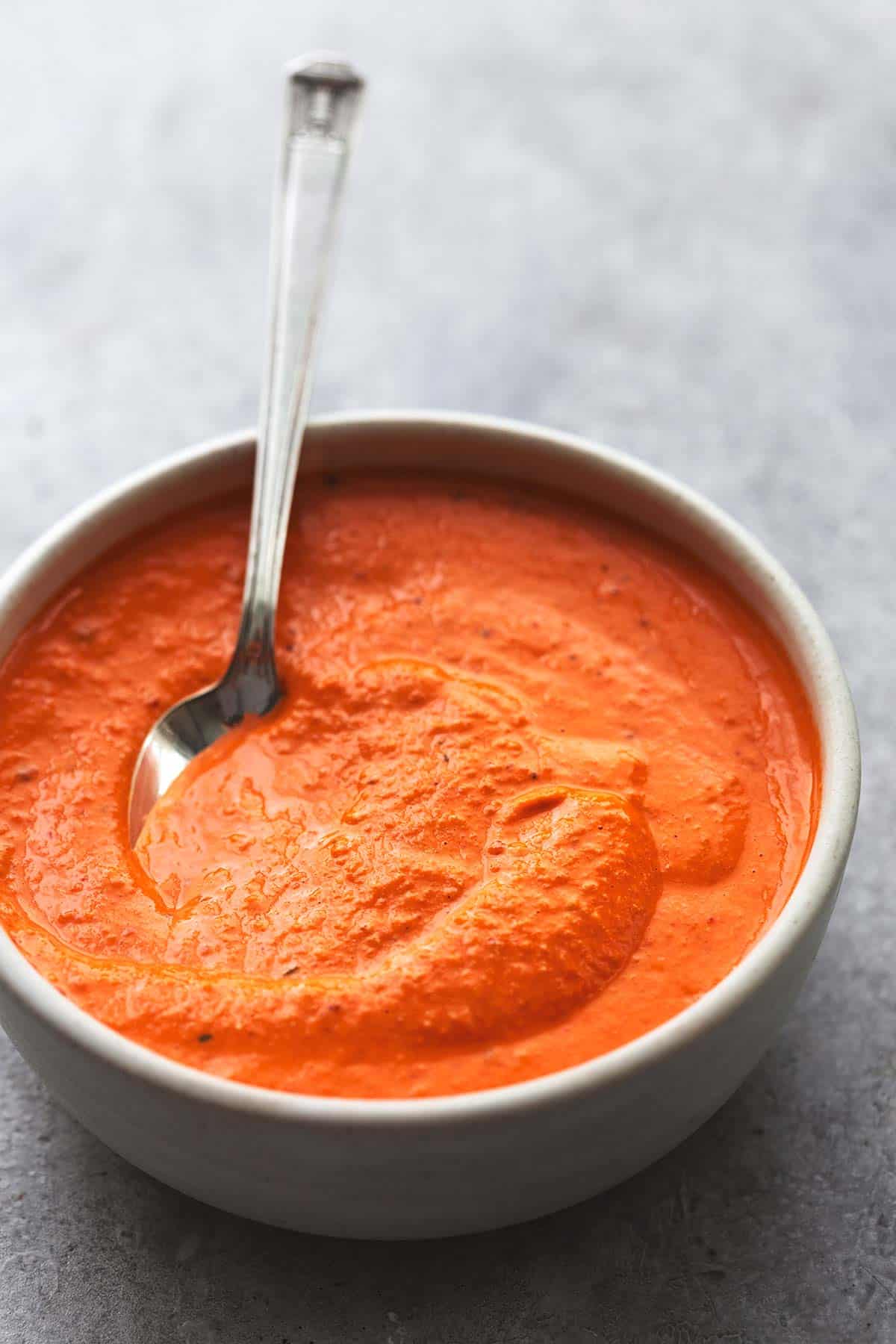 I admit, even *I* had never heard of homemade red pepper sauce until this past year. And I do try to stay pretty hip to the food goings-on. Sure, I knew you could buy roasted red peppers, and I've heard of hummus, and I pretty much consider myself a connoisseur of sauces, but this one where red peppers are the star had eluded me.
I'll tell you what though ONE BITE and I was hooked! I'm not sure regular old hummus will do it for me anymore, now that I've found this delightful dish! Plus, you can use it as a sauce, a dip, a condiment, eat it by the spoonful — no judgement here! All good in all ways!
Why This Recipe Works
Jarred red peppers — Sure you could roast your own peppers but why should you have to when you can purchase them already roasted, jarred, and soaking in oil so they stay nice and moist and fresh from jar to blender? Plus, they are so convenient!
Garbanzo beans — Also known as chickpeas, garbanzo beans are the key ingredient in hummus, and allow this red pepper sauce to blend up all smooth and creamy.
Lemon and garlic — Two other important ingredients in hummus, the lemon gives this red sauce a lovely, bright, tangy flavor, and the garlic adds flavor and bite.
Easy to batch — If you think you're going to want to eat this roasted red pepper sauce often, then you're in luck. Double, triple, quadruple this recipe and freeze for sauce all season long.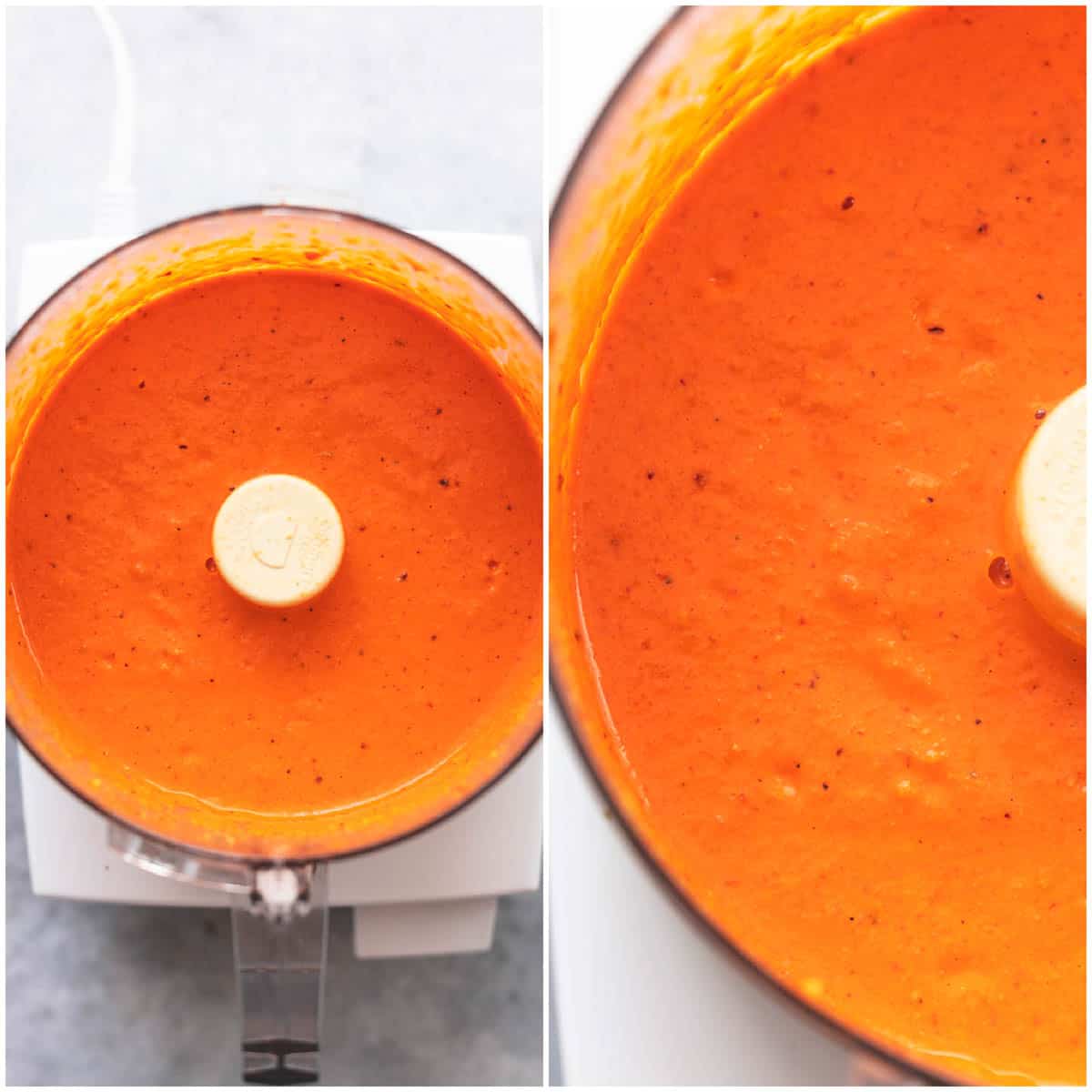 Here's How You Make It
Making this sauce really could not be any easier!
First, add all the ingredients to a food processor or blender, and blend it all up completely.
To thin it out, add a teaspoon of water at a time to the blender or food processor until the consistency of the sauce is smooth.
Taste and add salt and pepper if you wish.
Serve! (Or store in the fridge for up to 5 days.)
Is Red Pepper Sauce the Same As Hot Sauce?
You might think these two things, red pepper sauce and hot sauce would be interchangeable but in my book they are quite different. Red pepper sauce is made from roasted red bell peppers and isn't hot at all, whereas hot sauce is made from fermented hot (usually red) chili peppers and it adds a lot of heat and spice to your foods.
However, if you like spicy, you could certainly add some hot sauce to this roasted red pepper sauce, it would probably be delicious!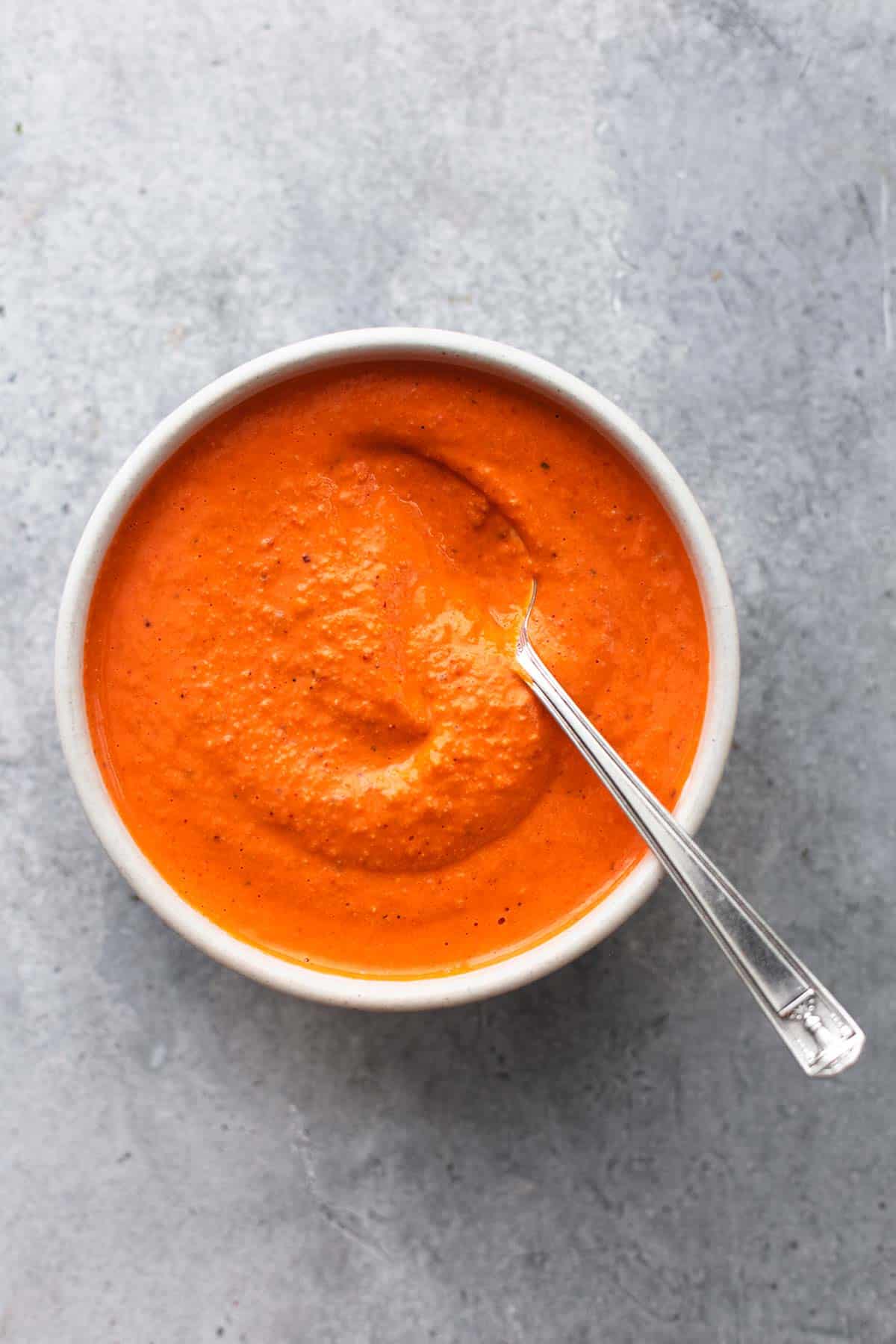 What to Do With Lots of Red Peppers?
Do you find yourself with an abundance of produce, especially in the summer, when farmers markets are in full swing? If you're anything like me, you can't walk buy one without purchasing more tomatoes, peppers, cucumbers, and lettuces than you know what to do with. But if your main problem is peppers, have I got some great ways to use them up in addition to this red pepper sauce.
Try

stuffing those red peppers

with your choice of ground meat, veggies, and a few other easy ingredients. Top with cheese for a delicious dish.

Stuffed pepper skillets

make for another way to use up those red (and other colored) peppers in this simple, one-pot meal.

Add

red peppers to a pasta dish

for a creamy, cheesy, comforting meal you can make any night of the week!

My recipe for

stuffed pepper soup calls

for three bell peppers of any color.

Red pepper soup

is savory, easy soup to make that only takes 30 minutes to make.

If you're in the mood for a pasta dish, try this

red pepper ravioli

.

And, no salad would be complete without some diced red or yellow peppers in it. Or serve thinly sliced bell peppers and add to a veggie tray — the possibilities are nearly endless.
Expert Tips
I usually use

garbanzo beans

in this sauce, but I have also tried making it with almonds and cashews, and those are delicious too. Another option would be to try blending the ingredients with a white bean like a white butter or navy bean for a thinner, smoother consistency.

If you want to make a large batch of this roasted red pepper pasta, then I suggest

freezing it in small, air-tight containers with lids. Be sure to add the date to the container so you know when you made it. It will keep in the fridge for up to 6 months.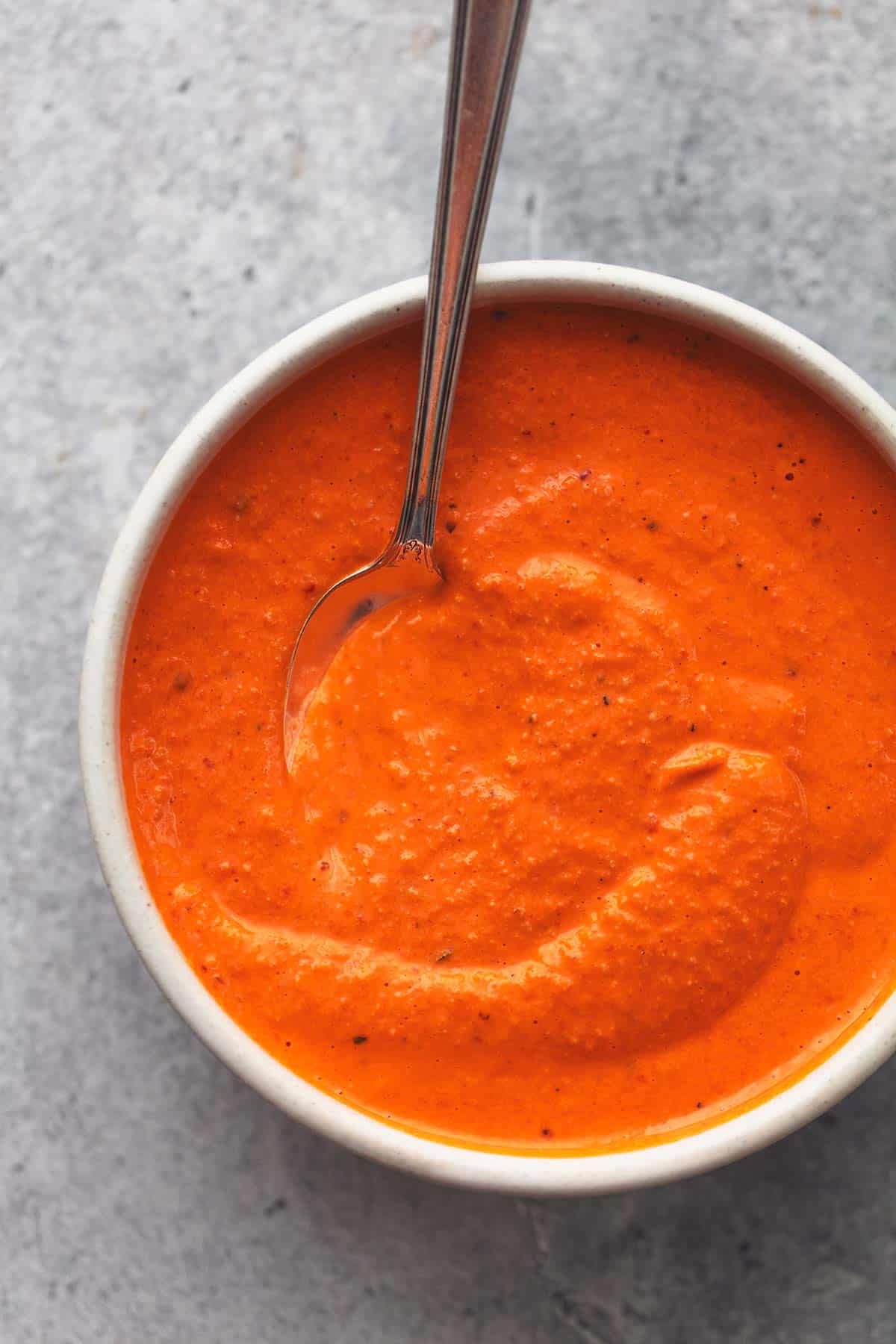 More Delicious Sauce Recipes
Did you make this Roasted Red Pepper Sauce recipe? YAY! Please rate the recipe below!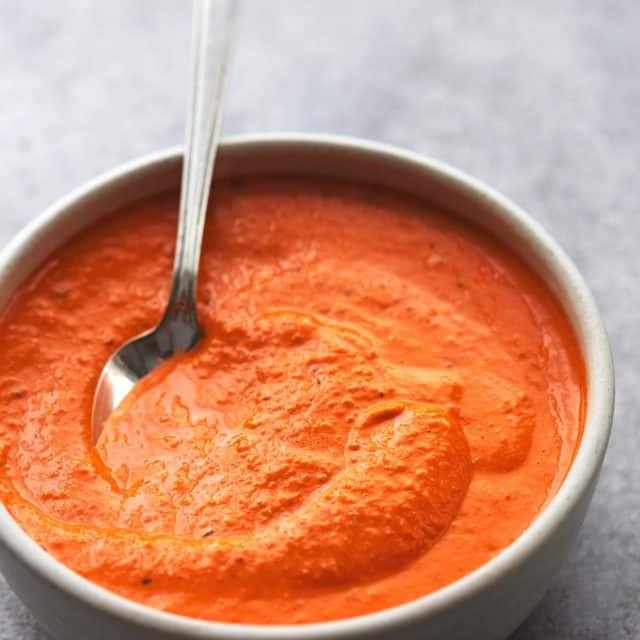 Roasted Red Pepper Sauce
Looking for a delicious new way to sauce up your meals? Roasted red pepper sauce is IT. Delightful delectable with lemon, garlic, and chickpeas and so versatile, plus it is ready in just FIVE minutes, it doesn't get any easier than this!
Ingredients
1

12-ounce

jar roasted red peppers

-

drained and lightly rinsed

½

cup

olive oil

2-4

teaspoons

minced garlic

¾

teaspoon

salt

-

or to taste

juice of 1 lemon

1

teaspoon

crushed red pepper flakes

⅔

cup

garbanzo beans

-

or almonds

½

teaspoon

cracked black pepper

-

or to taste
Instructions
Combine all ingredients in a food processor, blend completely.

Add a bit of water – a couple teaspoons – and pulse until consistency is smooth. Taste, add salt and pepper if needed.

Serve immediately or store in airtight container up to five days.
Notes
Garbanzo bean alternates: I have tried this with garbanzos/chickpeas, almonds, and cashews – all are delicious!  Heat level: As written, this sauce is not spicy. When I make it for my husband and myself (we love spicy food) I add more crushed red pepper flakes to give it a good spicy kick!  Store it: This sauce keeps really really well if you store it in an airtight container in the fridge. It never lasts longer than a week at my house because we pull it out to add to so many favorite dishes – great for pork, chicken, steak, potatoes, and vegetables. We even dip our bread in it. 
Nutrition
Calories:
144
kcal
,
Carbohydrates:
4
g
,
Protein:
1
g
,
Fat:
14
g
,
Saturated Fat:
2
g
,
Sodium:
225
mg
,
Potassium:
48
mg
,
Fiber:
1
g
,
Sugar:
1
g
,
Vitamin A:
79
IU
,
Vitamin C:
1
mg
,
Calcium:
9
mg
,
Iron:
1
mg