Tender Asian Sriracha Orange Beef stir-fried with red bell peppers in an addictive sweet and spicy sriracha orange sauce!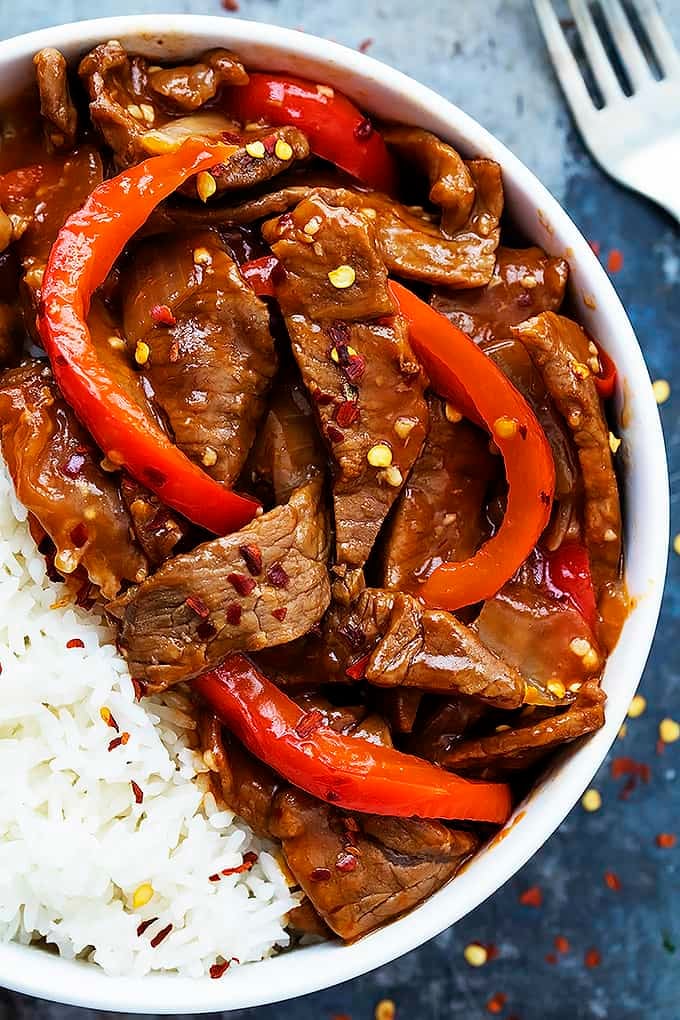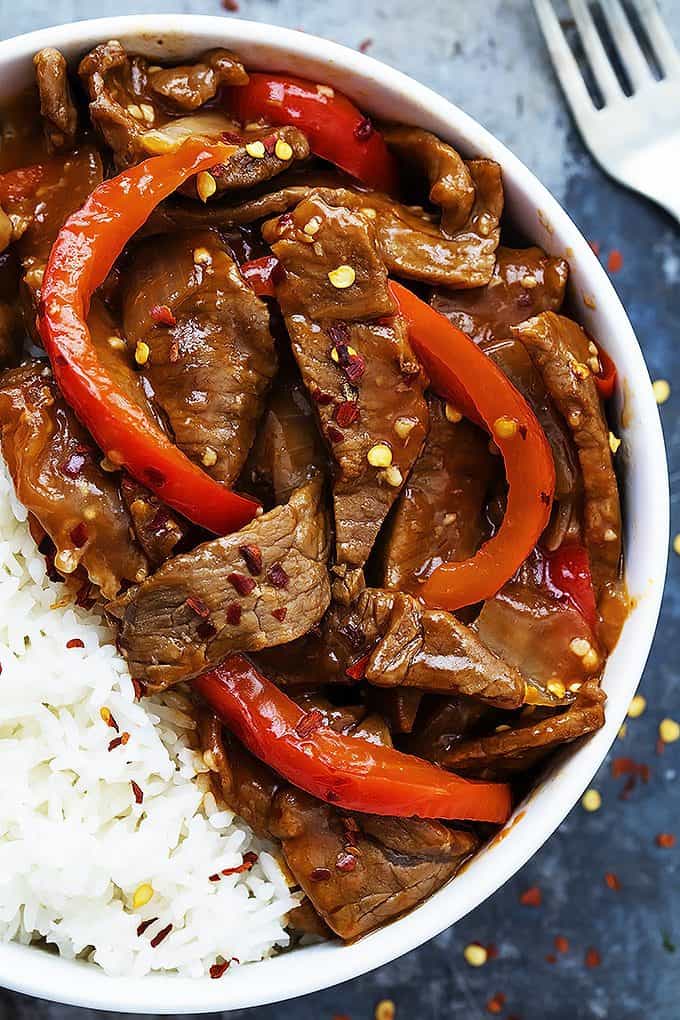 If you have been following me on Instagram then you know that I am 38 weeks pregnant with twins. (Still can't quite wrap my head around that some days.) Yep. Today I have reached 38 weeks. And yes I'm 5 foot 3 and no I never thought I'd make it this far with these wiggly little babies inside of me. Not for lack of trying, I really really wanted to make it to 38 weeks. I just know that something like 60 percent of twins are born before 36 weeks so I tried my best to face the reality that they'd most likely be making an early debut -packed my hospital bags at 30 weeks and never looked back.
Yet here we are. 38 weeks. And we meet these children tomorrow. (Want to see pics of these twinzies?? Follow my brand new IG account where I'm sharing snippets of my life behind the blog – including one million pictures of our gender-neutral nursery.)
Okay but there's a reason I'm sharing this sriracha orange beef with you on this exact day. It's sort of… symbolic? You know I love me some spicy food. (See here, and here, and here.) But people are scaring me because they say that spicy food upsets babies tummies. People. I NEED spicy food in my life! I have literally been eating extra spicy everything the past few weeks because 1) I love it and 2) what if this is my last-spicy-supper ya know??
The struggle is real.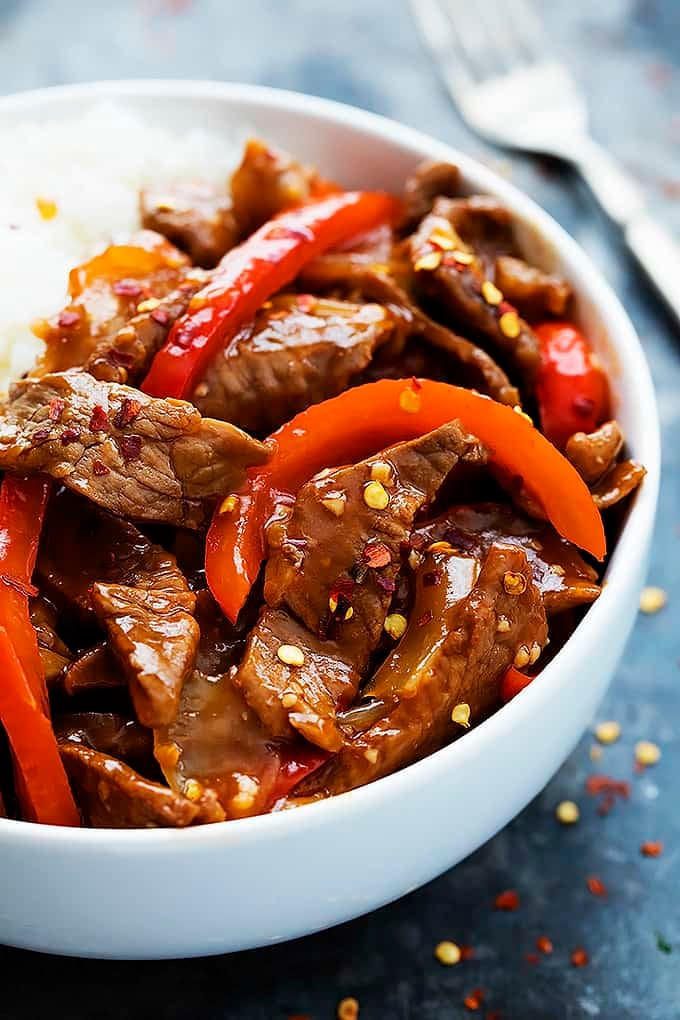 So this dish, it's a celebration. Of all things spicy and delicious in every way. Oh and also a celebration of one-pan clean up and less than 30 minutes of cooking time. Yeahhhhh baby!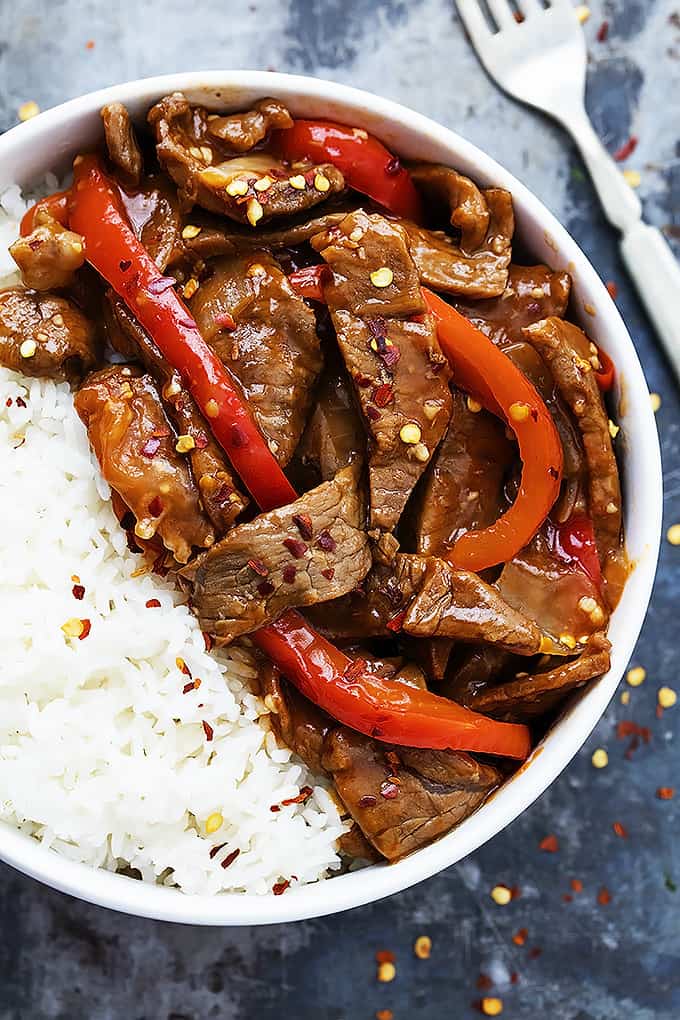 What people are saying about this Sriracha Orange Beef
"Tried this recipe last night, and it was DELICIOUS! I love spicy foods and this recipe definitely hits the spot. For a beginner like me, I found this recipe quite easy. It really makes me feel that I can cook anything haha. Thank you for sharing 
" – Emilie
"I made this for dinner tonight for a bunch of spicy food lovers and they devoured it. Absolutely delicious, and super easy to make!" – Hayat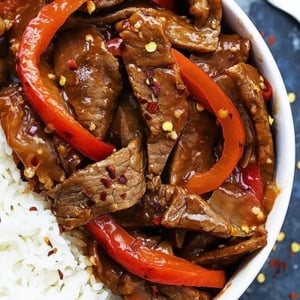 Sriracha Orange Beef
Tender Asian beef stir-fried with red bell peppers in an addictive sweet and spicy sriracha orange sauce!
Ingredients
1 ½ - 2

pounds

thin-cut beef

-

cut into 1-inch slices

1-2

red bell peppers

-

thinly sliced

1

tablespoon

minced garlic

1

cup

orange juice

2-3

tablespoons

sriracha sauce

-

(a spicy red chili sauce found in the Asian section of most grocery stores)

5

tablespoons

soy sauce

-

(I used low sodium)

1

teaspoon

sesame oil

2

tablespoons

cold water

1

tablespoon

corn starch
Instructions
In a large skillet saute beef, bell peppers, and garlic til garlic is fragrant (2-3 minutes).

In a small bowl whisk together orange juice, sriracha (2 or 3 tablespoons depending on how spicy you like it), soy sauce, and sesame oil. Add to pan and bring to a boil. Reduce to a simmer and allow to cool for 10-15 minutes until beef is cooked through and peppers are tender.

Whisk together cold water and corn starch. Add to pan and stir to combine. Continue to cook until thickened.

Serve with cooked rice or noodles and top with crushed red peppers if desired.
Notes
Beef: I suggest flank steak, skirt steak, or similar.
Nutrition
Calories:
678
kcal
,
Carbohydrates:
12
g
,
Protein:
89
g
,
Fat:
31
g
,
Saturated Fat:
11
g
,
Trans Fat:
1
g
,
Cholesterol:
250
mg
,
Sodium:
1693
mg
,
Potassium:
1411
mg
,
Fiber:
1
g
,
Sugar:
7
g
,
Vitamin A:
1098
IU
,
Vitamin C:
74
mg
,
Calcium:
41
mg
,
Iron:
8
mg