The BEST EVER chocolate chip cookies just got a makeover – super soft and chewy and stuffed with caramel, the flavor and texture is absolute perfection!
I almost called these, the ultimate most incredibly soft and chewy stuffed with salted caramel and wonderfully perfect cookies on the planet. But I ran out of room and it was sort of  mouthful. Which is kind of an issue because my mouth was also stuffed with cookie so there just wasn't any spare room for a title like that. Salted caramel chocolate chip cookies is gonna have to do.
Look at that gooey caramel right in the center there. Do you see that? Are you drooling yet?
There are a couple of easy peasy tricks to making these dreamboats. First off, you need instant vanilla pudding. It will make the cookies soft in the center but still lightly crispy on the outside – the perfect texture. Plus a little extra vanilla never hurt in the flavor department.
I love me some vanilla.
Another key step is the chilling time. I know, it's hard to wait, but it is SO worth it. It's like Christmas – well worth the wait. Just plan ahead and give yourself an hour to throw the dough in the fridge – just one hour! You can totally wait an hour.
I have faith in you.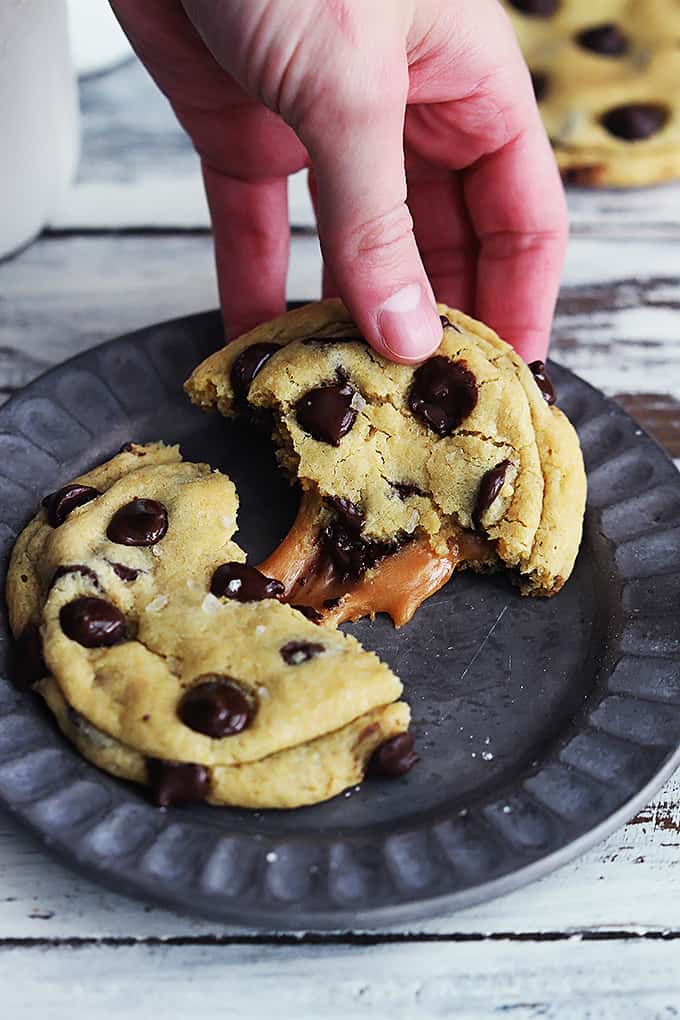 And lastly, you've gotta make these cookies BIG. Each cookie requires about 6-7 tablespoons of dough. This is another part of that texture thing we were talking about. Yes, you can technically use a smaller amount of dough and make smaller cookies, but they won't be and dense and chewy in the middle – they'll be crispier. Not necessarily a bad thing, but these cookies are intended to be big and super soft in the middle.
And the last thing, my own little tip for enjoying these at their very best…  After letting them cool completely to room temperature you warm them back up. I know, that seems completely contradictory to warm them up after letting them cool. But here's how it works. The middle of the cookies needs to cool completely in order to get the correct chewy texture, but then when you warm them up the caramel gets all ooey gooey. Just trust me on this one – you'll totally get it after the first bite!