This is the very best, Easy Healthy Baked Salmon! Made with lemon and garlic for incredible flavor and baked in the oven for flaky tenderness, this tasty salmon recipe is the answer to busy nights and special occasions alike!
If you like simple, easy recipes for your main course, then you'll also want to try my Best Healthy Grilled Chicken, this Instant Pot Balsamic Pork Tenderloin, or my Garlic Lime Shrimp Marinade.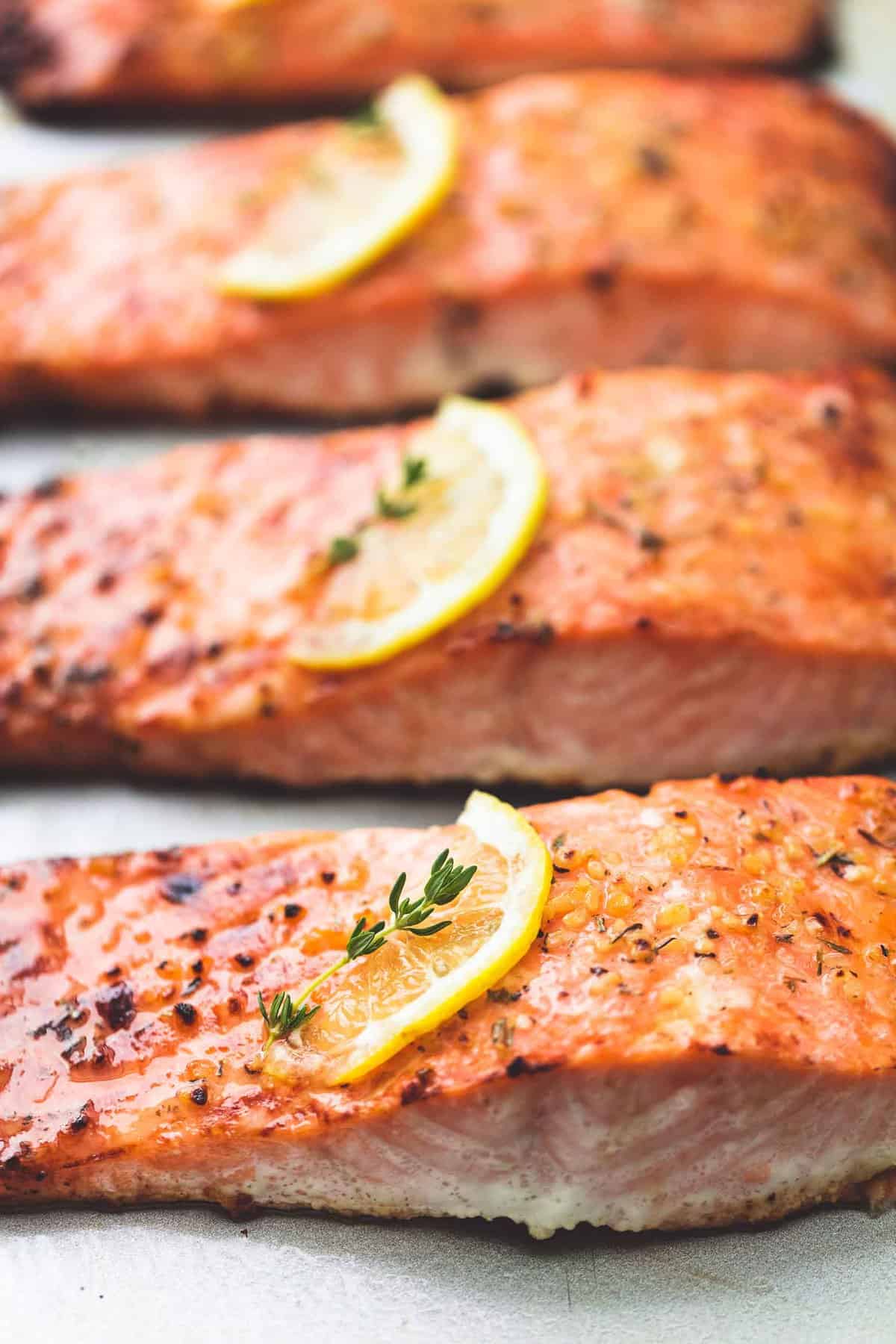 Here's the thing. I really really love salmon. Enough that I've said a few times out loud that if I had to choose one type of animal-based protein to live on for the rest of my life, it would be salmon. I make a lot of chicken dishes, and I can put away a thick, juicy steak like it's nobody's business, but if it ever comes right down to it I'm choosing salmon.
I can't say I have a lot to say about this salmon, except that it is exactly what I'm calling it: Easy. Healthy. Baked. Well, and Salmon (of course). But there seriously could not be an easier recipe for baking up the most perfect, lemony, garlicky salmon every single time. I have loads of hugely popular salmon recipes here on Creme de la Crumb, from sweet and spicy Thai-inspired, to shrimp-smothered, and grilled in a foil pack with asparagus, but it is high time I gave you this super simple, straightforward, no-tricks-only-treats Easy Healthy Baked Salmon.
You're welcome.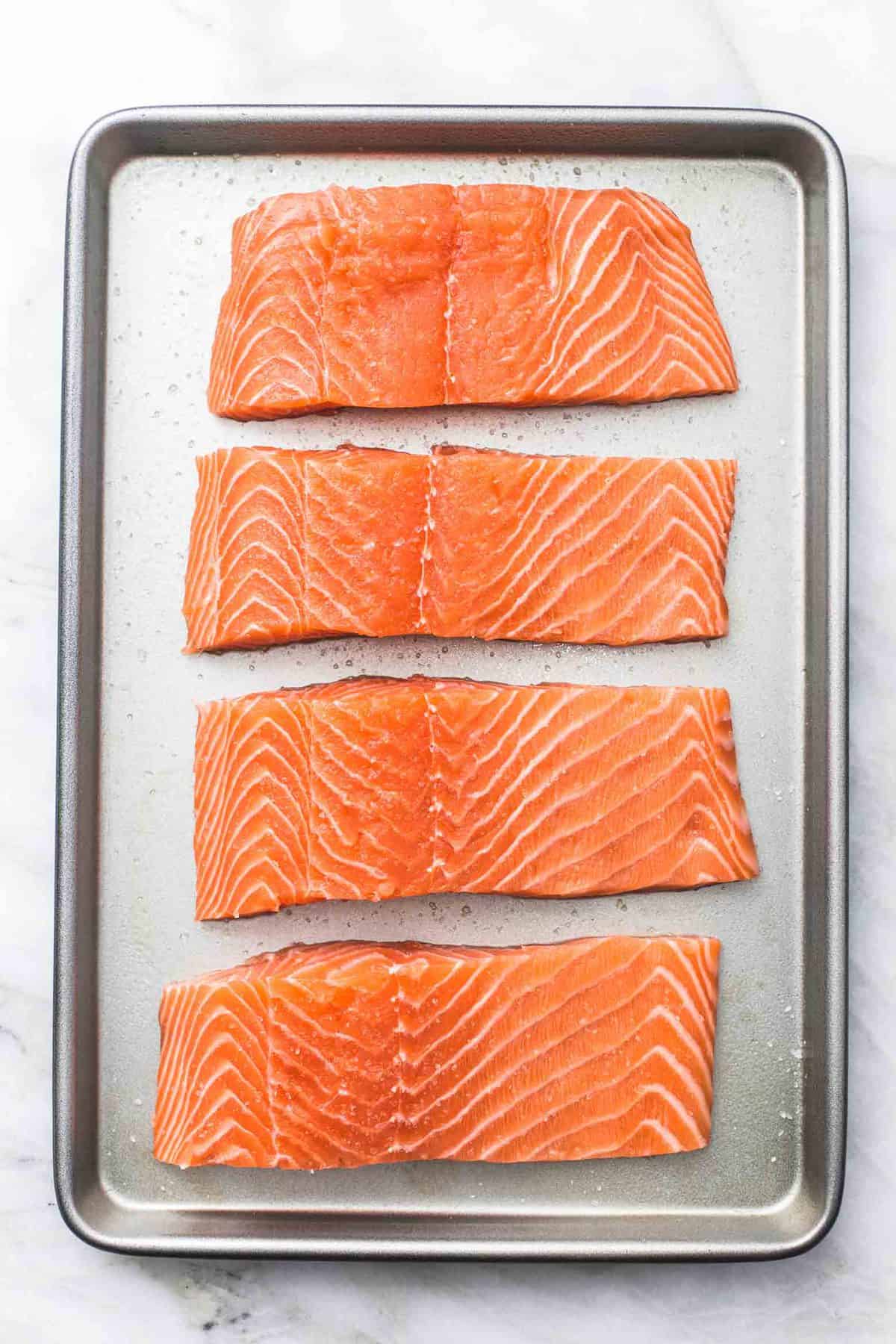 What Are the Five Types of Salmon?
Believe it or not, there are five main kinds of salmon. (Seven total types really, but you'll really only come across five kinds in the states.) They can be small and weigh around five pounds, or they can grow to be enormous, weighing around 126 pounds!
Some kinds of salmon live in freshwater, some live in saltwater, and some live in both, depending on the season. The five main kinds of salmon are all of the Pacific variety.
Sockeye is a red-colored fish and also happens to be lower in fat than other varieties. It's a popular variety and quite tasty.

King or Chinook salmon is very high in fat and super expensive. You'll probably only find this fish in high-end fish markets or fancy restaurants. It has a delightful texture, or mouthfeel to it.

Pink salmon is a very small, pale variety of the fish. This kind of salmon is most often used in the canning process, and what you'll find when you purchase cans of salmon.

Chum salmon is a type that's most popular for its roe, or eggs. They are the kind of eggs that you see in sushi rolls. I think the name sounds gross, and would probably not buy it on its own but I guess you can't judge a fish by its name, right?

Coho salmon is another popular type of fish and is milder in taste than other types of salmon. It's that silver salmon you most often see in photos of fishermen holding up a giant salmon for photographers, an "I caught a fish THIS BIG" kind of photos.
Is Salmon Healthy?
Salmon is a great source of animal protein, an almost a perfect source of omega-3s (and what you'll find in most fish oil capsules), and it has a lot of protein, vitamin B, calcium, potassium, and antioxidants as well. It's lower in calories and saturated fats than a lot of red meat options, and it has zero carbs, fiber, or sugar.
Eating salmon can help lower your cholesterol and makes a great Meatless Monday option. As you may have been able to tell from my various salmon recipes, we eat it quite a bit!
Why is Salmon So Expensive?
Salmon is more expensive than other types of protein because there is more work involved in procuring it. If you are eating wild caught, the fish has to be, well, caught…in the wild…by fishermen (women? people?). They are also susceptible to disease (thanks, ironically, to salmon farms, whose waste pollutes the oceans and streams where wild caught salmon live).
Another reason salmon is expensive is because there is a huge demand for it. Once a delicacy, now everyone wants to buy and eat salmon on the reg. It's basic economics. It depends, too, on the type of salmon you want to buy. I find it is pretty reasonably priced at my grocery store and the bulk salmon they sell at Costco is wonderful too, and budget-friendly.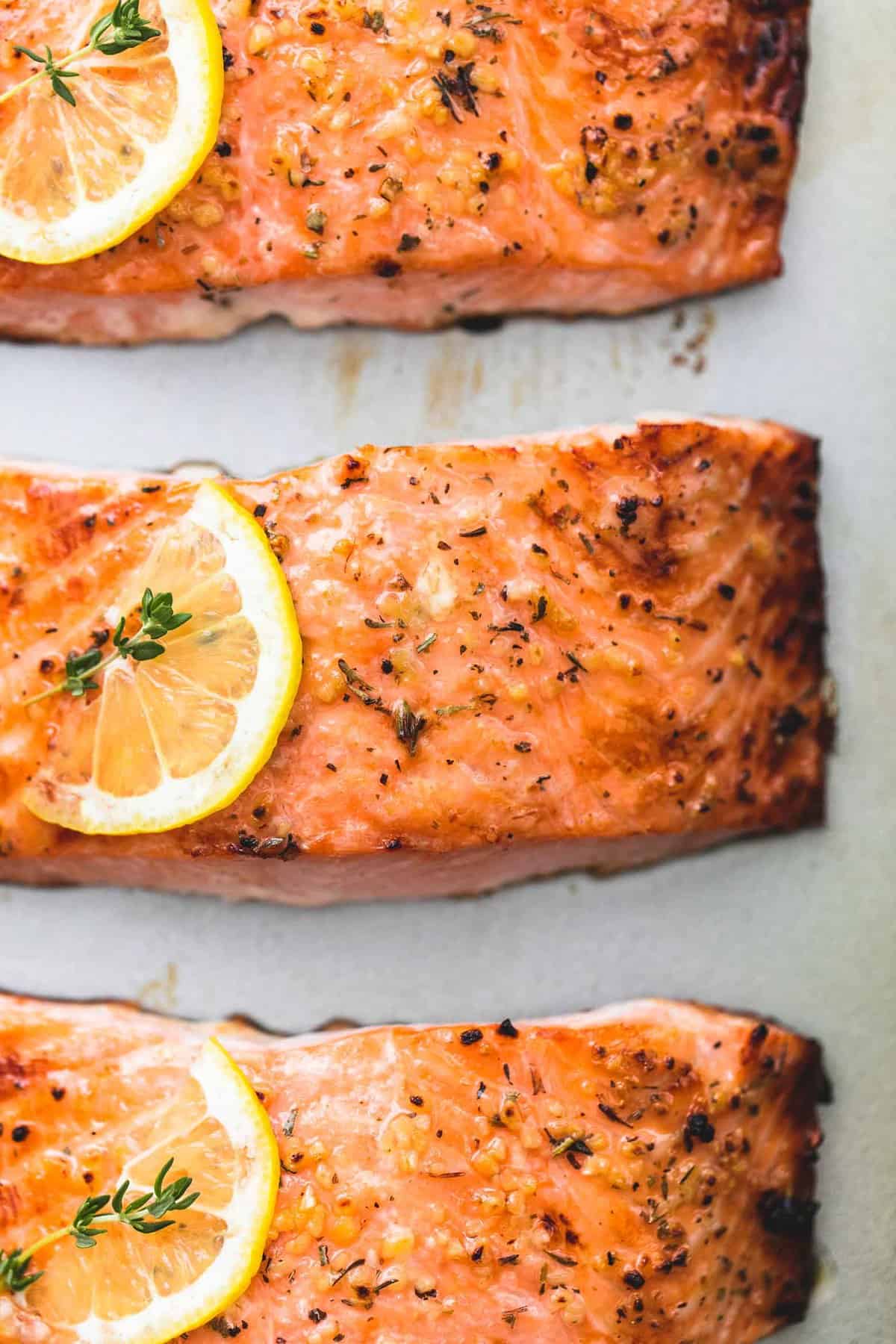 More Delicious Salmon Recipes You'll Go Crazy for
Think this top-rated Easy Healthy Baked Salmon recipe is good?? Just wait til you try these other super popular salmon dishes!
Did you try this Best Easy Healthy Baked Salmon recipe? YAY! Please rate the recipe below!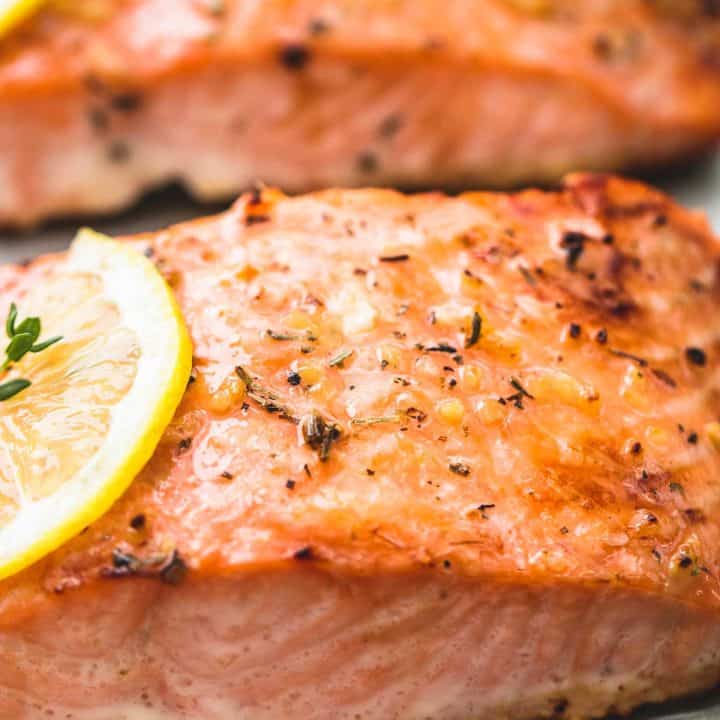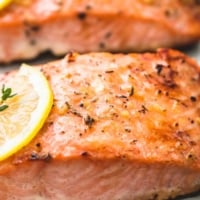 Best Easy Healthy Baked Salmon
 This is the very Best Easy Healthy Baked Salmon! Full of delicious lemon and garlic flavors, baked to flaky, tender perfection and on the table in just 30 minutes!
Ingredients
4

salmon fillets

-

about 6 ounces each

2

tablespoons

olive oil

½

teaspoon

salt

-

or to taste

¼

teaspoon

cracked black pepper

-

just a pinch if using finely ground black pepper

2

teaspoons

minced garlic

1

teaspoon

Italian herb seasoning blend

-

OR herbs de provence, or ¼ teaspoon each dried thyme, parsley, oregano, and basil

1

medium lemon
Instructions
Preheat oven to 400 degrees and grease a large baking pan. Arrange salmon fillets on the baking sheet and season generously with salt and pepper.

Stir together olive oil, garlic, herbs, and juice of 1/2 lemon. Spoon over salmon fillets being sure to rub all over the tops and sides of the salmon so it has no dry spots. Thinly slice remaining 1/2 of lemon and top each piece of salmon with a slice of lemon.

Bake for 15-18 minutes until salmon is opaque and flaky when pulled apart with a fork. You can broil the last 1-2 minutes if desired.

Garnish with fresh thyme or parsley if desired and serve.
Notes
Flavor tip: swap out the lemon for lime and add a sprinkle of cilantro at the end!
Nutrition
Calories:
306
kcal
,
Carbohydrates:
1
g
,
Protein:
34
g
,
Fat:
18
g
,
Saturated Fat:
3
g
,
Cholesterol:
94
mg
,
Sodium:
366
mg
,
Potassium:
839
mg
,
Fiber:
1
g
,
Sugar:
1
g
,
Vitamin A:
68
IU
,
Vitamin C:
1
mg
,
Calcium:
23
mg
,
Iron:
1
mg