Looking for a delicious new side option or a base for grain bowls or meal prep? Look no further than this 20-minute, luscious lemon couscous!
For more easy, lemony side dishes, check out my recipes for Creamy Parmesan Spinach Orzo, Sticky Chinese Lemon Chicken, and Lemon Herb Shrimp and Broccoli Foil Packs.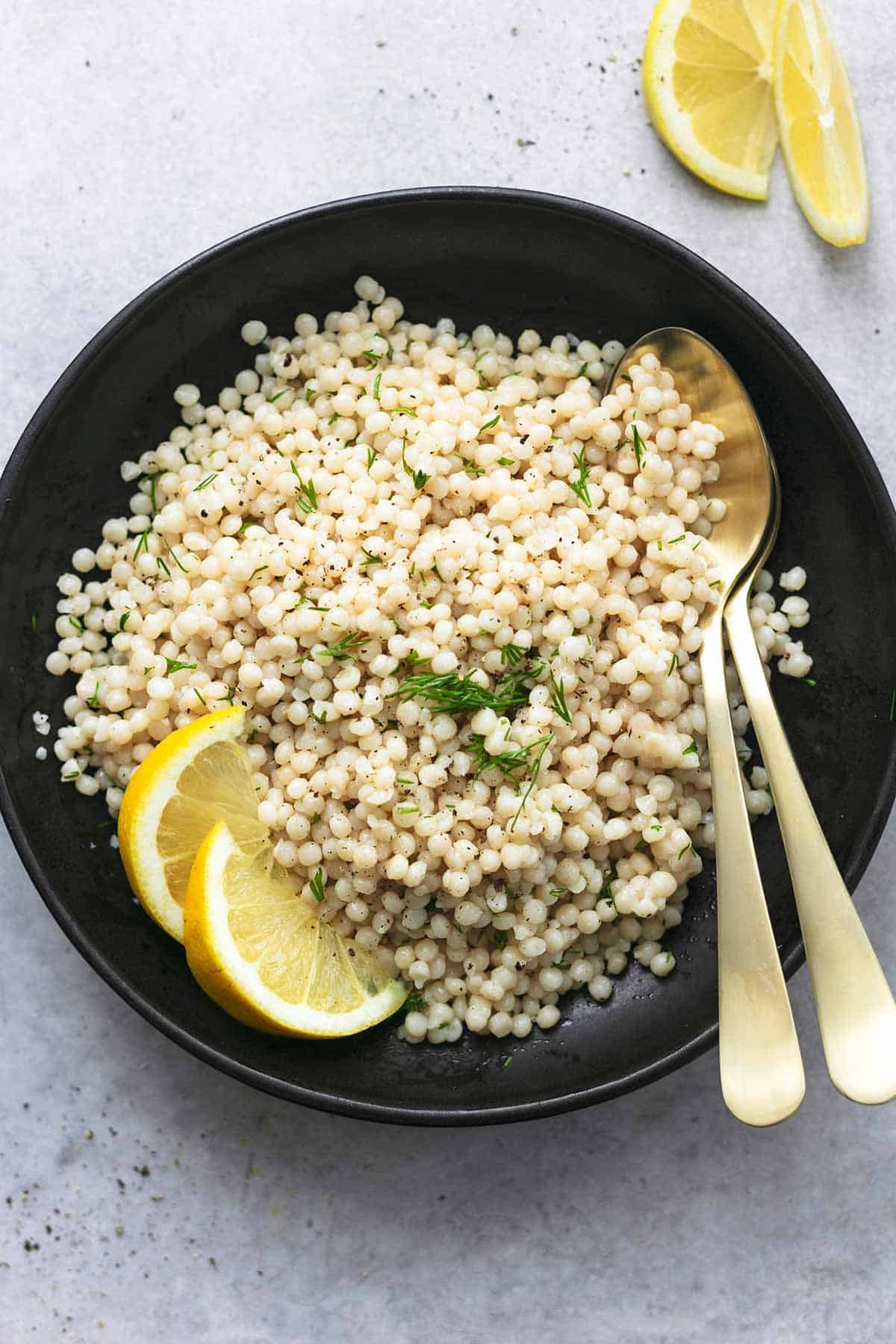 I've rediscovered my love for homemade couscous and I'm so thrilled about it. I have long been a user of boxed couscous for its simplicity and ease but honestly? Learning how to make couscous from the larger "pearl" variety is just as easy and quick. Plus, you can flavor it however you like, and it goes great as a side all by itself or as a base for grain bowls, soups, stews, and more!
Why This Recipe Works
This pearl couscous recipe is my very favorite because it's easy, simple, and SO delicious.
Quick cooking — Pearl couscous (like most) is easy to cook and absorbs just about any flavors you add to it, making it the perfect base carb for just about any flavor you can dream up.
Lemon — While you can flavor this couscous recipe however you like, I suggest adding lemon if possible. It's bright, tasty, and a tad tangy, all the best flavors for this couscous if you ask me. And it pairs so well with chicken, shrimp, and steak.
Vegan — Are you on a vegan diet or watching your dairy intake? Then couscous is a great grain to add to your diet. No animal ingredients to look out for here.
Great for a crowd — Have an unexpected guest or two? Double up this lemon couscous dish in a flash with no additional cooking time needed! Add some grilled chicken or salmon on top for a wonderfully complete meal!
How to Cook Pearl Couscous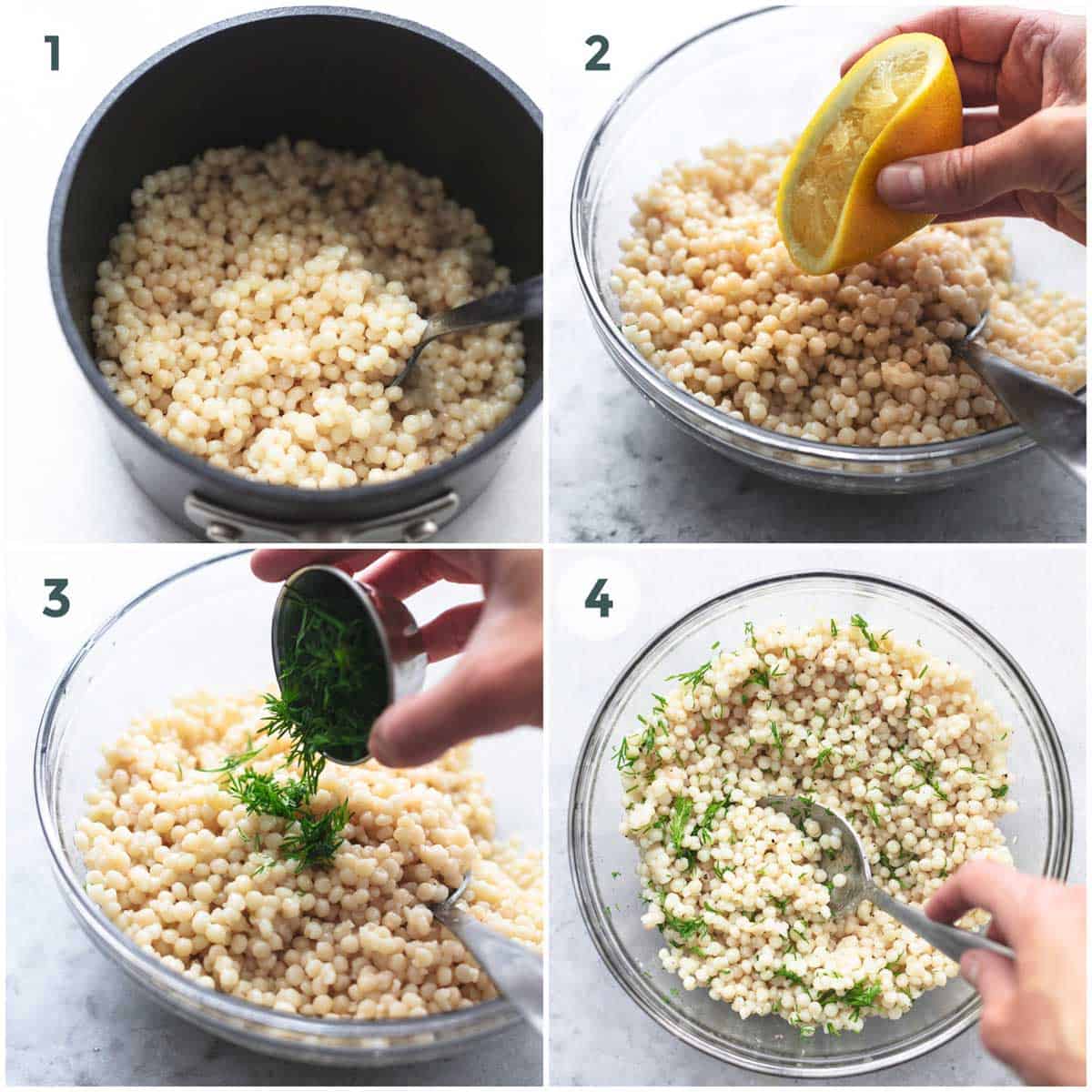 Put 1½ cups of water into a medium size sauce pan and bring it to a boil.
Next pour in the couscous, 1 teaspoon of olive oil, and then also the salt to the saucepan.
Then reduce the heat to low, put a lid on it and let it simmer for 8-10 minutes, stirring every once in a while, till all the liquid is absorbed.
Transfer the couscous into a bowl and toss it with the rest of the olive oil, plus the lemon, dill, and lots of freshly cracked black pepper.
You can serve this right away or keep it in the fridge for up to 24 hours before serving.
What Is Couscous?
Couscous isn't rice, and it's not pasta, so what is it? Turns out it's made from durum wheat semolina (like what pasta is made from) that's been crushed and formed into balls. It easily soaks up hot water when cooked. It's a dish that's originally from North Africa and is traditionally served with stew on top of it.

Couscous falls into 3 category types: Lebanese (largest), Israeli (pearl couscous, and my personal favorite), and Moroccan (which is the tiniest).
Is Couscous Healthier than Pasta?
Although couscous is made from wheat, it's a healthier alternative to pasta because it is unrefined. Couscous is a great source of selenium, which is a powerful antioxidant. It also contains a great source of plant protein (up to 6 grams per cup), some potassium, and fiber. Whole wheat couscous will contain more fiber than white.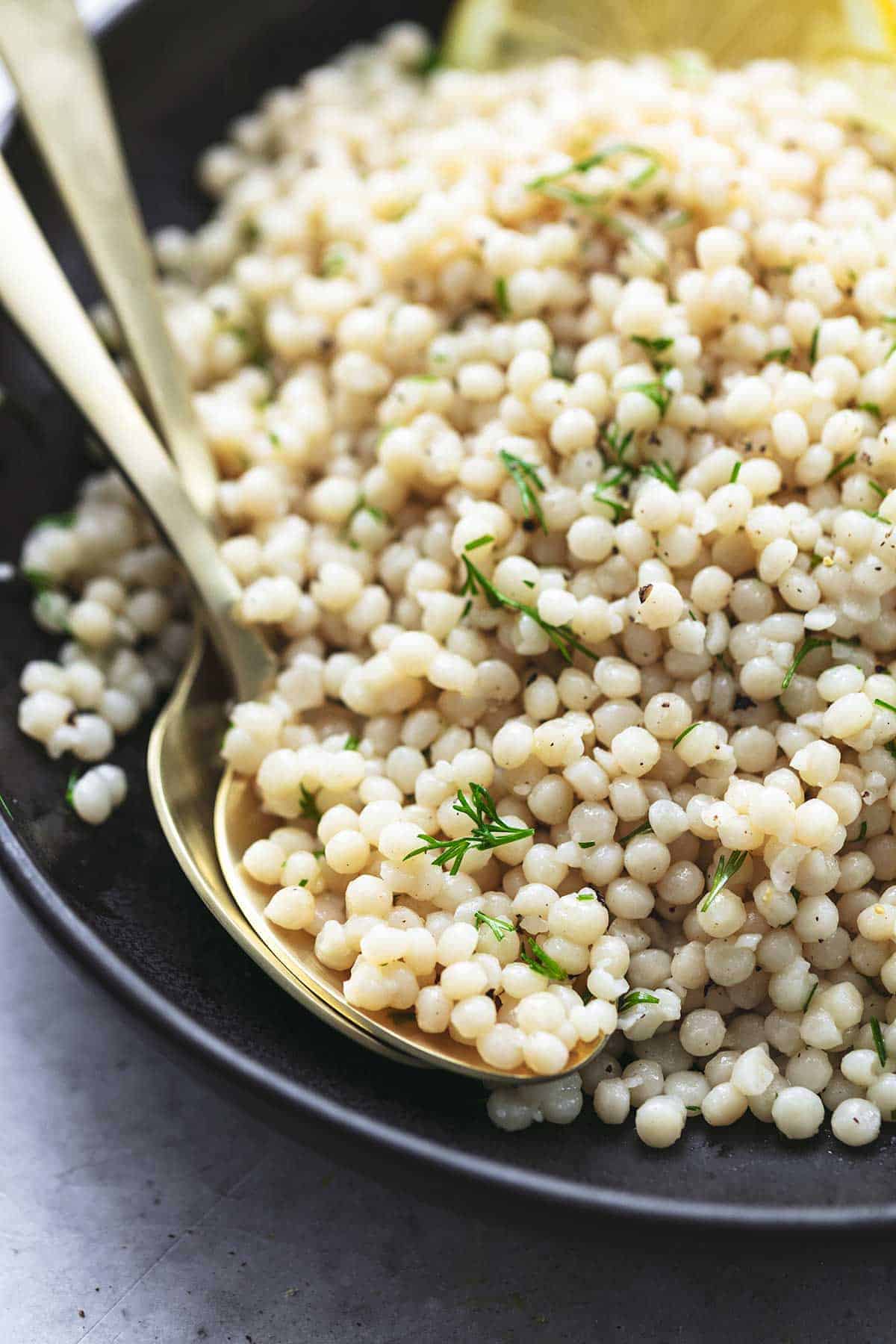 How Do You Store Couscous?
Dry:
Keep it in the box it came in (if you use some be sure to seal it back up).

Transfer it to a Ziplock bag or another air-tight container.

It will keep up to two years, sealed, in the pantry.
Cooked:
Cooked couscous can keep in the fridge for up to 5 days, as prepared here. However, if you add veggies, meats, other ingredients to it it could go bad more quickly. Be sure to smell it to make sure it still smells okay before serving if you're not sure.

You can freeze cooked, cooled couscous by first allowing it to freeze in a single layer on a baking sheet. Then transfer to an airtight container or baggie for up to a year. Reheat on the stovetop for best results.
Expert Tips
Cook this lemon couscous recipe and

use it as a base for bowls

. Just top with chicken, steak, shrimp, tofu, veggies, and some crumbled feta or goat cheese and top with microgreens.

Because couscous can be served warm or cold, it makes a

great meal prep option

. Separate cooked couscous into your meal prep containers and keep in the fridge for up to 5 days.

To

up the flavor of this lemon

couscous dish, try adding a teaspoon or two of finely chopped mint and/or 1-2 tablespoons of feta. Other herbs that go great include dill, basil, thyme, and oregano.

Add pine nuts, slivered almonds, or chopped pistachios

to add crunch

to this couscous dish.

For

a little sweetness

, consider adding in some dried fruit like raisins, craisins, or apricots.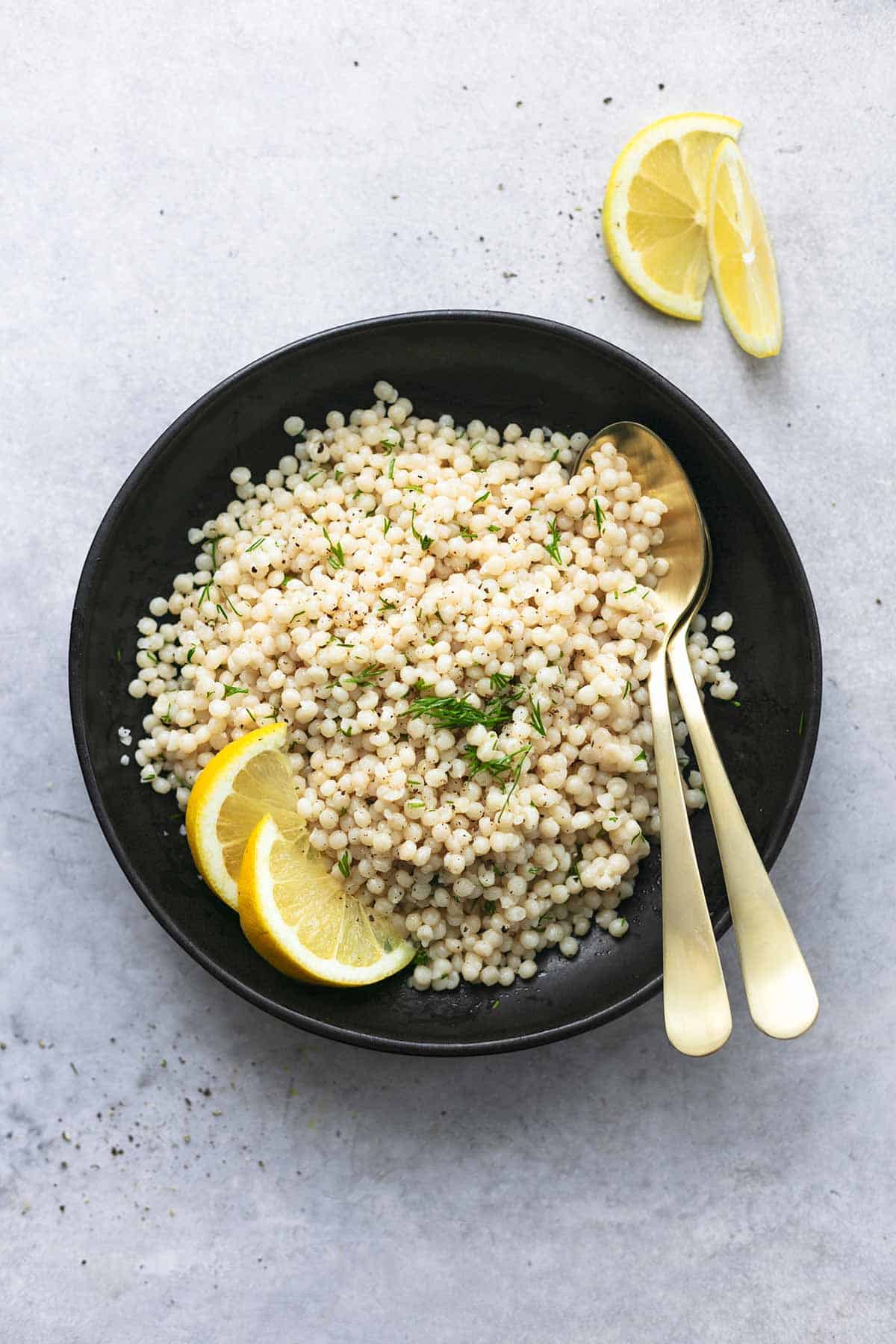 More Delicious Sides and Salads
Did you make this super tasty and easy Lemon Couscous? YAY! Please rate the recipe below!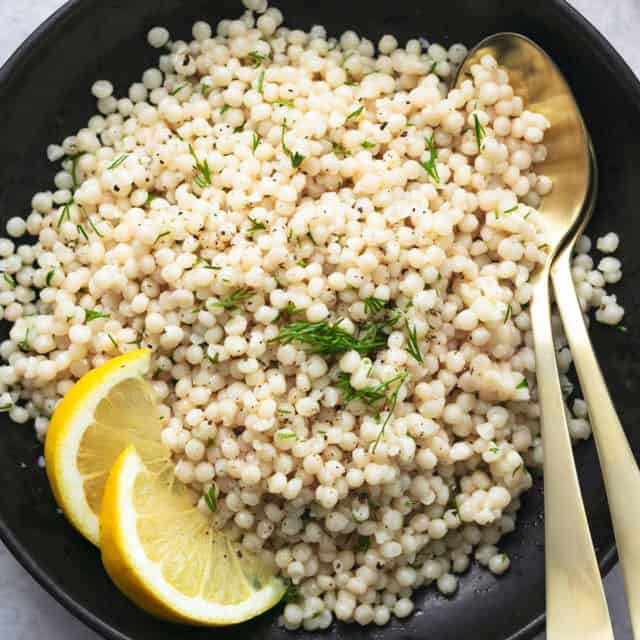 Lemon Couscous
Looking for a delicious new side option or a base for grain bowls or meal prep? Look no further than this 20-minute, luscious lemon couscous!
Ingredients
1

cup

pearl couscous

1 ½

cups

water

1

tablespoon

olive oil

½

teaspoon

salt

-

more to taste

juice of 1 lemon

-

more to taste

1

tablespoon

finely chopped fresh dill

cracked black pepper
Instructions
Add water to a medium sauce pan and bring to a boil.

Add couscous, 1 teaspoon olive oil, and salt to the pan.

Reduce heat to low, cover, and simmer for 8-10 minutes, stirring periodically, until liquid is absorbed.

Transfer couscous to a bowl, toss with remaining olive oil, lemon juice, dill, and plenty of cracked black pepper. Serve immediately or cover and chill up to 24 hours before serving.
Notes
Make it a bowl: this makes a GREAT base for bowls. Add your favorite chicken, steak, or shrimp, a few veggies, and a sprinkle of feta cheese crumbles for a complete meal! 
Meal prep: great meal prep option! These couscous can be served warm or cold and keep really well in the fridge for a few days.
Flavor option: add a teaspoon or two of finely chopped fresh mint and/or 1-2 tablespoons feta cheese crumbles. 
Nutrition
Calories:
192
kcal
,
Carbohydrates:
33
g
,
Protein:
5
g
,
Fat:
4
g
,
Saturated Fat:
1
g
,
Sodium:
299
mg
,
Potassium:
71
mg
,
Fiber:
2
g
,
Calcium:
13
mg
,
Iron:
1
mg