Super moist Lemon Poppyseed Muffins make with greek yogurt – topped with sweet and tangy cream cheese lemon icing!
Need to up your breakfast game with some new muffins recipes? Try Blueberry Cream Cheese French Toast Muffins, Flourless Banana Blender Muffins, and Triple Chocolate Muffins.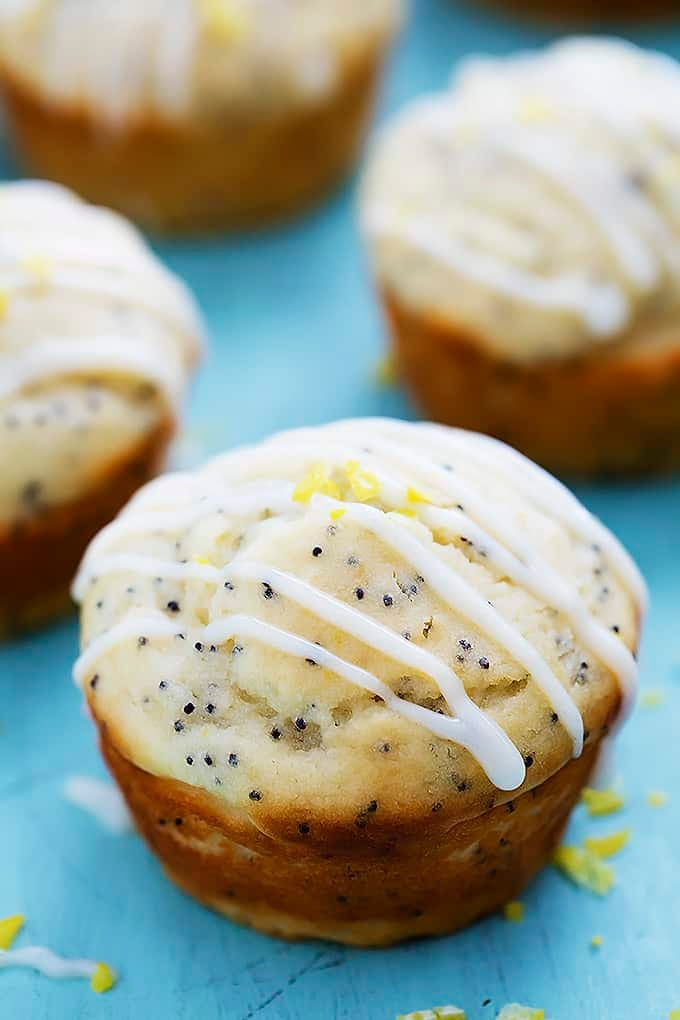 Okay, it's true, everyone and their dog has a lemon poppyseed muffin recipe – I'm not claiming to re-invent the wheel here. Lemon poppyseed muffins are a classic. But this recipe is my absolute favorite and as your personal source for yummalicious recipes, I am committed to sharing any recipe that makes me say "mmmmmmmmmmm!!!!!!".
Which, obviously, this recipe does.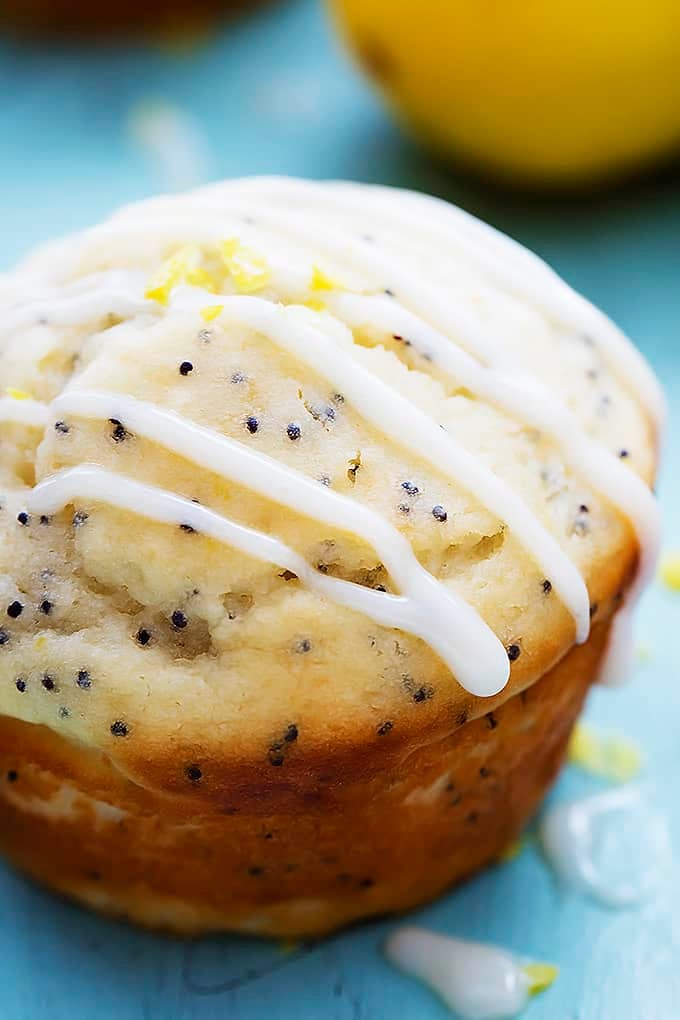 This is actually my ever-so-slightly tweaked version of my mother's lemon poppyseed muffin recipe. She made it will oil, which I swapped out for plain fat free greek yogurt. By now you know that is one of my go-to absolute favorite baking swaps. The greek yogurt adds protein and a LOT of moisture, and replaces the fat from the oil. I love it.
I also added a rich and tangy lemon cream cheese glaze because, well…. does that even need an explanation?? I mean, it's FROSTING. Everything is better with frosting.
What people are saying about these Lemon Poppyseed Muffins
"Absolute PERFECTION! These are SO yummy and incredibly quick to make! I made two dozen tonight, just because they are so quick!" – Ashley
"I tried these the other day and they are DELICIOUS. I had never baked with greek yogurt before and feared they would turn out a weird texture. The texture is incredible though! I'm so glad I found your recipe." – Grete
"Your recipe is wonderful! I tried the muffins, then made them again, then started playing around with other flavors. Just today I baked lime and coconut muffins (same amount of lime juice and zest as the recipe says for lemon, but 1/2 cup coconut flakes added to the batter), and those turned out wonderful, too! Your recipe gave me courage to experiment. Normally I am very anxious about experimenting, but the texture of your original is so perfect that it made me feel braver, and each version I tried turned out perfectly every single time. Thank you for sharing!" – Einzel
"These muffins are incredible! I made them today and they came out perfect. I doubled the muffin recipe but made only one batch of icing which was more than enough, with lots of icing left over. Thank you for sharing this recipe." – Mary
Lemon Poppyseed Muffins
Super moist lemon poppyseed muffins make with greek yogurt - topped with sweet and tangy cream cheese lemon icing!
Ingredients
1 1/3

cups

flour

1/2

teaspoon

baking soda

1/2

teaspoon

salt

1/4

cup

butter

(4 tablespoons)

3/4

cup

sugar

2

eggs

1

teaspoon

vanilla

(or almond)

zest of 2 small lemons

(or 1 large lemon - about 2 tablespoons)

1

tablespoon

fresh lemon juice

3/4

cup

plain fat free greek yogurt

1

tablespoon

poppyseeds
Icing
2

tablespoons

butter,

softened

2

ounces

cream cheese,

softened

3-4

cups

powdered sugar

1-2

teaspoons

fresh lemon juice
Instructions
Preheat oven to 450 and grease a muffin pan. In a medium bowl whisk together flour, baking soda, and salt.

In a large bowl cream together butter, sugar, eggs, vanilla extract, lemon zest and juice, and greek yogurt. Add dry ingredients to wet ingredients and mix until combined. Stir in poppyseeds.

Fill muffin tins about 2/3 full with muffin batter. Bake for 12-16 minutes until an inserted toothpick comes out clean. Allow to cool on a wire rack.

To make the icing, cream softened butter and cream cheese for 2 minutes until very fluffy. Add powdered sugar and lemon juice and mix well. Taste and add more lemon juice if desired. Drizzle icing over cooled muffins. (If icing is too thick you can warm it up in the microwave for a few seconds ) Serve immediately or store at room temperature in an airtight container for up to 3-5 days.