The absolute BEST sugar cookie bars ever created. A thick, soft (never dry!) sugar cookie base topped with super fluffy and rich buttercream frosting. No chilling, no rolling, and somehow even tastier than a classic sugar cookie!
For more fun, easy, tasty desserts, try my popular recipes for Best Easy Sugar Cookies, No Bake Churro Krispie Bars, and Cream Cheese Lemon Bars.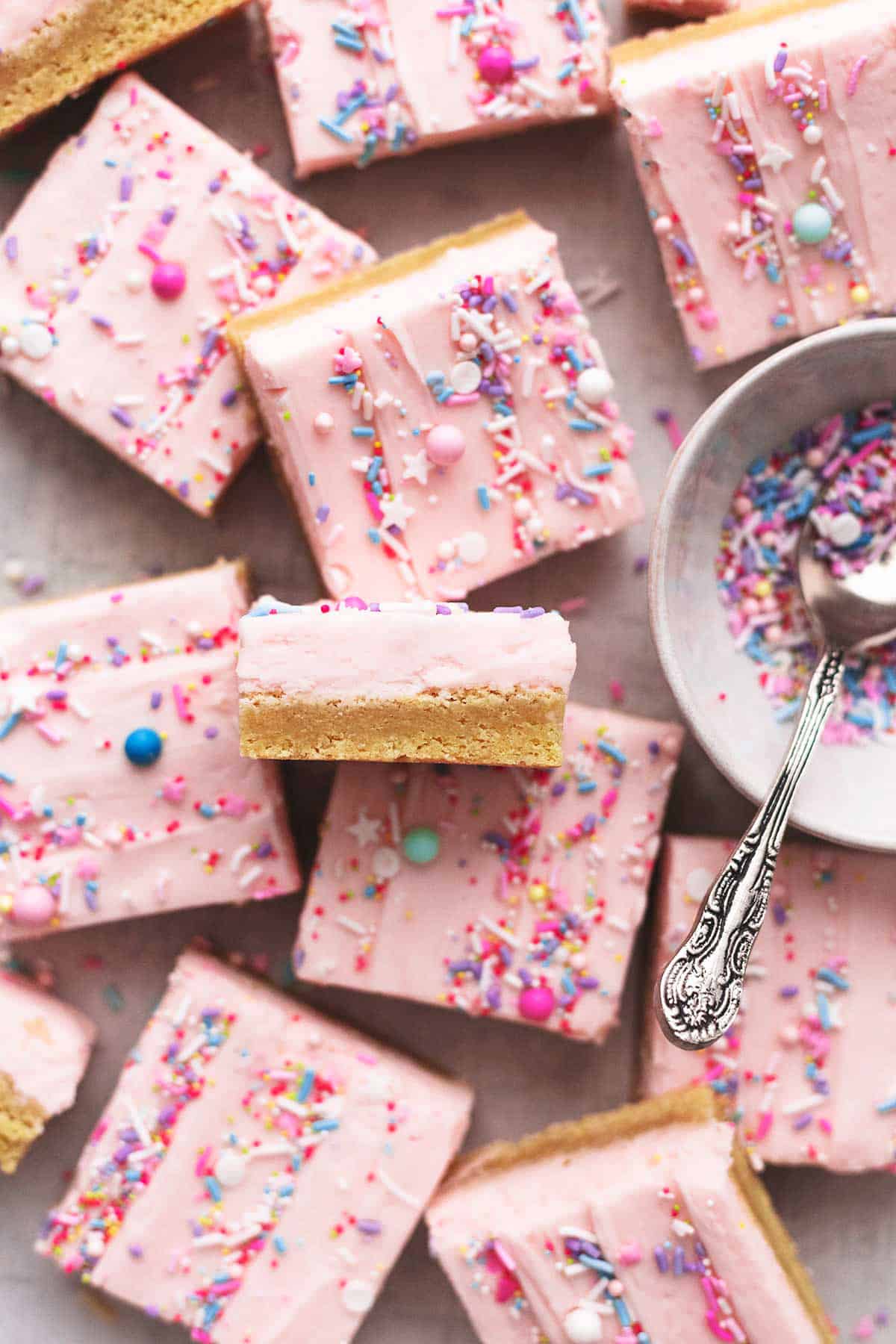 I'm not even sure where to begin with these. As I write this post, I'm tempted to stop and go whip up another batch because the first one I made didn't last long. What you don't see right on the outside of this photo are three little sets of hands (and two larger ones, if I'm being honest) ready to snatch up every last bite of these sugar cookie bars. They're everything you want in a sugar cookie, but in ooey, gooey, buttery bar form with a generous amount of buttercream icing, plus some pretty sprinkles for texture and…okay that's it, I'll be right back, have to go feed my sugar cookie craving…
Why This Recipe Works
Basic ingredients — Absolutely nothing fancy needed here, just your basic sugar cookie dough ingredients (flour, sugar, butter, vanilla, etc.) is all it takes to make these sugar cookie bars.
9×13 Baking Pan— Most sugar cookie bar recipes I've come across call for an 8×8 or 9×9 inch pan. When I make sugar cookie bars I want a BIG batch (more than a dozen) so this recipe is written for a 9×13 inch pan so you get enough bars to feed a crowd OR larger bars (because really, who says no to a larger sugar cookie bar??).
Buttercream frosting — If I was making regular cut-out sugar cookies, I might use a thinner icing that's easier for decorating. But these are bars and they deserve a mighty layer of delicious butter frosting on top. The frosting to cookie layer ration is just perfect in these tall bars.
Delicious at any temperature — You can eat these right out of the oven with some melted frosting on them, at room temperature or chilled right out of the fridge, all ways are amazingly delicious! If I had to choose one favorite though, I'd say cold from the fridge. Seriously, next level deliciousness.
Here's How You Make It
Making the sugar cookie bars
First, preheat your oven to 350 degrees, then line a 9×13-inch baking pan with parchment or foil.
Next, get out a large bowl or the bowl of your stand mixer and cream together the sugar and butter for about 2 minutes — it will be very fluffy.
Add in the eggs and vanilla.
Take out a medium-size bowl to combine the flour, baking soda, baking powder, salt, and corn starch.
Add these dry ingredients to the wet ones in the large bowl and mix again until they are all combined together. Don't be alarmed at the thickness of the batter, that's how it should be!
Using a spoon or rubber spatula, spread the dough into the prepared baking pan in an even layer. (You'll need a little elbow grease here, trust me these texture of that cookie layer at the end is more than worth it)
Bake the cookie base for about 18 minutes. Let it cool in the pan all the way when you take it out of the oven. No need to turn out onto a cooling rack.
Making the frosting
In a large bowl or the clean bowl of your stand mixer, cream together the butter all by itself for 2-3 minutes or until it's fully, then add in the powdered sugar, 2 tablespoons of milk, and the vanilla extract.
Add tablespoons of milk 1 at a time, mixing thoroughly after each add until the frosting is very fluffy.
Add the food coloring (1-2 drops is all you need!) if desired, and mix again.
Frost the bars after they have cooled completely. Sprinkle right after you frost so that the sprinkles will stick better.
Cut the bars into squares and eat right up or put them in an airtight container on the counter at room temperature for up to 3 days or you can put them in the fridge for up to 5 days. So. Good.
Should You Put Sprinkles on Sugar Cookies Before or After Baking?
Since I almost always put sprinkles on top of my icing, I sprinkle after baking (and icing). I like to add sprinkles right after icing the sugar cookie bars because they'll stick much better to the wet icing than if you try to put them on when the icing has dried.
If you want to put sprinkles right onto the cookie bars without icing, then what I recommend is to brush an egg or milk wash on top of the dough first, then sprinkle, then bake. The egg/milk wash will help it stick.
You can also mix 1/4 cup of sprinkles into the dough just before pressing into your pan for a funfetti cookie base!
Expert Tips
If you have a hard time cutting through the bars, the first thing I recommend is taking them out of the pan, and putting them on a cutting surface. This is why you line the pan with parchment instead of greasing the pan with cooking spray or butter! (You can choose to ice them after pulling them out of the pan too if that's easier.) Make sure you have a sharp knife, and either spray the knife with cooking spray and wipe off or run the knife under hot water, then wipe off to make it

easier to slice through the bars and achieve a perfect edge to your bars.

If all you have is a

glass pan for baking

these in, that's no problem, just only set your temperature for 325 but the baking time remains the same.

Use a ruler as a guide for

perfectly sized sugar cookie bars

. Score where you'll cut as you measure, then cut all the way though at equal intervals.

Do NOT over bake the dough. A toothpick inserted into the middle should come out with a few loose crumbs. Please, for the love of sugar cookies, error on the side of under-baking. It is the KEY to these being the actual best ever sugar cookie bars to ever exist – perfectly moist, never dry or crumbly. They'll continue to bake a bit more as they cool in the pan so just trust me on this one.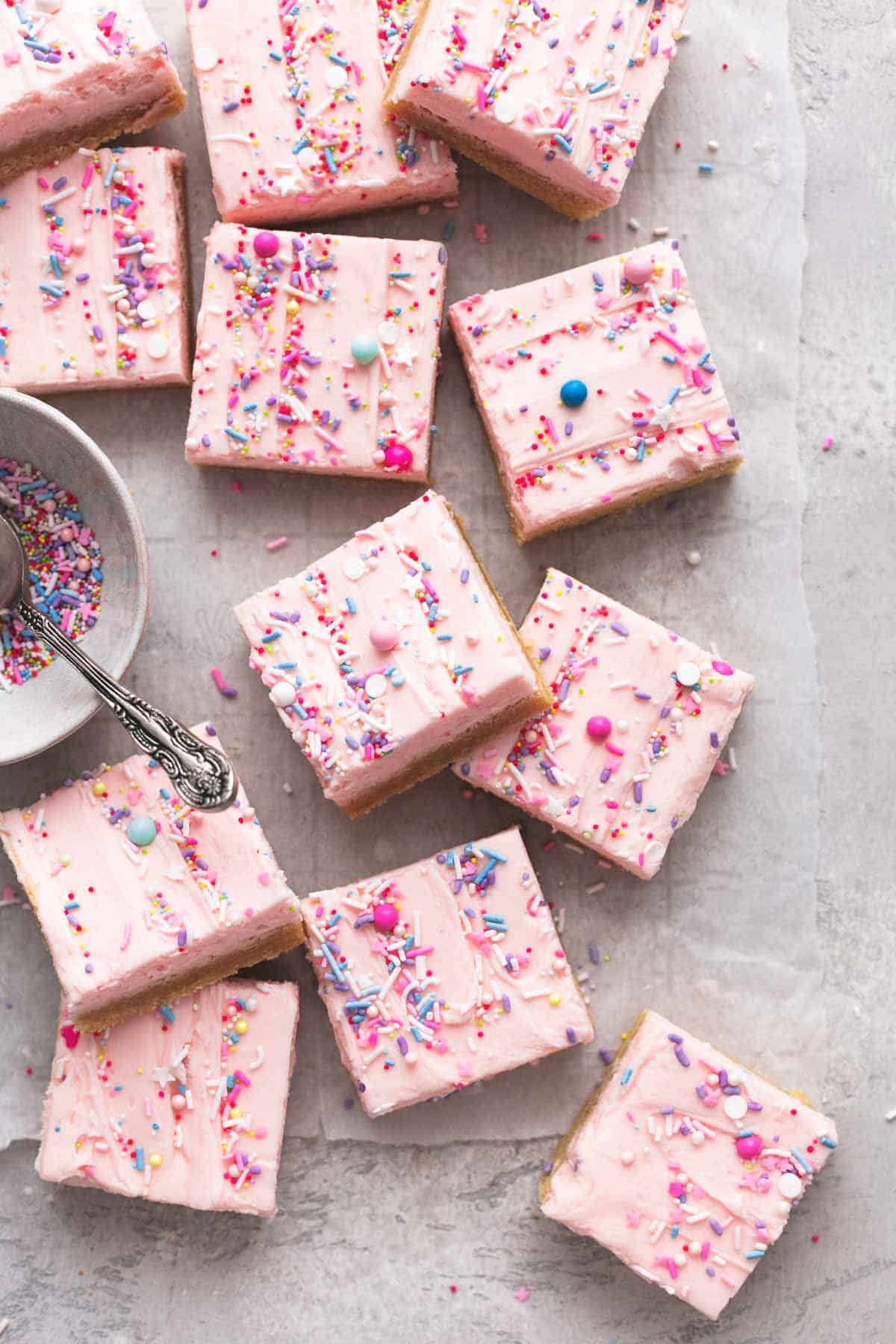 More Delicious Bar Recipes You need to Try
Did you try this Sugar Cookie Bars recipe? FANTASTIC! Please rate the recipe below!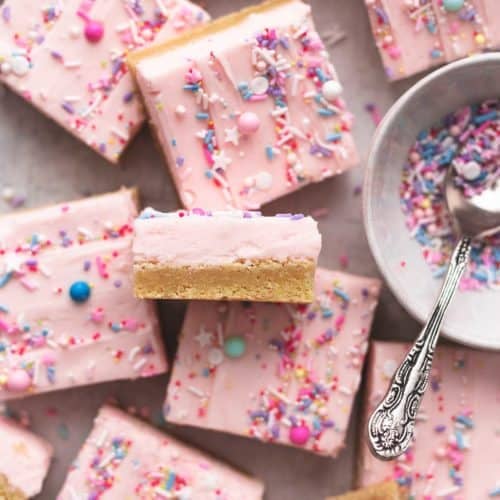 Sugar Cookie Bars
The BEST sugar cookie bars with a thick, soft (never dry!) sugar cookie base topped with super fluffy, rich buttercream frosting. No chilling, no rolling, better even than a classic sugar cookie. Try them chilled straight from the fridge to take these to the next level!
Ingredients
1 ½

sticks

butter

-

12 tablespoons or 3/4 cup

1 ½

cups

sugar

3

eggs

2

teaspoons

vanilla extract

3

cups

flour

1

teaspoon

baking powder

1

teaspoon

baking soda

1

teaspoon

salt

2

teaspoons

corn starch
For the Frosting
1

cup

butter

-

at room temperature

3

cups

powdered sugar

1

teaspoon

vanilla extract

4-8

tablespoons

milk

-

as needed

pinch of salt

1-2

drops

food coloring

sprinkles

-

optional
Instructions
Preheat oven to 350 degrees. Line a 9×13 inch pan with parchment or foil.

In a large bowl, cream butter and sugar for 2 minutes til very fluffy.

In a medium bowl whisk together flour, baking powder, baking soda, salt, and corn starch.

Add dry ingredients to wet ingredients and mix until completely incorporated. (Batter will be very thick!)

Use a rubber spatula or spoon to spread/press dough into prepared pan in an even layer. (The batter is very thick so this will take a minute but trust me, these are worth a little elbow grease!)

Bake in preheated oven for about 18 minutes. Allow to cool completely in the pan.
Prepare the Frosting
In a large bowl cream butter for 2-3 minutes until very fluffy. Mix in powdered sugar, vanilla extract, and 2 tablespoons of milk. Mix in an additional tablespoon of milk at a time – creaming thoroughly after each addition – until frosting is very fluffy. Stir in 1-2 drops of food coloring if desired.

Frost cooled bars and add sprinkles if desired. Cut into squares and serve OR store in airtight container at room temperature up to three days OR store in the fridge for 5 days (try them chilled, it's AMAZING.).
Notes
Pro tip: These are incredible at room temperature – and somehow even better chilled, straight from the fridge! Try it, I promise you'll love it. 
Pro tip: add 1/2 teaspoon almond extract to the batter, and 1/4-1/2 teaspoon almond extract to the frosting for a fun flavor twist (this is my favorite!). 
Nutrition
Calories:
272
kcal
,
Carbohydrates:
60
g
,
Protein:
4
g
,
Fat:
2
g
,
Saturated Fat:
1
g
,
Trans Fat:
1
g
,
Cholesterol:
33
mg
,
Sodium:
271
mg
,
Potassium:
64
mg
,
Fiber:
1
g
,
Sugar:
42
g
,
Vitamin A:
76
IU
,
Calcium:
45
mg
,
Iron:
1
mg