Thick and chewy White Chocolate Chip Macadamia Nut Blondies – just like the famous cookies but in an easy-to-make bar form!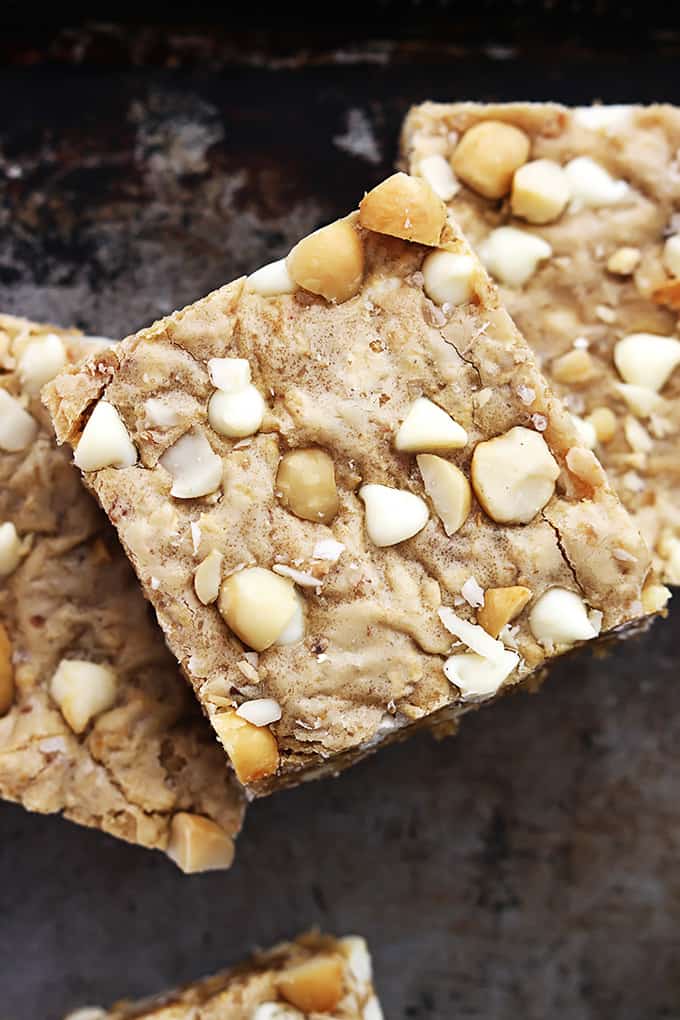 White chocolate and macadamia nuts – I. love. you. You're pretty great each on your own, but heaven almighty when you're together you make a rather stellar combination.
I love your standard bakery-style chocolate chip cookie as much as the next gal, but I've always had a soft spot for the white chocolate macadamia variety. In fact I think it's safe to say that a good portion of my freshman 15 (a conservative number, mind you) were owed to those white choc-mac cookies. I ate many a meal at the Subway on campus and when the cashier asks if you want to ask a soft freshly-baked cookie for 10 cents, you say um….. YES.
I've tried the same cookies from other Subway locations and they just aren't quite up to par. But if you ever find yourself near BYU in Provo Utah – get yourself a white choc-mac from their Subway. The softest, sweetest version I've ever tasted.
So obviously what I've done here is transformed one of the best cookies known to man into an easy-to-make rich and chewy blondie. Cookies are wonderful, they are, but man I really really love bars. Brownies, blondies, bars bars bars for days I love em. White chocolate macadamia nut blondies are the new thing, I'm tellin' ya.
If you've jumped on board the sea salt bandwagon (and if you haven't, what in the world are you waiting for?!) then please, I beg you, sprinkle a few of those little magic crystals right on top of these blondies, they just enhance the overall greatness here and you're gonna thank me when it's all said and done.
Not let's all take a bite of the greatest blondies known to man shall we?
Ready, set……
White Chocolate Chip Macadamia Nut Blondies
Thick and chewy white chocolate chip macadamia nut blondies - just like the famous cookies but in an easy-to-make bar form!
Ingredients
1

cup

butter

½

cup

coconut flakes

2

cups

brown sugar

1

tablespoon

vanilla

2

eggs

2

cups

flour

1

teaspoon

baking powder

1 ½

cups

rolled oats

½

teaspoon

salt

1

tablespoon

milk

1 ½

cups

white chocolate chips

½

cup

roughly chopped macadamia nuts

optional: coarse sea salt
Instructions
Add butter to a small sauce pan, melt and bring to a boil over medium-high heat. Reduce to medium heat and continue to cook 4-5 minutes until butter is golden in color. While butter is browning, add coconut flakes to a small pan and stir over medium-high heat for 3-4 minutes until browned (but careful not to let them burn!).

Add butter, brown sugar, vanilla, and eggs to a large bowl and mix until smooth. In another bowl whisk together flour, baking powder, oats, toasted coconut flakes, and 1/2 teaspoon salt.

Add dry ingredients to wet ingredients and mix until combined. Mix in milk. Stir in chocolate chips and macadamia nuts. Spread mixture into the bottom of a greased 9x13 inch baking pan. (If desired, sprinkle coarse sea salt on top - I used about 1 teaspoon).

Bake at 350 for 20-25 minutes until golden brown on top. Allow to cool completely before cutting into bars. Store in airtight container.
Notes
Store in airtight container at room temperature up to one week. 
Nutrition
Calories:
364
kcal
,
Carbohydrates:
64
g
,
Protein:
6
g
,
Fat:
10
g
,
Saturated Fat:
6
g
,
Trans Fat:
1
g
,
Cholesterol:
29
mg
,
Sodium:
169
mg
,
Potassium:
199
mg
,
Fiber:
2
g
,
Sugar:
43
g
,
Vitamin A:
70
IU
,
Vitamin C:
1
mg
,
Calcium:
114
mg
,
Iron:
2
mg
Sorry, I jumped the gun.