Crispy, seasoned Baked Sweet Potato Fries cooked right in the oven. Save yourself the extra mess, work, and calories from deep-frying – you won't miss it one bit!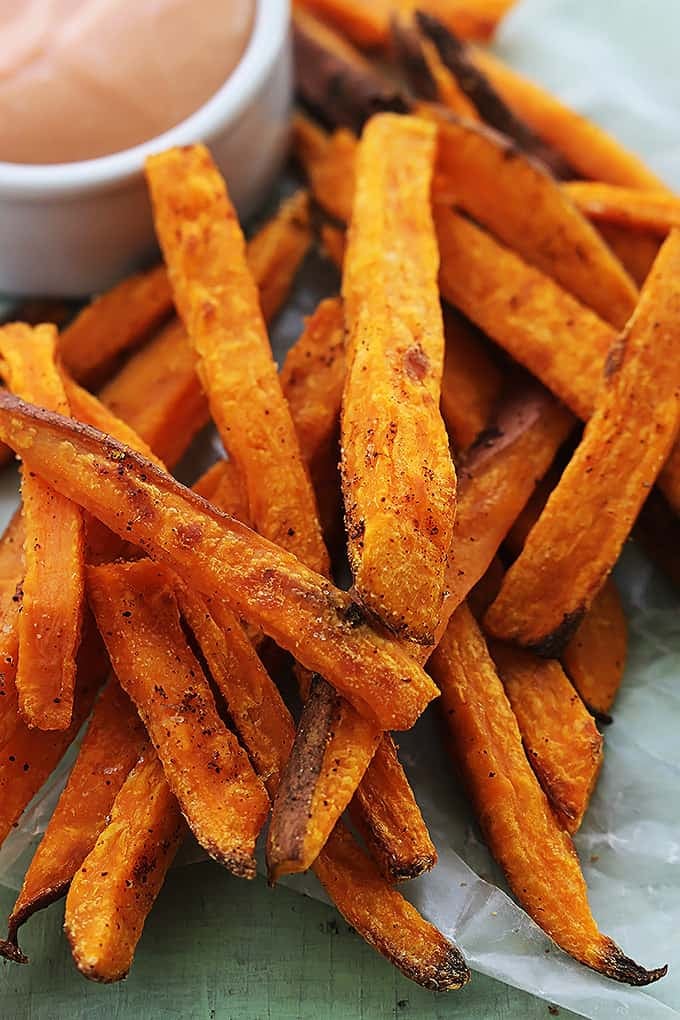 If we're being perfectly honest – and we are. judgement-free zone here – I have an addiction to fries. I need them on a regular basis. If I've gone several days without fries, I start to go into a withdrawal.
Weeping and irritability, sad potato chip substitutes, Gray's Anatomy re-runs… not a pretty site.
I bought my husband a card for his birthday a few years ago – actually he wasn't my husband back then, but close enough – that had a picture of french fries on the front and said something like this:
(front) "I love you so much I'll give you my heart, my life…..
(inside) "…and one, maybe two of my french fries."
It was so perfect.
And I'm not too picky about my fries either. I'll take em' homestyle, curly (Arby's, I heart you), steak-cut (minus the steak), waffled (CHICK FIL A!!!) and yes, I really really love sweet potato fries.
You know I'm a sucker for that sweet-n-salty flavor combo and sweet potato fries are no exception. Now, if you can get spicy to fit in there somewhere too, well that's basically my own personal heaven. Which is why I love adding chili powder and cayenne pepper to my sweet potato fries, plus plenty of salt and a kick-butt sauce that takes all of 3 seconds to whip up. Can you use ketchup? Technically: yes. Un-technically: absolutely not. Make the sauce. And if you can tolerate any degree of heat, please pleeeeeeease put the sriracha in.
That being said… do not pass up on making these perfect baked sweet potato fries just because you don't have (what???) or don't like (stop it.) sriracha sauce. Use your favorite sauce, use no sauce, just get these lovelies into your life.
Baked Sweet Potato Fries
Crispy, seasoned sweet potatoes fries baked right in the oven. Save yourself the extra mess, work, and calories from deep-frying - you won't miss it one bit!
Ingredients
2-3

medium

sweet potatoes

-

chopped into thin wedges or sticks/strips* (you don't want them too thick or they will take forever to cook)

2

tablespoons

oil

1

teaspoon

chili powder

-

see note

1

teaspoon

garlic powder

-

see note

salt to taste

-

(I used about 1 teaspoon - you can always add extra salt at the end)

dipping sauce of choice or recipe below
Dipping Sauce
⅓

cup

mayo

⅓

cup

ketchup

½

teaspoon

garlic powder

1

teaspoon

worcestershire sauce

1

teaspoon

sriracha sauce

-

(optional)
Instructions
Preheat oven to 450 and grease well with nonstick spray. Fill a medium-large pot half-way full with water. Bring to a boil on the stove over medium-high heat. When water reaches a rapid boil, add chopped sweet potatoes and boil for about 5 minutes until tender. Drain and spread out on a paper towel to dry a bit.

After the potatoes are boiled and have had a chance to drain of excess water, add them to a large bowl (you could also do this with a ziplock bag) and toss with oil, being sure to coat all potatoes. Spread the sweet potatoes out in a single layer on prepared baking sheet. Sprinkle with the seasonings - chili powder, garlic powder, and salt. Bake 15-20 minutes until crispy. (I recommend using a fork or a thin spatula to turn the fries once or twice throughout the baking process to ensure all sides get crispy)

For the dipping sauce, whisk all ingredients together. Cover and chill until ready to use. Serve fries warm with my dipping sauce, OR you can also use ketchup, bbq sauce, or other favorite sauce.
Notes
*I don't mention peeling the potatoes because I love the skin on, but this is optional and you can peel them if you want.
*In addition to the chili powder and garlic powder, you can also add 1/4 teaspoon each cayenne pepper and cumin for added flavor. If you want spicy fries, go heavier on the chili powder and cayenne pepper.
Nutrition
Calories:
315
kcal
,
Carbohydrates:
29
g
,
Protein:
2
g
,
Fat:
21
g
,
Saturated Fat:
3
g
,
Trans Fat:
1
g
,
Cholesterol:
8
mg
,
Sodium:
412
mg
,
Potassium:
484
mg
,
Fiber:
4
g
,
Sugar:
10
g
,
Vitamin A:
16297
IU
,
Vitamin C:
4
mg
,
Calcium:
43
mg
,
Iron:
1
mg