Creamy butterscotch ice cream made with only 5 ingredients and no machine required! 
You know those hard candy mixes you can find in the bulk bins at grocery stores and candy shops? I've always had two favorites from that bunch. The watermelon ones, with the green and red cellophane that actually looks like a watermelon, and the candy has a little bit of gooey goodness inside. Mmmmmm. So good.
My other favorite is the golden colored one – butterscotch. In my experience you're either a butterscotch lover, or a hater. As for me, I'm definitely a lover.
Look how dang cuuuute that ice cream container is! I saw one in a store a couple months back and almost bought it. I didn't, and immediately regretted it the next time I was whipping up a batch of ice cream. I went back to find it but it was gone 🙁  Shopping fail.
Thankfully the folks over at Hamptons Lane hooked. me. up. this month with my ice cream sundae box. I love their foodie-lover boxes of fun kitchen goodies. Not only did I get that cute homemade ice cream container, but also the coolest-ever stand alone ice cream scoop, gourmet caramel sauce, and vanilla finishing salt. Ummmmm gonna be honest, had no idea what vanilla finishing salt was til I got the ice cream sundae box from Hamptons Lane this month. Basically it's a bit of magical dust you sprinkle on top of your ice cream and suddenly it's transformed into a super duper amazingly delicious frozen treat. Seriously. Magic ice cream dust. I'm in love.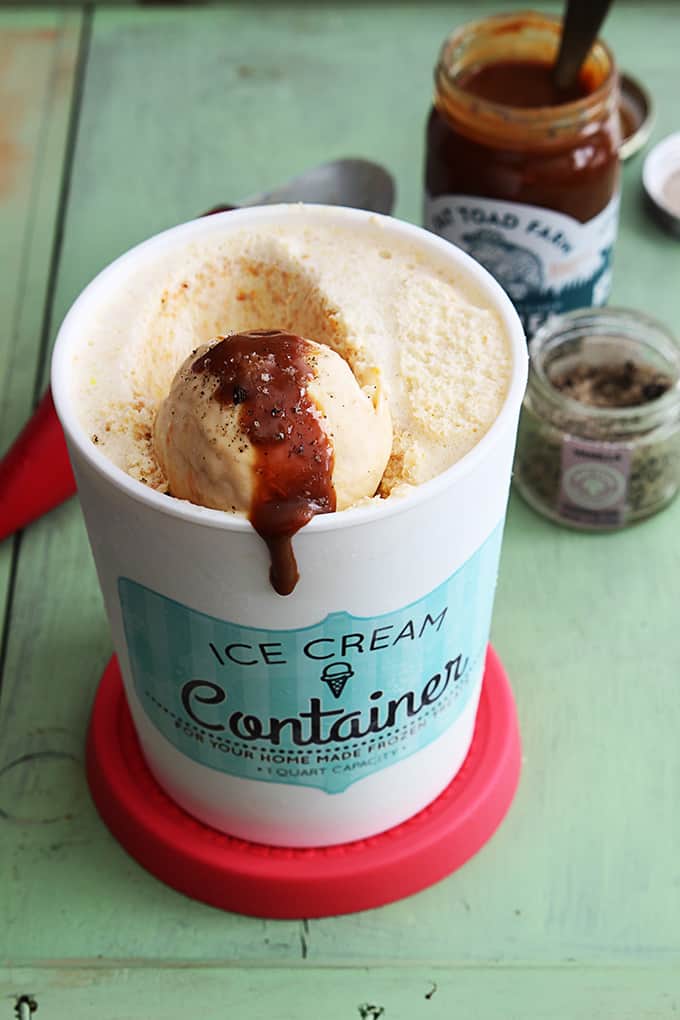 Butterscotch Ice Cream (No Churn)
Creamy butterscotch ice cream made with only 5 ingredients and no machine required!
Ingredients
3

cups

half and half

-

(regular or fat free)

1

cup

heavy cream

1 ½

cups

sugar

1

1-ounce package

vanilla pudding

-

(dry, not prepared)

1

1-ounce package

butterscotch pudding

-

(dry, not prepared)
Instructions
Whisk together half and half, heavy cream, and sugar until sugar is dissolved.

Add vanilla pudding powder, and butterscotch pudding powder and mix until smooth.

Pour ice cream mixture into 1 or 2 medium-large shallow containers. Freeze 6-8 hours until solid. Serve with caramel sauce or butterscotch sauce if desired.
Notes
Store in airtight container in freezer up to two weeks. 
Nutrition
Calories:
244
kcal
,
Carbohydrates:
28
g
,
Protein:
2
g
,
Fat:
14
g
,
Saturated Fat:
9
g
,
Cholesterol:
50
mg
,
Sodium:
34
mg
,
Potassium:
94
mg
,
Fiber:
1
g
,
Sugar:
25
g
,
Vitamin A:
506
IU
,
Vitamin C:
1
mg
,
Calcium:
77
mg
,
Iron:
1
mg
p.s. I have been provided compensation from Hamptons Lane for writing this post but all opinions are 1 million percent my own – pinky promise!