Nothing will get you in the Fall mood like this cozy Caramel Pecan Pumpkin Cheesecake! This is the very best easy baked pumpkin cheesecake!
If you love this cheesecake, you've got to try Cream Cheese Lemon Crumb Cake, Red Velvet Cheesecake Bites, Mixed Berry Pizza with Vanilla Glaze, and Caramel Coconut Macadamia Nut Pie.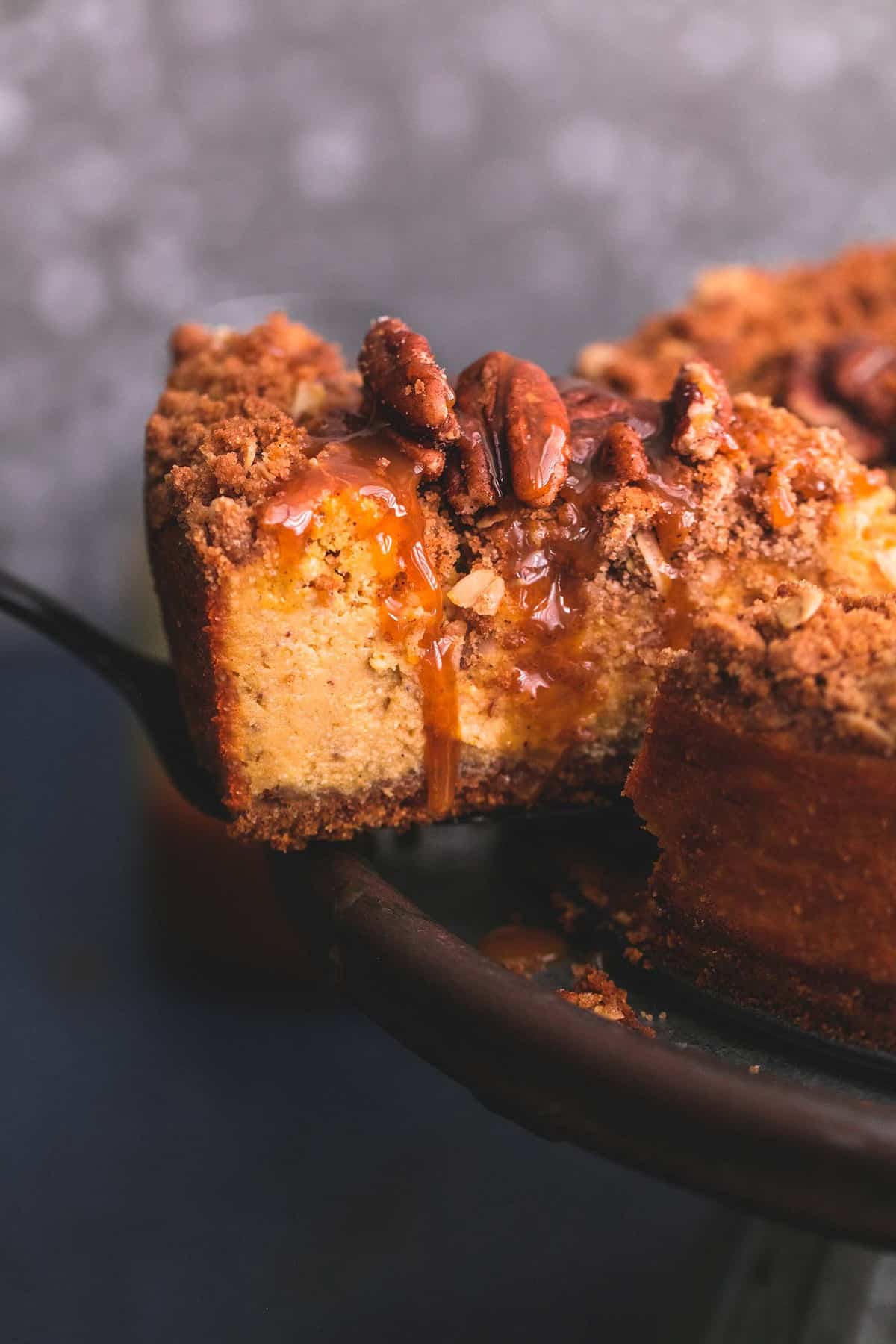 I'm on a fall kick and I cannot lie! Do you blame me though? I mean, really, the leaves are turning beautiful colors and the mountains look like shards of broken slate popping out from among the trees. When I step outside and am met with that crisp, cool nip of fall air — I just love it. Don't get me wrong, I'm still a summer girl all the way. BUT if we must experience fall, then might as well jump into that season with both feet. When in Rome, right?
This weather also has me craving some time in the kitchen, baking. I don't know what it is — I guess the pace is slower in the fall and it's not such a bad thing to have the oven turned on and the smells of pumpkin or nutmeg or clove filling the whole house just make me happy.
So you might be wondering, then, how I came up with the notion that I could take an already decadent dessert and make it more so. Pumpkin cheesecake by itself (or pumpkin anything, for that matter) is great, right? But, why stop there?
My baking motto is, if you're going to do something you might as well go ahead and overdo it. With that in mind, I first thought about the cheesecake, then the pumpkin, then the pumpkin led to pecans and then of course all that thinking about pecans led to think about caramel — and, that, my friends, is how a cheesecake was born.
I THOUGHT YOU NEEDED TO BAKE CHEESECAKE IN A WATER BATH?
Well, you're right — sort of. While a lot of cheesecake recipes will call for putting your springform pan into a water bath, you don't always have to. The water bath keeps the cheesecake moist and also keeps it from cracking as it bakes.
However, with this recipe, there are several reasons you can skip the water bath. First of all, this cheesecake is topped with a streusel, so you don't have to worry about the cheesecake cracking (if it even does) because you won't be able to tell. When the cheesecake is baking, remember not to open the oven door to check on it as this can also cause it to crack and dry out. Thirdly, do not overbake it. If you follow these steps, then you can make your cheesecake baking a much easier, enjoyable experience.  
HOW CAN I CUSTOMIZE THIS CHEESECAKE?
While the notion of why you would want to change one crumb of this cheesecake is beyond me, I guess you could, if you really wanted to. (I kid, I kid.) But seriously, although you have to be pretty specific when baking (unlike cooking, where you can use more "guesstimates" of ingredients for sauces and marinades), with baking you really do have to follow the directions to achieve the results the recipe author intended.
That being said, there are still some ways in which you can tweak this cheesecake. First of all, if you are not a fan of pecans or you have a nut allergy — you can skip the pecans all together or substitute another nut of your choice. Or you could add some fresh fruit to the streusel instead of pecans, like apples or cranberries, or you could add in coconut shavings.
If you don't like caramel, you can skip that, too, in favor of another topping (butterscotch or chocolate maybe? Who am I to judge?). Or sprinkle butterscotch chips, chocolate chips, or even mini marshmallows on the top after taking the cheesecake out of the oven.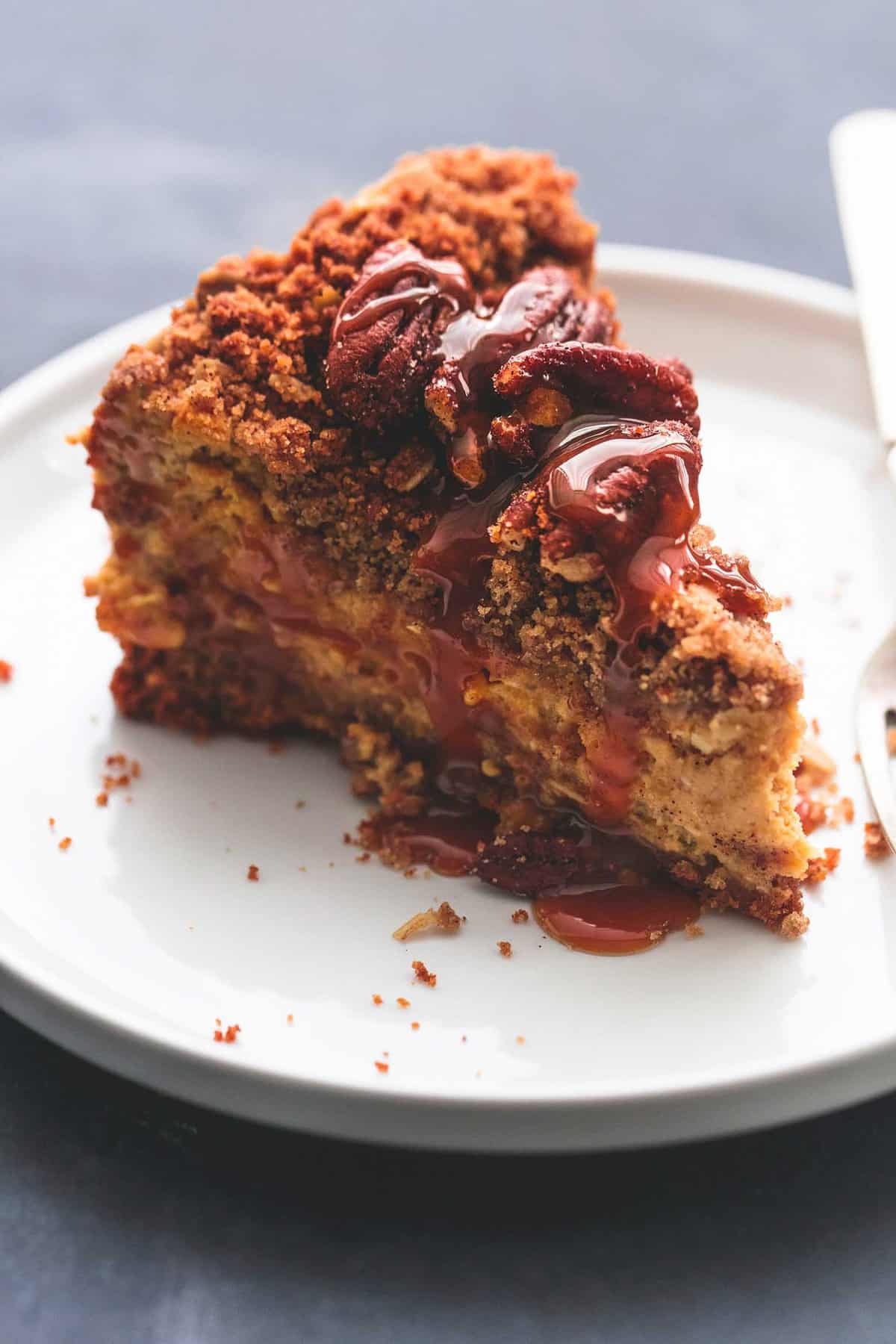 WHAT CAN I USE IF I DON'T HAVE A SPRING FORM PAN?
No springform pan? No worries! You can still make this dessert, you just have to have a little ingenuity. You can use a round or square cake pan, and line it with parchment paper or foil to make it easier to lift out of the pan when it's done and you're ready to serve it. Make sure to leave some overhang of the paper or foil so that you can easily grab it and lift the cake out.
You can also skip removing the cake from the pan all together and just serve it right out of the pan. It'll be harder to serve (at least that first piece) and it won't look as pretty, but it will taste just as delicious.
Caramel Pecan Pumpkin Cheesecake
Nothing will get you in the Fall mood like this cozy Caramel Pecan Pumpkin Cheesecake! This is hands down the most incredibly tasty and easy baked pumpkin cheesecake you will ever try!
Ingredients
Crust
1 ¾

cup

graham cracker crumbs

3

tablespoons

light brown sugar

½

teaspoon

ground cinnamon

½

cup

butter

-

melted
Filling
3

8-ounce packages cream cheese

-

at room temperature

1

15-ounce can pumpkin puree

-

NOT pumpkin pie filling

3

large eggs + one egg yolk

¼

cup

sour cream

1 ½

cups

sugar

1

teaspoon

ground cinnamon

¼

teaspoon

ground cloves

⅛

teaspoon

ground nutmeg

2

tablespoons

flour

1

teaspoon

vanilla extract
Streusel
½

cup

brown sugar

½

cup

flour

¼

cup

rolled oats

½

teaspoon

ground cinnamon

1

teaspoon

pumpkin pie spice

4

tablespoons

butter

-

softened
Topping
1

cup

pecans

2

tablespoons

butter

2

tablespoons

sugar

½

teaspoon

ground cinnamon

½

cup

caramel sauce
Instructions
Prepare the crust
In a medium bowl stir together graham cracker crumbs, brown sugar, cinnamon, and melted butter. Press into an even layer in the bottom of your springform pan.
Prepare the filling
In a large bowl cream together cream cheese, pumpkin puree, eggs, egg yolk, sour cream, sugar, vanilla, cinnamon, nutmeg, and cloves. Beat until smooth. Mix in flour. Pour into crust and spread evenly. 
Streusel
In a medium bowl whisk together brown sugar, flour, oats, cinnamon, and pumpkin pie spice. Cut in butter with a fork or smoosh in with your fingertips until mixture is crumbly. Spoon over the cheesecake layer.

Bake for 60 minutes, allow to cool for 15-20 minutes before covering and transferring to the fridge to chill for 4 hours.
Topping
In a medium skillet over medium-high heat, stir pecans for 1-2 minutes to toast them, then add butter and stir until melted and pecans are coated in the melted butter. Use a slotted spoon to transfer pecans to a paper towel. Stir together sugar and cinnamon, then sprinkle all over the pecans.

Top the cheesecake with the cinnamon-sugared pecans and drizzle with caramel sauce and serve.
Notes
Store covered tightly in fridge until ready to serve, up to two days. 
Nutrition
Calories:
529
kcal
,
Carbohydrates:
95
g
,
Protein:
7
g
,
Fat:
15
g
,
Saturated Fat:
3
g
,
Trans Fat:
1
g
,
Cholesterol:
69
mg
,
Sodium:
235
mg
,
Potassium:
215
mg
,
Fiber:
3
g
,
Sugar:
65
g
,
Vitamin A:
224
IU
,
Vitamin C:
1
mg
,
Calcium:
105
mg
,
Iron:
2
mg