Yayyyyy for curry. When I'm thinking comfort food, sure my mother's blue cheese mashed potatoes with made-from-scratch gravy come to mind, how can they not. But creamy red curry with a hint of coconut and lime with veggies, chickpeas, and basmati rice? That has to spell C.O.M.F.O.R.T. I will admit I've been found in several instances on the couch indulging in Gray's Anatomy re-runs, my gray fuzzy slippers I love so much because I can wear them both inside and outside, and a bowl of steaming hot curry. I crave it regularly. Like… right now.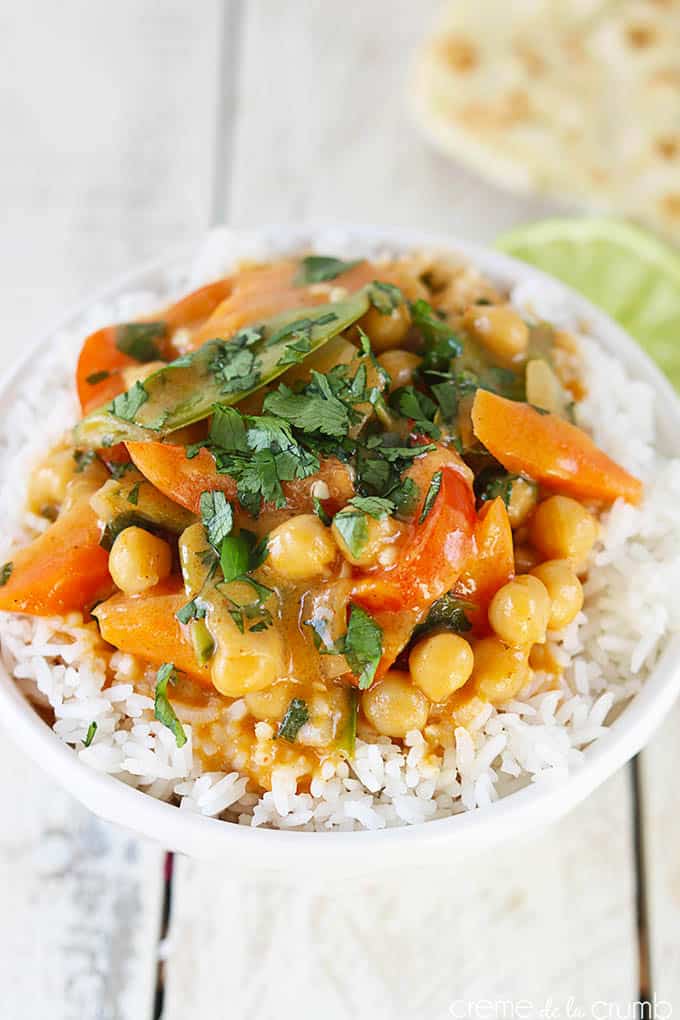 I'd really like to know – how do you feel about chickpeas? I was introduced to them only in the last couple of years when I discovered hummus. Where was hummus all of my life before that? Really. Shouldn't the ranch dip at parties be replaced with creamy hummus? Okay maybe not, I really love my ranch dip. But they should at least both be invited. One carrot with hummus, one carrot with ranch dip, one triscuit with hummus…. You see what I mean.
I don't think I'd just eat a handful of raw chickpeas, but they are a fantastic vehicle for something like curry. This meal comes together SO quickly. Seriously, I could push it to thirty minutes if I was realllllly being slow. But if I'm hungry (and I always am) there's no way this is taking longer than twenty minutes. Just chop those veggies, throw em in a pan and cook them til tender, add the rest of the ingredients, stir til warm, serve over rice. How easy is that? Crazy delicious, totally simple and ready to eat in no time at all – this Chickpea Curry is the perfect healthy weeknight dinner!
What people are saying about this Chickpea Curry
"This has become a household favorite, we make this at least once a month if not more, its really is delicious. Coconut milk and chickpeas are a must get at the store now!" – Val
"A delicious, fast, cost effective, and meat-free meal! I don't miss the meat. If you don't like spicy food 1/2 the red curry. I happen to love it!" – Dana
"This has become a household staple! I, too, was not really on the Chickpea bandwagon, but this and a few other recipes have me into them! We LOVE LOVE LOVE this recipe and make it about 1x/month! I've seen a few other comments about it being soupy. Ours was perfect the first time and then all previous times has been quite runny. I'm thinking less coconut milk? But it still tastes AH-MAZING, so we're good with it a little soupy!" – Morgan
Chickpea Curry
A quick and simple creamy curry dish with chickpeas, veggies, and a hint of coconut! So easy - it's ready in just twenty minutes, plus it's healthy!
Ingredients
1

cup

snow peas,

sliced crosswise

1/2

white onion,

diced

1

large

carrot,

peeled and thinly sliced

1/2

red pepper,

thinly sliced

2

teaspoons

oil

2

teaspoons

garlic,

minced

2

14-ounce cans

coconut milk

3

tablespoons

red curry paste

juice of 1 lime

1

teaspoon

yellow curry powder

1

15-ounce can

chickpeas/garbanzo beans

1/2

teaspoon

garlic salt

1/2

teaspoon

salt,

or to taste

1/4

cup

cilantro,

chopped

optional: cooked white rice
Instructions
Add snow peas, onions, carrots, red peppers and oil to a large pan or nonstick skillet and sauté over medium-high heat 5-6 minutes until veggies are tender.

Add garlic and cook another minute or so until garlic is fragrant.

Add coconut milk, red curry paste, lime juice, yellow curry powder, chickpeas, garlic slat, and salt. Continue to cook and stir until chickpeas are heated through (about five minutes). Stir in cilantro. Taste and add salt if desired. Serve warm over rice and top with additional cilantro.

Notes
*You may add cooked meat if you prefer a non-vegetarian version. I suggest chicken or shrimp!
Recipe adapted from How Sweet It Is.