Cheesy chicken melts with jalapeños and a spicy cajun mayo sauce! For those who like it HOT!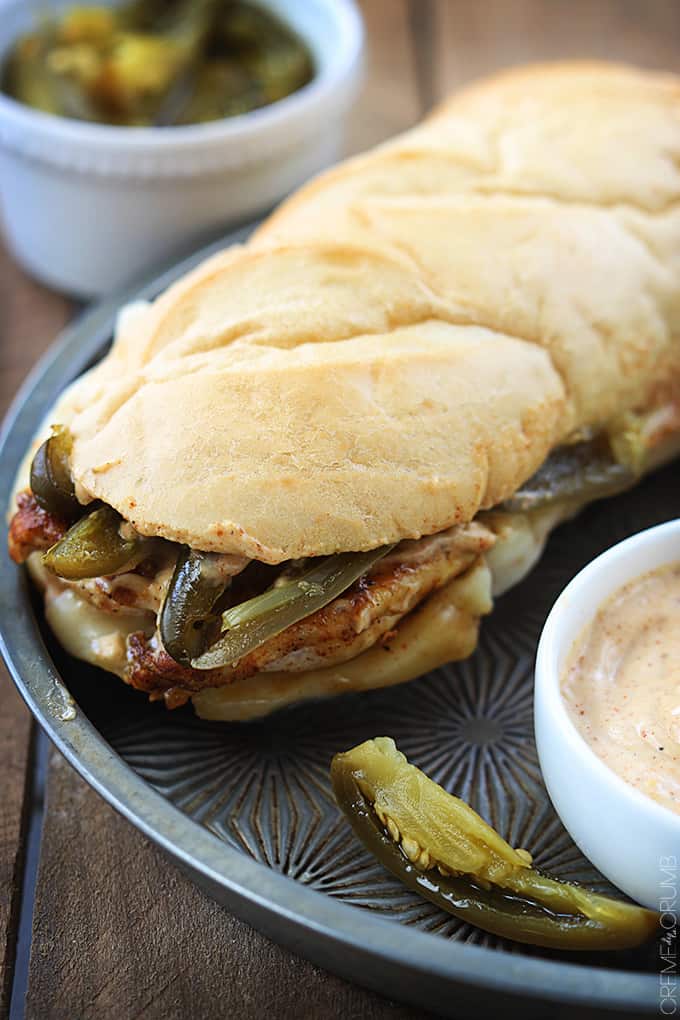 I have a mucho grande problem. It's called: I like food really really ridiculously hot and spicy and no one else seems to be on board. Seriously though. This is a problem. When I say I like it hot, I mean HOT. And I have yet to find more than one other person besides myself who can handle that kind of heat. That person is my brother David. Most of the time (read: all of the time) I have to tone it down for the people who are eating with me. Otherwise I'll be in heaven and everyone else will be in . . . an unhappy place. These sandwiches are for those who like it pretty dang spicy but not quite insanely spicy. Know anyone like that? Send them my way. I've got just the sandwich.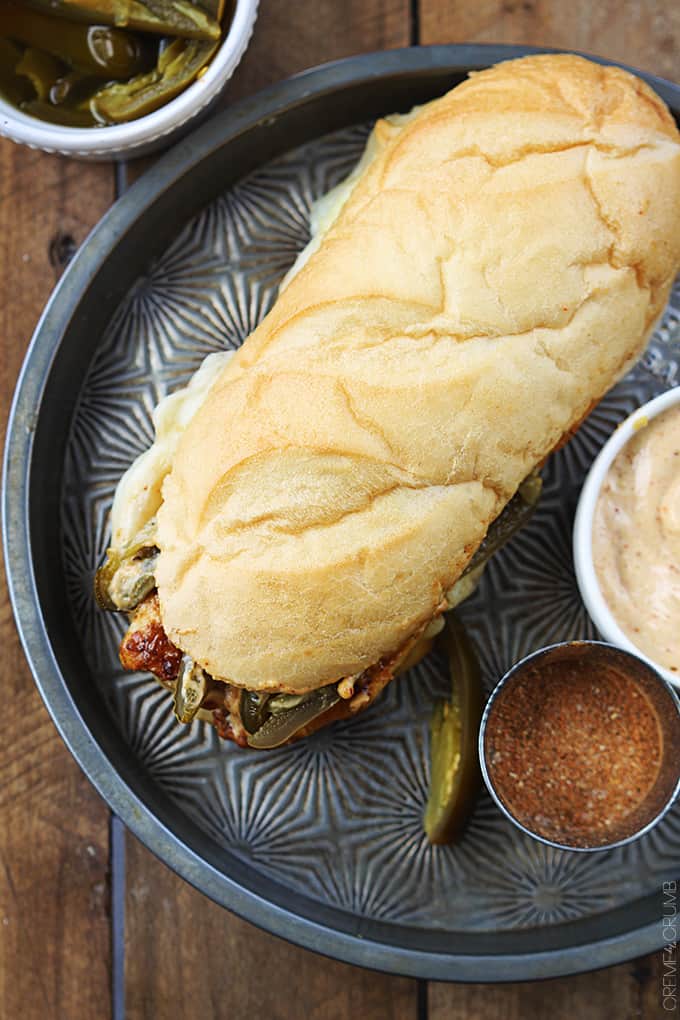 Oh. Funny story about these sandwiches. My husband came back from a business trip 8 months ago raving about some crazy sandwich he tried while out of town that was super spicy and totally delicious. He described it and begged me to reinvent it. So I came up with the sandwich I'm sharing with you today. We absolutely l.o.v.e. it and I've made it many times since that first reinvention.
I would have shared it with you sooner but the first time I tried to photograph it, I just plain butchered the photos, they looked terrible. The second time, I messed up the photos again (a white balance problem, for those who care to know).  It was an execution error this time and I could have passed it off as a bad day, but I couldn't bear to post them online because they just didn't do the sandwich justice. Honestly, I'm still not sure if I'm crazy about these photos but I do think that they might help portray the spicy deliciousness that this sandwich has to offer. Yes? Sorta? Not really?
I give up.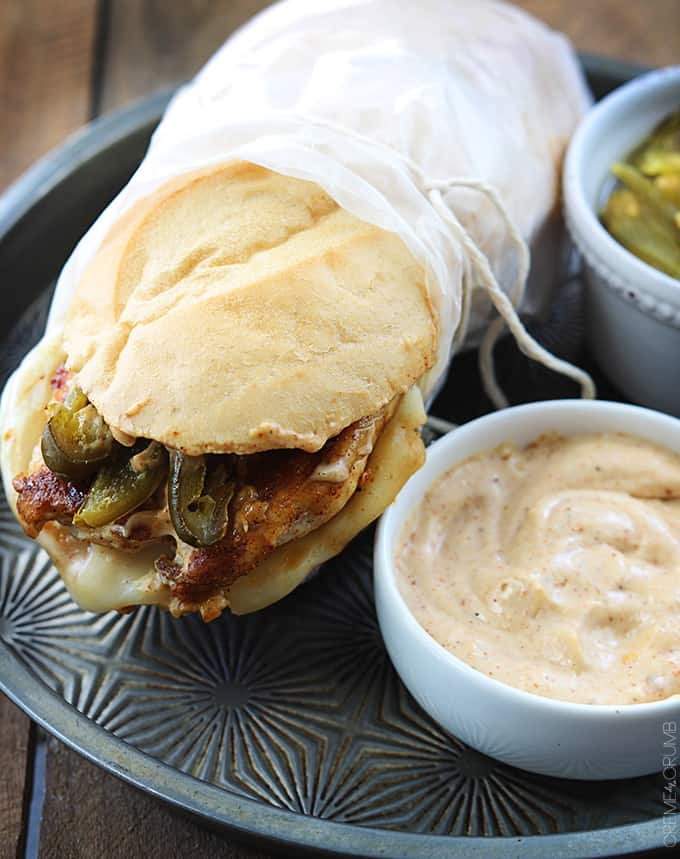 And then there was the issue of naming this sandwich. Apparently the inspiration for this recipe was called a "firecracker chicken sandwich", which I could have adopted, but firecracker chicken tends to conjure up images of saucy Asian dishes in my mind and this is definitely not an Asian-style sandwich. I toyed with names like Cajun Chicken Sandwiches, Jalapeño Chicken Sandwiches, Burn Your Mouth Off Hoagies, Fiery Chicken Melts, and a few other not-so-relevant titles, but eventually came to rest on something of a hybrid: Fiery Jalapeño Chicken Melts with Spicy Mayo. I know, it's a mouthful, but so are these sandwiches!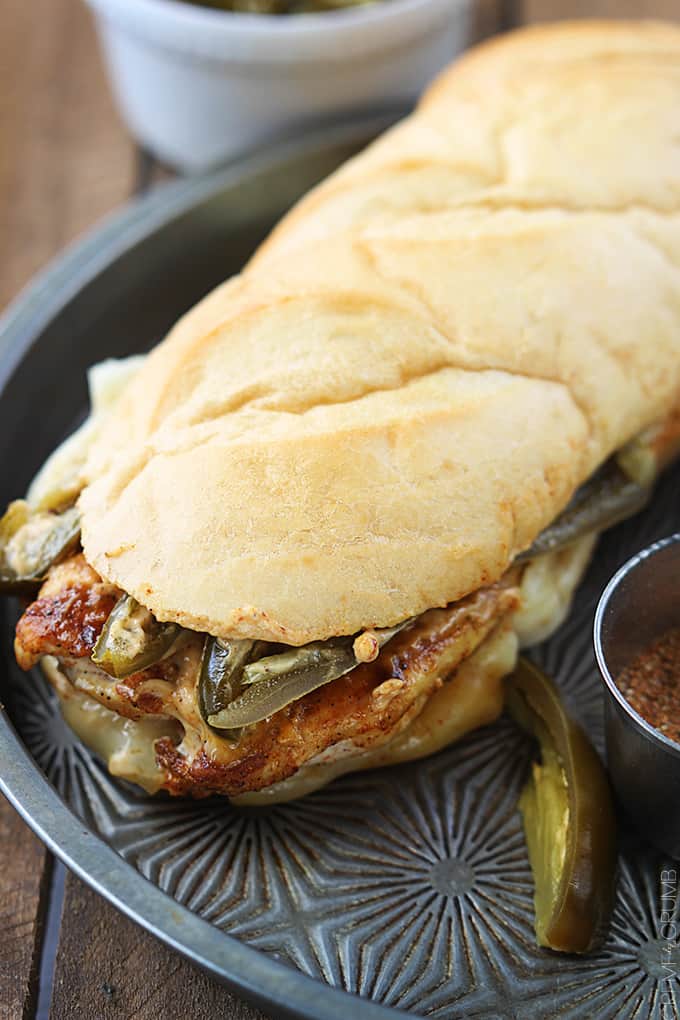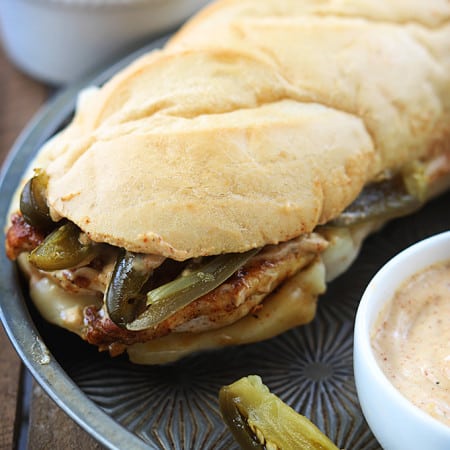 Fiery Jalapeño Chicken Melts with Spicy Mayo
Cheesy chicken melts with jalapeños and a spicy cajun mayo sauce! For those who like it HOT!
Ingredients
4

boneless skinless chicken breasts

-

pounded to ½ inch thickness

4

teaspoons

cajun seasoning

-

divided, (store bought OR see my favorite homemade version below)

8

slices

provolone cheese

½

cup

mayo

½

cup

canned sliced jalapenos

4

hoagie rolls
Sweet and Spicy Cajun Seasoning
1

teaspoon

salt

1

teaspoon

garlic powder

1 ½

teaspoons

paprika

½

teaspoon

pepper

½

teaspoon

onion salt

½

teaspoon

cayenne pepper

½

teaspoon

oregano

¼

teaspoon

red pepper flakes
Instructions
Preheat oven to broil.

Whisk together all ingredients for cajun seasoning.

Rub 2 teaspoons of the cajun seasoning into the chicken breasts.

Store at room temperature.

Cook in a large pan or nonstick skillet over medium heat 4-5 minutes on each side until cooked through.

Cut the hoagie rolls lengthwise and place two slices of provolone cheese on each of the "bottom" halves of the rolls. Place them on a baking sheet and cook under the broiler for 2-3 minutes until cheese is melted.

While the bottoms of the rolls are broiling and the cheese is melting, whisk together mayo and remaining 2 teaspoons cajun seasoning and spread the sauce onto the top halves of the rolls. When cheese is melted, remove bottom halves from oven.

Place chicken breasts on top of the melted cheese and then place jalapeños on top of the chicken. Top each chicken breast with the top half of the hoagie rolls. Serve warm.
Notes
As written, this recipe is quite spicy! Tone down the heat by scaling back the cajun seasoning and jalapenos. 
Nutrition
Calories:
631
kcal
,
Carbohydrates:
35
g
,
Protein:
40
g
,
Fat:
36
g
,
Saturated Fat:
10
g
,
Trans Fat:
1
g
,
Cholesterol:
110
mg
,
Sodium:
1809
mg
,
Potassium:
503
mg
,
Fiber:
1
g
,
Sugar:
5
g
,
Vitamin A:
591
IU
,
Vitamin C:
4
mg
,
Calcium:
309
mg
,
Iron:
12
mg