Juicy and tender beef, pressure cooked to perfection and piled high on a toasted bun with melty provolone cheese for the BEST Instant Pot French Dip Sandwiches recipe.
For more delicious, quick, filling Instant Pot meals, try these recipes this week: Instant Pot Chicken and Gravy, Instant Pot Honey Teriyaki Chicken, and Instant Pot Shredded Chicken Tacos.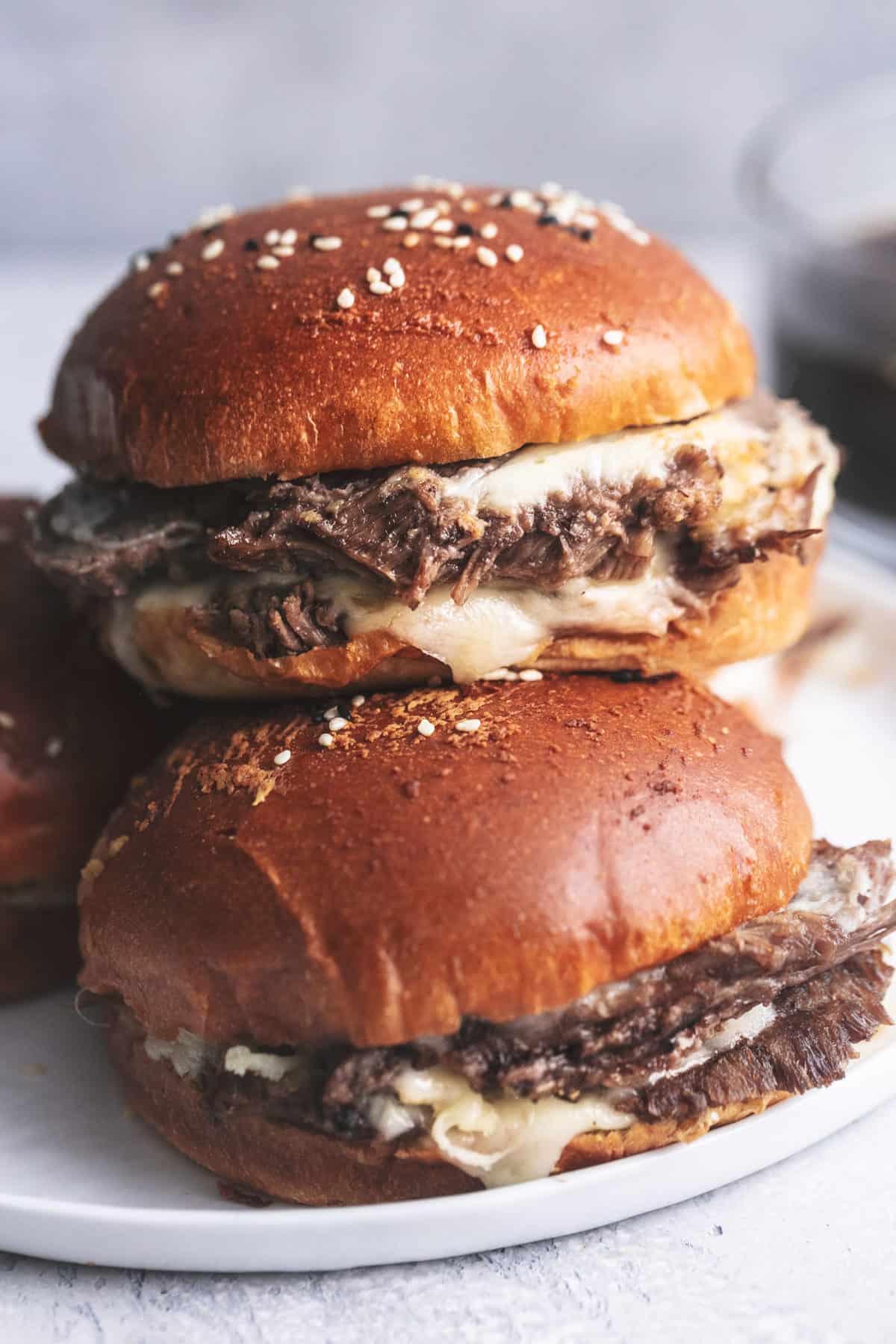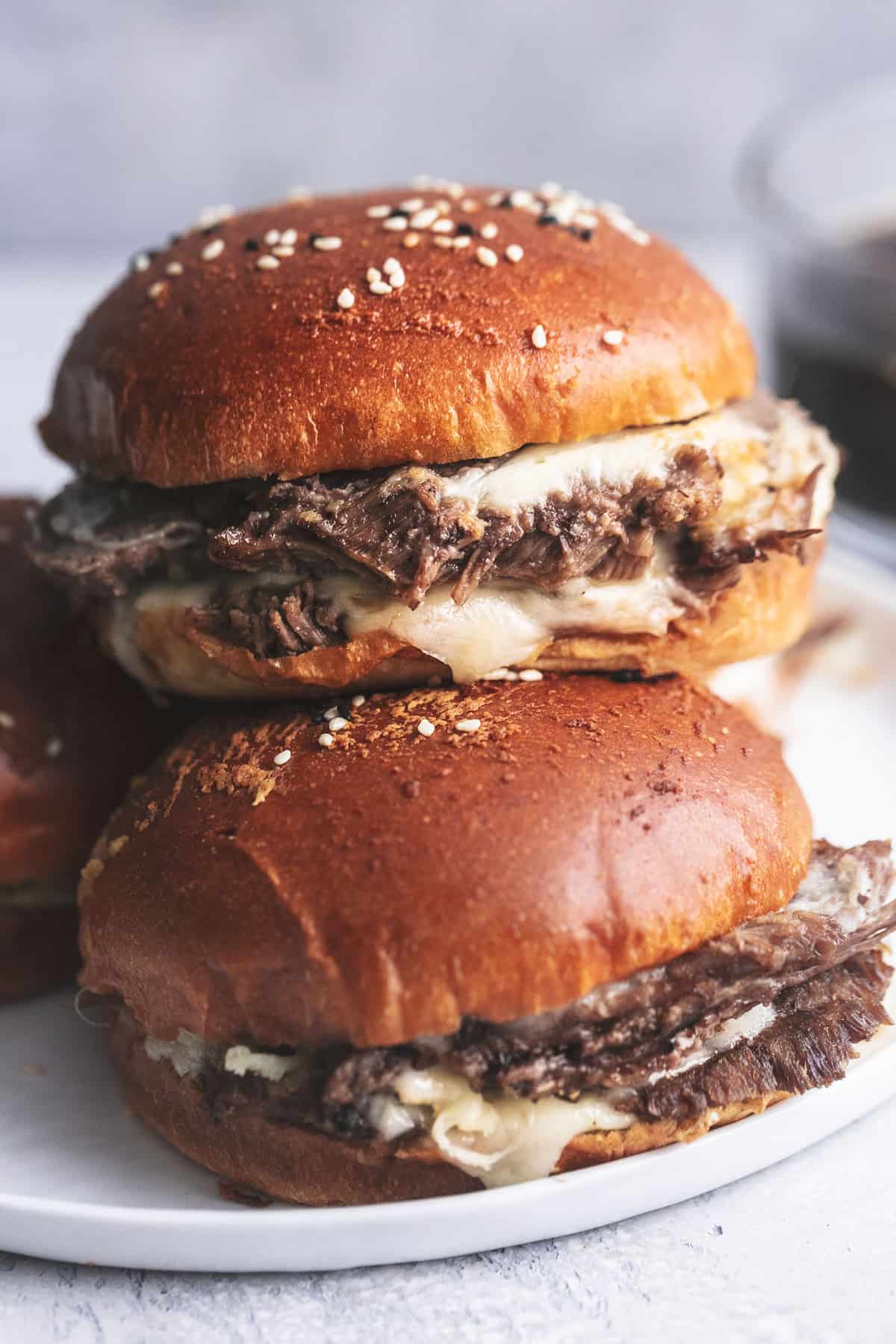 Well, I just had the most fun-filled wedding weekend with my whole family celebrating one of our own and I'm still on cloud nine thinking about how much love and family togetherness was celebrated over the course of a couple of days. The kiddos couldn't have been cuter and thoroughly enjoyed their cousin time together with the other little ones running around the dance floor. 
You know how it is when you come off a fun-filled family weekend like that, whether you just celebrated a wedding or a milestone birthday or a reunion, it's a total blast from dawn to dusk and then when everyone goes home you're kind of left feeling happy but also a little sad. It's definitely bittersweet. 
In these times (which are more and more frequent as my family, as you know, is a pretty large one), I channel my happiness and even the little bit of sadness into some home cooking. I mean, next to my family, nothing brings a smile to my face quicker than food! This time around I decided some Instant Pot sandwiches were in order. And not just any sandwich, but a nice, warm, cheesy, tender, beefy sandwich creation: Instant Pot French Dip Sandwiches.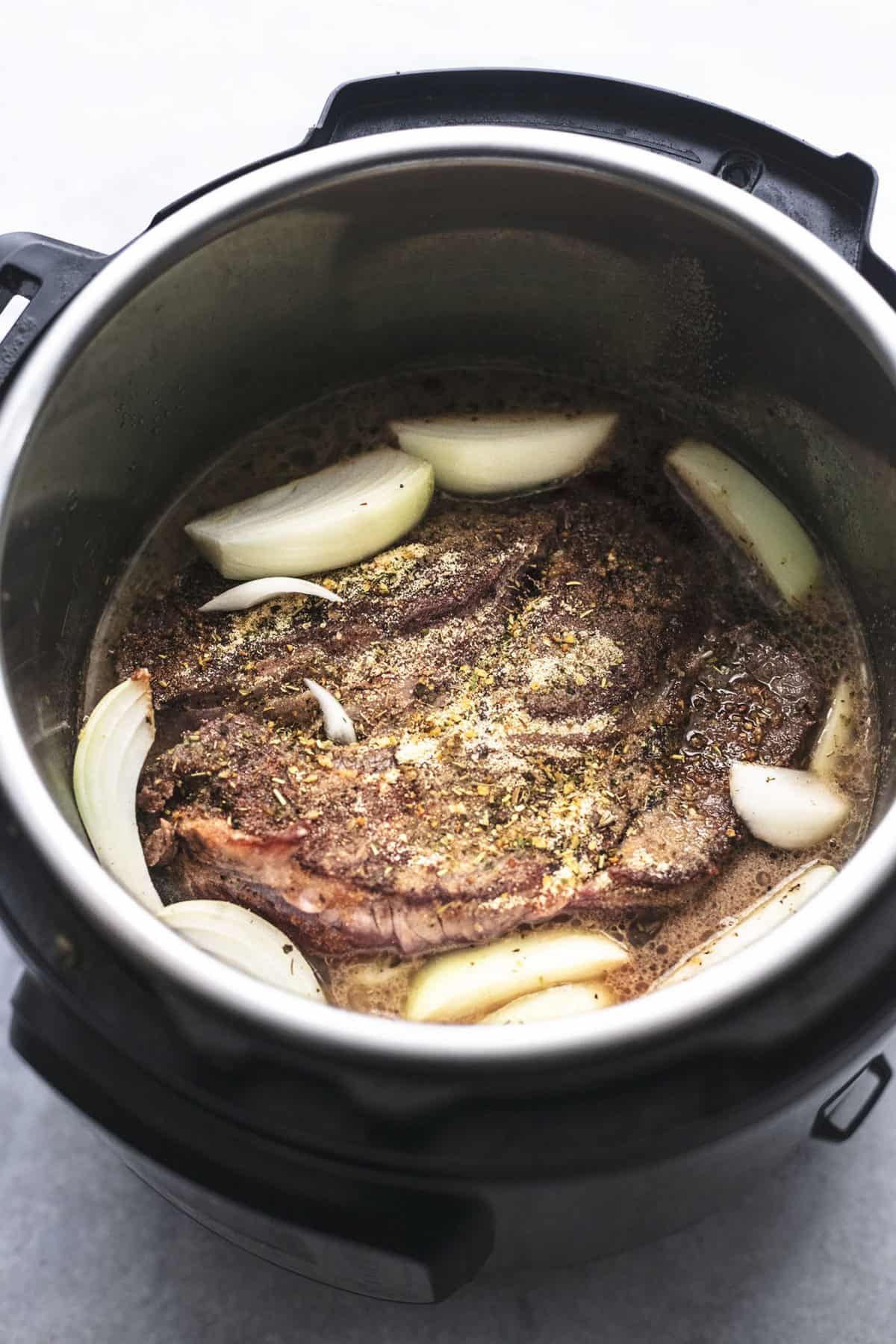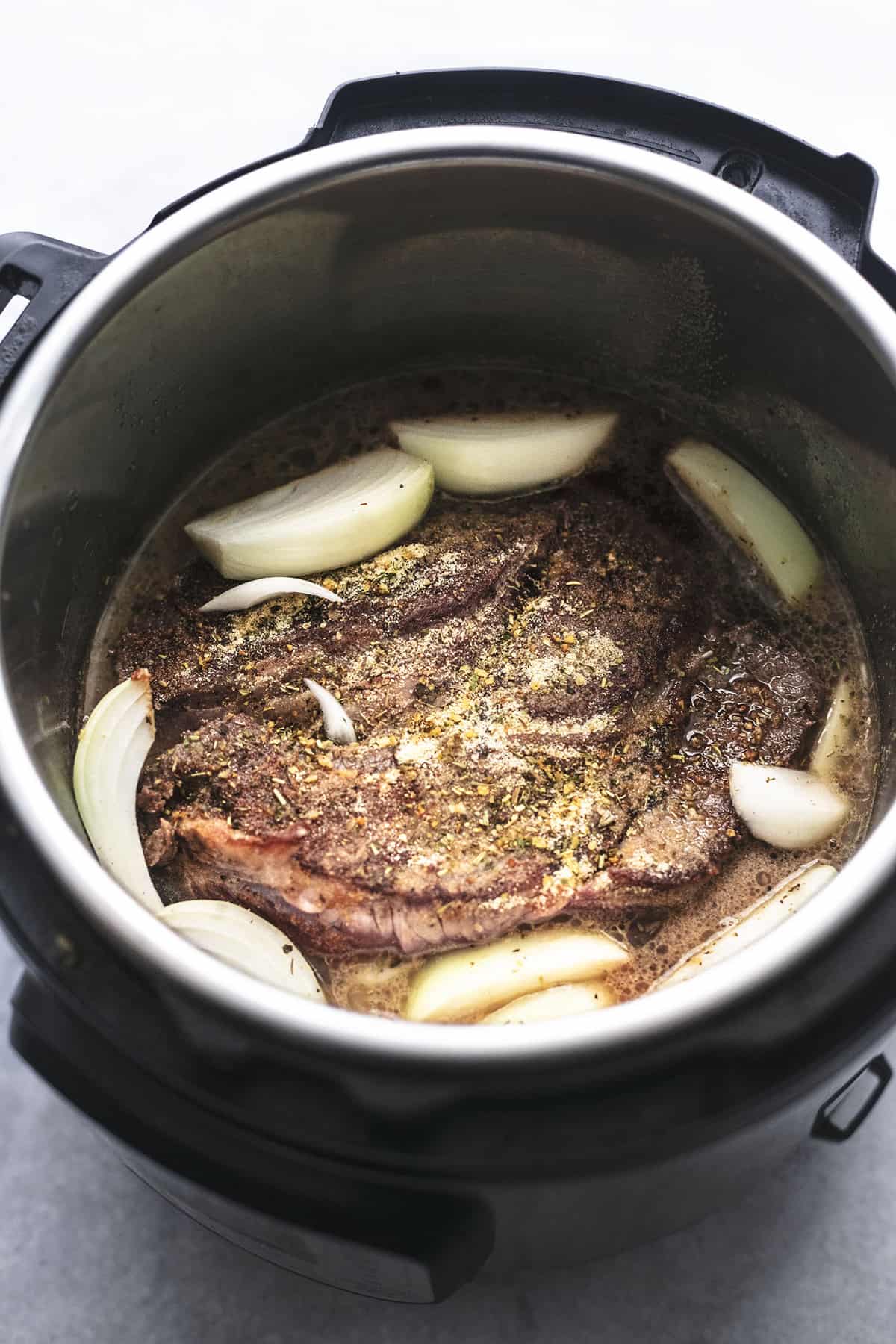 WHY IS A FRENCH DIP CALLED A FRENCH DIP?
Much like the Buffalo chicken wing, (for a great one try my Crispy Korean BBQ Oven Baked Chicken Wings,) a couple of different restaurateurs claim to have created the French Dip Sandwich recipe. Except instead of being from Buffalo, these restaurant owners were both in L.A. at the time of its supposed creation. 
The story goes that either Philippe's The Original or Cole's Pacific Electric Buffet restaurants were the first to serve the French Dip. Either it was created by Philippe accidentally dropping a roast beef sandwich into a pan of juices and serving it like that anyway or by a chef at Cole's who designed the sandwich to be purposefully soft to aid a patron who had just had dental work and wanted to be able to eat it. 
Why is it called specifically "French"? There's no clear answer on that either, except if it was created by Philippe, then he had French heritage, or because it was served on a French roll. Who knows! I'm just glad it exists!
WHAT IS AU JUS? 
As you can probably guess, "Au Jus" is a French term that means "with juice" or "containing juice." Typically, you'll find Au Jus accompanying a meat dish because the sauce is made from the meat drippings created by the meat cooking. In French cooking, Au Jus is used to enhance the flavor of the dish, while in American cooking, it's used more as a dip or side sauce.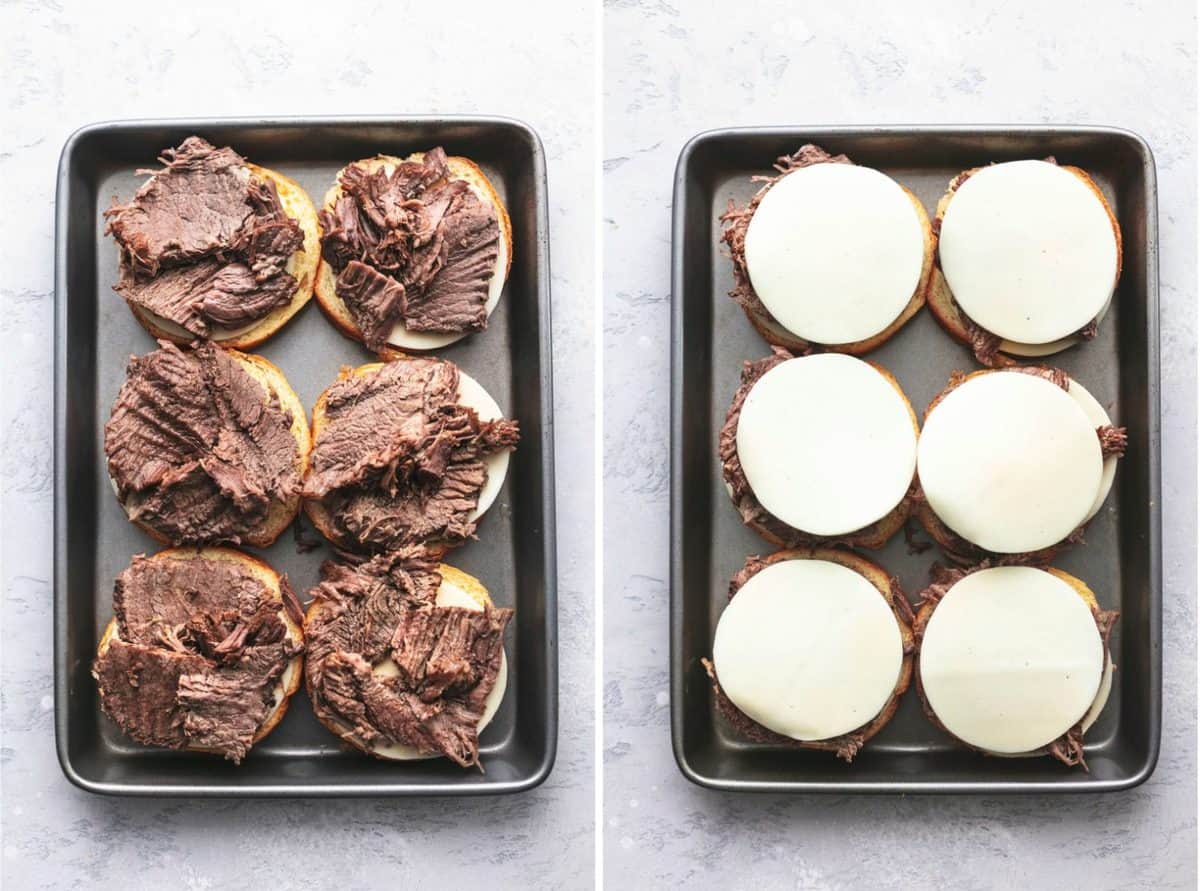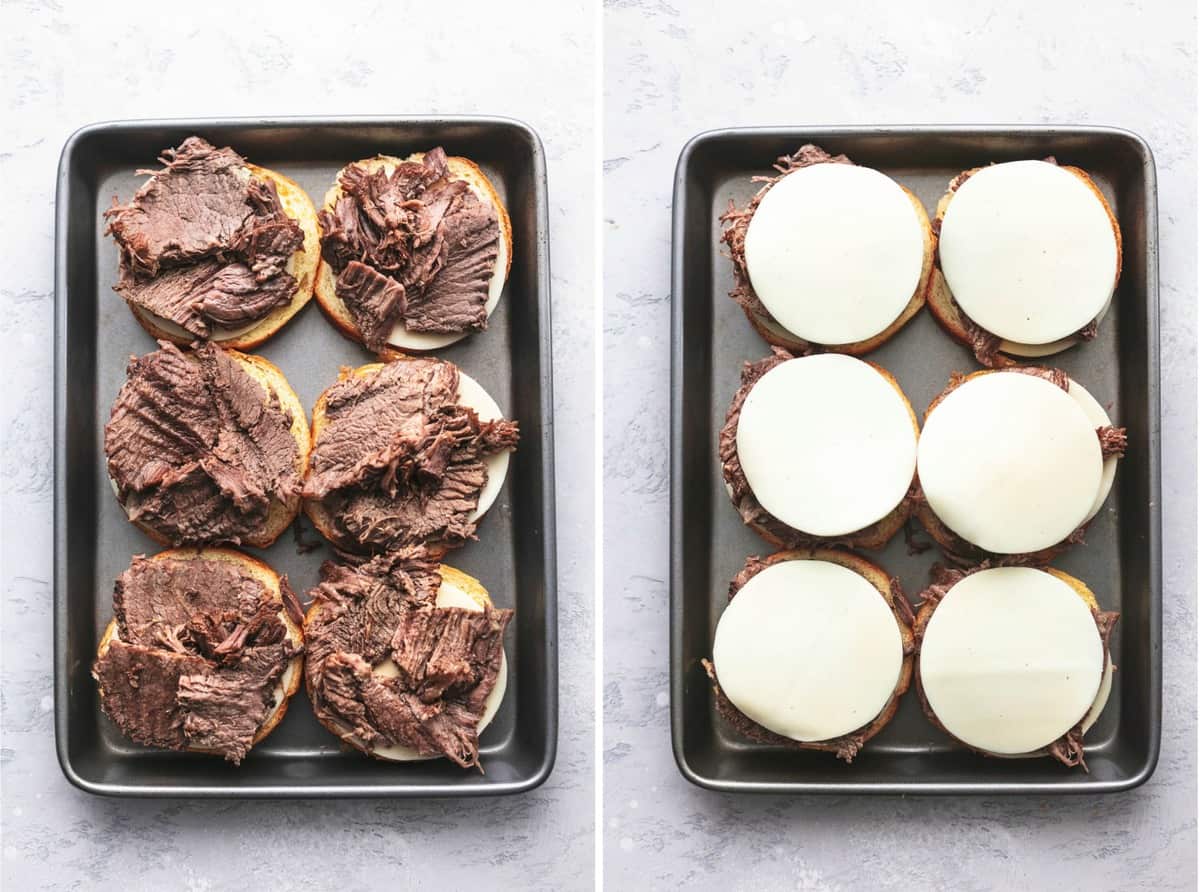 WHAT IS THE DIFFERENCE BETWEEN A FRENCH DIP SANDWICH AND AN ITALIAN BEEF SANDWICH?

As if the origins of the French Dip Sandwich weren't confusing enough, now we also have the Italian beef sandwich to contend with. Are they the same thing? I mean, France and Italy are pretty close together on a map, maybe someone just took one recipe and swapped out the nationality? Could be, but there are slight differences between the two sandwiches. 
A French Dip, as the name suggests, is a beef sandwich with melted provolone that is dipped into an Au Jus sauce. 
An Italian beef is a sandwich that is made using roast beef that is cooked, sliced, and then poached in its own gravy for a second cooking. It's also topped with cooked bell peppers or Giardiniera. The Italian beef sandwich was created in Chicago by Italian-American immigrants.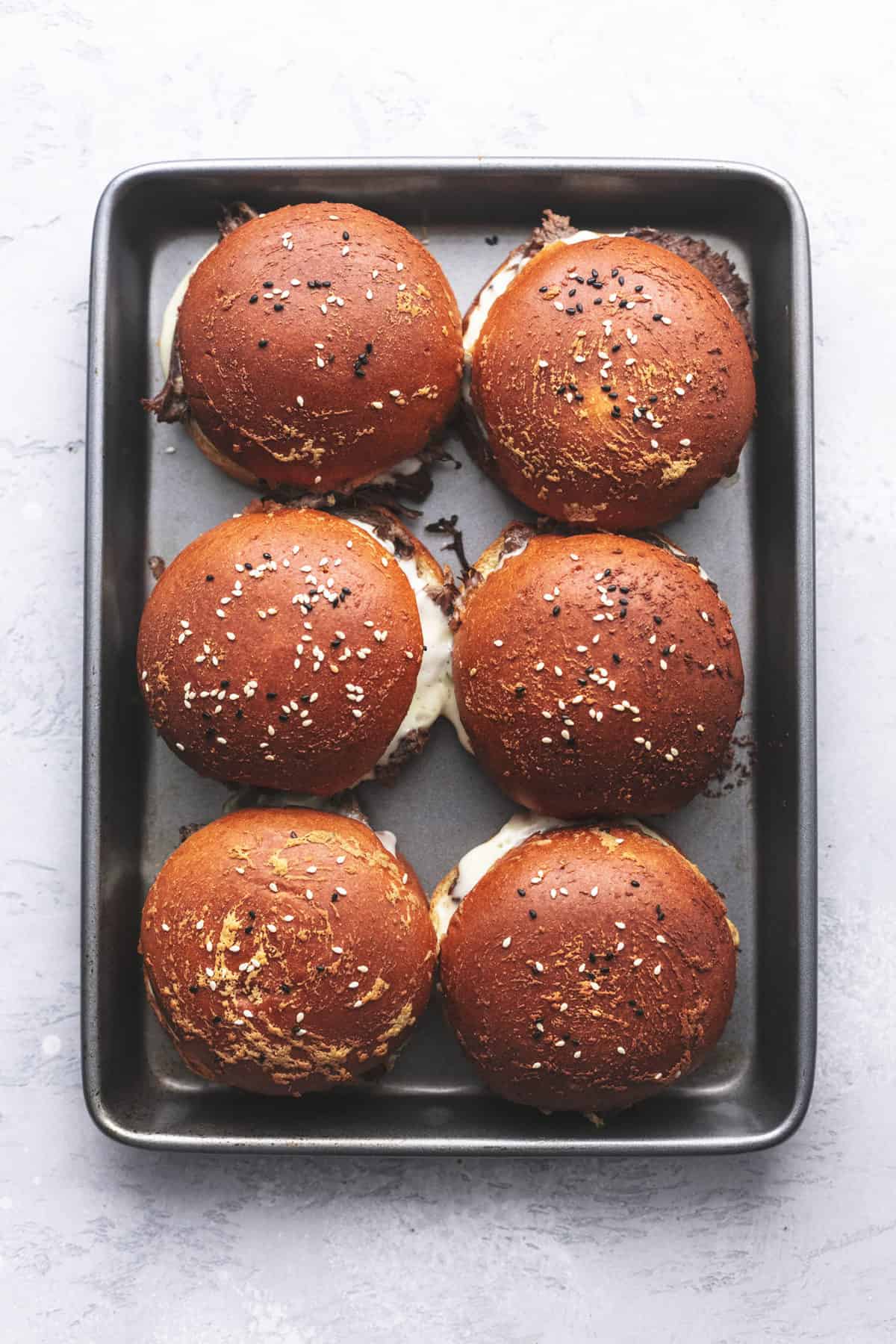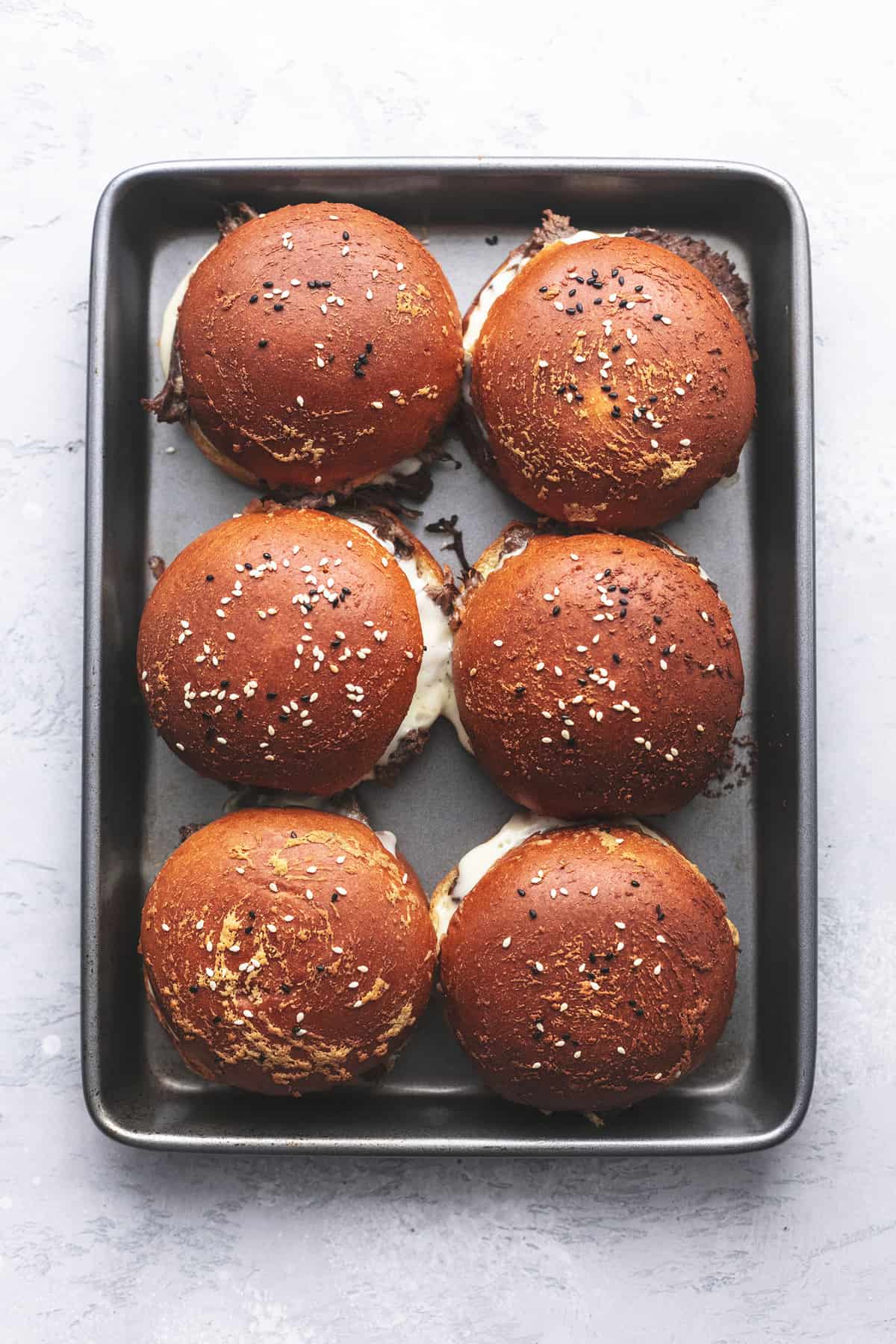 WHAT SIDES GO WITH INSTANT POT FRENCH DIP SANDWICHES?

This Instant Pot French Dip recipe can cure what ails you sure, but you know what's even better than eating this sandwich by itself? Eating it alongside other awesome sides, like: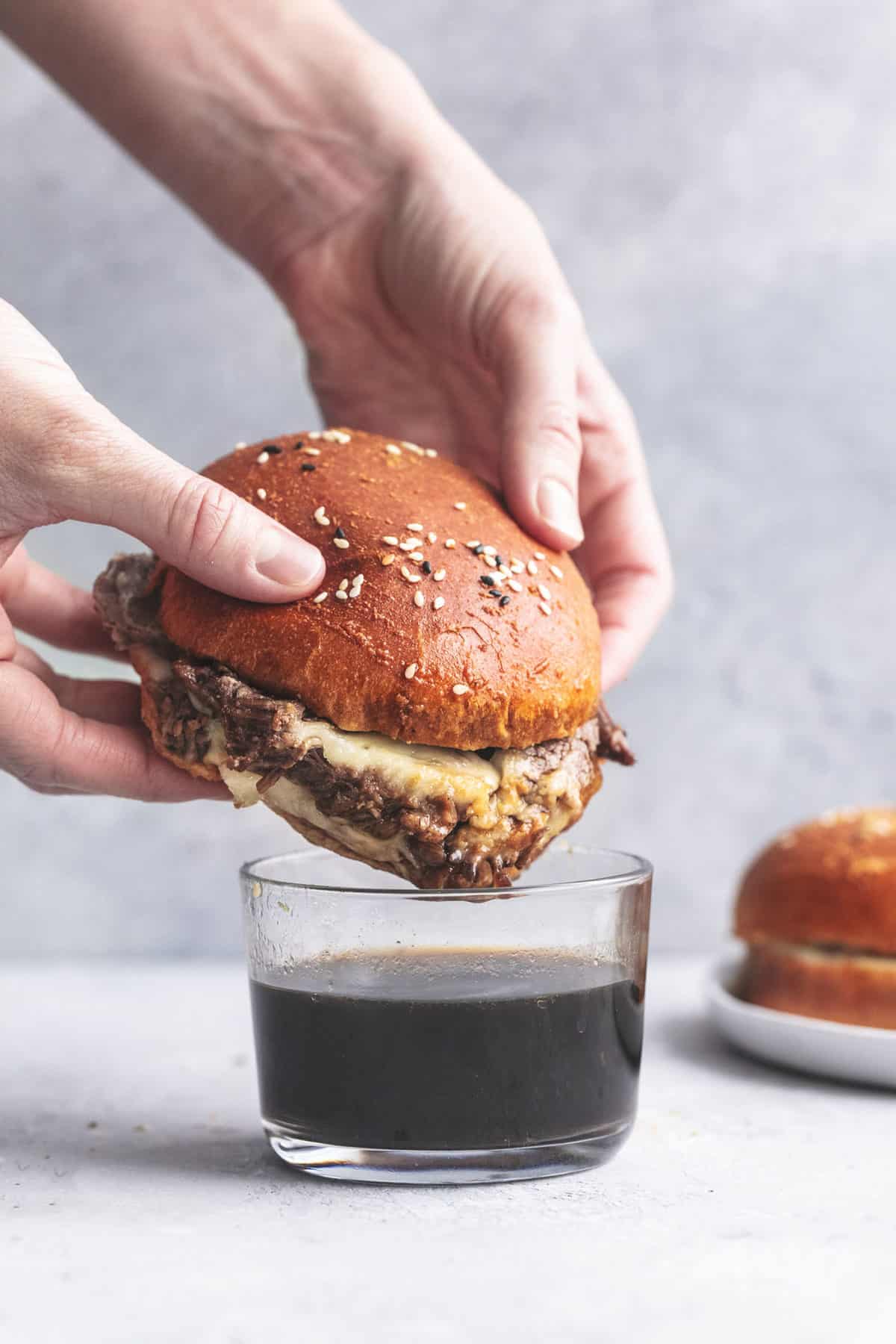 What people are saying about these Instant Pot French Dip Sandwiches
"I LOVED this recipe! I made it tonight and it was fantastic. My family loved it and I was so simple to make. I actually used chicken broth because I forgot to get beef at the store and it was still delicious!" – Jessica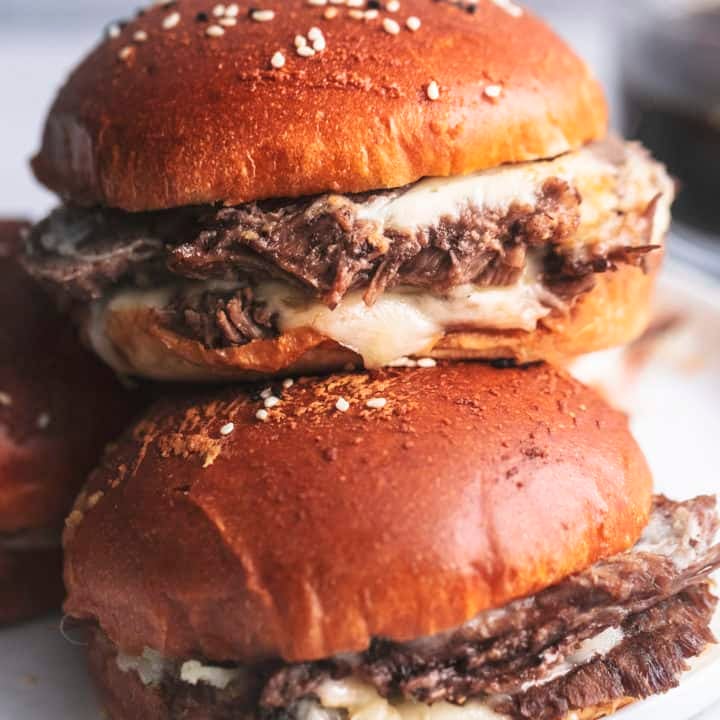 Instant Pot French Dip Sandwiches
Juicy and tender beef, pressure cooked to perfection and piled high on a toasted bun with melty provolone cheese for the BEST Instant Pot French Dip Sandwiches recipe.
Ingredients
For the Beef
2 ½ - 3

pound

chuck roast

3

tablespoons

oil

1

teaspoon

salt

½

teaspoon

pepper

3

cups

beef broth

¼

cup

low sodium soy sauce

3

tablespoons

Worcestershire sauce

1

white or yellow onion

-

sliced

2

teaspoons

garlic powder

1

teaspoon

onion powder

1

teaspoon

dried Italian herb seasoning blend

-

or Herbs de Provence
For the Sandwiches
24

slices of provolone cheese

-

see note

12

brioche buns

-

see note

4

tablespoons

butter

-

melted

3

teaspoons

dijon mustard

½

teaspoon

garlic powder

1

teaspoon

sesame seeds

-

optional

prepared au jus sauce

-

see note
Instructions
Set pressure cooker to SAUTE and drizzle with 1 tablespoon oil.

Rub 1 tablespoon of oil all over the beef, then season with salt and pepper.

Use tongs to arrange the beef in the pot. Sear for about 2 minutes, then turn and continue to sear on all sides until browned all over.

Add beef broth, soy sauce, worcestershire sauce, onions, garlic powder, onion powder, and dried herbs.

Place lid on the pot and slide into the locked position. Turn vent valve to SEALED position.

Set pot to MANUAL or PRESSURE COOK for 60 minutes. (see note if using a frozen roast)

Once cook time is up, do nothing while the pot naturally depressurizes for 15 minutes. Mean while preheat oven to 375 degrees.

Turn knob to VENTING position and remove lid once float valve drops.

Transfer meat to a large cutting board. Slice against the grain, or shred with two forks into chunks (don't shred it too finely, see note). Pour 1 cup of the juices from the pot over the beef to keep it really moist.

Line a baking sheet with the bottom half of the buns. Top each with a slice of cheese. Divide the meat between the buns. Top with another slice of cheese and the top of the bun.

In a small bowl stir together butter, dijon mustard, and garlic powder. Brush over the tops of the buns. Sprinkle with sesame seeds if desired.

Cover loosely with foil and bake for 10 minutes until cheese is completely melted. Remove foil and bake another 3-5 minutes until buns are lightly toasted. While sandwiches are baking, prepare au jus sauce. Serve with au jus sauce for dipping.
Notes
1) I used a chuck roast, a rump roast would also work well. 
2) To start with a frozen roast, skip the searing step and double the cook time. 
3) DIY dried herb blend: 1/4 teaspoon each dried thyme, parsley, oregano, and basil.
4) For extra cheesy sandwiches, use two slices of provolone per sandwich - one beneath, and one on top of the beef. For a lighter version, just use one slice of provolone per sandwich. 
5) I love these sandwiches on brioche buns, but you can also use a hoagie roll or something similar. 
6) You can make au jus sauce from scratch, but I personally like to save the time and use the concentrate found at most grocery stores. Simple follow the directions on the bottle (1 part concentrate to 1 part water) and simmer on the stove for about 10 minutes while the sandwiches are baking. 
7) I prefer to slice across the grain rather than shred the beef - it feels more like a traditional french dip sandwich and the meat tends to be more tender this way. 
Nutrition
Calories:
951
kcal
,
Carbohydrates:
42
g
,
Protein:
60
g
,
Fat:
61
g
,
Saturated Fat:
29
g
,
Trans Fat:
1
g
,
Cholesterol:
313
mg
,
Sodium:
1580
mg
,
Potassium:
847
mg
,
Fiber:
1
g
,
Sugar:
1
g
,
Vitamin A:
1253
IU
,
Vitamin C:
1
mg
,
Calcium:
387
mg
,
Iron:
6
mg