Buttery One Pot Lemon Herb Chicken & Rice with lemon herb spices all fixed in 30 minutes in one pot!
Loving one pot wonders for busy nights? You've gotta try One Pot Cashew Chicken Ramen, One Pot Enchilada Orzo, and One Pan Mediterranean Chicken with Roasted Red Pepper Sauce.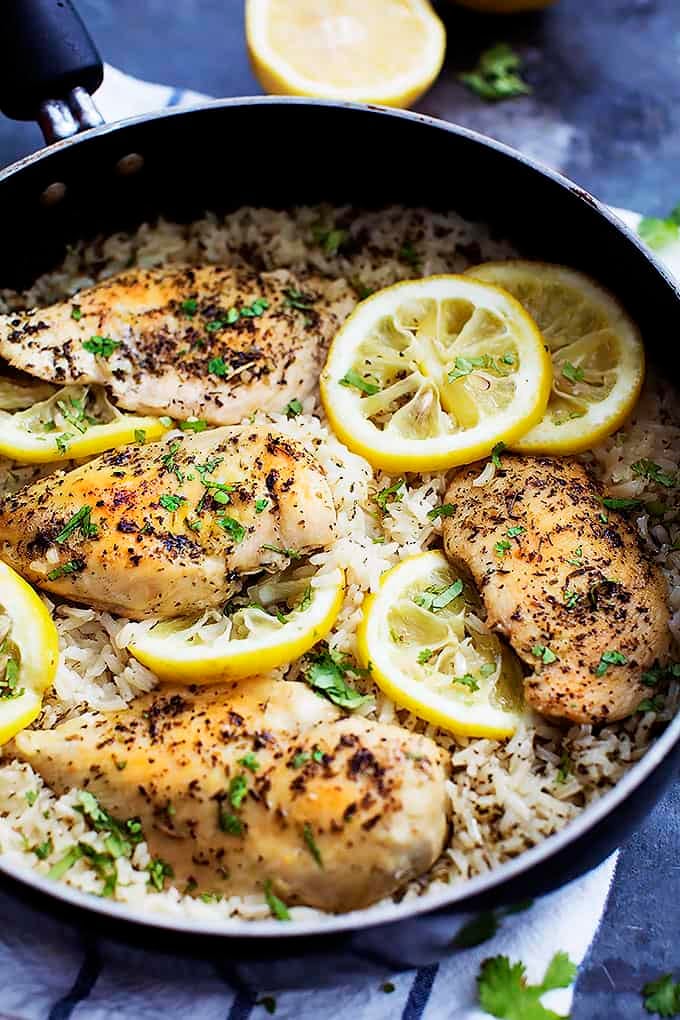 This is an ankle socks moment.
Trust me, it's not what you think.
I grew up in the nineties so if you can remember back that far (woah) you might recall those long socks we used to wear all the time reaching anywhere from two to five inches above your shoes. I was fairly young and easily influenced when the ankle sock movement began but my 8 (yes eight) older siblings were not so easily swayed. When I finally gave into peer pressure and tried on my first pair of ankle socks…. revolutionary.
I experienced a similar awe with my first pair of skinny jeans. It's that where have you been all my life feeling.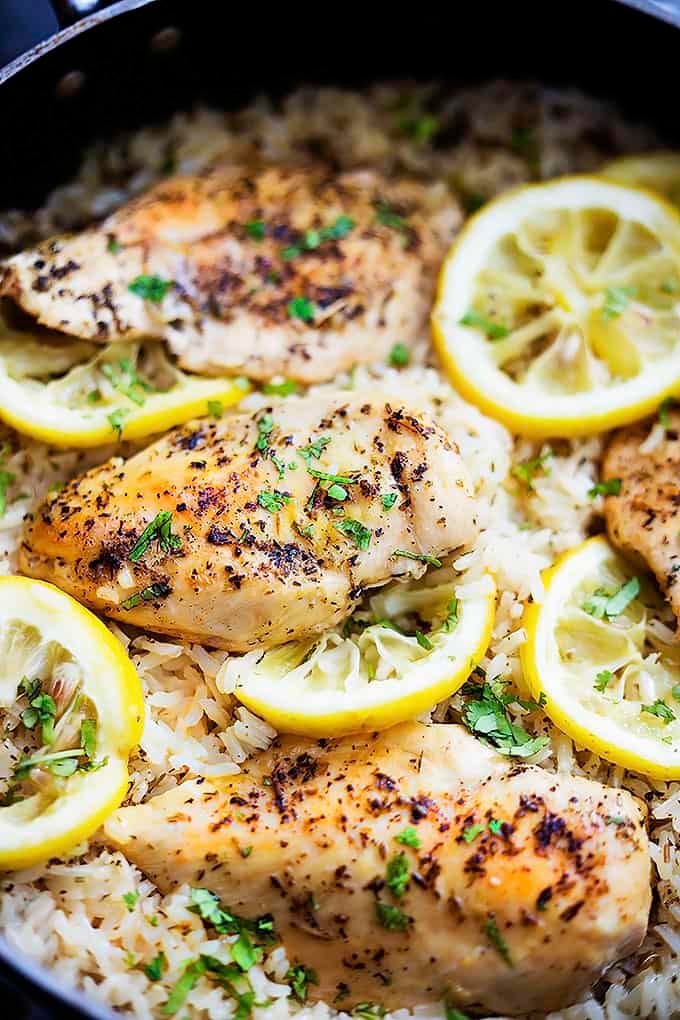 This is an ankle sock moment. Where have you been all my life one pot dishes?? Why has everyone else in the world known how wonderful they were while I avoided them?
I have no good answers for those questions. But it doesn't really matter one way or the other – one pot dishes are here to stay on this blog. Do you mind?
Try this one out and I guarantee you won't mind one bit!
What people are saying about this One Pot Lemon Herb Chicken & Rice
"I made this tonight, oh my, it was amazing, I followed the easy instructions carefully and I took pictures of the yumminess and sent it to all my girls. Thank you, this is definitely a keeper! Company will be impressed with it. I served it with dill carrots! Cant wait to eat the leftovers!" – Danita
"We loved this recipe! I modified it for my family of 6: used about 2 lbs chicken (about 2 large breasts). I pounded it down and cut into 8 pieces. Doubled the rice ingredients. I find with regular rice I have to bring it to a boil and then stir it before I put a lid on it for it to not seem "crunchy." After I stirred it, I added the chicken on top. This is a great summer dish!" – Karisa
"I made this yesterday, it was so easy and so good. I made it with quinoa which took about 45 mins. I wish I had read the comments about simmering for 15 and adding the chicken later so it doesn't over cook. However my chicken was still moist and turn out yummy still! But great note and great recipe!" – Janet
"This dish is fantastic in so many ways! Definitely deserves that 5th star. I have a one year old and a two year old that loved it. And with a one year old and two year old I have bath time immediately following dinner so the one pan makes for very quick clean up. It is so delish I can't wait for left overs the next day! When I made this dish I only had 1 1/4 cup of chicken broth so I ended up using 1 cup water with a chicken bouillon cube." – Whitney
One Pot Lemon Herb Chicken & Rice
Buttery chicken and lemon herb rice all fixed in 30 minutes in one pot!
Ingredients
4

boneless skinless chicken breasts

2

tablespoons

butter

salt and pepper to taste

2

teaspoons

Italian seasoning
Rice
1

cup

uncooked white rice

2 1/4

cups

chicken broth

(I used low sodium)

juice of 1 lemon

1

teaspoon

Italian seasoning
Instructions
Melt butter over medium heat in a large skillet or pan (one that has a lid). Season chicken with salt and pepper to taste, and Italian seasoning. Brown chicken in the butter for 1-2 minutes on each side. (Chicken shouldn't be cooked through at this point) Transfer chicken to a plate.

Add rice, chicken broth, lemon juice, and remaining Italian seasoning to the pan (no need to clean it first). Place chicken on top, then cover and simmer over medium-low heat for 20-25 minutes until liquid is dissolved.

Garnish with fresh parsley or cilantro if desired and lemon wedges for squeezing. Serve immediately.