This tasty Roasted Cauliflower Soup features crispy browned cauliflower, butter-sauteed garlic, and extra sharp cheddar cheese for the ultimate flavor! The whole thing comes together in less than 40 minutes and will please the entire family.
If soup is your thing, you'll be glad I mentioned Best Ever Broccoli Cheese Soup, Easy Olive Garden Zuppa Toscana Soup, Slow Cooker or Instant Pot Creamy Chicken Noodle Soup, and Shrimp and Sausage Gumbo.
Why This Recipe Works
Comforting: So by now you know my affinity for all things comfort food. This includes soup. All the soups. This soup is creamy, dreamy and comforting when you need to warm your belly in the chillier weather! Plus, this cauliflower soup is easy to double (or triple), freezes well, and is quick to put together.
Packed with Veggies: I really hope I didn't lose you at "cauliflower." I realize you might be sick of hearing about cauliflower substitutions, but I'm not giving you this recipe under the guise of it being something else. It's simply a delicious, nutritious recipe that's great for vegetarians and loved by meat-eaters alike. It's creamy, savory, filling, heartwarming, and, best of all, good for you!
Flavorful: Even though this recipe is healthy, it doesn't skimp on the flavor! The roasted cauliflower, sautéed garlic, cream and cheese all combine to make a flavor packed soup! You can eat this soup alone or have it with a sandwich or fall based salad!
Ingredients for Roasted Cauliflower Soup
Cauliflower- You're welcome to use pre-chopped cauliflower but make sure it's fresh and hasn't been frozen.
Olive oil – I used extra virgin olive oil, you could substitute a similar mild-flavored oil.
Butter– Butter is needed in order to sauté the garlic and then cook the flour.
Garlic– You can substitute 1-2 teaspoons garlic powder.
Broth– Chicken broth or vegetable broth (use vegetable for vegetarian).
Half & Half– I used fat free half & half to cut back on the fat, but regular half & half would do great as well.
Heavy Cream– May sub whole milk, but do not use skim.
Yellow Onion – I prefer the sweeter flavor of yellow onion in this soup, but white onion will also work well.
Crushed Red Pepper Flakes – Not enough to make this soup spicy, but needed for depth of flavor.
Lemon Juice – Just trust me on this, it won't make the soup taste lemon-y, but it intensifies the flavor of the entire soup!
Here's How You Make It
Step by Step Instructions
Preheat the oven to 450 degrees F. Arrange the cauliflower florets onto a baking sheet. Drizzle with oil and toss to coat. Generously season the cauliflower with salt and pepper, and cook in the preheated oven for 15 to 20 minutes until browned.
While cauliflower is roasting, melt butter in a large stock pot on medium heat. Add the garlic and saute for 1-2 minutes until fragrant. Add the flour and stir to combine.
Gradually whisk in the chicken broth, then add the half & half and heavy cream. Stir in the onion powder, salt & pepper.
Add the cauliflower to the pot. Using an immersion blender, blend to the desired consistency. If you don't have an immersion blender, use a regular blender and blend in batches.
Stir in the shredded cheeses until completely melted and incorporated into the soup. Add salt to taste. Serve hot and enjoy!
Expert Tips
This soup is the perfect to pair with sandwiches and salads! Try it paired with my Chopped Autumn Salad or my Autumn Harvest Chicken Salad.
Roasted cauliflower soup is great to freeze and have for later. Once it's cooled, place it in a gallon resealable bag and freeze for up to 3 months. When you're ready, take it out and thaw it in the fridge for a few hours before placing it in a pot on low heat.
If you are into spice, try adding a few dashes of crushed red pepper flakes or even top it with a little hot sauce before serving!
Frequently Asked Questions
Can I make this roasted cauliflower soup vegan?
Although this soup is already vegetarian, you might want to make it without animal products all together. To do this, you'll need to swap out the butter, chicken broth, half & half, heavy cream and cheese for vegan-friendly foods.
Here's what I would suggest: swap out the butter for coconut oil. Vegetable broth can easily be substituted for chicken broth, and instead of half & half and heavy cream, I would use coconut milk for both. To ensure the soup is creamy, put two cans of full-fat coconut milk in the fridge for about an hour. When you open the cans, you'll be able to skim off the creamier/thicker part of the coconut milk to use as your creamy base. Save the rest of the milk in case you want to thin out the soup later on. Or, you can use dairy-free half & half.
For the cheese, use a vegan cheese substitute (although it may be a little gritty), or try using half a cup of nutritional yeast to get that nutty, cheesy flavor.
What makes cauliflower healthy?
Cauliflower is a cruciferous vegetable related to the broccoli family. It provides antioxidants that help prevent cancer. The fiber in cauliflower helps regulate your digestive system, and the choline it contains is great for your brain's memory and learning. Cauliflower is also great at keeping your bones strong and acting as a heart helper.
It is also low in calories and can provide nearly 80% of your daily needs for vitamin C, 20% for vitamin K, and 10% for vitamin B6 and folate.
Are brown spots on fresh cauliflower bad?
If your cauliflower is starting to turn brown, that means it's starting to go bad. You can cut the bad parts off if it's just a little bit. But if you let the brown spots go, they will eventually seep deeper into the vegetable, softening the consistency and eventually turning black. My advice is to give it a little peek everyday or every other day and if you start to see any browning, it's time to cook that baby up!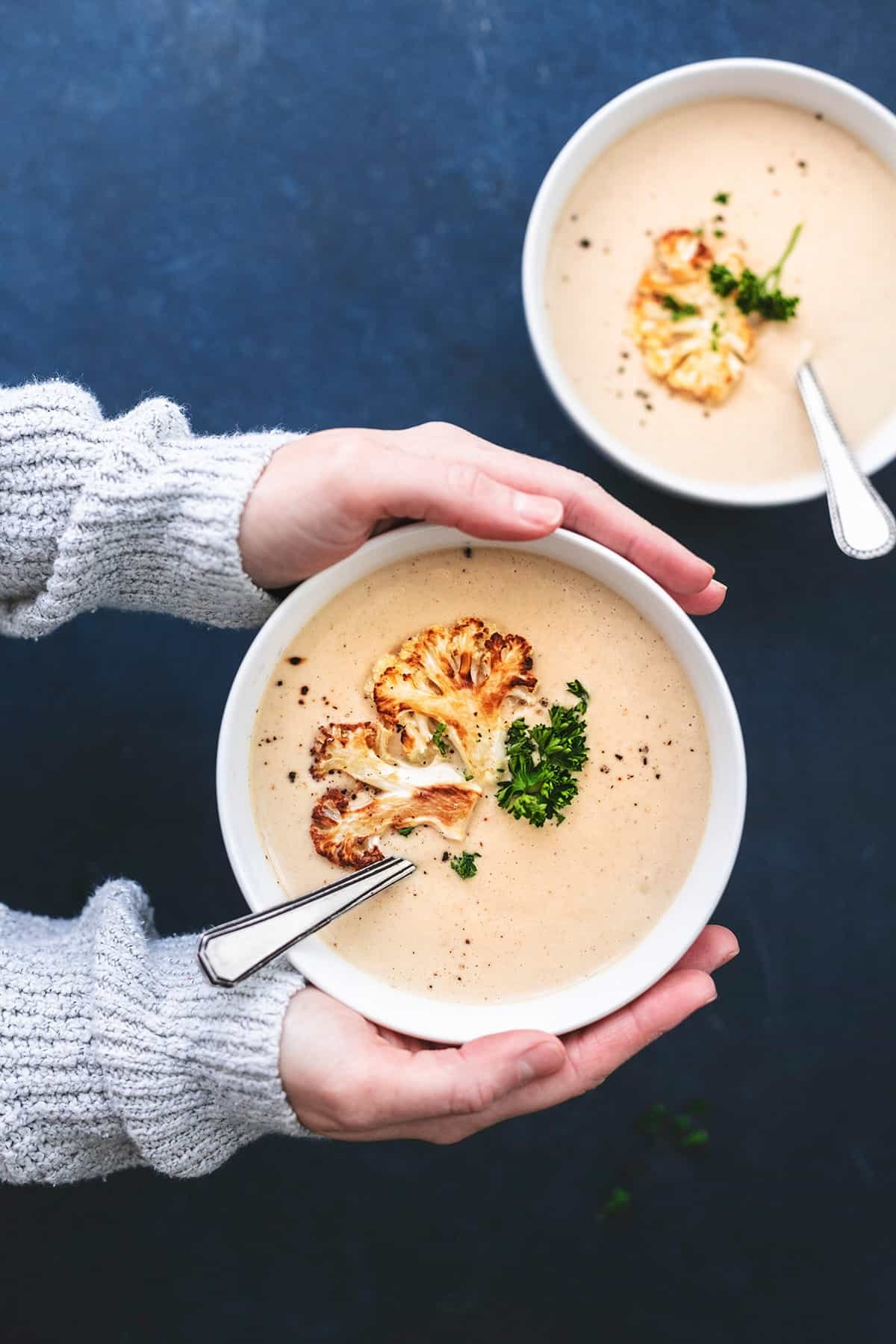 Did you make this recipe? FANTASTIC. Please rate the recipe below and leave a comment, and be sure to tag me on social when you share a photo of your creation, I love to see what you're up to in the kitchen!
Creamy Roasted Cauliflower Soup Recipe
This creamy roasted cauliflower soup never lets me down. Chock full of nutty, roasted cauliflower, butter, garlic, onions, cream, and broth, it's everything you want in a comforting bowl of soup and then some! 
Ingredients
1

large cauliflower head

-

chopped

1

tablespoon

olive oil

1

teaspoon

salt

-

divided

2

tablespoons

butter

1

tablespoon

minced garlic

½

yellow onion

-

diced

4

cups

chicken broth OR vegetable broth

¼

teaspoon

crushed red pepper flakes

½

cup

heavy cream

-

or whole milk

1

tablespoon

fresh-squeezed lemon juice
Instructions
Prepare the cauliflower
Preheat oven to 425 degrees. Toss cauliflower with olive oil and 1/4 teaspoon salt.

Arrange cauliflower in a single layer on a baking sheet. Bake for 25 minutes til caramelized. Remove from oven and set aside.
Prepare the soup
In a soup pot, melt butter over medium heat. Stir in garlic and onions for 2-3 minutes til onions are tender and translucent.

Add broth and bring to a boil. Stir in remaining 3/4 teaspoon salt, red pepper flakes, and cauliflower. Reduce heat to a high simmer and cook 15 minutes longer.

Transfer mixture to a blender along with heavy cream. Pulse until very smooth.

Return mixture to soup pot, stir in lemon juice. Taste, add salt and pepper if needed and garnish with fresh herbs (parsley, green onions, or thyme are my favorites here!) and serve.
Notes
*Makes two large bowls, or 4 small bowls of soup – easily doubles!  Cheese it up: before serving, remove from heat and stir in 1/2-1 cup sharp cheddar cheese until melted.  Pro tip: reserve a few pretty pieces of roasted broccoli for garnish!
Nutrition
Calories:
392
kcal
,
Carbohydrates:
27
g
,
Protein:
8
g
,
Fat:
30
g
,
Saturated Fat:
15
g
,
Cholesterol:
83
mg
,
Sodium:
3174
mg
,
Potassium:
996
mg
,
Fiber:
7
g
,
Sugar:
12
g
,
Vitamin A:
1977
IU
,
Vitamin C:
146
mg
,
Calcium:
136
mg
,
Iron:
2
mg