This Sheet Pan Bruschetta Chicken and Cheesy Garlic Bread is all the things you want in an Italian chicken dish — juicy and tender chicken breasts topped with sweet, plump tomato bruschetta, and ooey, gooey garlic cheese bread on the side. 
If you love sheet pan chicken, then you should also try my recipes for Sheet Pan Chicken and Potatoes, Healthy Sheet Pan Chicken Fajitas, or this Sheet Pan Chicken Fried Rice.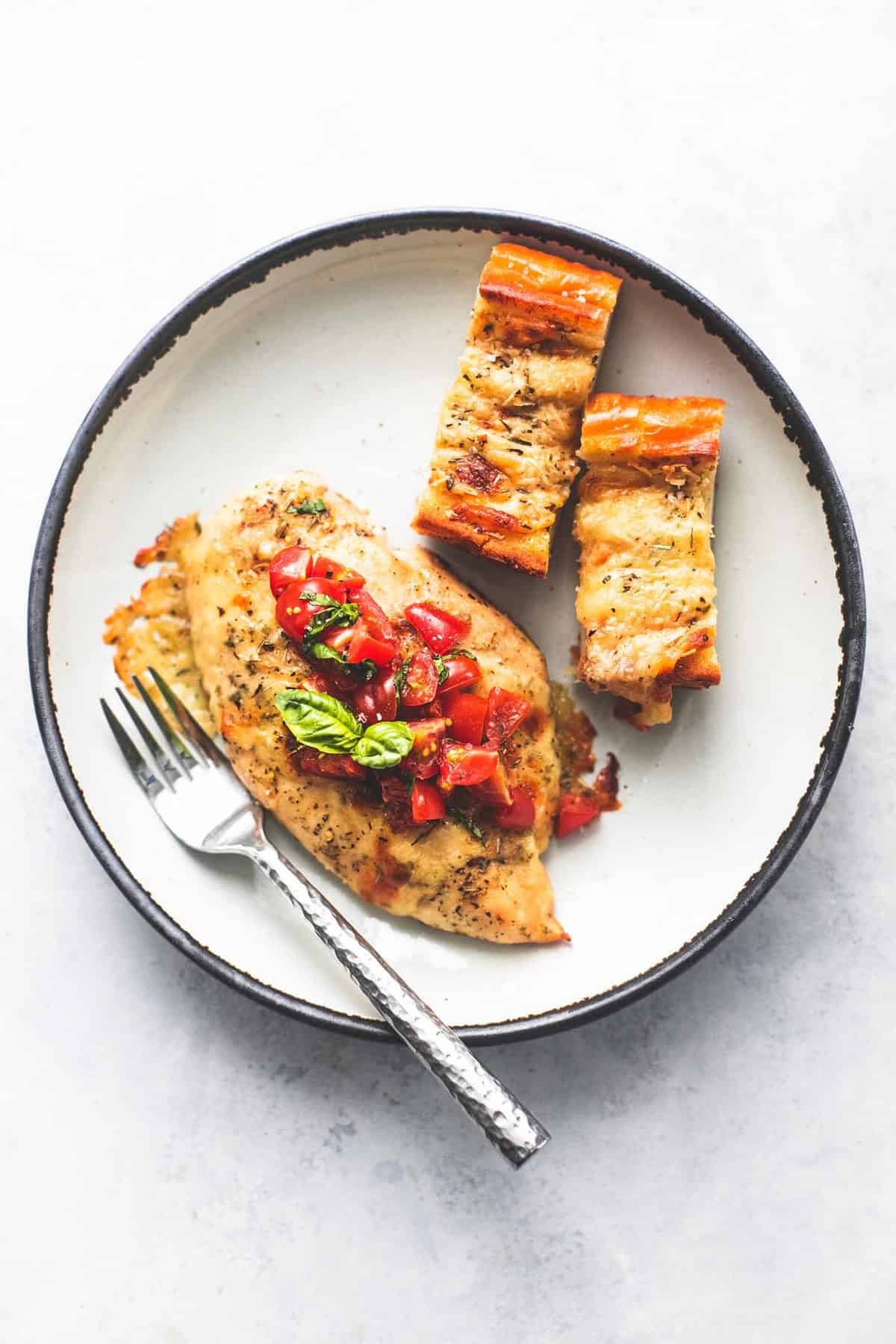 I'm a lover of all things carbs. (I probably could have stopped at "all things.") I frequently eat bread or garlic bread with my meals, particularly Italian-style meals, because I feel like the two just are meant to go together. I'd usually bake it separately or get one of those ready-made garlic breads found in the freezer section of the grocery store. 
Those pre-made garlic breads are fine. They're buttery and garlicky and crispy enough to satisfy my garlic bread needs. But truly, nothing beats fresh bread. Well, that is, except fresh bread covered in garlic, spices, and of course cheese! When it occurred to me that life would be much easier and tastier if I combined the cooking of the chicken with the garlic bread, it kind of all came together easily from there. And, luckily for me and the fam, it came together deliciously too. And, I'm going to go ahead and apologize ahead of time, because once YOU realize that you can cook the bread right alongside the chicken, I think you'll be hard-pressed to not want to do this each and every single time you make chicken in the oven from now on. So…sorry? 
WHAT IS BRUSCHETTA? 
Bruschetta (pronounced "brush-ket-ta") is a tomato-based dish that's had its share of remakes from its original form. But what dish hasn't, really? Initially, the dish was just good bread, rubbed with garlic cloves and drizzled with olive oil. Tomatoes were adding on top if they were in season and if you felt like it. 
From there, chefs put their spin on it, adding tomatoes, veggies, meats, cheeses, herbs, spices — you name it. While usually served as an appetizer, don't let that stop you from adding it to anything and everything. It's easy to add tomato bruschetta on top of your chicken. If you're not a fan of mixing your foods — this tomato salad is great on the side too! (Add little mozzarella pearls if you're feeling fancy.)
HOW CAN I CUSTOMIZE BRUSCHETTA? 
Because bruschetta is a dish that has been customized throughout the years, there's no reason you should stop at the recipe I've presented here. Other ways you could change up your tomato mixture includes: 
Adding mozzarella (slices, cubes, balls, pearls) and a drizzle of balsamic. 

Cutting up a couple tablespoons of roasted red peppers give a little kick and zing to the tomato topping. 

Roast the tomatoes for a couple minutes before adding to the mixture. 

Use a variety of shapes, sizes, and colors of tomatoes to add some variety and visual interest. 

Roasted eggplant cut and diced and added to the salad gives a depth of flavor and an unexpected, but welcome nuttiness. 

Try adding a little bit of fruit to the mix: peaches, nectarines, mangoes, or strawberries offer a bit of sweetness and texture to the bruschetta. Plus, all go great with chicken! 

Add some diced yellow or orange bell pepper to the mixture for a sweet crunchiness.

Top the bruschetta with red pepper flakes for a little kick.  

Put the bruschetta on top of the cheesy garlic bread instead of the chicken. Or put it all together to make a yummy, bruschetta chicken sandwich! 
WHAT KIND OF BREAD WORKS BEST FOR MAKING GARLIC BREAD? 
I use French bread, but you could also use an Italian loaf (with or without seeds), a hardy multigrain loaf, or another artisanal bread your grocer sells. 
The key is to get a longer, thinner bread. Baguettes work well (though those will be skinnier so watch your cooking time). Sourdough is yummy but I've not had much luck finding those in longer loaves. In that case, I cut up a boule or use thick slices of bread. 
A ciabatta or challah loaf would work too, but those two types of bread will have a slightly different flavor profile, as the former is more wheaty and doughy and the latter is sweeter and denser.  
Sheet Pan Bruschetta Chicken and Cheesy Garlic Bread
This Sheet Pan Bruschetta Chicken and Cheesy Garlic Bread is all the things you want in an Italian chicken dish — juicy and tender chicken breasts topped with sweet, plump tomato bruschetta, and  oooey, gooey garlic cheese bread on the side. 
Ingredients
4

medium size boneless skinless chicken breasts

2

tablespoons

olive oil

salt and pepper to taste

1

teaspoon

garlic powder

1

teaspoon

Italian dried herb blend seasoning

-

OR herbs de provence, see note for DIY

4

slices mozzarella cheese

-

or 1/2 cup shredded
tomato basil topping
1

cup

cherry tomatoes

-

quartered

1

tablespoon

finely chopped basil

1

teaspoon

fresh squeezed lemon juice

salt and pepper to taste
garlic bread
1

loaf

french bread

-

sliced in half horizontally

6

tablespoons

salted butter

-

softened

1

teaspoon

Italian dried herb blend seasoning or herbs de provence

2

teaspoons

minced garlic

1

teaspoon

garlic powder

½

cup

shredded parmesan cheese

½

cup

shredded mozzarella cheese
Instructions
Preheat oven to 375 degrees.

Rub chicken all over with olive oil. Season generously on all sides with salt and pepper, garlic powder, and dried herbs. Arrange 2 inches apart on a greased sheet pan.

Bake in preheated oven for 5 minutes while you prepare the garlic bread.

Prepare the garlic bread by stirring together butter, dried herbs, minced garlic, and garlic powder. Butter the insides of both halves of the bread loaf. Put the bread loaf back together (open faces together), wrap in a single layer of foil. Place on sheet pan along with the chicken.

Bake 10 minutes longer while you proceed with the next step.

While chicken and garlic bread are in the oven, stir together the tomatoes, basil, lemon juice, and salt and pepper. Set aside.

Remove sheet pan from oven, carefully unwrap the garlic bread and pull the two halves apart. Place side by side, open-face up, on the sheet pan. Sprinkle parmesan and mozzarella cheeses on the open faces.

Top each chicken breast with a slice of mozzarella cheese.

Return sheet pan to oven for 5 minutes or until chicken is fully cooked through and cheeses are melted. You can broil for the last 1-2 minutes to brown the cheese if desired.

Slice garlic bread, spoon the tomato-basil topping onto the chicken, and serve.
Notes
1 teaspoon DIY herb blend: 1/4 teaspoon each dried basil, dried thyme, dried parsley, dried rosemary OR oregano
Nutrition
Calories:
873
kcal
,
Carbohydrates:
61
g
,
Protein:
69
g
,
Fat:
39
g
,
Saturated Fat:
10
g
,
Trans Fat:
1
g
,
Cholesterol:
167
mg
,
Sodium:
1264
mg
,
Potassium:
1107
mg
,
Fiber:
3
g
,
Sugar:
4
g
,
Vitamin A:
1211
IU
,
Vitamin C:
13
mg
,
Calcium:
284
mg
,
Iron:
5
mg