Quick and easy Sticky Asian Grilled Chicken with a sticky sweet and savory Asian sauce!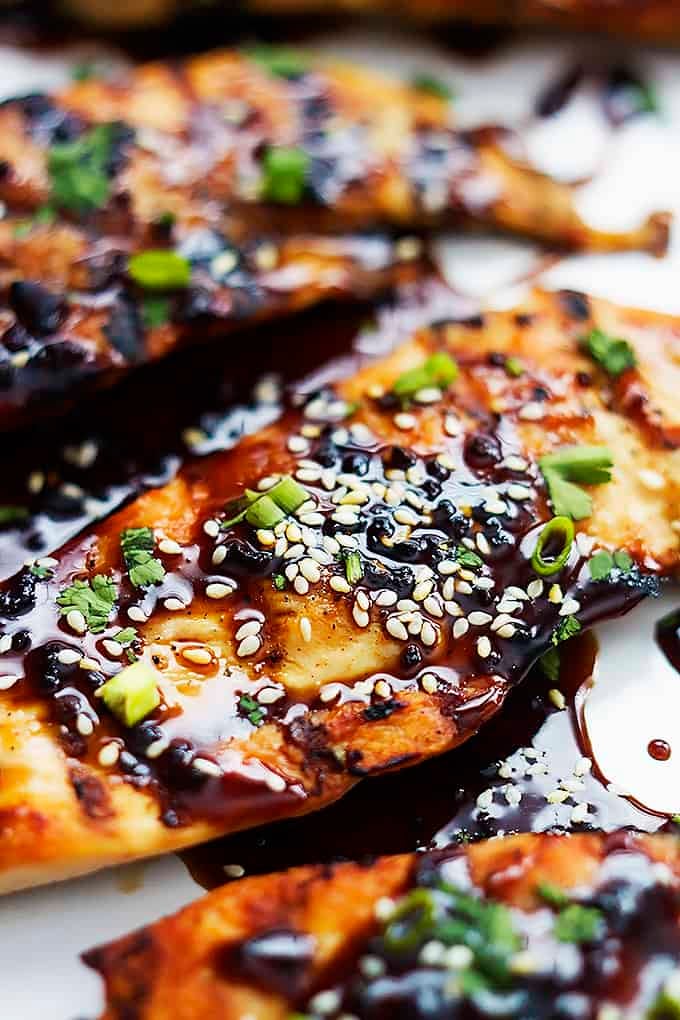 Sticky sticky sticky.
Is it just me or does "sticky" immediately conjure up images of gooey finger-licking goodness?
That's pretty much exactly what this chicken dish is. A whole lot of grilled summer finger-licking goodness. With an asian flare.
Speaking of flare…. fireworks…. what are you doing for July 4th?? Do you have your big backyard BBQ menu all planned out?? Of course you do, you're so on the ball. I, on the other hand, do not have my menu planned out at all. I thought for a millisecond that I might do some spicy BBQ ribs on the grill but after a disastrous test-run this morning I'm about 99.8 percent sure I'll be sticking with my go-to pulled BBQ chicken sandwiches. I made them last year for the Fourth of July festivities and they were a HUGE hit – the slaw had slaw-haters going back for seconds.
Other festivities will include homemade ice cream for sure, mayyyyybe fireworks, and hopefully zero parades. I do not like parades. I don't know why, they seem to be a huge hit with the rest of the human race but I just can't get on board with them.. I find them incredibly boring! The most exciting part is when they throw taffy so naturally I just keep looking for the next group of taffy throwers and ignore 73 percent of the parade attractions.
I think my biggest hangup with parades is that they usually feel like a really long string of tv commercials – advertisement car after advertisement wagon after advertisement banner – and hardly any quality floats. You know?
But back to the chicken. So this is a simple grilled chicken topped with a sweet and savory Asian sauce that will honestly make you want to dunk your face right into the sauce pan. Orrrrr just lick your fingers, as previously discussed.
The recipe does not take long at all, but if you've got a kitchen helper handy, send them out to tend the grill while you whip up the sauce on the stove. And I know it's an all-American holiday this weekend but don't be afraid to mix things up and make this chicken for your peeps on Saturday. Grilling is about as American as it gets so between that and the sheer wonderfulness of the food, no one will even mind that there's technically an Asian sauce on the chicken.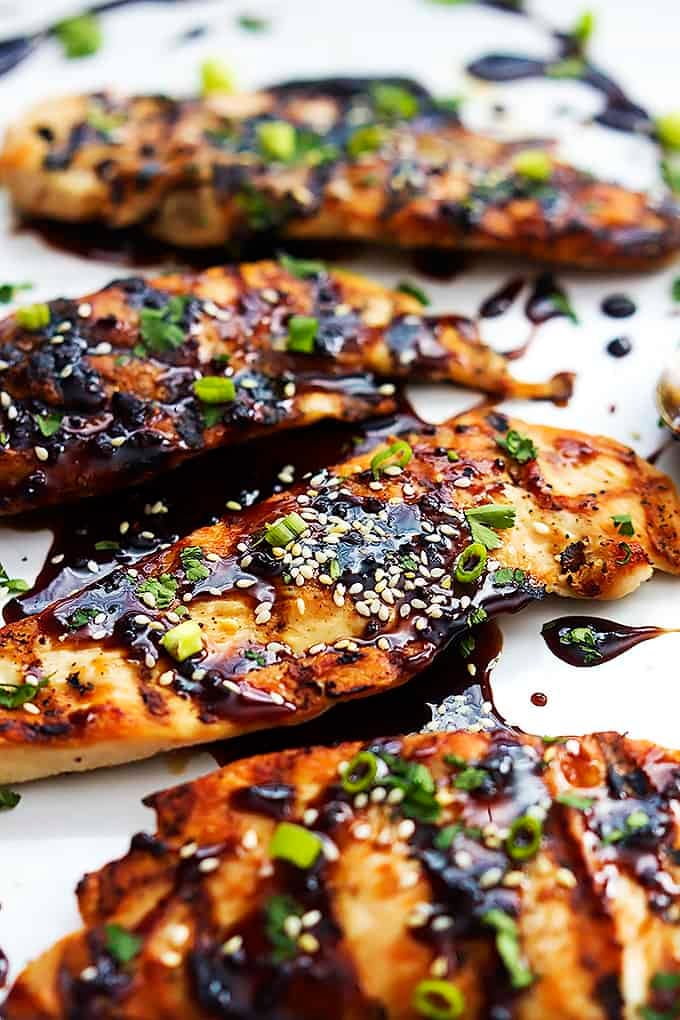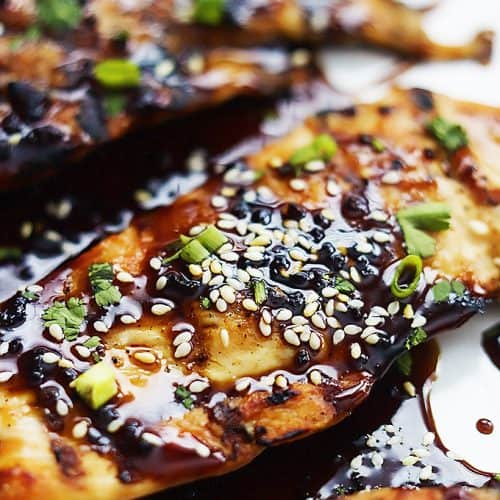 Sticky Asian Grilled Chicken
Quick and easy Sticky Asian Grilled Chicken with a sticky sweet and savory Asian sauce!
Ingredients
4

boneless skinless chicken breasts

-

pounded to ¾ inch thickness

salt and pepper to taste

1

cup

water

⅓

cup

soy sauce

-

(I use low sodium)

⅓

cup

balsamic vinegar

1

tablespoon

Sriracha sauce

-

OR 1 tablespoon crushed red pepper flakes

¼

cup

brown sugar

1

teaspoon

sesame oil

1

tablespoon

minced garlic
Instructions
Add water, soy sauce, balsamic vinegar, sriracha sauce (or red pepper flakes), brown sugar, sesame oil, and garlic to a medium sauce pan. Cover and simmer for about 20 minutes until reduced down to half.

Uncover sauce pan and bring heat to medium-high, stirring regularly until thickened (about 8-10 minutes) then remove from heat. *Be careful not to let the sauce burn when it thickens.

Grease and preheat the grill. Season both sides of chicken with salt and pepper to taste. Grill for 5-6 minutes on each side until cooked through.

Drizzle chicken (or toss) with the sauce and garnish with cilantro, sesame seeds, or green onions if desired. Serve immediately.
Notes
Sriracha is a hot red chili sauce found in the Asian section of grocery stores.
Nutrition
Calories:
224
kcal
,
Carbohydrates:
19
g
,
Protein:
26
g
,
Fat:
4
g
,
Saturated Fat:
1
g
,
Trans Fat:
1
g
,
Cholesterol:
72
mg
,
Sodium:
1309
mg
,
Potassium:
514
mg
,
Fiber:
1
g
,
Sugar:
17
g
,
Vitamin A:
39
IU
,
Vitamin C:
4
mg
,
Calcium:
32
mg
,
Iron:
1
mg
*Sauce adapted from Skinnytaste.