Nutritious and delicious, Swedish Meatball Pasta is a perfect meal for adults and children alike. Made with tender, juicy beef, pasta spirals, and a creamy, savory sauce, this dish is an excellent choice for family dinners that everyone will love. 
If you love hearty meals made with beef, then you'll also want to try my Greek Beef Meatballs, my Beef Noodle Stir Fry, and my Honey Beef Lettuce Wraps.
This recipe is in partnership with Beef. It's What's For Dinner. on behalf of the Beef Checkoff. All opinions are my own. If you have questions about starting solid foods, consult a physician or health care provider. 
I think it's best to have variation in the foods that not only myself and my husband eats but particularly in the foods that my kids eat. When they get older they might switch things up on me but while they're little I have a lot of say in what they eat and I try my best to give them a variety and expose them to as many different foods as possible. I would say I did…. Well, an "okay" job of introducing my twins to different food when they were younger, but they've gotten to be in such a picky rut I'm bound and determined to get my one-year-old baby girl to try as many foods as possible in an effort to counteract that toddler pickiness. We switch among the meats and proteins, but we also eat a variety of ethnic foods, meals with different textures and ingredients, and ample fruits and veggies to round out our diet. So far she's loving them, and bonus: seeing their baby sister eat new foods is actually encouraging the three-nagers to venture out of their comfort zone!
This Swedish Meatball Pasta checks all the boxes. It's full of zinc and iron from the beef meatballs, it has a savory sauce that comes from the winning combination of garlic, butter, worcestershire, and spices, and a bit of fun and chewy texture with the pasta (because who can resist a pasta spiral?). Plus, it's different enough from the tried-and-true spaghetti and plain meatballs that I feel like we're getting our kids to branch out a bit and to try new things. The best part is they have no idea that it's good for them — they just know it's delicious!
I served this dish with a side salad for my husband and myself and cut up the meatballs and noodles into smaller bites for the littles, with a side of steamed carrots and fresh fruit. This meal won over all three of the kids, plus the husband. Can you say winner winner BEEF dinner?!
What Makes Beef a Good First Food?
For infants and children especially, iron and zinc are crucial minerals for developing their bodies and minds. Studies show they go a long way to support the proper growth and development of kids and beef provides those minerals in such a delicious package.
In fact, as soon as my doctor gave the okay, I pureed some real meat for the kiddos at home and introduced it to them as a complementary food while I was still nursing. The zinc and iron in beef in particular helps babies and young children to develop a healthy immune system by supporting the growth of helpful gut bacteria, improve their recall skills and reasoning, support brain health and optimal cognitive development, and help promote the growth and learning milestones associated with normal physical growth in infants.
How Should I Introduce Beef to my Baby?
My best advice for giving your baby pureed beef is just to start! If your pediatrician gives the okay, and barring any allergies, the best thing you can do is to introduce your baby to all sorts of foods early on. I think the sooner they get a taste for real foods, the less picky they will be. Of course, I've only seen this in my own children, I haven't done an official study — yet!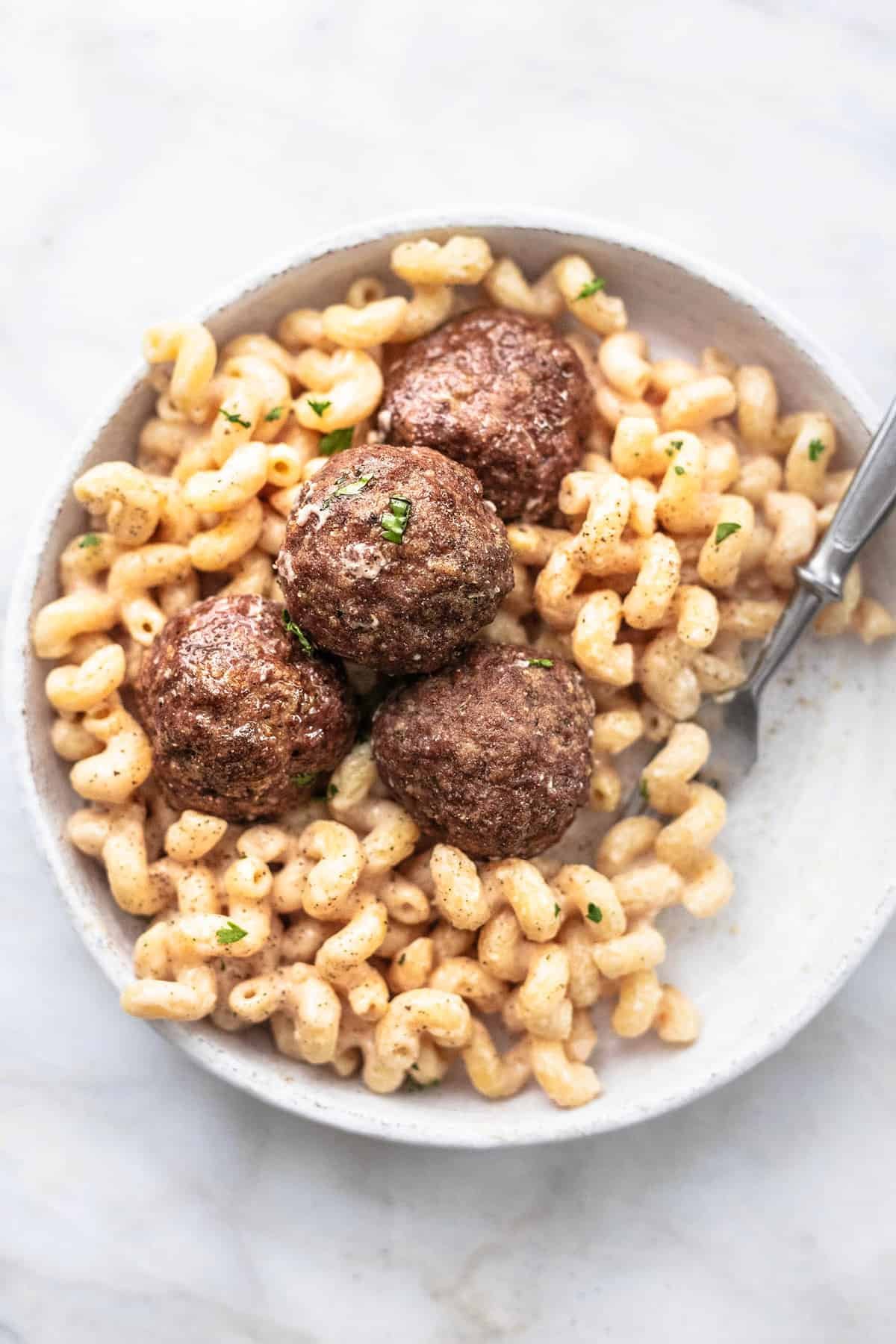 Tips for Introducing Beef to Babies
There are a few simple ways to start to introduce your baby to beef.
Make sure the beef is fully cooked and pureed. You can make your own in a blender or purchase pre-packaged baby food at the store.
When your baby starts to get more teeth, you can introduce tiny pieces of soft foods like ground beef crumbles or fork-tender pot roast.
As your baby grows, gets more teeth, and shows more interest in solid foods, you can try other types of beef, such as small bites of lunch meat or meat that you eat in your own meal.
Side Dishes for Swedish Meatballs
If you're looking to round out this wonderful beef meatball and pasta dish, then may I recommend any of the following?
I think that you'll agree, nothing beats this Swedish Meatball Pasta dish for taste, nutrition, and ease of cooking. And, if you're counting on leftovers, you'd better double the recipe because this will be gobbled up in no time! If you have questions about starting solid foods, consult a physician or health care provider.
Swedish Meatball Pasta
Nutritious and delicious, Swedish Meatball Pasta is a perfect meal for adults and children alike. Made with tender, juicy beef, pasta spirals, and a creamy, savory sauce, this dish is an excellent choice for family dinners that everyone will love. 
Ingredients
meatballs
2

pounds

ground beef

¾

cup

breadcrumbs

1

medium white or yellow onion, diced

2

large eggs, lightly whisked

2

teaspoons

Italian seasoning

1

teaspoon

cracked black pepper, or 1/2 teaspoon ground black pepper

1

teaspoon

salt
pasta
16

ounces

short pasta noodles such as penne, ziti, cavatappi or cellentani noodles

4

tablespoons

butter

½

white or yellow onion

-

diced

1

teaspoon

minced garlic

4

tablespoons

flour

2

cups

beef broth

2

cups

milk

-

I used half and half

2

tablespoons

worcestershire sauce

1

teaspoon

salt

-

or to taste

½

teaspoon

cracked black pepper

-

or 1/4 teaspoon ground pepper

freshly chopped parsley for garnish

-

optional
Instructions
Preheat oven to 400 degrees.

In a large bowl combine all ingredients for the meatballs and mix well. Shape into balls about 1.5 inches wide (a cookie scoop works great, I typically use to scoops with a regular sized cookie scoop for each meatball).

To cook the meatballs, you can brown them oven medium-high heat in an oven-safe skillet for 4-5 minutes, then transfer to the preheated oven and cook for 12-15 minutes until cooked through OR skip the browning and arrange them on a baking sheet or in a casserole dish in a single layer (not touching) and put them straight into the oven for 20-25 minutes until cooked through and no longer pink in the middle.

While meatballs are cooking, place noodles in a large pot, cover with water, and bring to a boil. Cook until just fork-tender (follow package directions), drain, and set aside.

In the same pot you cooked the noodles (or a large skillet at least 2 inches deep) melt the butter over medium heat. Add onions and cook 1-2 minutes. Stir in garlic and cook 1 minute longer until fragrant.

Sprinkle flour over melted butter and stir until it comes together in a thick paste.

Gradually whisk in the beef broth, followed by the milk.

Stir in worcestershire sauce, salt, and pepper. Taste and add more salt and pepper if needed.

Stir in noodles to coat in the sauce, then add the cooked meatballs. Garnish with chopped parsley if desired and serve.
Notes
The meatballs: I personally like to brown them in the skillet first, then transfer to the oven, but putting them straight into the oven works great too!
Nutrition
Calories:
836
kcal
,
Carbohydrates:
79
g
,
Protein:
44
g
,
Fat:
37
g
,
Saturated Fat:
14
g
,
Trans Fat:
2
g
,
Cholesterol:
171
mg
,
Sodium:
1401
mg
,
Potassium:
889
mg
,
Fiber:
4
g
,
Sugar:
9
g
,
Vitamin A:
244
IU
,
Vitamin C:
3
mg
,
Calcium:
209
mg
,
Iron:
6
mg