This Ground Beef Taco recipe is anything but typical. While it sounds like the tacos you grew up with, this recipe comes with an easy-to-make, from-scratch taco seasoning mix, and simmers in beef broth and tomato sauce for extra flavor. You'll never go back to those taco seasoning packets again!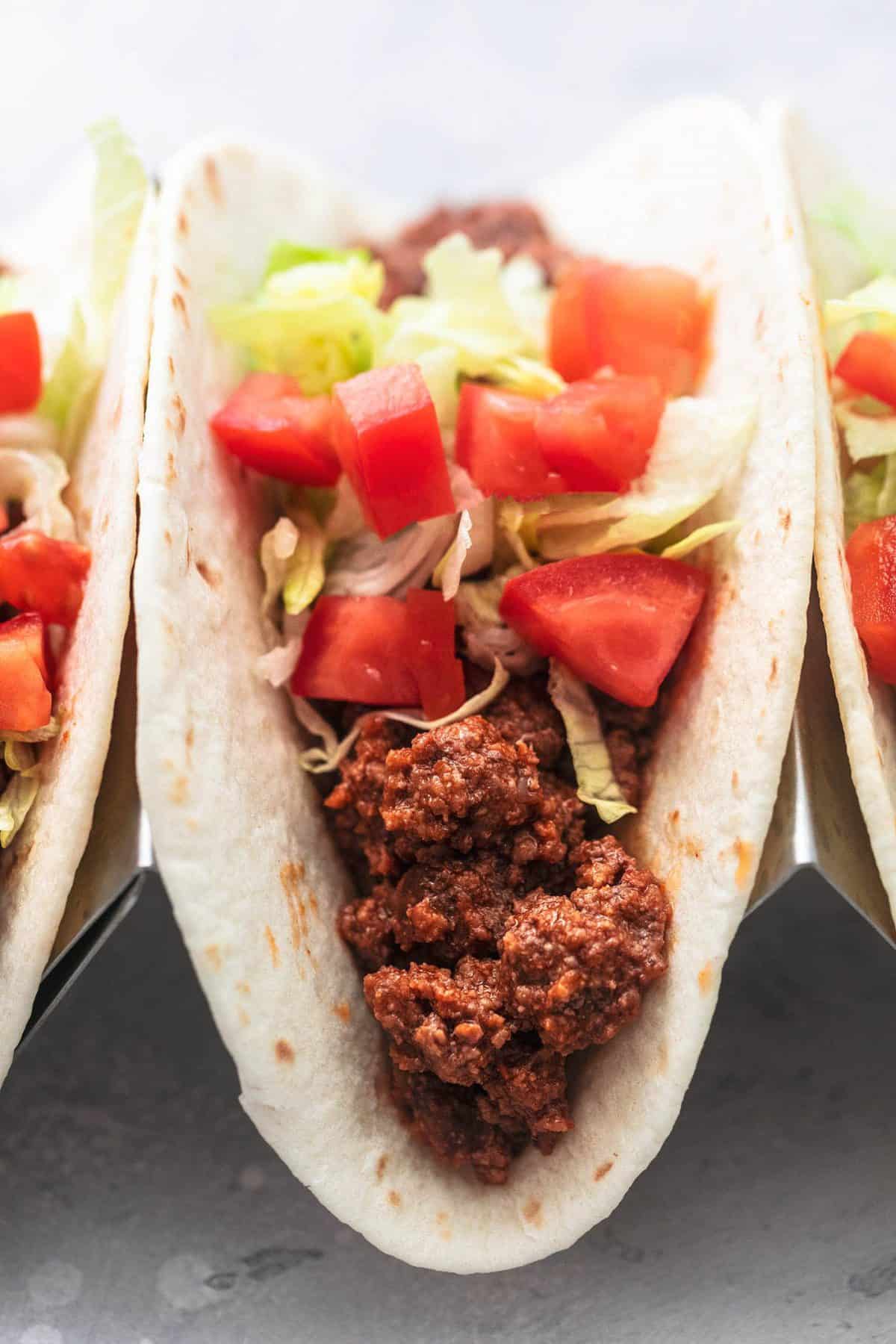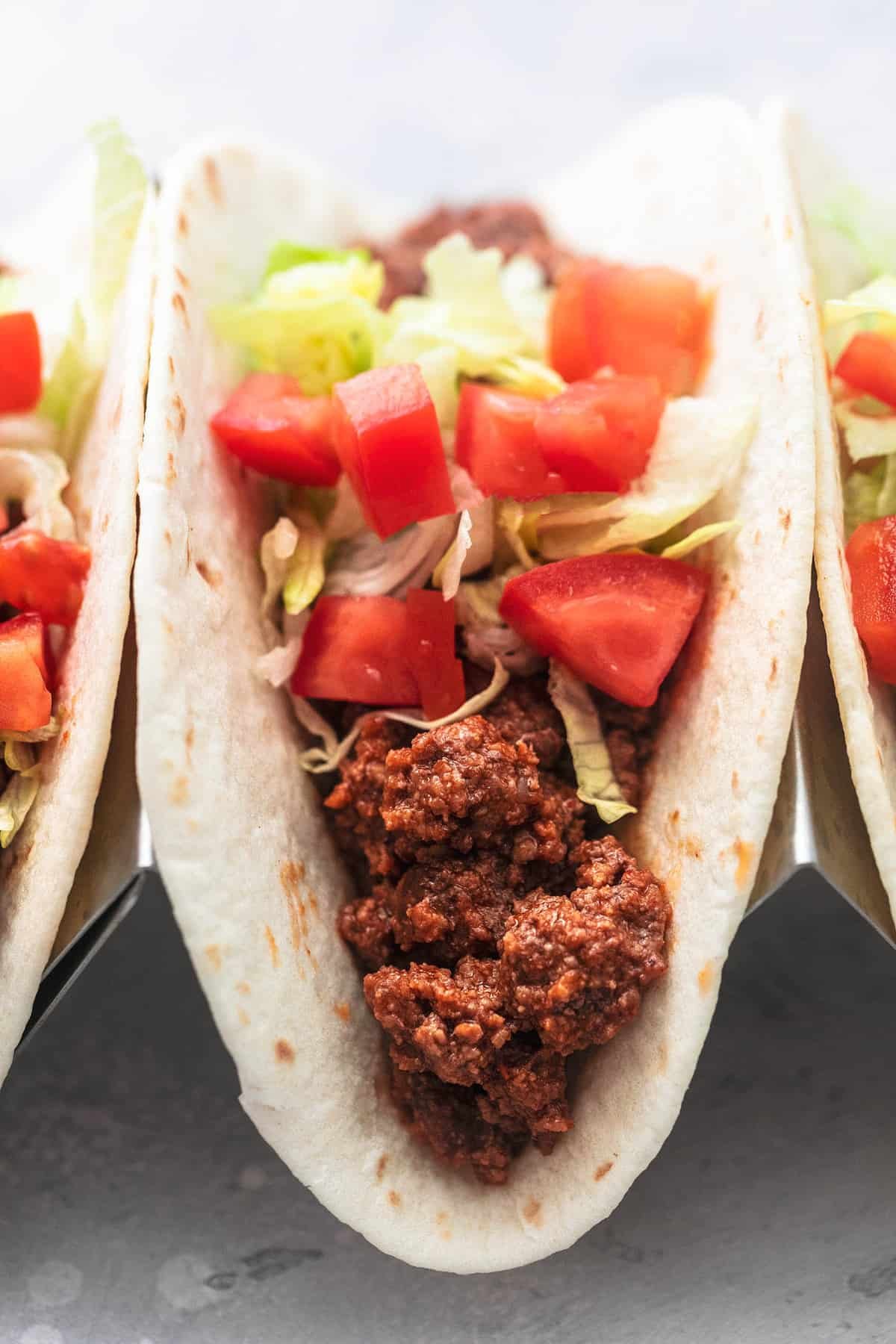 If you grew up anything like me (or really anything like any kid in the USA in the past 20 years or so), then you grew up with ground beef tacos. You know the ones your parents or older siblings could whip up in a flash: brown some beef, toss in a seasoning packet and some water, and voila — you have tacos.
There is nothing wrong with these tacos whatsoever, these are the tacos I know and love and were my "gateway tacos" into what is now clearly an obsession with tacos of any kind. And for good reason: Tacos can be made from just about anything, the come in a handy carrying case, and they can be topped with just about anything too. Pick your protein, your shell or wrapper, and load 'em up with all your favorite toppings.
But, as an adult and food blogger, I couldn't help but think there had to be a better way to make these ground beef tacos with my own taco seasoning and using something richer to cook the meat in besides water. To take the taco up a notch if you will. And I think I got the seasonings and simmering sauce just right. I love these tacos and I think you will too! And you can join me in saying "no" to the dry, over-sodiumed flavor packet.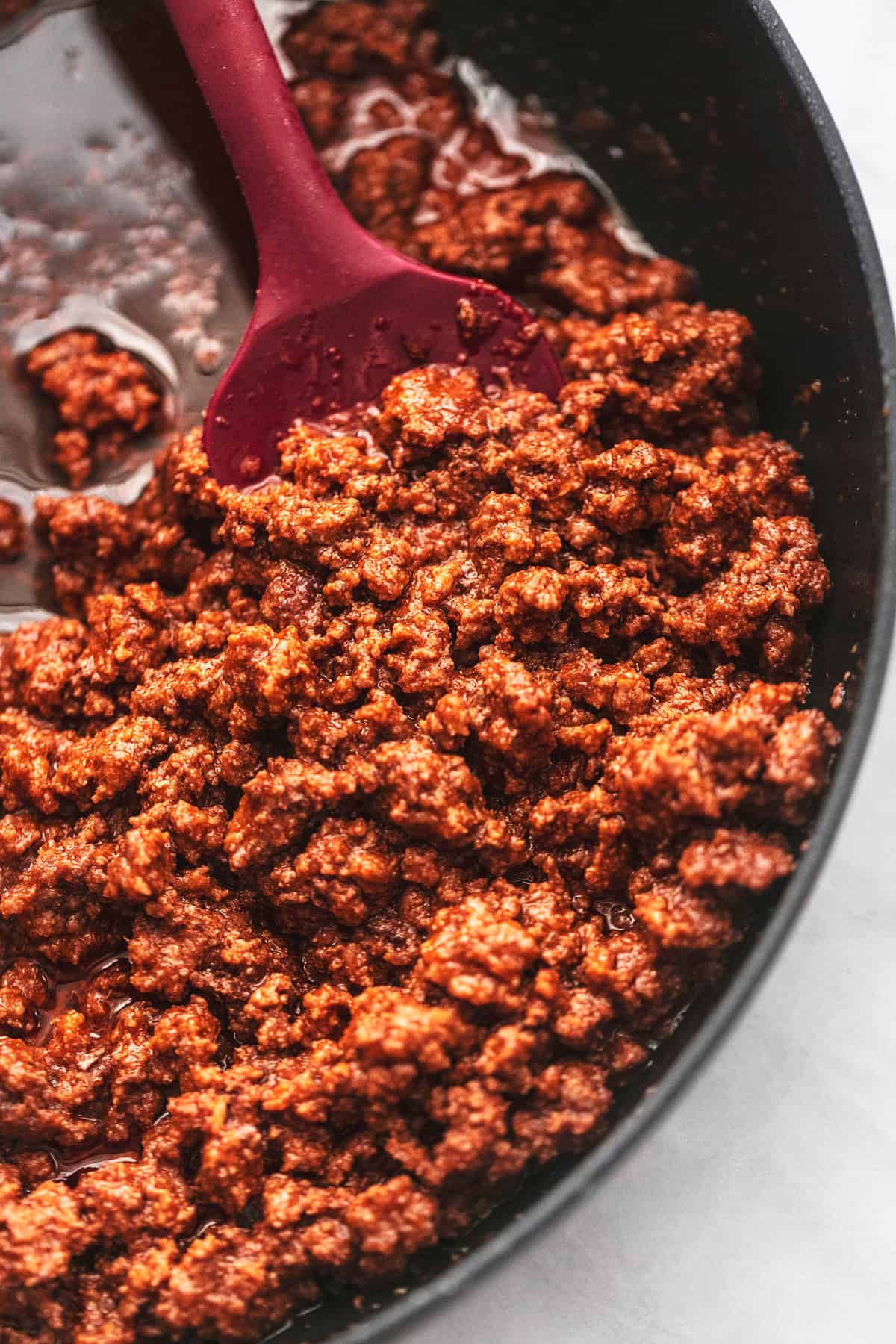 What Are the Best Toppings for Tacos?
I love the taco meat and tortillas but toppings are where the taco gets made know what I mean? In no particular order, here are some of my favorites:
Cheese

Sour cream

Beans

Pickled jalapenos

Diced white, red, or green onions

Shredded lettuce

Diced tomatoes

Salsa (

all kinds!

)

Cilantro

Lime wedges

Avocado slices

A variety of hot sauces
What Kind of Ground Beef is Good for Tacos?
When you purchase ground beef, you might notice that it comes in a couple different varieties. You can find ground chuck, which is juicy, flavorful, and lower in fat (with up to 20% fat), and is great as an "all around" type of ground beef.
"Regular" ground beef (without a special name of the cut of beef) is fattiest and will contain up to 30% fat, but it's also the least expensive.

Ground round is lean (12% fat) and is a good choice if you are watching your fat content. But, ground round isn't as juicy and tasty, so take that into consideration if you're using it for these beef tacos.
Ground sirloin is also super lean at 14% fat, but it's also the most expensive and the healthiest choice if you are watching your animal fat intake.
Whichever type of ground beef you choose, my advice is to be aware of its fat content so you know how juicy (or not) the beef will be in these simple ground beef tacos.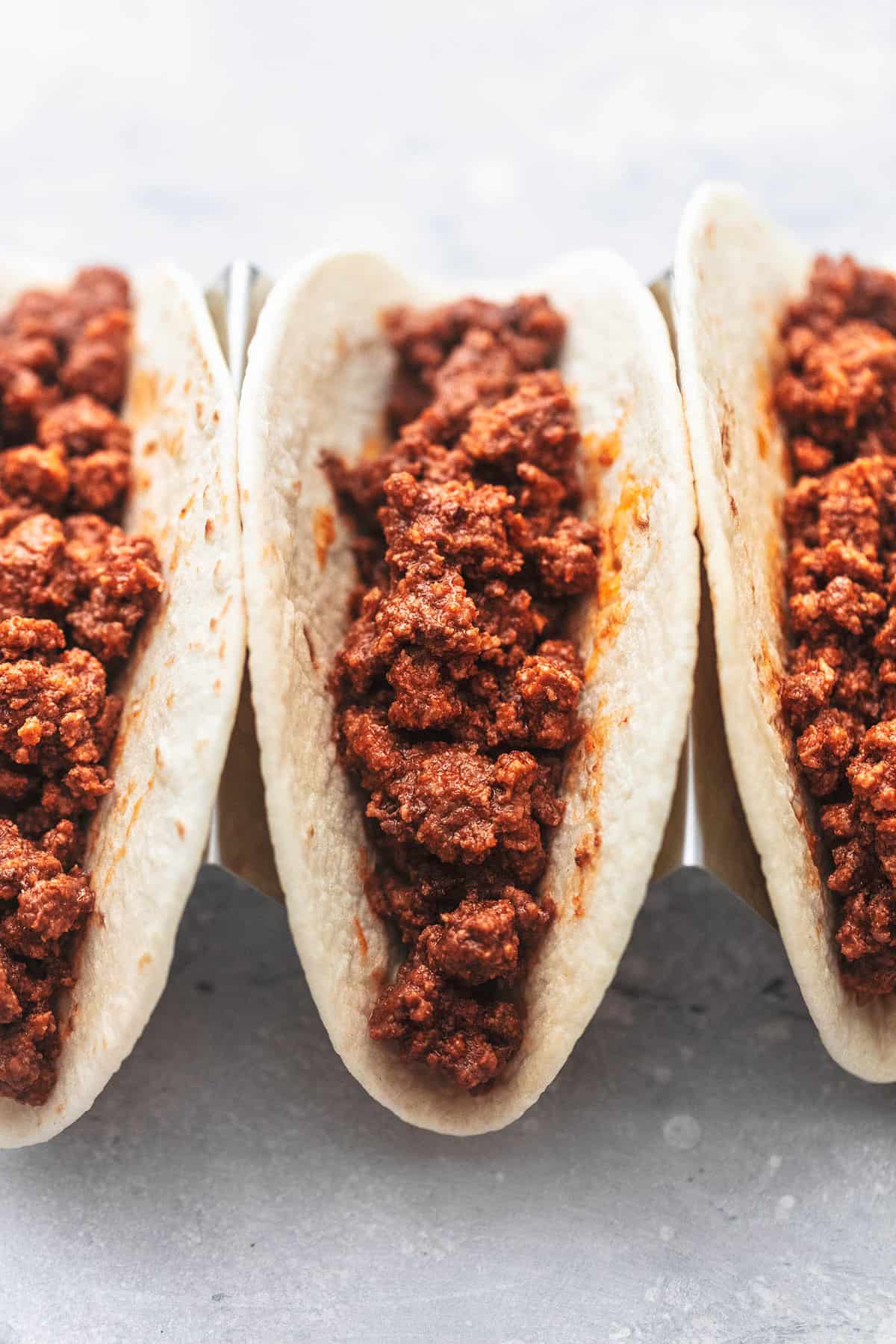 How to Make Your Own Taco Seasoning
Don't be intimidated by seasoning mixes. Sure, the spices and herb mixes are wonderful time savers but you can save even more time and money by making your own and keeping a batch in your pantry for those nights when your mind is on tacos but your body doesn't want to go to the store.
My very own taco seasoning consists of a mix of salt, chili powder, garlic powder, onion powder, and ground cumin. The recipe below is enough for 1 pound of ground beef. If you want to make a big batch of this seasoning mix, simply multiply the mix below by however many servings you'd like to get out of it and store it in a spice jar or another airtight container in your pantry or a cool, dry location.
When you go to make tacos, use about 1 ½ to 2 tablespoons of the mix per 1 pound of ground meat and follow the rest of the directions for cooking the beef, below.
What is the Difference Between Taco Seasoning and Fajita Seasoning?
While both seasonings are pretty similar, taco seasoning usually contains more chili powder and fajita seasoning is more bland, letting the flavors of the meat, peppers, onions, etc. doing a lot of the flavoring on their own.
Fajitas seasonings tend to run in tandem with the amount of citrus used to tenderize the meat being cooked (typically skirt steak), so limes and oranges are typically used to help with that process. So when you buy a dry fajita seasoning, you'll find some sort of citric acid in the pouch to mimic that citrusy/sour flavor.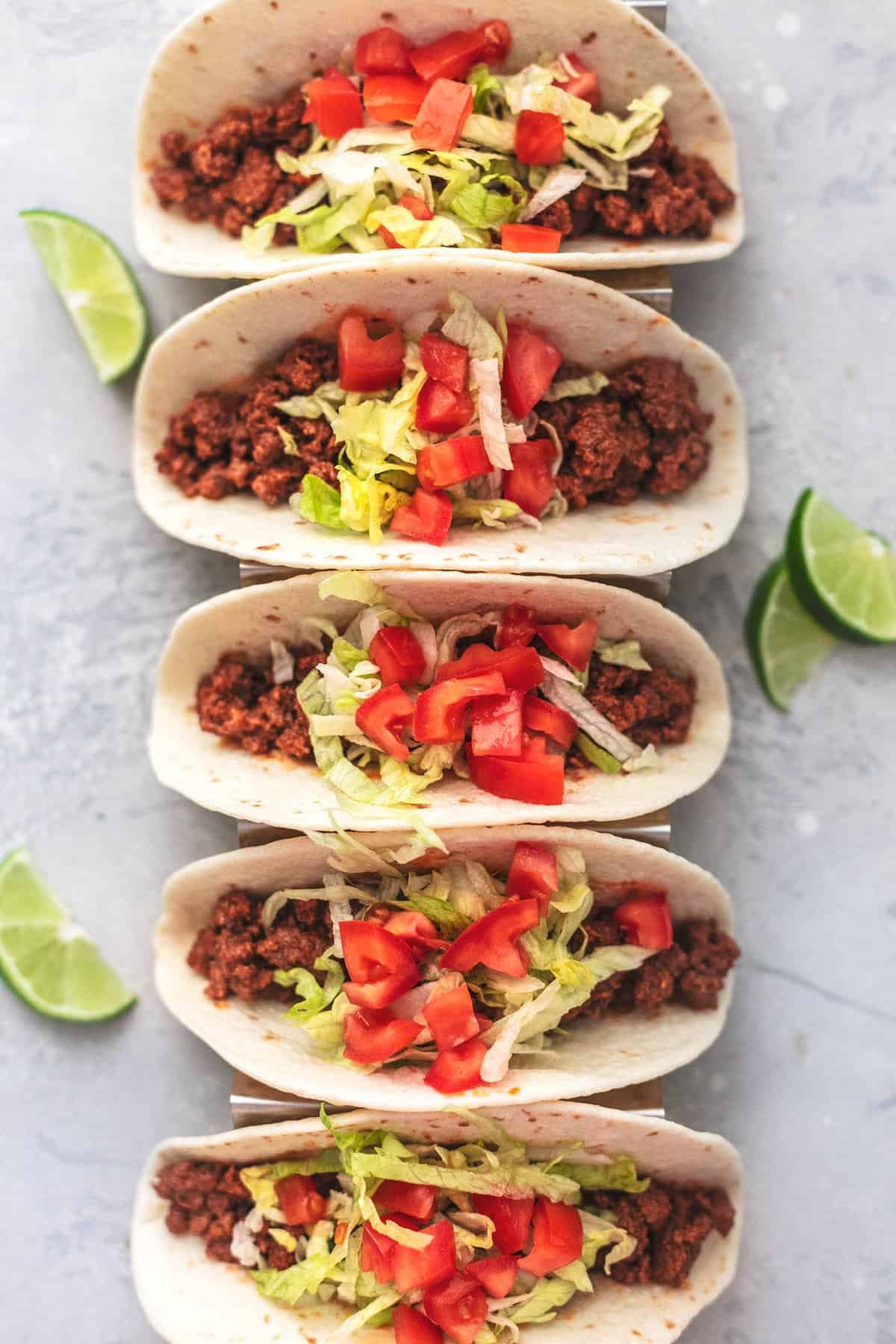 Tips for Making Tacos
Want to make the best tacos ever? Follow these easy, tried-and-true taco tips.
Are you wondering how much meat should be used per person? I always estimate about 5 ounces per person. This averages out to about 3 tacos per person when you consider you'll be adding tons of toppings too.
Which is better: corn vs. flour tortillas? Let's break down each: Corn tortillas are smaller and tend to break apart more easily. However, they are more healthy than flour tortillas and corn tortillas are gluten-free. Flour tortillas come in a variety of sizes (from street tacos to burrito-size) and they hold up better. Some people prefer the taste of flour over corn, too. Ultimately, it's up to you which tortilla you choose!
Are you wondering what to serve with tacos? I have you covered! Some of my favorite sides to serve with tacos include: Mexican Rice, Mexican Volcano Dip, Rigatoni Bake, a Simple Greens Salad, and an Avocado Corn Salad.
Curious about taco toppings? These are some of my favorites, in no particular order: rice, beans, salsa, green onions, red onions, jalapeno slices, guacamole, corn, sour cream, cilantro, and, of course, plenty of cheddar on top or queso fresco!
If you have leftover taco meat, it can be stored in the fridge for up to 5 days. It's easy to reheat in the microwave too.
To warm up your tortillas, consider placing them on a griddle for a moment or two on each side. Use a little oil to keep them from sticking.
And, finally, be sure not to overload your tacos so you can be sure to eat them without the toppings falling all over your plate and shirt.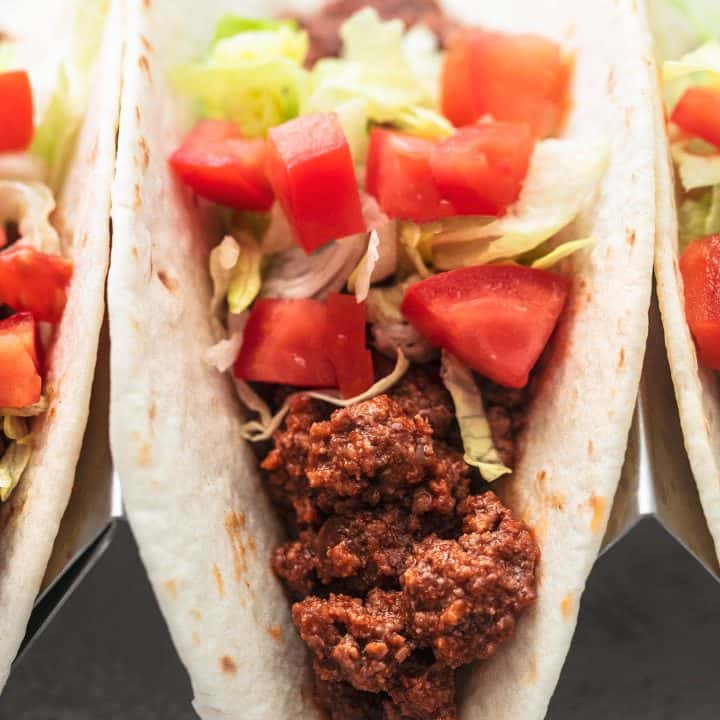 Best Ever Ground Beef Tacos
This Ground Beef Taco recipe is anything but typical. While it sounds like the tacos you grew up with, this recipe comes with an easy-to-make, from-scratch taco seasoning mix, and simmers in beef broth and tomato sauce for extra flavor. You'll never go back to those taco seasoning packets again! 
Ingredients
1

pound

lean ground beef

1

teaspoon

salt

-

or to taste

1

teaspoon

chili powder

1

teaspoon

garlic powder

1

teaspoon

onion powder

1

teaspoon

ground cumin

½

cup

tomato sauce

½

cup

beef broth

8 taco-size flour tortillas

shredded lettuce, shredded cheese, tomatoes, cheese, sour cream, avocado

-

optional toppings
Instructions
Separate ground beef into 3-4 large chunks and add to a large, greased skillet over medium heat. Brown for 2-3 minutes, then flip the meat over and season with salt, chili powder, garlic powder, onion powder, and cumin.

Brown another 3-5 minutes, breaking up into small pieces til all of the meat is browned.

Stir in tomato sauce and beef broth. Simmer until reduced and thickened.

Use a slotted spoon to transfer to tortillas. Add your favorite toppings and serve.
Notes
Makes enough for about 8 tacos. 
Nutrition
Calories:
441
kcal
,
Carbohydrates:
34
g
,
Protein:
27
g
,
Fat:
21
g
,
Saturated Fat:
8
g
,
Trans Fat:
1
g
,
Cholesterol:
77
mg
,
Sodium:
1350
mg
,
Potassium:
577
mg
,
Fiber:
2
g
,
Sugar:
4
g
,
Vitamin A:
287
IU
,
Vitamin C:
2
mg
,
Calcium:
96
mg
,
Iron:
5
mg
More Recipes You'll Love
For more ah-mazing taco recipes, try my Instant Pot Shredded Chicken Tacos, my Shrimp or Chicken and Lentil Tacos, or my Kalua Pork Tacos. And for more beef recipes, try out these:
Did you try this ground beef tacos recipe? YAY! Please rate the recipe below!