I'm not lying when I say this is the easiest, Best, Healthiest Grilled Pork Tenderloin you'll ever make. The 30-minute marinade consists of pantry staples and the grilling process ensures a moist, tasty, hearty pork tenderloin every time!
If you love easy and delicious grilling recipes, then you'll also love my Best Healthy Grilled Chicken, these Grilled Lime Butter Salmon Skewers, or this recipe for Grilled Jamaican Jerk Chicken.
 I like pork tenderloin and I cannot lie. (Sorry, couldn't resist.) What's not to love though, really? In my opinion, it's one of the easiest pieces of meat to grill (or to put in a
slow cooker
, Best Easy Pulled Pork, for that matter), and it's hard to mess up, unless you undercook it. But I'll make sure you don't let that happen.
I confess, as this blog and my family have grown, I kind of have grown to dislike going to the store often. Don't get me wrong, I love developing recipes and feeding my family, of course, but sometimes I dread the trip to the grocery because I feel like I've been there approximately 1 billion times and it's just like, won't the food just magically appear at my doorstep already? (I know, I know, I can get groceries delivered but I'm the kind of person that has to look at every apple before I purchase it, which only makes my trip longer. I'm an enigma, what can I say?)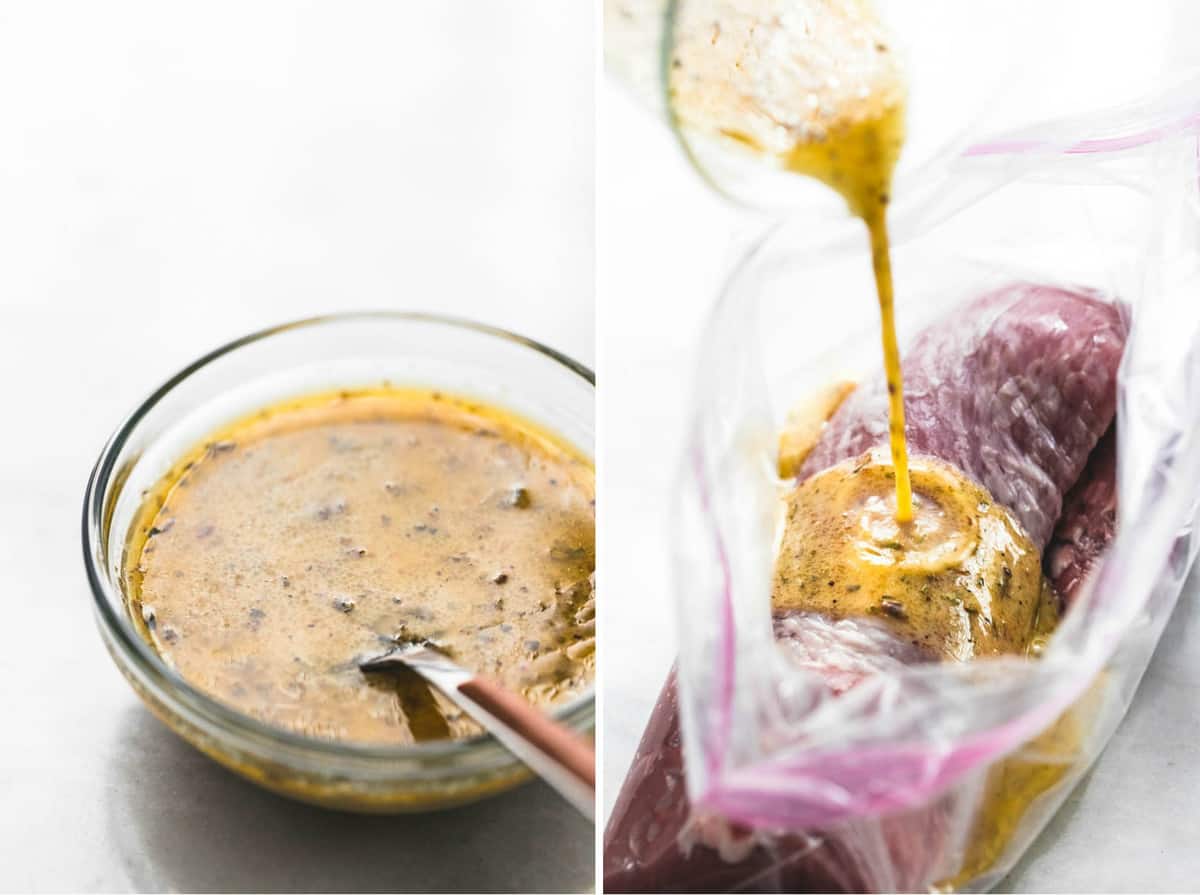 For that reason, I like to buy in bulk whenever possible. That way, if I need to see and touch every piece of produce, well, that's okay if that takes a bit of time because at home I'm stockpiled like a doomsday prep-er otherwise. So…when I see specials on meat, I grab as many as I can or as many as the little asterisk on the sale sign allows. (The butcher may or may not keep his eye on me to make sure I don't get one ounce over the allotted four pounds of sausage or whatever.)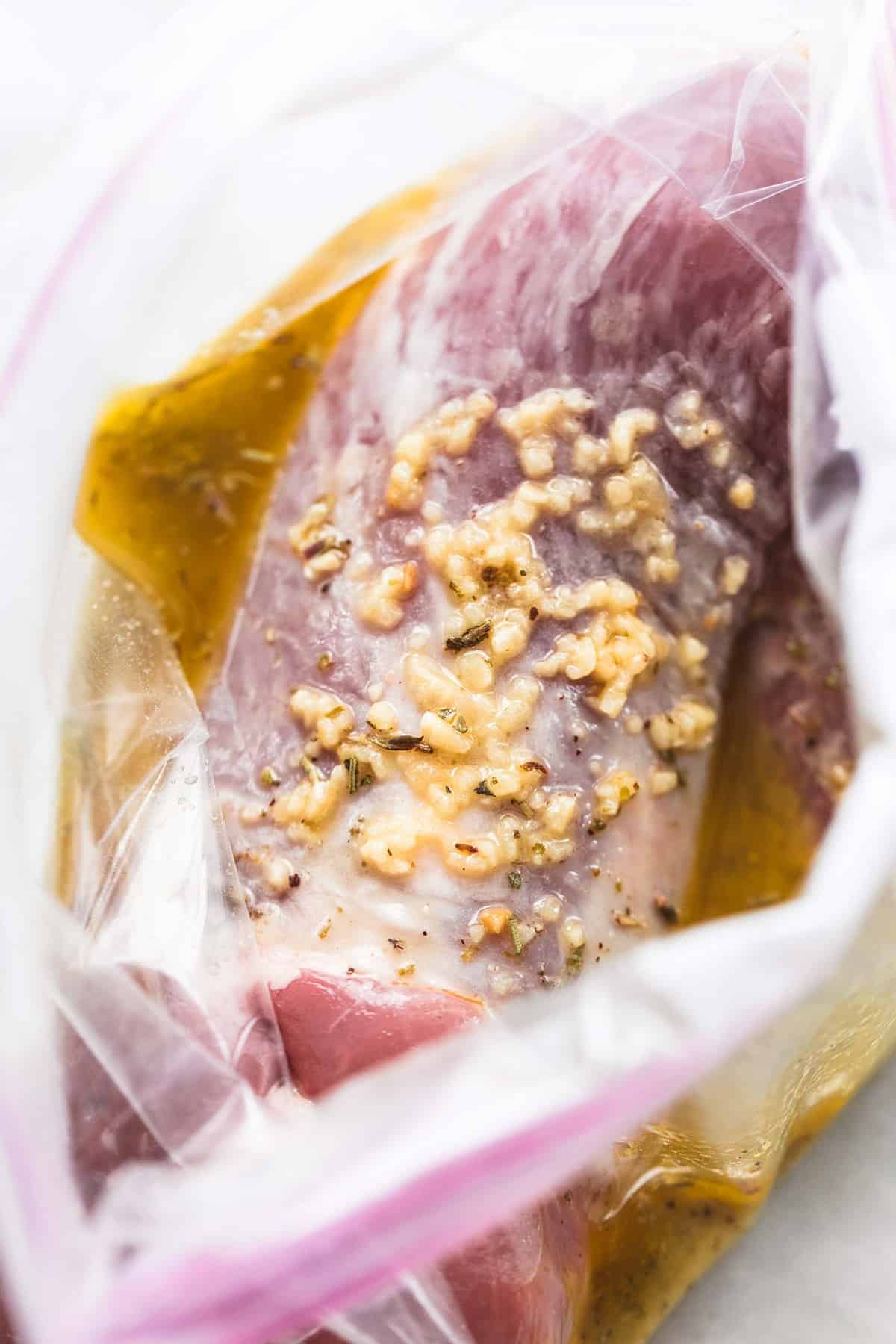 Buying in this way makes life easier. And pork is on sale just about as often as chicken is and so when I see a BOGO by the tenderloin or the price per pound has dropped considerably, you'd better believe I'm cleaning out the bin.
Because I have considerable cache of meat, I'm able to experiment with different cooking techniques, flavors, spices, and sauces.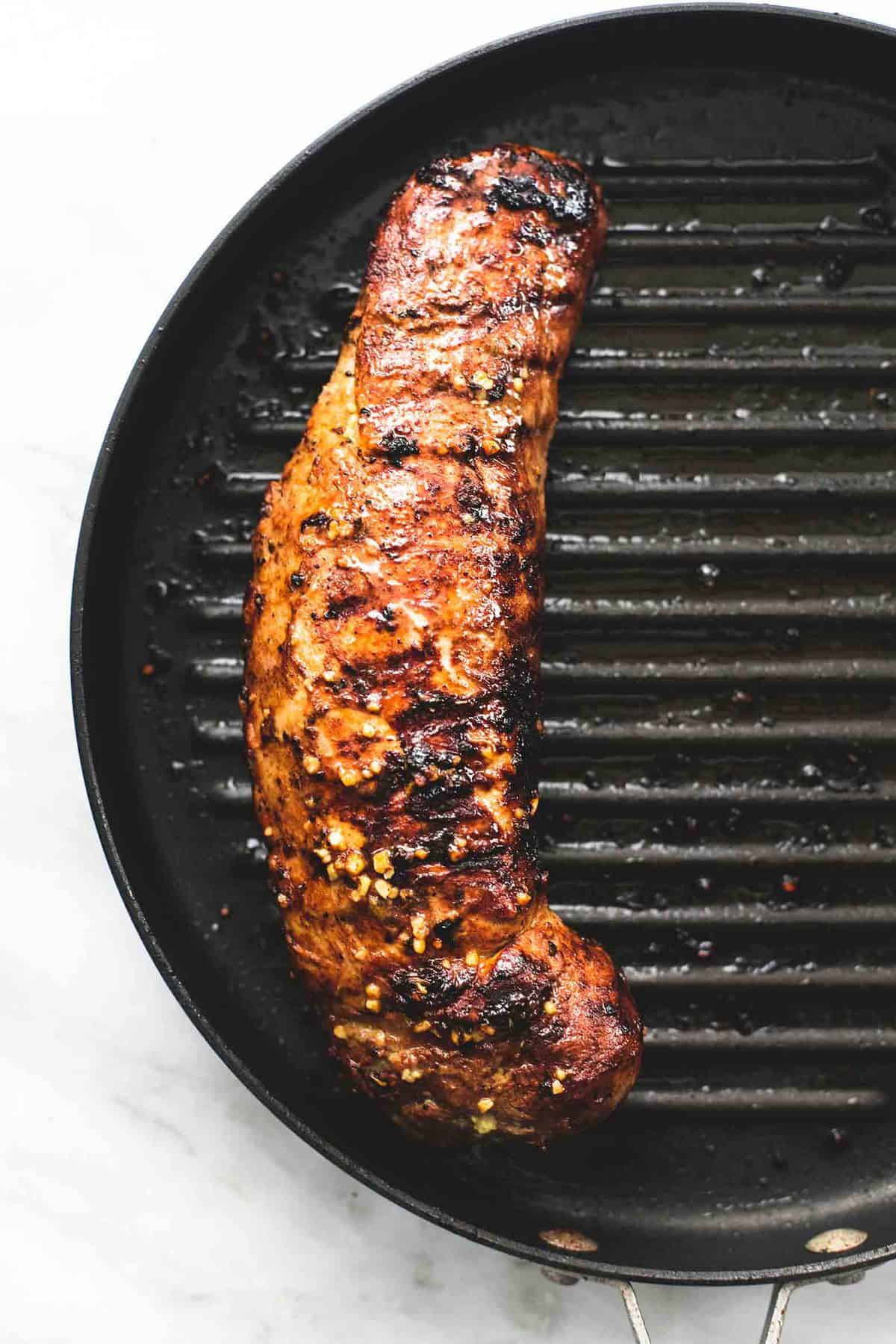 HOW DO YOU MAKE GRILLED PORK TENDERLOIN?
The first thing I do after getting the pork tenderloin out of the package is to pat it dry. I do this because it helps the spices to stick to the meat and wipes off any weird barrier that might have settled on the meat while it was in the package. I then add the tenderloin to a resealable bag, leaving the top open.
Next, I mix together the lemon juice, garlic, spices, oil, mustard, and honey. I pour only half of this marinade over the pork (that's the important part). You want to save the other half for later. Seal the pork and marinade together in the bag and squeeze out any extra air. I also kind of shake/rub the marinade around on the pork outside the bag as well. I then put it in the fridge for at least 30 minutes.
Meanwhile, I preheat the grill to about medium and get the grates oiled so that the meat doesn't stick while you're grilling. After the pork has been marinated, I use long tongs to transfer it to the grill, then close the grill and cook for 15-20 minutes, turning every couple of minutes or so so that it cooks on all sides. About halfway through the grilling process, I'll start to spread on the other half of that reserved marinade.
When it's done grilling or the internal temperature of the pork reaches 145°, I remove the tenderloin from the grill and let it rest for 5 minutes before cutting and serving.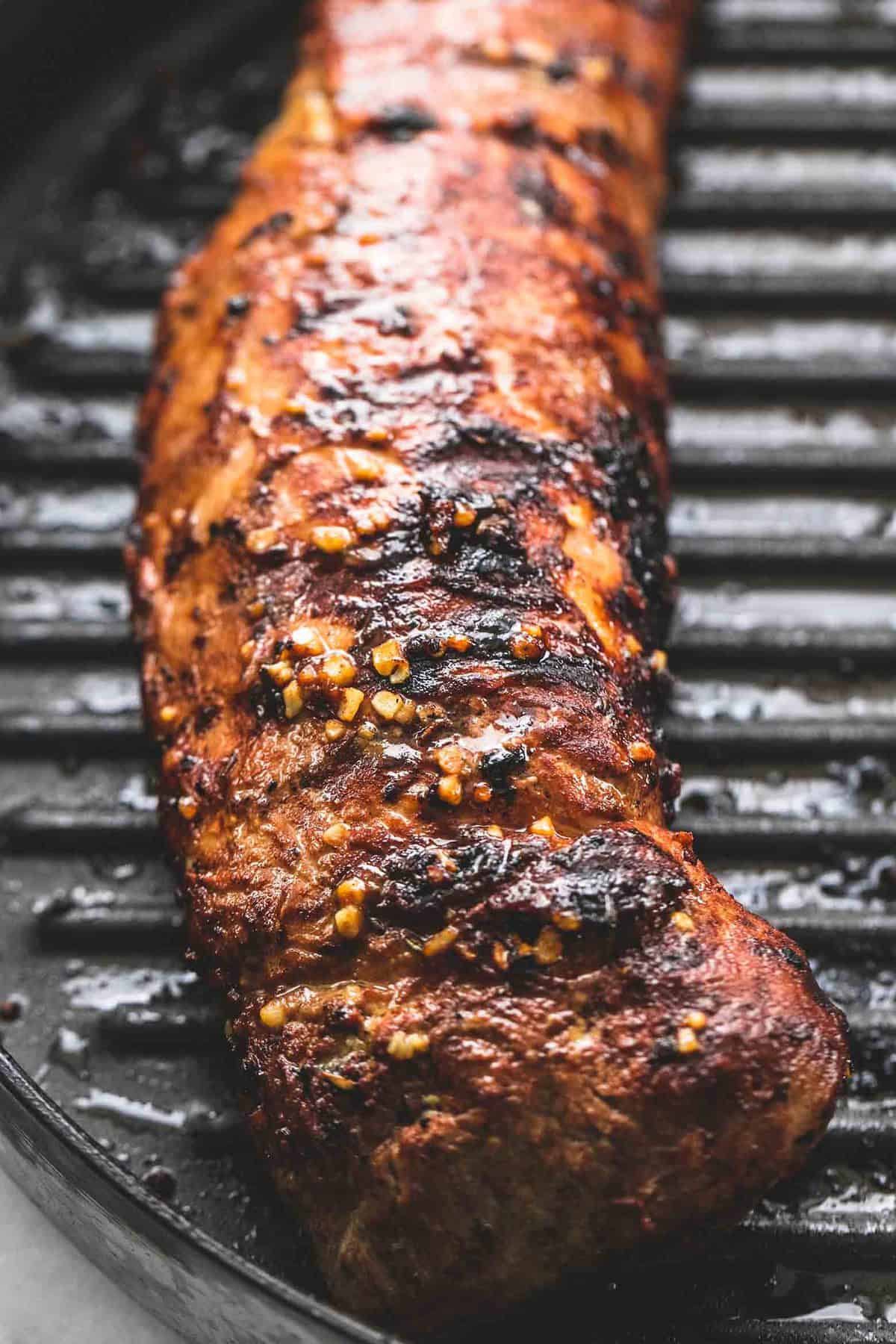 WHAT CUT IS A PORK TENDERLOIN?
The pork tenderloin comes from the loin area of a pig. This is located between the shoulder and the back legs as is the leanest and most tender cut of pork. Ribs, roasts, and loin chops also come from this same area.
IS PORK TENDERLOIN HEALTHY?
Pork tenderloin is one of the healthiest cuts of pork, and is just as lean as boneless, skinless chicken breast. Most cuts have less than 10 grams of fat and also provides protein, vitamin B6, riboflavin, thiamine, phosphorus, and niacin.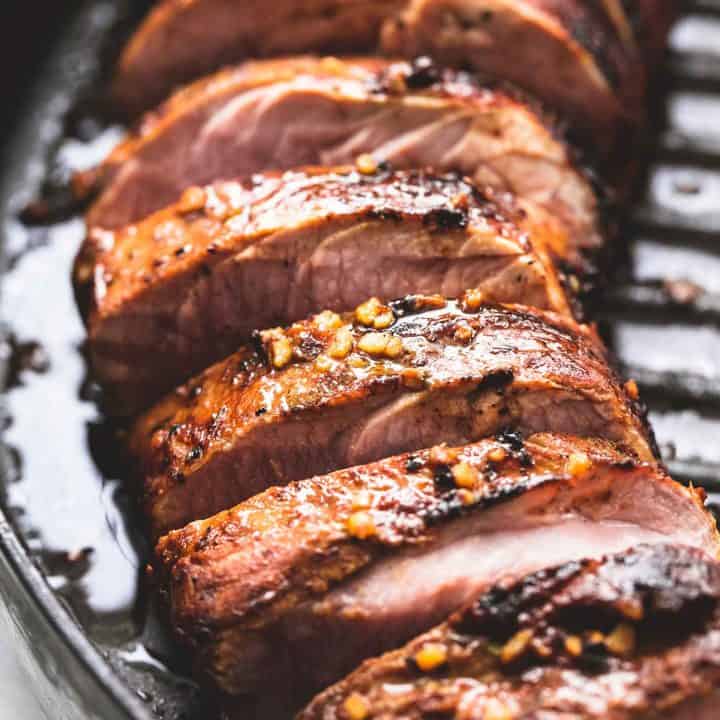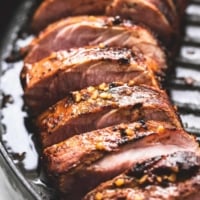 Best Ever Healthy Grilled Pork Tenderloin
I'm not lying when I say this is the easiest, Best, Healthiest Grilled Pork Tenderloin you'll ever make. The 30-minute marinade consists of pantry staples and the grilling process ensures a moist, tasty, hearty pork tenderloin every time!
Ingredients
1 ½-2

pounds

pork tenderloin

-

see note

juice of ½ lemon

2

teaspoons

minced garlic

1

teaspoon

Italian herb seasoning blend

-

or ¼ teaspoon each dried basil, thyme, oregano, and parsley or rosemary

¼

cup

oil

½

teaspoon

salt

⅛

teaspoon

cracked black pepper

-

or a pinch of finely ground black pepper

2

teaspoons

Dijon mustard

2

teaspoons

honey
Instructions
Marinate the pork
Pat pork tenderloin dry with a paper towel.

Stir together lemon juice, garlic, dried herbs, oil, salt, pepper, Dijon mustard, and honey.

Pour half of the mixture into a large Ziploc bag along with the tenderloin. Press out excess air, seal the bag, and chill for 30 minutes.
Grill the pork
Preheat grill to medium and oil the grates.

Using tongs, transfer pork to the grill. Close the grill and cook 15-20 minutes, turning every few minutes to ensure even cooking and brushing reserved marinade over all sides of the pork half way through grilling.

Transfer to a cutting board to rest for 5 minutes before slicing and serving.
Notes
*If pork tenderloin is more than 2 1/2 inches thick and you want no pink in the middle once fully cooked, cut tenderloin in half lengthwise to yield two thinner tenderloin pieces and proceed with recipe as written. 
Nutrition
Calories:
342
kcal
,
Carbohydrates:
4
g
,
Protein:
35
g
,
Fat:
20
g
,
Saturated Fat:
3
g
,
Trans Fat:
1
g
,
Cholesterol:
111
mg
,
Sodium:
408
mg
,
Potassium:
680
mg
,
Fiber:
1
g
,
Sugar:
3
g
,
Vitamin A:
5
IU
,
Vitamin C:
1
mg
,
Calcium:
15
mg
,
Iron:
2
mg