Mandarin Pasta Spinach Salad with Teriyaki Dressing – this salad is easy, quick, healthy, and tossed in the most addictive teriyaki vinaigrette dressing!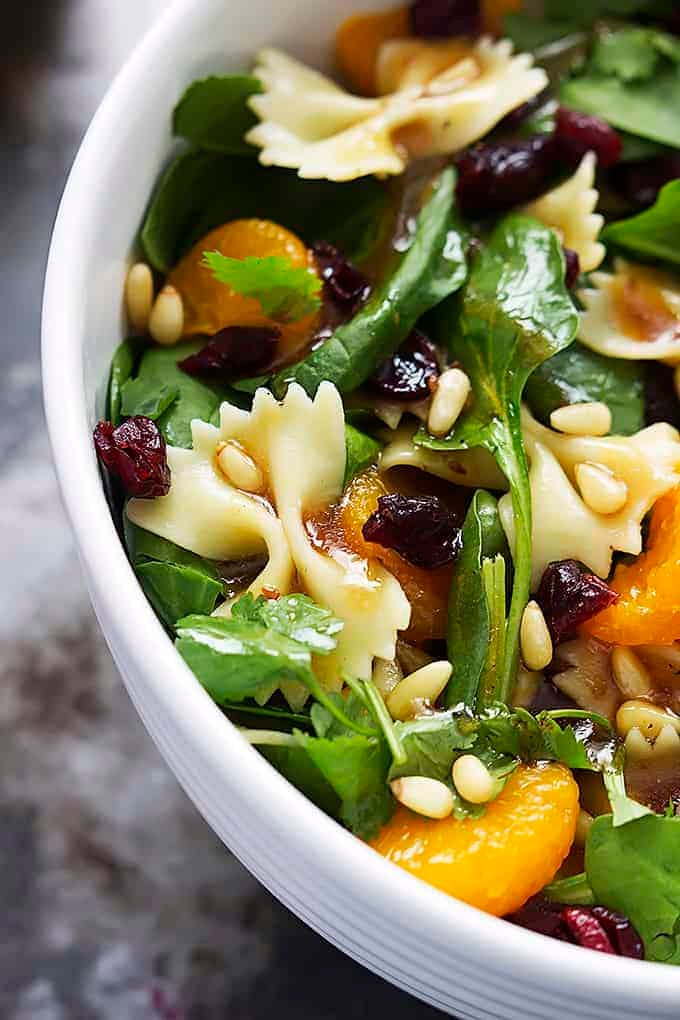 Happy Salad Monday!!! I've been looking forward to this moment because this salad is my new obsession. I mean… it's not like I've already made it three times in the past five days or anything…
Oh wait. yes I have.
Once for my husband and myself, then for a neighbor (and myself), and then for a huge family gathering on Sunday (where I was present). Every single time it completely disappeared and everyone raved about it.
And I'm just going to be totally honest – this dressing is positively addictive. It completely makes the salad. And that's saying something because the combination of craisins + spinach + mandarin oranges + pine nuts + cilantro borders on magical. But the dressing. THE DRESSING.
It makes me want to cry.
Tears of blissful heavenly joy.
I've actually doubled the dressing recipe and saved half to keep in the fridge. All day long I find myself looking for anything and everything to dip in this stuff. Pasta, chicken, pretzels, cucumbers. And yes, once or twice I may have opted to go straight for the spoon.
One taste and you will understand what I'm talking about. I am begging you. Make this salad.
Pretty pretty pretty please. Something this incredible has to be shared.
A huge thank you to Diamond of California Nuts for sponsored this awesome salad recipe!