You won't be able to get enough of this Creamy Butternut Squash Soup. It's hands-down the creamiest, easiest, dreamiest, most comforting bowl of squash soup you've ever had. Make a double batch on the weekend and eat all week long.
For more mouthwatering vegetarian soup recipes, you'll want to go ahead and bookmark these for later: Roasted Cauliflower Soup, Best Ever Broccoli Cheese Soup, and Creamy Pumpkin Soup with Grilled Cheese Croutons.
I've made butternut squash soup before but never like this. The version I had been making was good, but when compared to this one, it was kind of bland. I never thought to kick the flavor up a notch until I was going through some other fall soup recipes and realized that I could take what I learned from those recipes (particularly the Pumpkin Soup) and apply the same flavor principles.
Since I'm a fan of everything sweet and savory, I added a tiny bit of sugar to my pumpkin soup recipe. That got me to thinking, would that work in squash soup? And while initially I thought yes, I also thought that it would be more fun (and tasty) to get the sweetness naturally, from the use of carrots and apples. You blend it all up anyway so you can't even tell there are carrots and apples in the soup but you can taste them in an oh-so-subtle way that really makes you wonder why you didn't try it before.
Here's How you Make Butternut Squash Soup
To make this healthy Butternut Squash Soup, make sure you have all of your parts and pieces ready to go and chopped (more on this in a minute). I add everything (squash, stock, veggies, apple, garlic, and seasonings) to a stock pot. I bring all of this to a boil and then turn it down to medium heat. From there I let it cook about 5-10 minutes to soften all the vegetables.

Next, I stir in coconut milk (be sure to get the whole can, sometimes it solidifies at the top of the lid, you'll want to scrape all that off too). Then I get out my trusty immersion blender and blend away. I love that thing, and I highly recommend getting one if you don't have one. However, not to worry if you don't have one, you can use a blender. You'll want to transfer the soup in batches to the blender to blend one at a time. Be sure to leave the vent off in the lid and cover with a kitchen towel so that steam can escape.

Once you've got your soup all blended up, you can season with salt and pepper and add more stock and/or water to thin it to your desired consistency. Add some fun garnishes and enjoy!
How to Cut a Butternut Squash
Cutting butternut squash can be a pain and you'll definitely need some muscle to get through it, at least in those first cuts.
The first thing I do is wash it off and pat it dry. Then I use a vegetable peeler to peel off the outer skin (this works way better than a knife, but watch your knuckles, it gets slippery). Then, I cut it in half one of two ways, depending on how big it is and how it's shaped. I'll cut it lengthwise right down the middle if it's a small to medium size squash. If it's larger, I'll cut the top and bottom off about half an inch, then cut it again in the middle, but more toward the larger, bulbous part. This makes it easier to get the seeds out.
From there I scoop out the seeds and start to cube the squash into about 1-inch pieces.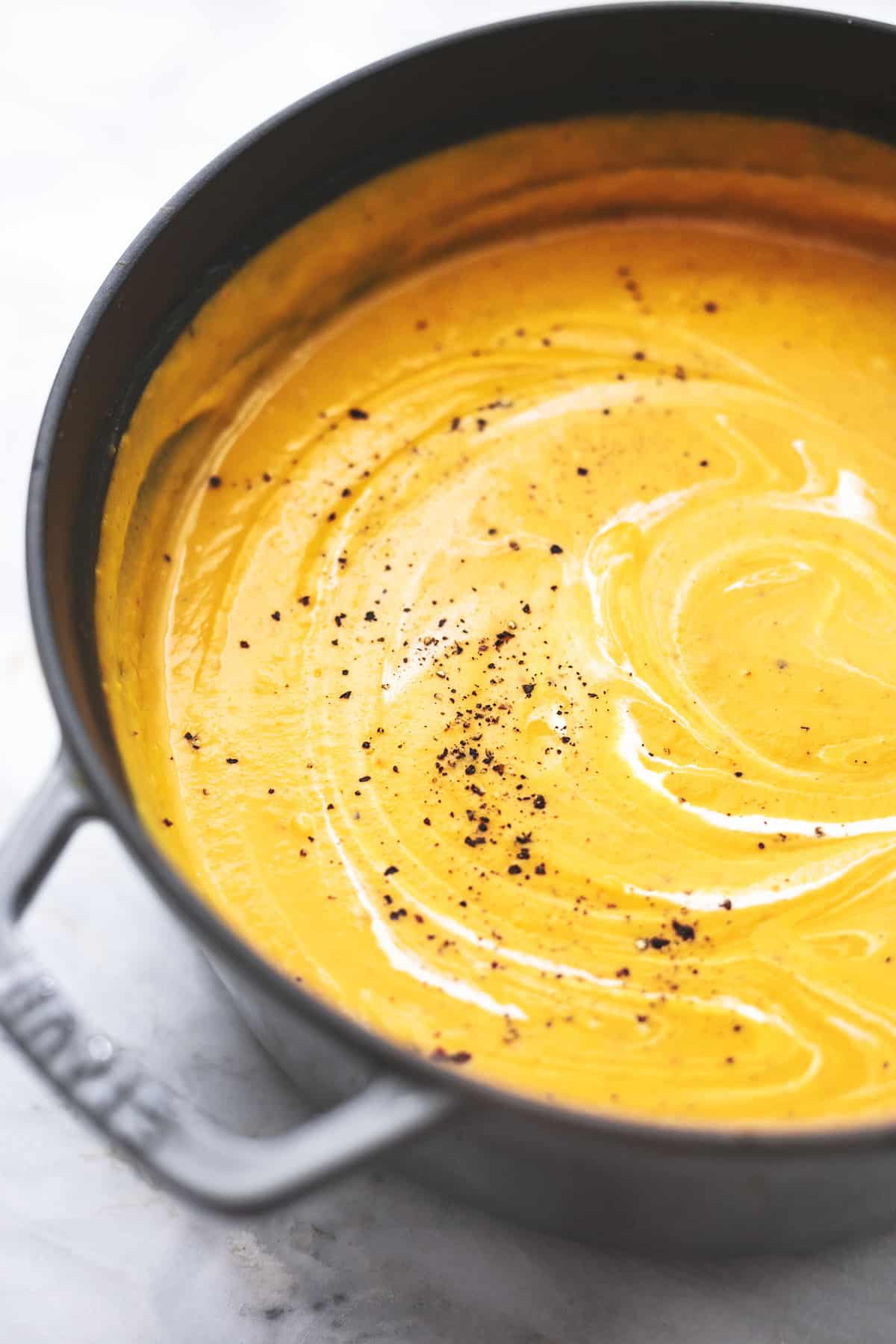 Great Toppings and Garnishes for this Soup
I like to treat soup like a plain taco or baked potato (I know that sounds weird but stick with me on this one). In that, it's just a base on which to build something (more) magical. Sure, this soup is fantastic on its own, but it's also even better with fun toppings that add different flavors and textures to the soup, if you're into that kind of thing.
Dried cranberries, raisins, or other dried fruit can add another hint of sweetness and/or tartness and a little bit of chewiness.

Seeds like sunflower, pumpkin, or pepitas give a nice salty, crunchy texture to the soup.

Dried or fresh herbs or spices can change the flavor of your soup in a subtle way that makes it personalized to your tastes and you can change it up every time.

Cracked black pepper or hot sauce can add a nice layer of heat to your soup.

If you like your soup to be heartier you could add in chickpeas, shredded chicken, or rice or another grain after blending.

Finally, try topping this butternut squash soup with cheese. Parmesan, Asiago, or another hard cheese work really well.
If you like this Creamy Butternut Squash Soup, you'll love my Butternut Squash Pasta Sauce, Roasted Butternut Squash, Slow Cooker Thai Butternut Squash Soup, and Butternut Squash Crepes.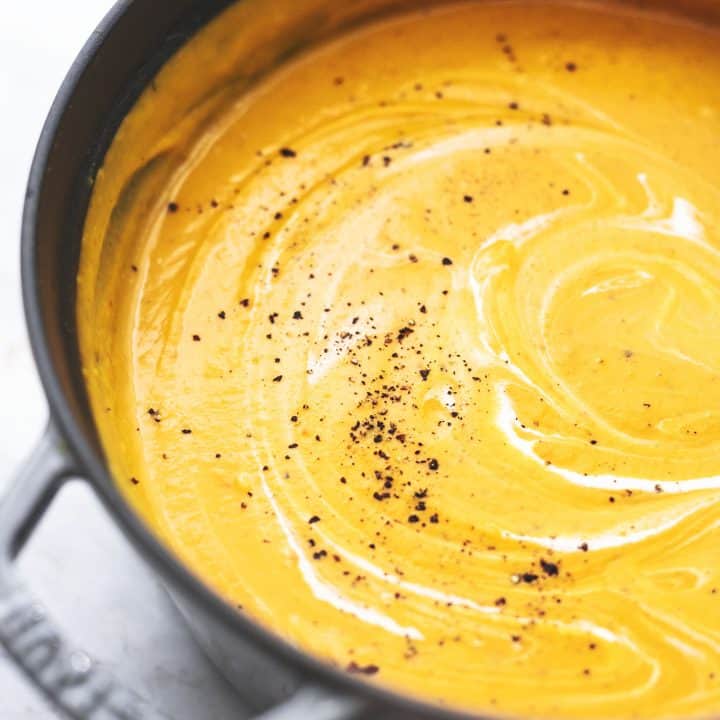 Creamy Butternut Squash Soup Recipe
You won't be able to get enough of this Creamy Butternut Squash Soup. It's hands-down the creamiest, easiest, dreamiest, most comforting bowl of squash soup you've ever had. Make a double batch on the weekend and eat all week long. 
Ingredients
3

pounds

butternut squash

-

cubed

3

tablespoons

olive oil

2

cups

vegetable or chicken stock

-

more as needed

1

large carrot

-

peeled and chopped

1

green apple

-

peeled and chopped

1

red bell pepper

-

seeded and chopped

1

white or yellow onion

-

diced

1

stalk celery

-

chopped

1

tablespoon

minced garlic

1

teaspoon

salt

-

or to taste

¼

teaspoon

pepper

-

or to taste

½

teaspoon

smoked paprika

-

optional

2

15-ounce

cans unsweetened coconut milk

optional garnishes: dried cranberries, sunflower seeds, parsley or thyme, pepitas or roasted pumpkin seeds, black pepper, parmesan cheese, smoked paprika
Instructions
In a large stockpot over medium-high heat, combine olive oil, butternut squash, carrot, apple, bell pepper, garlic, onion, and celery. Saute 3-4 minutes until garlic fragrant and onions are translucent.

Add stock, salt and pepper, and smoked paprika (if using) and bring to a boil. Cook for 5-10 minutes over medium heat until veggies and squash are very tender.

Stir in the coconut milk. Use an immersion blender to blend until smooth OR transfer in batches to a high powered blender and puree until smooth and creamy.

Taste, add salt and pepper to taste if needed. Add a little more stock or water to thin if needed. Garnish as desired and serve.
Notes
Flavor tip: stir in 1 teaspoon yellow curry powder for a tasty Thai twist on this soup. 
Nutrition
Calories:
204
kcal
,
Carbohydrates:
36
g
,
Protein:
3
g
,
Fat:
7
g
,
Saturated Fat:
1
g
,
Sodium:
720
mg
,
Potassium:
944
mg
,
Fiber:
6
g
,
Sugar:
11
g
,
Vitamin A:
26697
IU
,
Vitamin C:
77
mg
,
Calcium:
123
mg
,
Iron:
2
mg