Hands down the BEST, ultra tender pork tenderloin with a balsamic glaze made right in the pressure cooker. This Instant Pot Balsamic Pork Tenderloin will melt in your mouth and leave you craving more.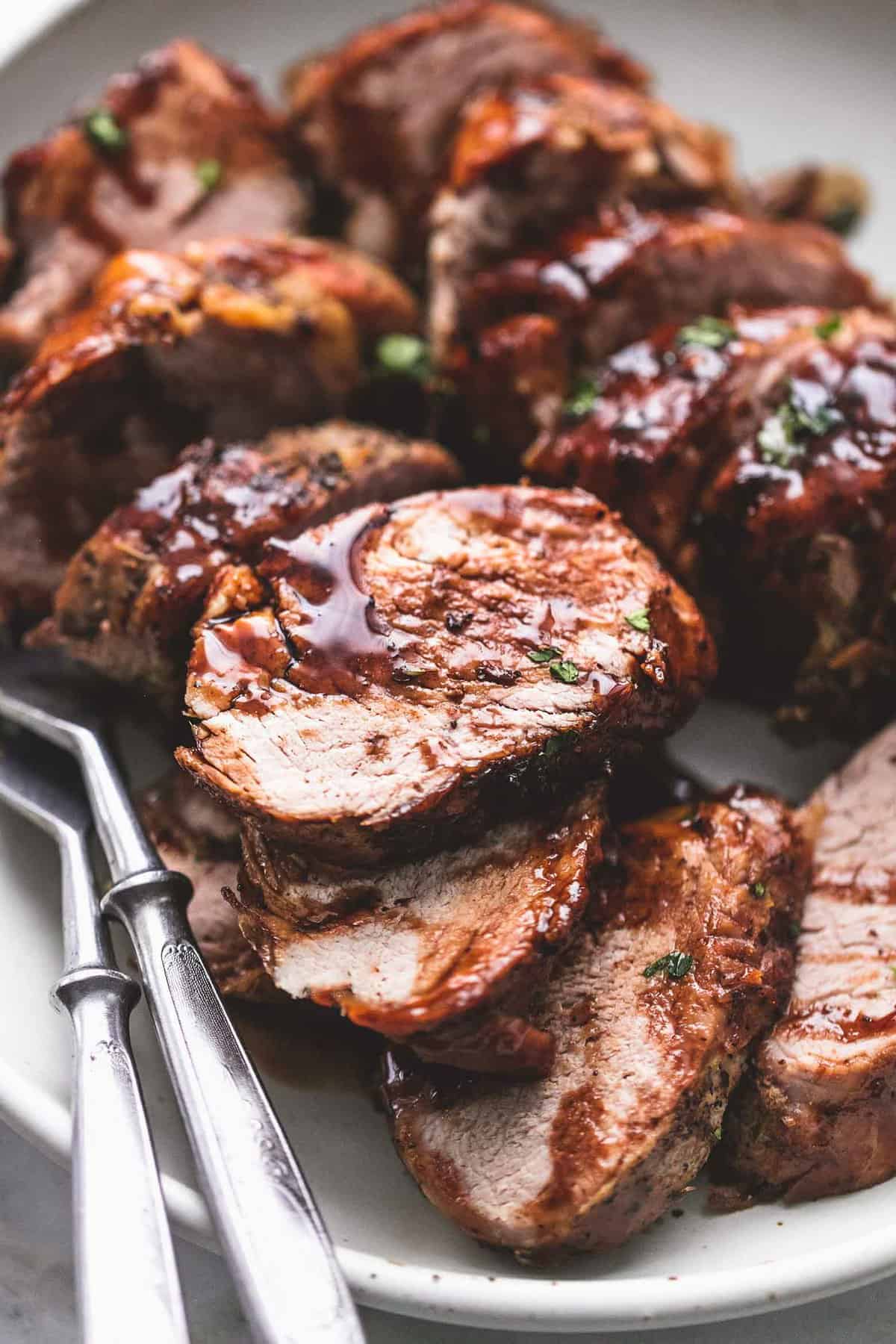 We all have that one recipe. You know the one that you got from a family member, who got it from a family member who got it from the back of a flour sack in the depression but who altered it to work with ingredients that she had on hand and who passed it along to her kids who tried to make it more like the original recipe but who actually knows what that even is anymore?
Well, this is that sort of recipe. Except I may have exaggerated slightly. This one doesn't have that dramatic of a story but it was passed around and altered a bit before it got to me, and here I am altering it even further to make it work in a more modern kitchen appliance — the Instant Pot.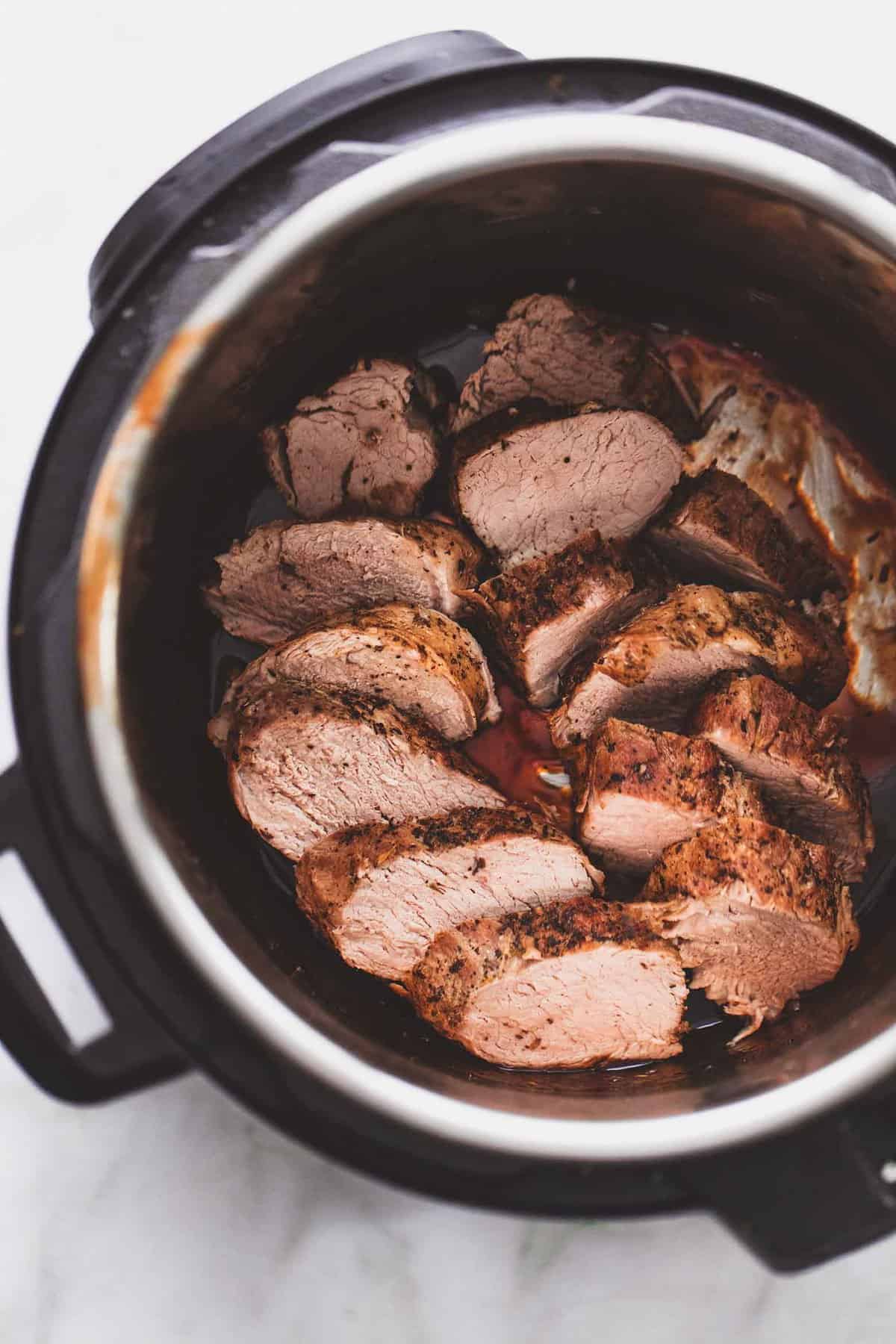 This Balsamic Pork Tenderloin recipe initially came from my aunt, who passed it along to my mother, who made it quite often when I was growing up. It is a recipe for a baked pork tenderloin covered in balsamic glaze. I'm not sure how my mom tweaked it exactly but I know that she did — she always had just the perfect spin to put on any recipe.
While I've made this recipe plenty of times as instructed, I always wondered how it would work in the Instant Pot. After all, I've used this fast-cooking method for many other versions of pork and chicken, (like, Instant Pot Honey Teriyaki Chicken, for example) and I figured it would be a cinch to adapt around our fast-moving lifestyle. I love being able to eat the classic recipes I grew up eating but I also love cutting the cooking time.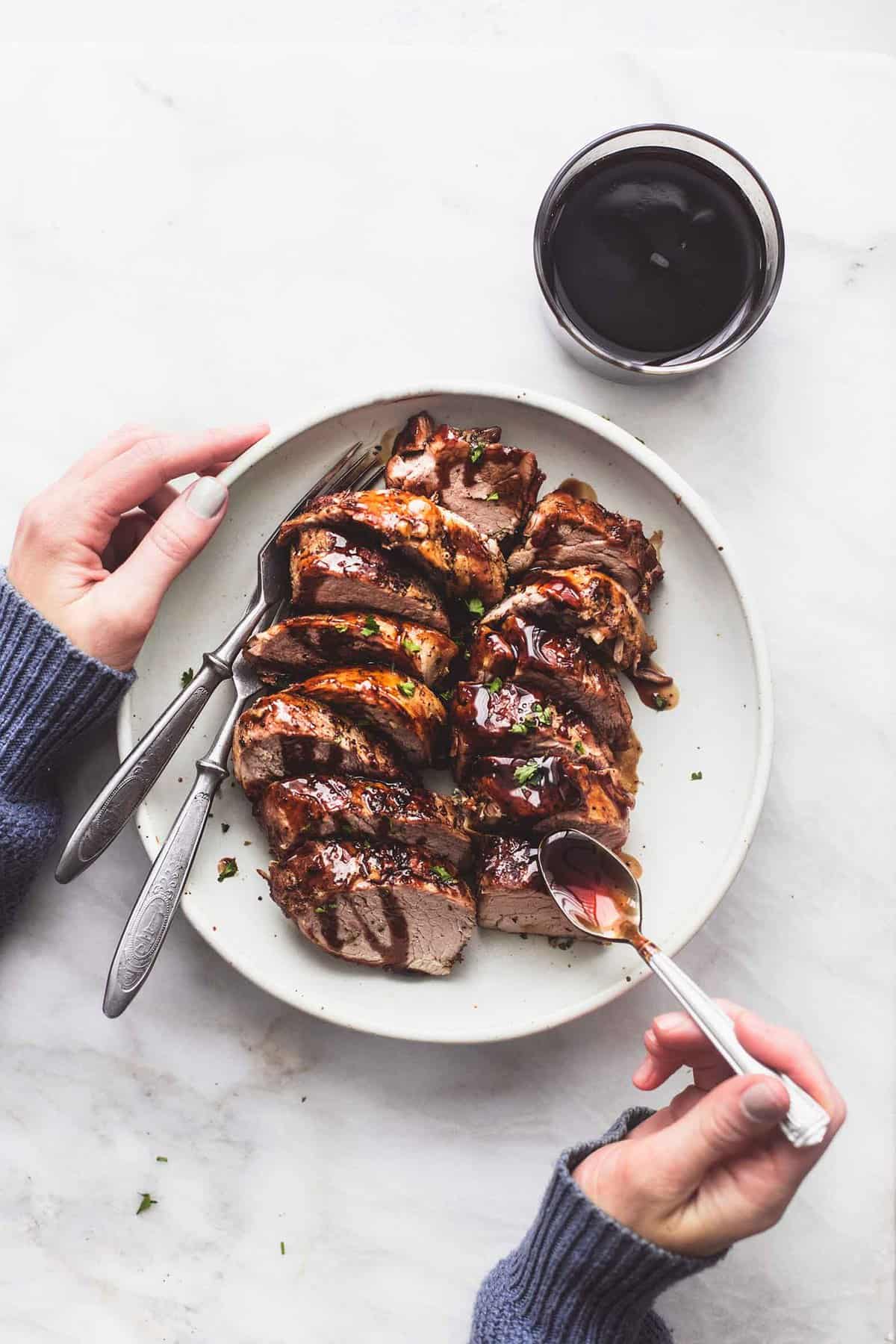 Oven Cooking Instructions
As I mentioned, this pork recipe originally was made to be baked in the oven. If you would prefer to make it that way, simply bake the oiled and seasoned tenderloin at 375 degrees for 35-40 minutes. You'll make the glaze in a saucepan on the stove while the meat cooks. You'll want to adjust the water added to the vinegar to ⅔ a cup instead of 1 cup.
I also think that the pork tenderloin benefits from a good sear on the stove before being baked in the oven but that's totally optional. Searing it before baking seals in the flavors of the pork and gives it that nice "crust" on the outside. To save on dish washing, use an oven-safe pan to sear the pork (like cast iron or enamelware) that you can take from stove to oven.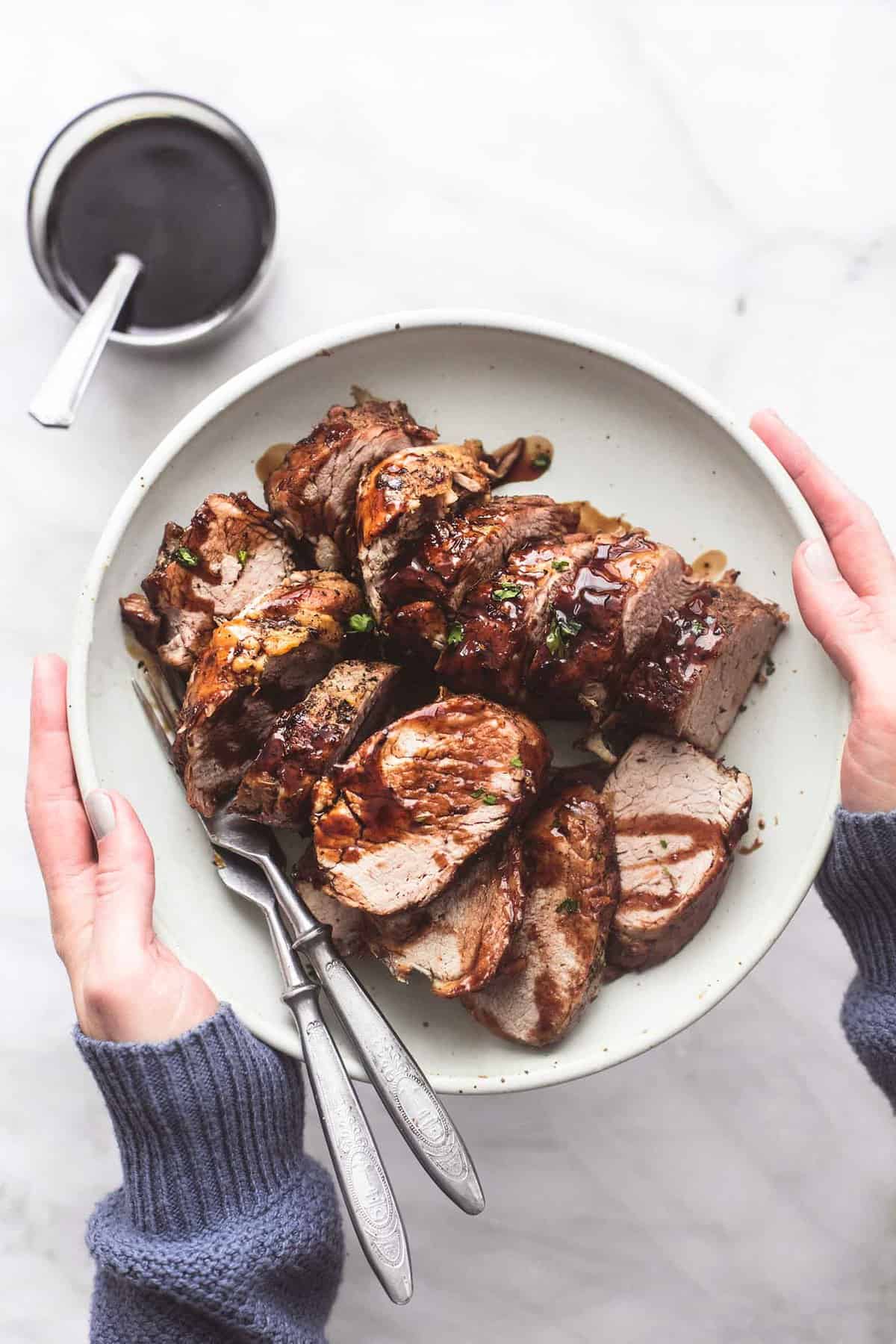 What Is The Difference Between a Pork Loin And A Pork Tenderloin?
Although at first glance, these two cuts of meat might seem interchangeable, they are not. A pork tenderloin is thinner and smaller and a loin is very big and wide and steak-like — the loin is where pork chops are cut from.
You also cook these two pieces of meat differently. (And they're not interchangeable.) A pork tenderloin is great for marinades and slow cooking. A pork loin is great on the grill or cooked on the stove but can be easily overcooked.
Either way, you want to make sure that your pork is cooked thoroughly before you eat it. If you're not sure if it's done, use a meat thermometer. It should read 145 degrees at its thickest point to be considered cooked through.
Is Pork Tenderloin Good For You?
Most cuts of pork are good sources of lean protein, when trimmed of extra fat. (Sorry, bacon and pork ribs do not count as healthy protein sources.) Leaner cuts of pork also contain thiamine, B6, phosphorus, niacin, riboflavin, zinc, and potassium. If you're not sure which cuts of pork are good for you, check for words such as "loin" or "round."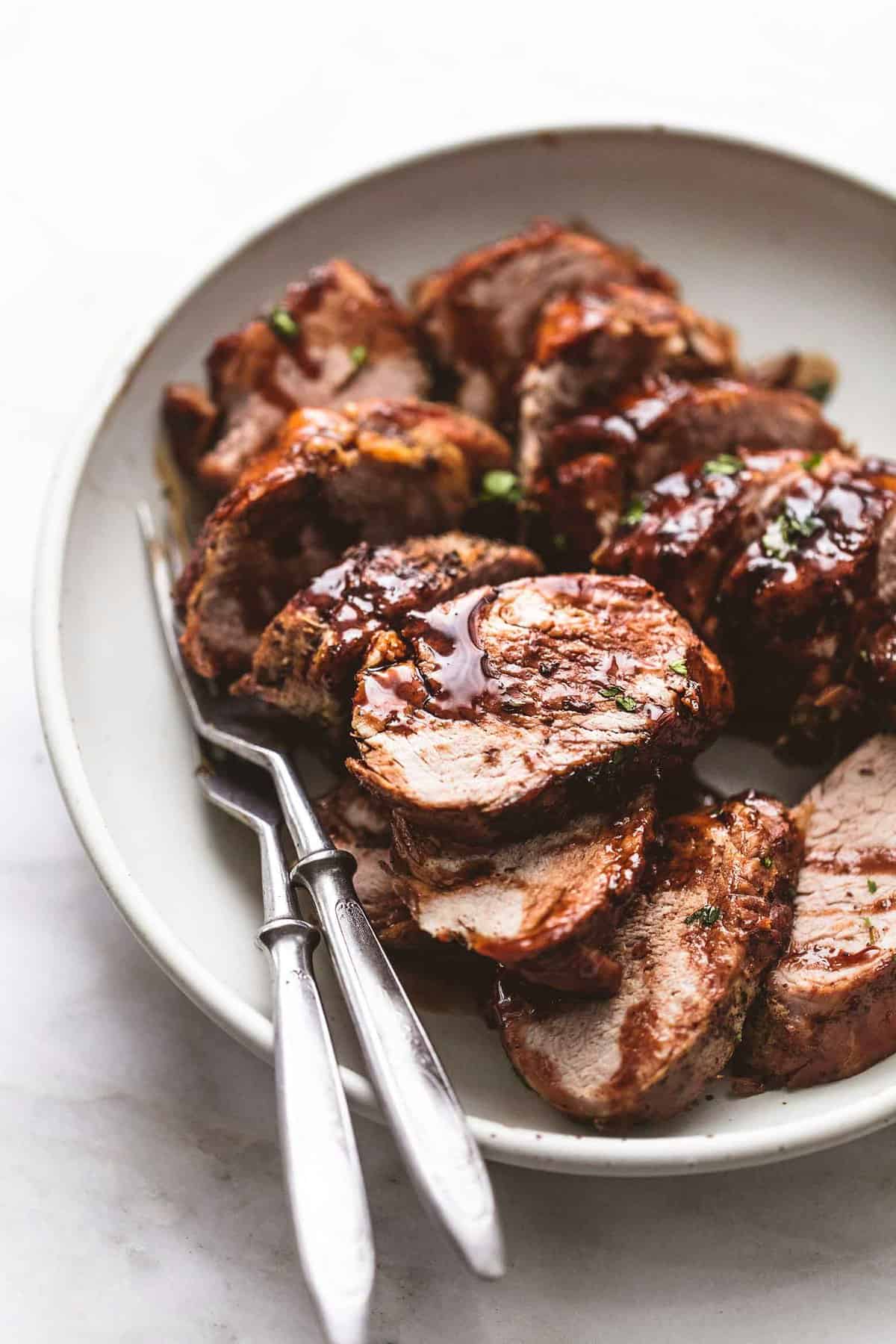 What To Serve With This Recipe?
More Recipes Like This
If you love instant pot recipes, you've gotta try Instant Pot Shredded Chicken Tacos, Instant Pot Parmesan Chicken and Rice with Mushrooms, and Instant Pot Honey Teriyaki Chicken.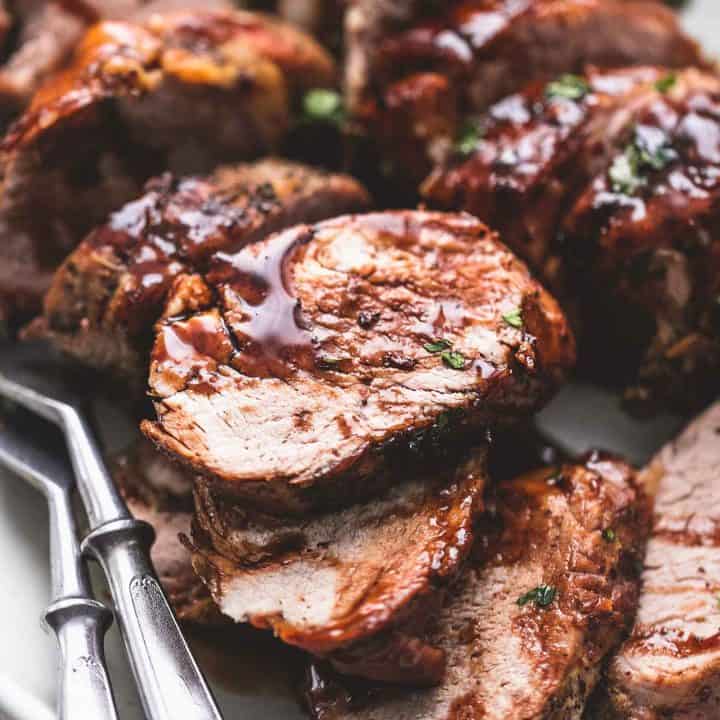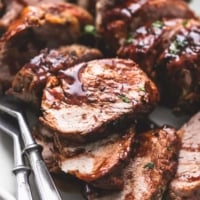 Instant Pot Balsamic Pork Tenderloin
Hands down the BEST, ultra tender pork tenderloin with a balsamic glaze made right in the pressure cooker. This Instant Pot Balsamic Pork Tenderloin will melt in your mouth and leave you craving more.
Ingredients
1-2

pork tenderloins

-

(see note)

2

tablespoons

olive oil

salt and pepper to taste

1

teaspoon

garlic powder

2

teaspoons

dried Italian herb blend

-

(see note)

4

tablespoons

soy sauce

1

cup

brown sugar

½

cup

balsamic vinegar

1

cup

water

2

tablespoons

corn starch + 4 tablespoons cold water
Instructions
Set pressure cooker to SAUTE. Rub tenderloins all over with oil. Season generously on all sides with salt and pepper to taste, then dried herbs and garlic powder.

Use tongs to place tenderloins in the pot, turning over every 1-2 minutes until browned on all sides.

Whisk together soy sauce, brown sugar, balsamic vinegar, and water and add to the pot. Put the lid on in the locked position with the steam valve closed. Set to PRESSURE COOK or MANUAL for 15 minutes. 

When cook time is up, allow to natural release for five minutes, then turn the steam valve to the venting position and remove lid once float valve drops down. Use tongs to transfer pork loin to a cutting board and set aside.

Switch pressure cooker to SOUP setting. Once boiling, stir corn starch into the 4 tablespoons cold water until dissolved, then pour into instant pot and stir until thickened to a glaze.

Slice tenderloins, then serve with balsamic glaze on top. Extra glaze can be stored in a jar in the fridge up to 2 weeks.
Notes
One large or two small-medium pork tenderloins (1 – 1 1/2 pounds each) work perfectly. You can also do one small-medium tenderloin but will have extra balsamic glaze leftover – you can keep it in a jar in the fridge for up to 2 weeks and reheat in the microwave or on the stove. 
In place of the dried herb blend you can substitute 1 teaspoon dried thyme + 1 teaspoon dried basil + 1/4 teaspoon dried rosemary. 
Nutrition
Calories:
856
kcal
,
Carbohydrates:
61
g
,
Protein:
96
g
,
Fat:
23
g
,
Saturated Fat:
6
g
,
Trans Fat:
1
g
,
Cholesterol:
295
mg
,
Sodium:
1268
mg
,
Potassium:
1938
mg
,
Fiber:
1
g
,
Sugar:
58
g
,
Vitamin A:
9
IU
,
Vitamin C:
1
mg
,
Calcium:
88
mg
,
Iron:
6
mg